Boston Theater Marathon Returns (Virtually) to Help Artists Hit by Pandemic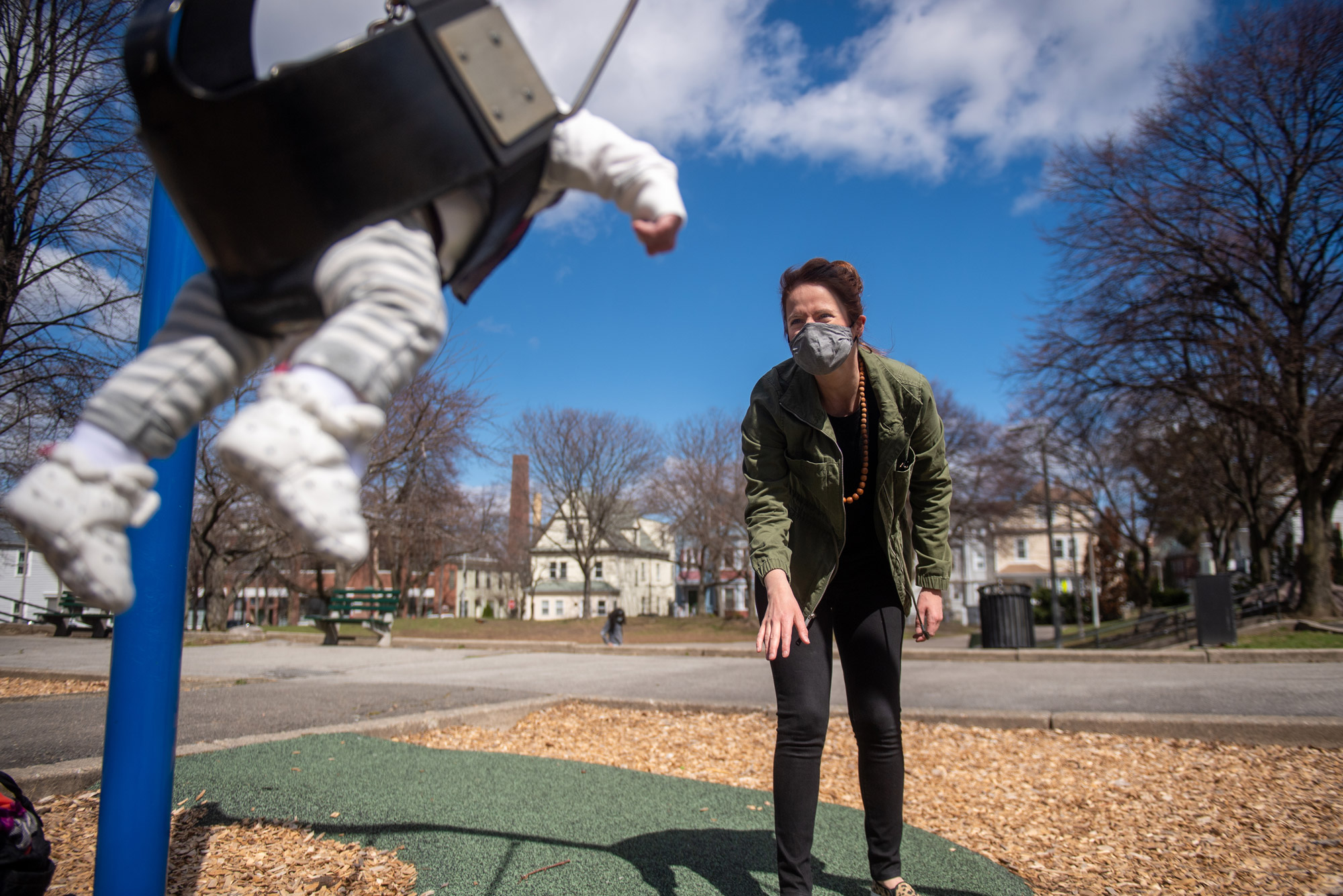 Theatre
Needed More Than Ever: Boston Theater Marathon Returns (Virtually) to Help Artists Hit by Pandemic
Watch a 10-minute play every day and raise money for the Theatre Community Benevolent Fund
M. Bevin O'Gara has supported the Theatre Community Benevolent Fund, but never expected to ask for its help herself.
The nonprofit was established in the late 1990s to help local theater artists facing unanticipated catastrophes, be it a medical emergency, a stolen laptop, or a house fire. Veteran Boston director O'Gara (CFA'04), whose credits include plays at the Huntington Theatre Company and Boston Playwrights' Theatre, donated to the fund and even performed in a fundraising video. She has also regularly bought tickets for the Boston Theater Marathon, an annual festival of 10-minute plays that is the fund's largest revenue source.
Organized by the Boston Playwrights' Theatre (BPT) here at BU, this year's all-virtual Boston Theater Marathon XXIII starts Thursday, April 1, and runs throughout April and May, Mondays through Saturdays at noon. The plays, all performed on Zoom, are free, but audience members are encouraged to donate to the fund, which has given more in grants in the last year than in the previous two decades.
When COVID shut down the theater world in March 2020, O'Gara was five months pregnant and ending a stint as artistic director of a theater in Ithaca, N.Y. She and her journalist husband were moving back to their Jamaica Plain condo. Turned out the bathroom needed work. Then the washing machine died. And their car called it quits.
Then in June, O'Gara went into labor and gave birth six weeks early. Son Henry spent two weeks in the hospital, the first couple of days in intensive care, before he could come home. Henry was happy and healthy—the family checkbook, not so much. Despite planning and saving and health insurance, the simultaneous emergencies presented a challenge to the family, including a $5,000 out-of-pocket share of the hospital bill for Henry's care. A quick look at the COVID news told O'Gara she wasn't going to be directing again anytime soon.
"There was a lot of pent-up stress and tension," she says, and at a time when his parents wanted Henry to be the only thing on their minds.
O'Gara still didn't see herself asking the fund for help. "I was having a socially distanced conversation with a board member, telling her our story, and she said, 'This is why the fund exists, this is for you,'" she says. "And I was like, 'This is not for us.' We have resources, we have family, I felt like we were fine."
But she went home and thought about it for a couple of days, and finally, applied for a grant. Last September she received nearly the $2,500 maximum from the fund, enough to knock down that hospital bill, she says, "and take the pressure off me and my husband as first-time parents.
"When I got the email, I cried. All of those things that were mounting on us and weighing on us, instantaneously half of it disappeared. And to find this wonderful moment of joy, frankly, amidst a time that has been so hard—we celebrated a little bit that night.
"That there is a resource like this, that there are so many artists who contribute to and distribute this fund, speaks volumes about the community. I want to shout it from the rooftops."
On Tuesday, New Repertory Theatre in Watertown named O'Gara interim executive artistic director, effective April 5, succeeding Michael J. Bobbitt, who took over as executive director of the Massachusetts Cultural Council on February 1. And O'Gara has just signed up as a monthly donor to the fund.
A big change
With the pandemic closing area theaters for more than a year, many local actors, directors, stage managers, and other artists lost their entire income. The fund faced an unprecedented need.
"Most years, we'd get maybe 10 applications," says Amy Spalletta (CFA'08), Theatre Community Benevolent Fund president. "But for much of the last year, March to March, it has averaged closer to eight applications a week."
That put an extra kick into the 2020 Boston Theater Marathon. Even though it had to go virtual, instead of over a weekend at the Boston Center for the Arts as usual, the Marathon raised $56,000, roughly three times its previous record.
---

That there is a resource like this, that there are so many artists who contribute to and distribute this fund, speaks volumes about the community.

---
Good thing, too, because from March 2020 to March 2021, the fund distributed 99 grants to individuals who were out of work and/or dealing with medical issues amidst the virus, totaling $173,253. Another 23 grants totaling $76,750 went to theater companies and arts organizations suddenly unable to move forward with work.
"The only thing we added to our parameters was loss of income," Spalletta says.
Now it's time for the Marathon to refill its coffers.
"It feels good to be supporting this theater community in the way that we are," says BPT and Theater Marathon artistic director Kate Snodgrass (GRS'90), a College of Arts and Sciences professor of the practice of playwriting. "I was astonished and proud that we helped to raise so much last year. And the good news is we touched a lot of people who didn't know about us before.
"We want to raise as much again this time and hopefully even more," Snodgrass says. "I believe we can help the TCBF sustain itself and continue to give."
This year's Marathon begins with Okay by Laurie Lee, which centers, appropriately, on a Zoom meeting; it is sponsored by the College of Fine Arts School of Theatre. Among the other companies involved are the Huntington, SpeakEasy Stage Company, Gloucester Stage, and BU's Wheelock Family Theatre. Playwrights include well-known names like Melinda Lopez (GRS'00), David Valdes, and Kirsten Greenidge, a CFA associate professor of playwriting and theater arts, as well as up-and-comers like Alexis Scheer (GRS'19). As the action is spread out over two months, actors and directors are still being chosen.
One of this year's contributing playwrights is K. Alexa Mavromatis (GRS'11), BPT's marketing coordinator, who has written Marty, which will be livestreamed on May 22, presented by Hartford Stage.
"It's set during the pandemic, and it's about that," Mavromatis says. "It's sort of a comedy, and it kind of deals with despair, too. It's inspired by Stop & Shop and Giant, which have these large robots, six feet tall, that are named Marty, and they detect spills and alert staff to any problems in the aisles. The other characters are a married couple on a shopping trip."
More plays will touch on Zoom and the pandemic than any other topic, and one addresses the aftermath of the January 6 riot at the Capitol. But there is also one about an ex-military canine confronting what he has done and one with Harvey the Elf solving the murder of Frosty the Snowman at the North Pole.
"I think it's going to be interesting to watch," Mavromatis says. "With last year's marathon, where we ended up was so much different from where we started in terms of how people were using Zoom. But people know what they're getting into this time."