Coronavirus: BU Wednesday Roundup
Public Health
Coronavirus: BU Wednesday Roundup
BU, Boston, state, national, and global updates
If you have a question or comment related to BU and its response to the COVID-19 crisis, on the subject of the move-out, remote learning, retrieving personal belongings, or anything else, please visit Boston University's special COVID-19 website. Questions are being answered there by specific departments in a timely fashion. Thank you.
—Doug Most, executive editor, BU Today
Quote of the day:
---

Even the dogs won't come downstairs.

---
Stat of the day:
---
BU News
Boston Theatre Marathon goes Zoom beginning today

BU-based Boston Playwrights' Theatre (BPT) will present a very different Boston Theater Marathon when the annual event begins today, Wednesday, April 1, and it might be just the distraction that all us shut-ins need.

More than 200 Boston-area theater artists are working on Boston Theater Marathon XXII: Special Zoom Edition, which features 10-minute plays written by New England playwrights and presented by New England theater companies. There will be one broadcast every day at noon for more than a month on Zoom, the videoconferencing tool that just about everyone is using to stay in touch these days. Find a complete schedule, with Zoom links, here.

The Elliot Norton Award–winning marathon, a yearly community-based charity event benefiting the Theatre Community Benevolent Fund, was scheduled for April 19, but was canceled as the coronavirus pandemic escalated earlier this month. Audiences who dial in to the event will be encouraged to donate to participating theater companies and/or to the Theatre Community Benevolent Fund.

"We won't let this necessary distancing stop these gifted playwrights and these wonderful companies from coming together to celebrate new work," says BPT and Marathon artistic director Kate Snodgrass (GRS'90), a College of Arts & Sciences professor of the practice of playwriting. "Theater will continue—whether it's on the stage or in our hearts (or rather, in this case, on Zoom). Whether it's for 10 minutes or for 10 hours, art lives."

This year's Theater Marathon was intended to be a homecoming of sorts—the first time the event had been held at Boston Playwrights' Theatre since 2004. (It was at the Huntington Theatre Company's Virginia Wimberly Theatre at the Boston Center for the Arts from 2005 to 2019.) "Instead of honoring our past, times dictate that we try something new," says K. Alexa Mavromatis (GRS'11), BPT marketing director.

Today's first installment is Three Ladybugs, by Vicki Meagher, sponsored by Boston Playwrights' Theatre—and featuring an all-BU cast. It's directed by Darren Evans (CAS'95), stars Melinda Lopez (GRS'00), a CAS adjunct assistant professor of playwriting, as Atheist Ladybug, and veteran Boston stage actors Paula Plum (CFA'75) as Agnostic Ladybug and Karen McDonald (CFA'72) as Believer Ladybug. Snodgrass and Evans have voice-over parts (Woman and Man) and Mavromatis will read stage directions. Playwrights represented this year include Mavromatis and Ronán Noone (GRS'01), as well as local stalwarts like Patrick Gabridge and John Kuntz (GRS'05).

The Theater Marathon is traditionally presented as a 10-hour, all-day affair featuring 10-minute plays by 50 New England playwrights and produced by 50 New England theater companies. Instead, this year it will be a daily Zoom-based "lunch break" through May 17. Readings will begin each day at noon and last approximately 15 minutes. Audiences will need to download the free Zoom app to participate, and it is recommended that they call in a few minutes before "curtain" time. Nearly every playwright and theater company tapped to participate in the onstage version will be part of the Zoom event.

And yes, the Zoom events will be set up so only the performers are seen and heard.

#TerriersTogether: a day of unity for the global BU community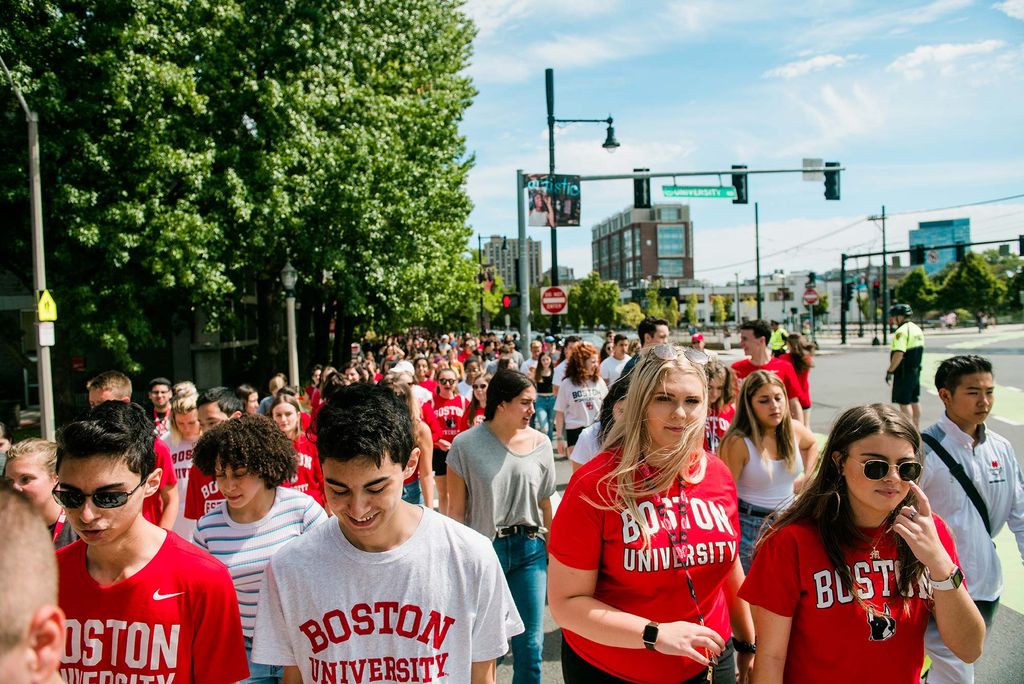 On Thursday, April 2, all BU alumni, students, faculty, and staff across the globe are asked to wear BU gear for the day and post proudly across social channels using #TerriersTogether—along with messages of positivity and connection for the BU community. The #TerriersTogether web page asks students and alums to:
Wear whatever BU gear you own
Take a picture
Post it on social media
Tag #TerriersTogether
The page also offers downloadable Zoom backgrounds so at your next meeting you can make it look like you're at the BU Beach or the GSU.

ICYMI
A couple of BU Today stories we want to be sure you didn't miss: 50 Boston collaborators gathered at the Center for Regenerative Medicine (CReM) on Boston University's Medical Campus in March to develop their own FDA-approved coronavirus test. A Questrom supply-chain expert says stock up, yes, but don't panic about food supplies. Also: Former Patriots tight end Rob Gronkowski and model Camille Kostek have donated 10,000 medical-grade KN95 masks to both Boston Medical Center and St. Joseph's University Medical Center in New Jersey, in an effort to assist with the high demand for personal protective equipment (PPE) during the pandemic. And finally, if you have followed the conventional wisdom as it evolves toward "everybody wear a mask when you go outside," here's how to make your own.
---
Boston and Beyond News
Governor Charlie Baker extends stay-at-home advisory, business closures to May 4
The Massachusetts governor announced Tuesday that he is extending the order closing nonessential businesses and that the state Department of Public Health will keep its stay-at-home advisory in place, both until May 4, matching planned school closures. Gatherings larger than 10 people are also banned. The White House on Sunday extended guidelines for Americans to maintain social distancing through April 30.

An updated list of essential businesses is being distributed. Among the changes: hotels, motels, and short-term rentals like AirBnBs can no longer be booked for leisure purposes. They may be used only for efforts related to fighting COVID-19, like frontline health workers, or for Massachusetts residents who have been otherwise displaced from their residences. "People should really be using common sense and not going on vacation right now," Baker said.
Speaking of Zoom…
The FBI "has received multiple reports of conferences being disrupted by pornographic and/or hate images and threatening language," the Boston Globe reports. Apparently, now that we're all using Zoom to study and stay connected in an age of social distancing, it has become fertile ground for trolls and hate-mongers. The feds recommend that you use passwords and other Zoom features to prevent disrupters from getting into your work meetings and virtual cocktail parties.
---
US & Global News
Scientists ready to show "grim" projections

The White House released the epidemiological models of the spread of coronavirus in the United States that painted such a grim picture that President Trump gave up his plan to reopen the country on Easter. Trump warned Americans of "a very, very painful two weeks" ahead. The models showed the virus is likely to kill 100,000 to as many as 240,000 Americans this year. Trump now says social distancing and business closures will continue through April.
Malaria drug trials against COVID-19 underway
A nationwide trial is underway to see if the drug hydroxychloroquine can prevent disease in people exposed to the novel coronavirus. A second trial will test to see if the drug can prevent severe disease in people who are already showing COVID-19 symptoms. Both are run by a University of Minnesota infectious disease specialist.
Latest count of coronavirus cases
United States, 174,467; Massachusetts, 6,620.
---
Find BU Today's latest coverage of the pandemic here. The University's hotline for faculty, staff, students, and visiting scholars to call for referral of their virus-related medical concerns is 617-358-4990.