Your Guide to the Best Holiday Markets around Boston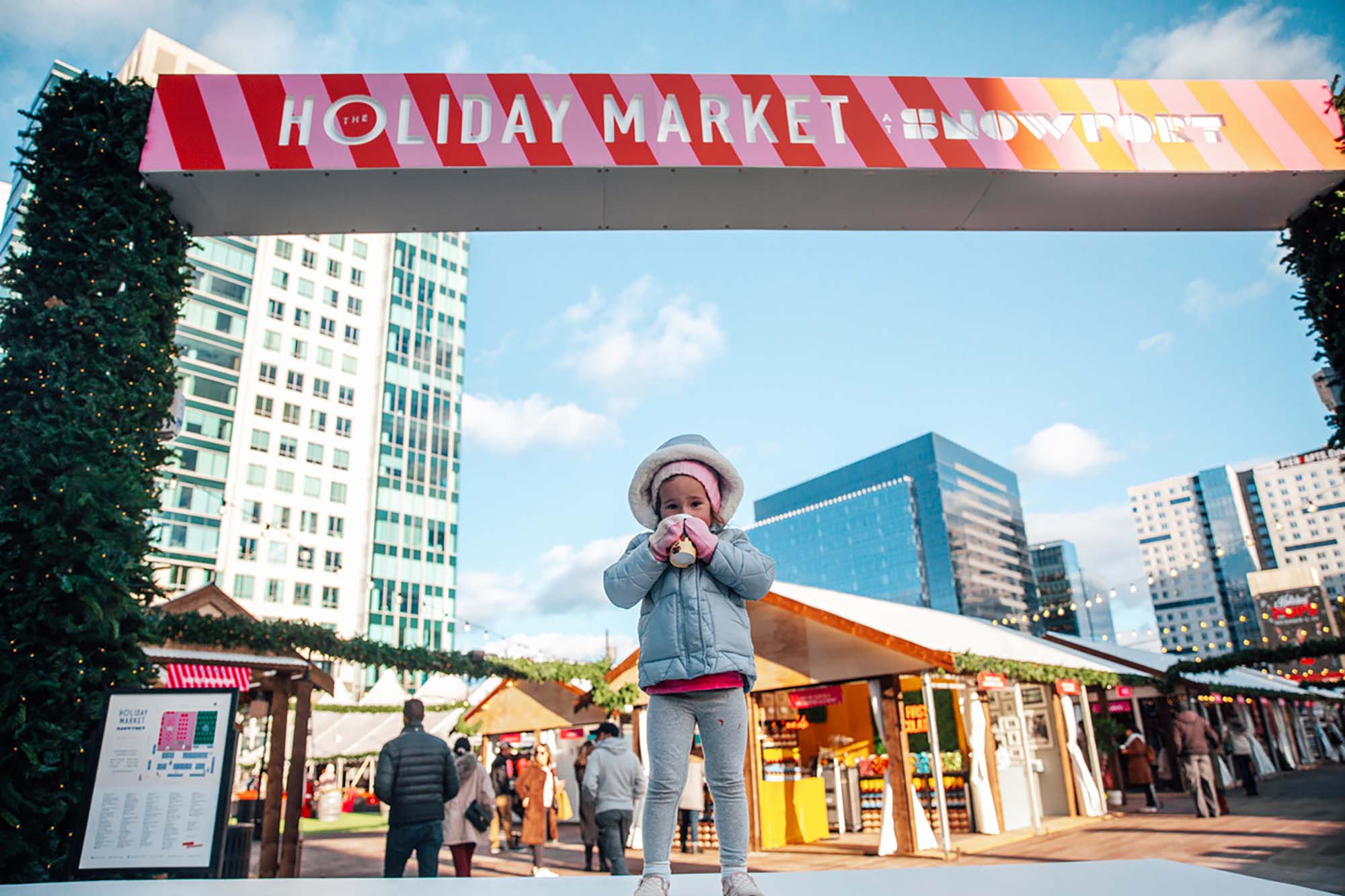 Things-to-do
Your Guide to the Best Holiday Markets around Boston
Ring in the holidays and support local artists  
The holiday season is sweeping the city as Bostonians begin to celebrate the festivities. With supply chain issues threatening to delay traditional holiday shopping, there's no better time to shop local. We've put together a list of the best holiday markets in and around the city to shop, eat, and get into the holiday spirit.
A winter wonderland comes to Boston Seaport as the neighborhood is transformed for the fourth annual Snowport. This year's festivities include everything from holiday shops to outdoor games. The market is set to double in size this year, and will feature over 120 vendors selling apparel, home decor, jewelry, art, and more. Once you've finished up your shopping, check out one of the 19 booths offering food and beverages. Head to the Bar at Snowport, where you can take advantage of Tuscan Kitchen's heated tent. Sip on a thematic cocktail, like the mistletoe margarita, or take some photos in front of the winter wish wall—a 25-foot interactive chalkboard where guests can share their holiday wishes—or the 10-foot-tall mistletoe arch. Take your shot at curling, a free activity open to the public through February, or stop by the rooftop igloo bar at The Envoy, where you can enjoy views of the Boston skyline. Snowport will also host holiday events like Light Up Seaport—Seaport's annual tree lighting—on December 2 and a menorah lighting ceremony on December 22.
The Holiday Market at Snowport, 100 Seaport Blvd., Boston, will be open daily through December 31. From December 12 to 31, the hours are Sunday through Thursday from 11 am to 8 pm, and Friday and Saturday from 11 am to 9 pm.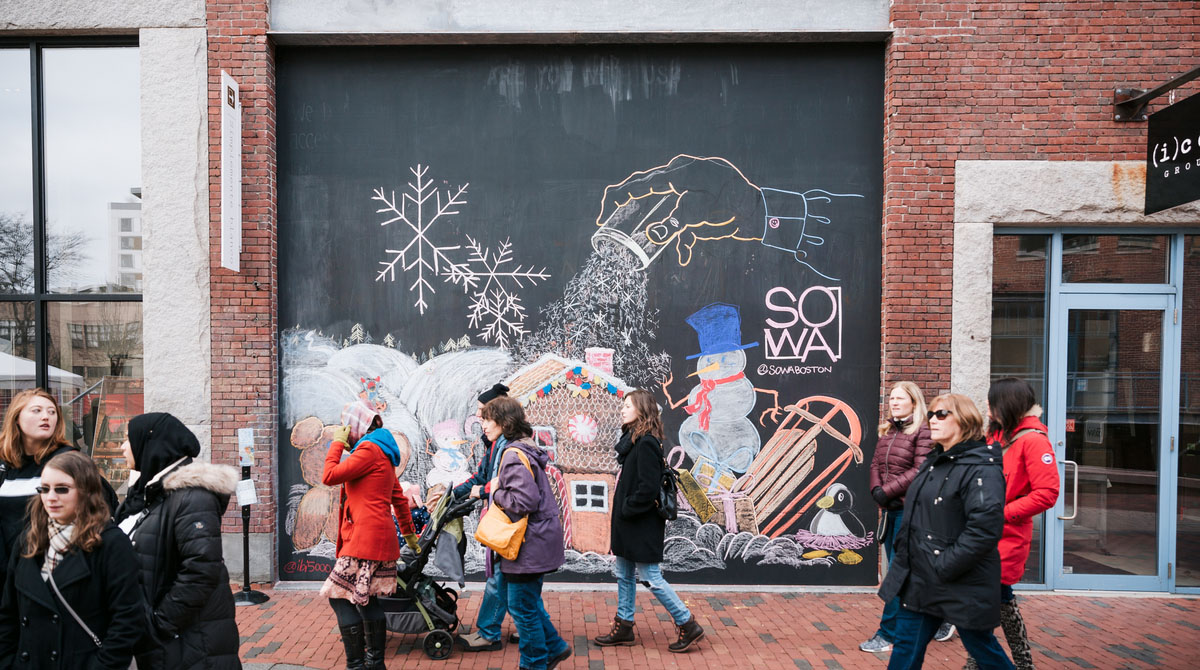 SoWa Winter Festival, voted best winter festival in the city by Boston magazine, opens its doors for the seventh year in a row. The festival takes place over 13 days and has three locations:
1. SoWa Power Station

550 Harrison Ave.
At this location, you will find over 100 local art and food vendors. Check out the first floor for some food and drinks, before making your way upstairs for live music and cocktails on floor two. Tickets are $10 at the door, and all payments must be made by card.
2. Food Truck Bazaar

Fridays through Sundays, exit the Power Station, head to Harrison Avenue, and take a right after Randolph Street. There, you can grab a bite from some of Boston's best food trucks, including student favorite, Bon Me. You can also warm up around a fire pit, making for a snug dining experience.
3. Thayer Street Studios

Take a stroll down nearby Thayer Street, and explore the open artist studios, showrooms, galleries, and shops that line both sides of the street. Browse high-quality creations by local vendors or buy a masterpiece to adorn your living room wall.
The SoWa Vintage Market, at 450 Harrison Ave., is open every Sunday year-round. Click here to find the SoWa Winter Festival hours.
Just outside one of Boston's oldest churches is a delightful craft fair that takes place on December 3. It features about 30 stalls, selling creations by glassblowers, candlemakers, jewelers, knitters, and woodworkers. These crafts make for great gifts for anyone in your family or can add a touch of class to your own living space. There will also be live music—and don't leave without going on the cookie walk!
Christmas Craft Fair, 645 Boylston St., Boston, is December 3 from 10 am to 4 pm.
The Jamaica Plain Crafts Fair has enjoyed 11 years of success and draws in residents from all parts of the city. Local vendors sell creative handmade crafts—including crocheted hats, stone jewelry, digital art, and wood kitchen wares—and keep 100 percent of their sales. There will also be live jazz, children's activities, and food to add liveliness to the already vibrant scene.
Jamaica Plain Crafts Fair, 6 Eliot St., Boston, is December 3 from 11 am to 5 pm.
For fans of thrift shops and vintage goods, the Somerville Flea Holiday Market is a dream come true. Local artisans come together at the Center for Arts at the Armory, just outside Davis Square, to sell local crafts and repurposed wares in a unique holiday shopping experience. Vendors will offer a variety of vintage finds, including art, thrifted clothes, vinyl records, and accessories. Live music and tasty snacks promise to make the experience even more enjoyable.
Somerville Flea Holiday Market, 191 Highland Ave., will be open December 4 and 18 from 10 am to 5 pm.
Out of all of Boston's holiday markets, the Harvard Square Holiday Fair is undoubtedly the most well-known. The bustling two-weekend fair has served the Cambridge community since 1986. A mix of local artisans and vendors from across the globe bring beautiful and original handmade gifts that are affordable and creative. Check out booths from New England craftspeople and world-traveling importers selling screen-printed clothing, art, pottery, jewelry, and more. The market draws large crowds every year due to its sterling reputation, so be sure to check out this unmissable holiday experience. Admission is free.
Harvard Square Holiday Fair, 33 Dunster St., Cambridge, will be open December 9 to 11 and December 16 to 18. Their hours on Fridays are noon to 7 pm, Saturdays from 11 am to 7 pm, and Sundays from noon to 6 pm.
Virtual Market
Some of the best handmade crafts in the city can be found at this virtual holiday market. Sponsored by the Society of Arts + Crafts, this elite exhibition space hosts nearly 50 widely recognized local and national craft artists. Casual shoppers and serious collectors alike will appreciate the wearable textiles,  jewelry, and creative home goods. A calendar of in-person and virtual events and talks can be accessed here, and the show can be viewed here.
The CraftBoston Holiday Online market and events will run until January 8, 2023.