Your Guide to the Best Holiday Markets around Boston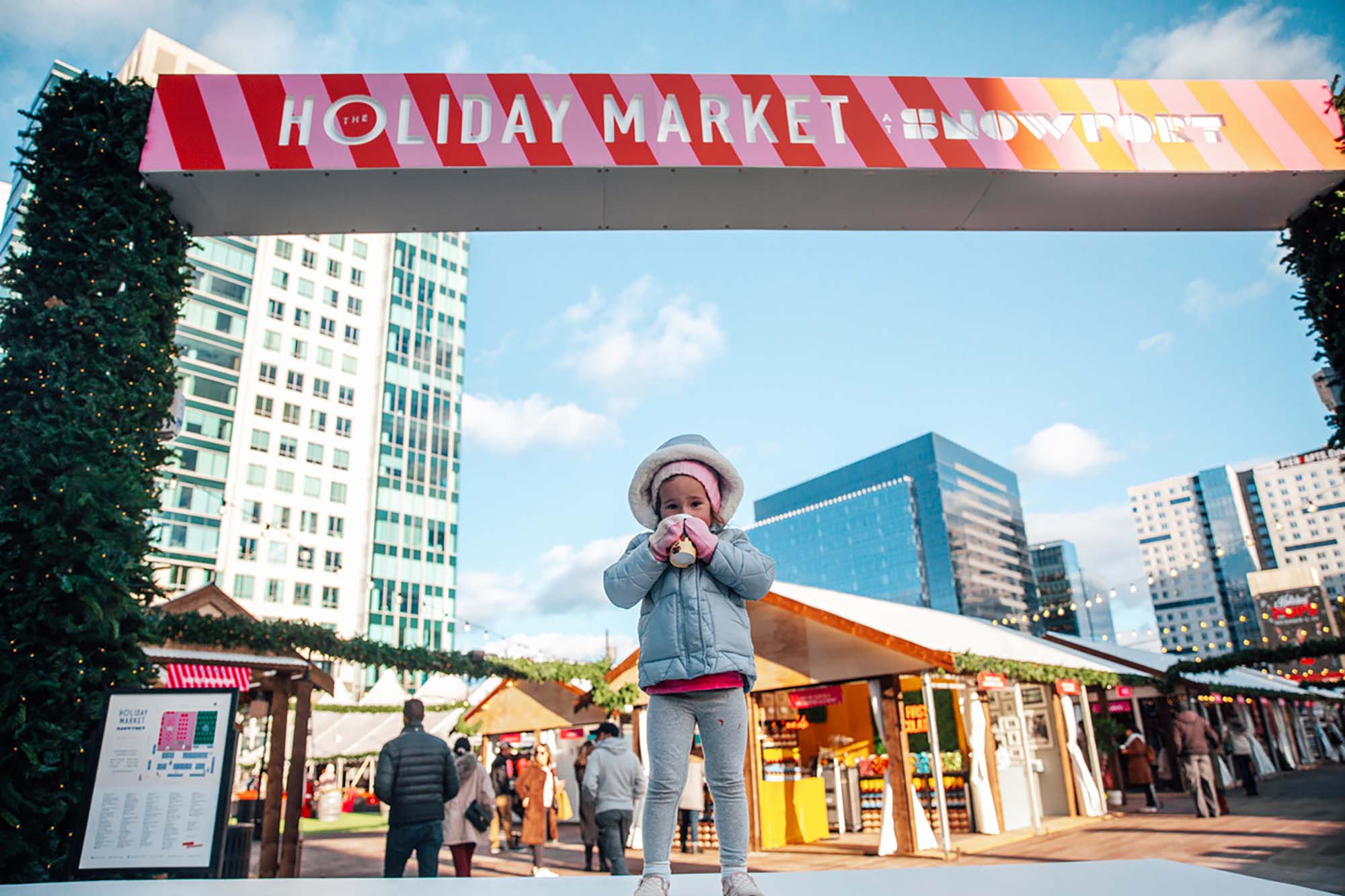 In the City
Your Guide to the Best Holiday Markets around Boston
Ring in the holidays and support local artists  
The holiday season is sweeping the city as Bostonians begin to join in the festivities. With supply chain issues threatening to delay traditional holiday shopping, there's no better time to shop local. We've put together a list of the best holiday markets in and around the city to shop, eat, and get into the holiday spirit.
A winter wonderland comes to Boston Seaport as the neighborhood is transformed for the third annual Snowport. Snowport includes winter games and ice-skating, the Tree Market at Seaport, and for the first time ever, a holiday market. This European-style market showcases 60 small businesses, and Breezy Hill Orchard is on hand to serve hot cider and delicious cider donuts to warm you up while you shop. Light Up Seaport—when Boston Seaport's 54-foot Norway spruce tree will be lit with more than 10,000 white lights and the Boston Children's Chorus and other local entertainers will perform—is December 3 on the Seaport Common. There will also be a menorah lighting on December 4 at One Seaport Courtyard.
Snowport, 88 Seaport Blvd., Boston, will be open daily through January 2, 2022. Hours are Monday through Thursday from 3 to 8 pm, Friday and Saturday from 11 am to 8 pm, and Sunday from 11 am to 7 pm.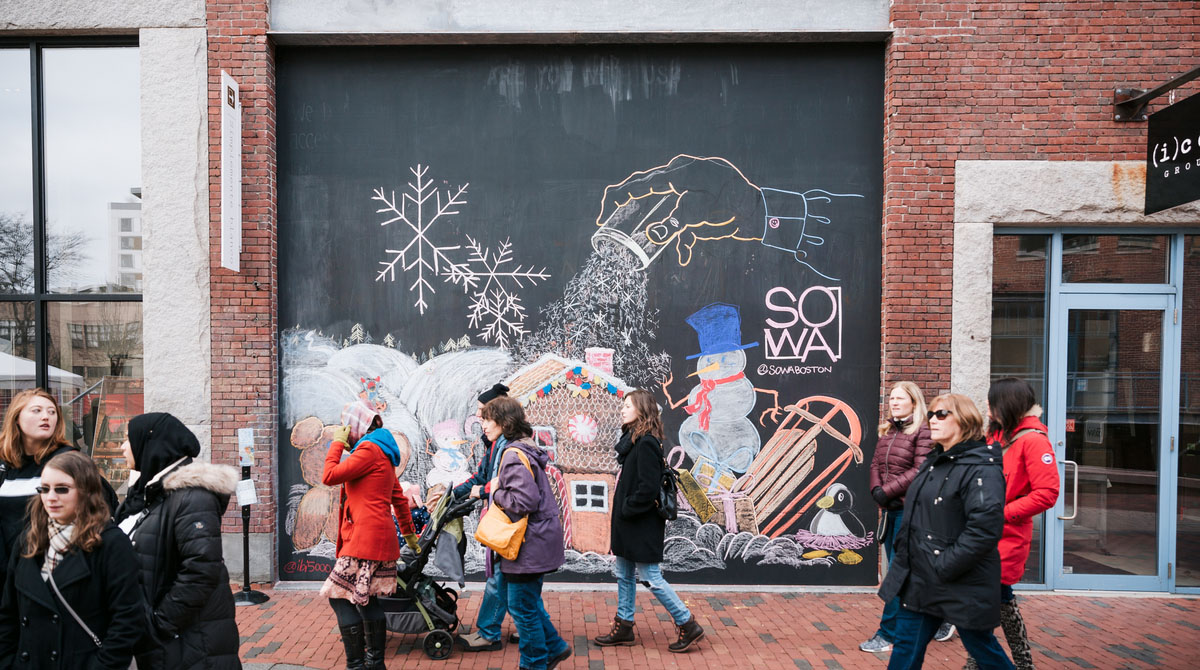 SoWa Winter Festival, voted the best winter festival in Boston, opens its doors for the sixth year in a row. The festival, held over 10 days, has three locations:
1. SoWa Power Station

540 Harrison Ave.
Enter through a fresh pine tree forest, where you will find 105 local art and food vendors. Christmas trees are also for sale and can be purchased fully lit and with a stand to make your decorating that much easier. Entry is free from Monday to Thursday, and tickets can be bought online for $5 or in person for $10 from Friday to Sunday.
2. Outdoor Winter Wonderland

500 Harrison Ave.
Head outside the Power Station to grab a bite from some of Boston's best food trucks, including student favorite Bon Me. Lounge with some friends in a heated tent and cozy up with a beer from Jack's Abby Beer Garden. You can also warm up around a fire pit, making for a snug dining experience.
3. Artist studios, design showrooms, galleries, retail shops, and vintage market

450/460 Harrison Ave.
Take a stroll down Thayer Street, a pedestrian-only walkway draped with holiday lights. Studios, showrooms, galleries, and shops line both sides of the street. Browse high-quality creations by local vendors or buy a masterpiece to adorn your living room wall. Warm up at the hot chocolate hut or visit the wine truck for a stronger treat. There are also several pop-up experiences to engage visitors and make the experience interactive.
The SoWa Vintage Market, at 450 Harrison Ave., Boston, is open every Sunday year round. Find the SoWa Winter Festival holiday hours here.
Christmas Craft Fair at Old South Church
On December 4 there will be a delightful craft fair just outside one of Boston's oldest churches. It features about 30 stalls, selling creations by glassblowers, candlemakers, jewelers, knitters, and woodworkers. These crafts make for great gifts for anyone in your family or can add a touch of class to your own living space. Don't leave without trying a cup of hot cider and some spiced gingerbread cookies.
Old South Church Christmas Craft Fair, 645 Boylston St., Boston, is Saturday, December 4, from 9:30 am to 3:30 pm.
After its pandemic-caused cancellation last year, the Jamaica Plain Crafts Fair is making its return as a staple of Boston's holiday market scene. The fair has enjoyed 10 years of success and draws in residents from all parts of the city. Local vendors sell creative handmade crafts—including crocheted hats, stone jewelry, digital art, and wood kitchen wares—and keep 100 percent of their sales. There will also be a jazz trio jamming throughout the day to add liveliness to the already vibrant scene.
Jamaica Plain Crafts Fair, 6 Eliot St., Jamaica Plain, will be open Saturday, December 4, and Sunday, December 19, from 11 am to 5 pm.
For fans of thrift shops and vintage goods, the Somerville Flea Holiday Market is a dream come true. Local artisans come together at the Center for Arts at the Armory, just outside Davis Square, to sell local crafts and repurposed wares in a unique holiday shopping experience. Vendors will offer a variety of vintage finds, including art, thrifted clothes, vinyl records, and accessories. Live music and tasty snacks promise to make the experience even more enjoyable.
Somerville Flea, 191 Highland Ave., Somerville, will be open Sunday, December 5, and Sunday, December 19, from 10 am to 5 pm.
Out of all the Boston area's holiday markets, the Harvard Square Holiday Fair is undoubtedly the most well-known. The bustling three-weekend fair has enthralled the Cambridge community since 1986. A mix of local artisans and vendors from across the globe bring beautiful and original handmade gifts that are affordable and creative. Check out booths selling LED-lit jewelry, artisan chocolate, and olive oil imported from Greece. The market's sterling reputation draws large crowds every year, so be sure to check out this unmissable holiday experience. 
Harvard Square Holiday Fair is at a new location, 33 Dunster St., Cambridge, and will be open December 10 to 12 and December 17 to 19. Friday hours are noon to 7 pm, Saturday, 11 am to 7 pm, and Sunday, noon to 6 pm.
Virtual Market
Some of the best handmade crafts in the city can be found at this virtual holiday market. Sponsored by the Society of Arts + Crafts, this elite exhibition space hosts over 200 widely recognized local and national craft artists. Casual shoppers and serious collectors alike will appreciate the fine glass-blown products, jewelry, and creative home goods. Artists will also be offering virtual lessons in their respective crafts, so check out the CraftBoston site to learn more about skills, such as woodworking or glassblowing.
The CraftBoston Holiday Online market and events will run until January 30, 2022; shop here.