22 Important Questions and Answers for BU's 2021–2022 School Year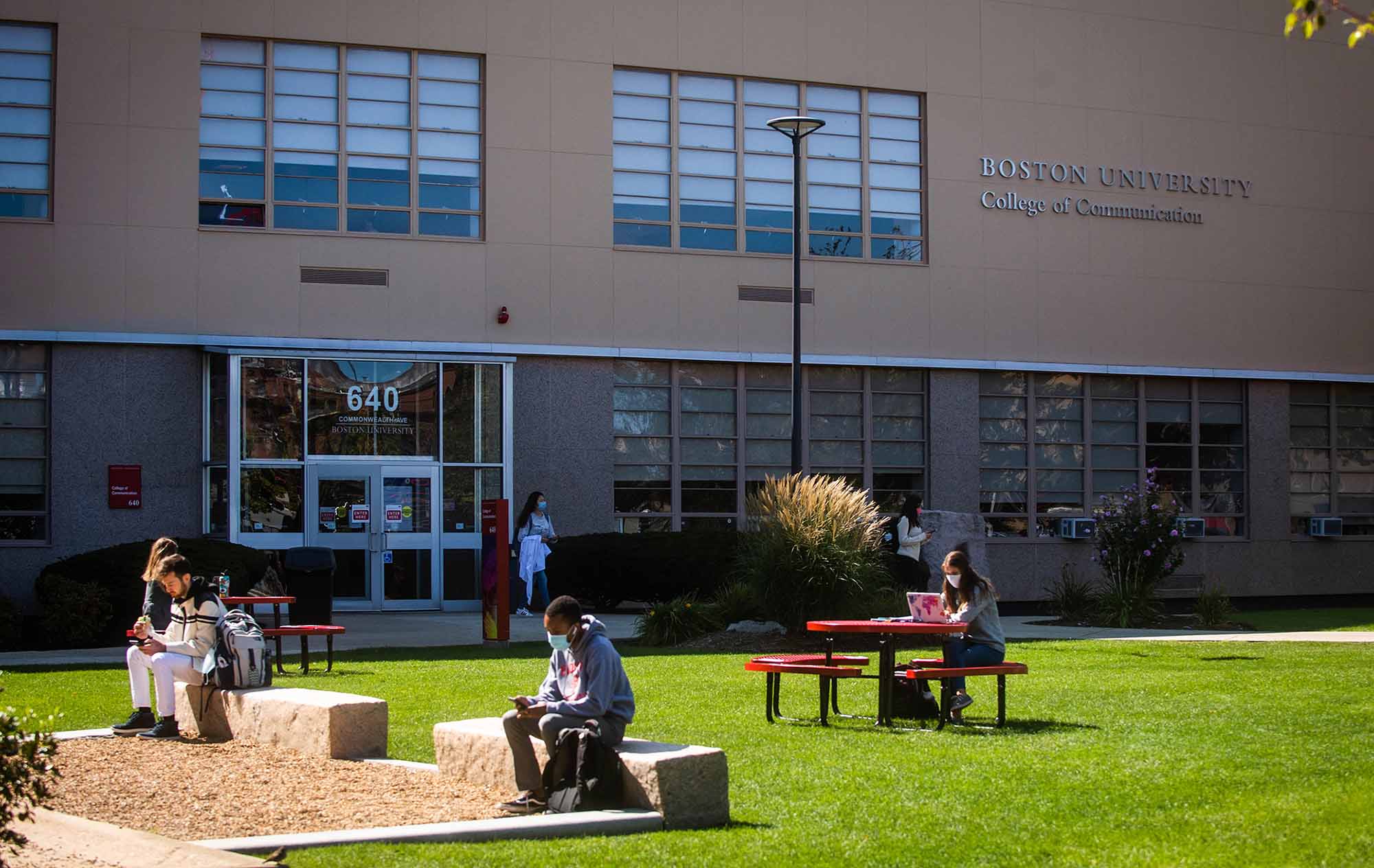 Back2BU
22 Important Questions and Answers for BU's 2021–2022 School Year
What's up with FitRec? What if I'm quarantined? Are overnight guests allowed in dorms? Can club sports teams travel? Are booster shots coming? Answers to these and more
So much news, so much information, so many questions. In one fell swoop, with this article BU Today will try to provide answers and updates for Boston University students, faculty, and staff on all things COVID—vaccination, testing, masking—for the new school year. And we will also talk about campus life. Inevitably, we will miss something, so leave your question in the Comment section below, and whenever possible, we will try to get it answered by the appropriate person. (Also, the Back2BU vaccination website is chock-full of information.) So let's get to it.
First off, for newcomers to campus—faculty, staff, and students—what's important for them to know as their first BU semester gets underway in these challenging circumstances?
Starting last year, BU put in place a comprehensive set of public health protocols and began regular COVID-19 testing of the entire on-campus community, masking rules, and compliance protocols, and over the course of the school year and summer months performed more than 1.2 million coronavirus tests and recorded 2,247 positives. That's a testing rate that is 99.8 percent negative and 0.18 percent positive. And the vast majority of those protocols that helped achieve such low positivity rates, including those that require faculty, staff, and students to keep up with regular testing, remain in place.
One of the most important components to the University's COVID tracking system is ensuring that BU's Healthway nurses and contact tracing team who are analyzing the test results have access to class rosters for purposes of contact tracing, says Judy Platt, Student Health Services director. "Behind the scenes, we are investigating, reinvestigating, and have a regular pulse on the testing cadences and compliance for our community," she says.
In addition to a contact tracing system focused on notifying people who have been exposed and are close contacts to someone who tested positive, Platt says, BU also performs reverse or bidirectional contact tracing. That involves going to the source of the infection and working backward to determine who infected that person and where the exposure ultimately started.
"We have teams that can access class rosters, and what's so amazing is that we can look up a whole class and see when individuals have tested negative most recently," Platt says. "Then when a positive appears, we can make connections people don't even know about."
But it goes even deeper than that. Through whole genome sequencing of the virus, she says, analysts can determine precisely which person's positive test result most closely matches with another person's positive test result to learn if that's where the virus was passed.
"That really traces it more specifically," Platt says. "You can't get better than all the resources BU has been fortunate to have put together."
Although some events and gatherings are being allowed now that BU is mandating that everyone on campus be vaccinated, Platt says the presence of the Delta variant means that inevitably there is some risk on campus. "We have put as many mitigation layers in as possible to keep the campus safe, but also allow our community to come together in ways that are important," she says. "Yes, there is some risk, but we are gathering data all the time and making decisions directly from our own data. And all of the public health protocols are great, but they have to be enforced. There are teams working to ensure the entire community stays compliant—which is no small feat given the size of BU. If everyone stays united in adhering to these protocols, we can live, work, and learn together in the midst of this pandemic and thrive."
Okay, so what is the state of the coronavirus right now?
"Cases have been increasing around the country, but the picture is very different when we compare states with high vaccination coverage, like Vermont or Massachusetts, to states with low vaccination coverage, like Alabama or Mississippi," says Sabrina Assoumou, a BU School of Medicine assistant professor of medicine and of infectious diseases and a Boston Medical Center physician. She says that states with low vaccination coverage have had a surge of cases leading to a strain on the healthcare system. "The ultimate trajectory of the pandemic in the US and globally will depend on how well we are able to provide access to vaccines and encourage vaccination," she says. "Rates of vaccination have been increasing in US states with high case rates," and the hope is this trend will continue after the Food and Drug Administration gave full approval to the Pfizer vaccine on August 23, moving it past the Emergency Use Authorization phase.
"Higher vaccination rates will help with putting us in a better position for the fall when individuals are more likely to spend time indoors," Assoumou says. "More time indoors has traditionally been associated with increased transmission, but we are hoping that high vaccination coverage and appropriate mitigation measures will help to improve outcomes."
What about the Delta variant? What do we know so far about this new strain?
The Delta variant is more contagious than prior strains, Assoumou says. "The data are mixed about whether it causes more severe disease; however, the good news is that all the current vaccines available in the US work against the Delta variant." For the mRNA vaccines—Pfizer and Moderna—she says, it's very important to receive the two shots, not just one shot, to reach high levels of protection.
We keep hearing about breakthrough cases—people who have been vaccinated getting COVID. How concerned should vaccinated individuals be about this?
There are a few important points to remember, Assoumou says. "First, the vaccines are still working as intended. They provide a high level of protection for outcomes that healthcare professionals care most about: severe disease, hospitalization, and death. The majority of patients with COVID after vaccination report mild symptoms, and most individuals who are currently admitted into hospitals are unvaccinated."
Second, according to Assoumou, one reason why there are more cases of COVID after vaccination is because the total number of people who have been vaccinated has increased so much. So even though the vaccines have proven highly effective against COVID, it also means there will be more breakthrough cases.
Third, she says, the Delta variant is more contagious than prior variants, therefore cases are currently rising. "During this time when there is a higher level of circulating virus, we recommend that both vaccinated and unvaccinated individuals continue to follow mitigation measures such as masking in public indoor spaces and avoiding crowds," Assoumou says. "These are measures that will limit further transmission of the virus in the community."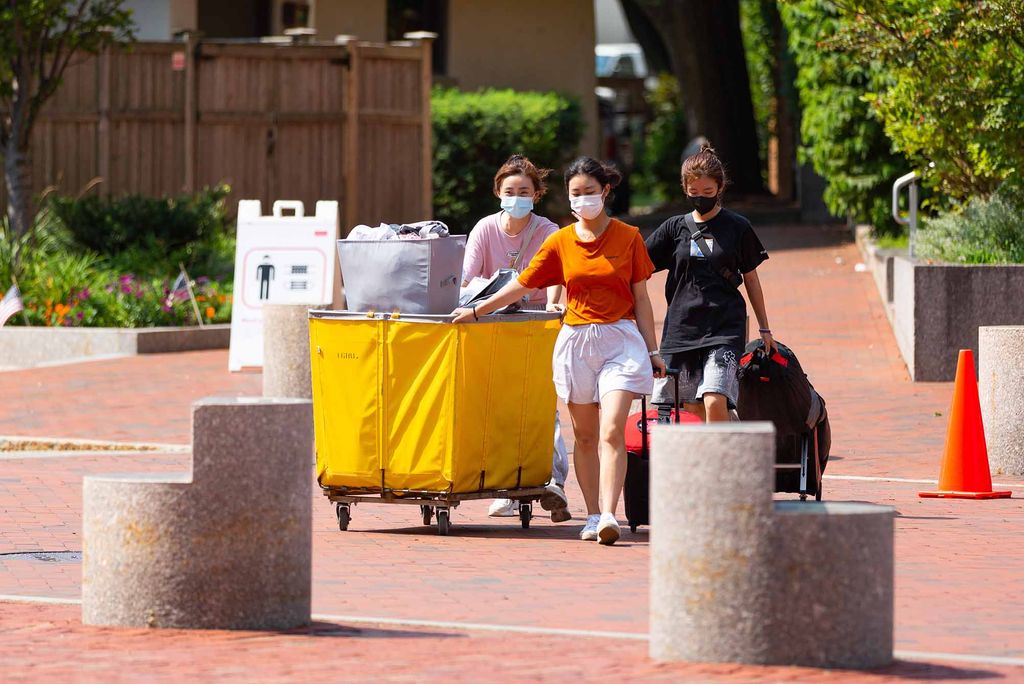 If a student gets COVID now, when there is no option for remote learning and they could miss up to two weeks of classes, what should they do?
"We anticipate there will be some students who will either need to isolate or be in quarantine," Jean Morrison, University provost, said at a town hall for faculty and staff August 19. "You should do what we have always done. Students should be in touch with the faculty member. Make sure they are aware of the work. Students should make sure they have a friend in class, they can share notes, they can refer to the syllabus, keeping up on materials assigned to be done independently. We encourage students and faculty to do what they have always done when dealing with illness that keeps them out of the classroom."
In a follow-up letter sent to faculty, Morrison added: "Students may need to miss class meetings due to COVID-19 or other illnesses. Please consider how to minimize the impact of such absences on these students, as always, understanding that students cannot attend class remotely." And if a faculty member needs to miss class, she wrote: "You should work with your department chair or dean's office to develop alternate plans. This might include identifying another faculty member or senior doctoral student who can teach your class, or rescheduling classes until you are able to return to campus."
Can faculty members hold office hours via Zoom?
Morrison said the preference is that office hours be done in person. "But are there particular instances where it might make sense to do a Zoom meeting? I suspect that's absolutely the case," she said at the town hall. "If there are instances where it works for the faculty member and the student, I think that would be appropriate."
We have heard a lot about booster shots. What do we need to know?
This story on The Brink summarizes information about booster shots. Additionally, Platt tackled this question at the recent town hall, explaining that there is a difference between a booster shot for those who have been fully vaccinated and a third dose for immunocompromised people.
"The third dose for severely immunocompromised is meant to acholowedge that those people may not have had the same effectiveness from their first vaccine shots," Platt said. "A third dose for that group is not seen as a booster."
She compared the booster shot to the tetanus shot, which is generally recommended every 10 years because over time its effectiveness wanes. "The same is true for our new coronavirus vaccine," she said. "We have tremendous amounts of data suggesting the vaccines are very effective, but that against the variants that evolve, the vaccines may be less effective. For that reason, the Biden administration has recommended a booster dose, which is meant to enhance the efficacy of the vaccine."
The rollout of booster shots is expected to start September 20, beginning with those people who are at least eight months past their initial dose of the Pfizer or Moderna vaccine.
Will BU offer booster shots?
"We certainly hope to offer it," Platt said at the town hall. "We have worked very closely with the state and our teaching hospital, Boston Medical Center. Please pay attention to communications as we are able to procure more vaccines."
With the booster shot, can I mix and match vaccines or do I have to get a booster that's the same as my original one?
The Centers for Disease Control and Prevention has recommended that the immunocompromised should be consistent, and if they are getting a third dose, it should be the same vaccine as their first two shots. But for others, who received either the Moderna or Pfizer-BioNTech vaccines, the booster dose will not have to be the same as the original shot. And in fact, some preliminary studies have shown that mixing vaccines might actually be more potent against the coronavirus than using one vaccine.
How is BU's campus doing in regard to vaccination rates?
Here are the latest numbers from the BU Dashboard: students were showing over 90 percent complete vaccination; faculty were at 93 percent; staff were at more than 86 percent.
"BU is doing well in terms of ensuring the vast majority of our campus is vaccinated," Platt says. "We have been as inclusive as possible within our community to ensure that any member of our BU community who comes to campus, even infrequently, is held to the same vaccination compliance as those who are on campus more regularly. As we near the start of the fall semester, September 2, there will be fluctuations in the vaccine percentages as people who have never been to campus change their testing categories and upload proof of vaccination."
Will BU conduct any "adaptive" testing—that is, more frequent testing for certain groups or in certain circumstances associated with things like high travel weekends (Thanksgiving, Jewish holidays, etc.), membership in club sports or athletic teams, etc.?
People who are unvaccinated but are compliant with campus guidelines because they have received a medical or religious exemption are urged to be tested twice a week, rather than once a week for the vaccinated. Platt says BU will also periodically do adaptive testing on those who might be at higher risk, possibly because they were at an event or a large gathering. "That adaptive testing was very effective last year, targeting those groups at higher risk of transmission," she says.
What about being able to bring guests to campus and having overnight guests in residence halls?
BU is expanding the guidance for visitors and guests in on-campus residences. "Students will need a green badge to enter for the safety of the community and the members in the residence," Platt says, "but all BU students can visit the many on-campus residences this semester." All guests must be BU community members, and must have a green badge, showing they are in compliance BU's COVID-19 requirements.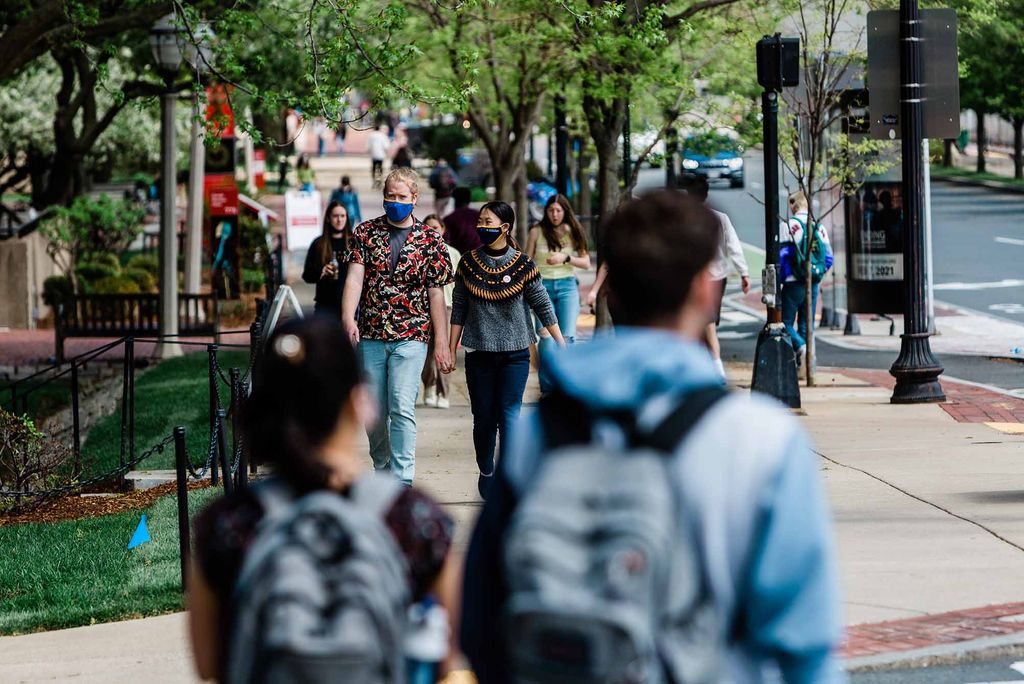 My first vaccine dose was not Pfizer, Moderna, or Johnson & Johnson. Will I need to be revaccinated with both doses of the Pfizer or Moderna vaccine, or with a single dose of the J&J vaccine, once I arrive at campus?
BU is accepting all COVID-19 vaccines to satisfy the University's vaccination mandate, but given concerns about the effectiveness of vaccines not authorized by the World Health Organization (WHO), students, faculty, and staff may choose to complete an additional FDA-authorized COVID-19 vaccination series, Platt says. While this can be done, before you start this additional vaccination series, 28 days need to have passed since your last COVID-19 vaccine. "It is also important to note that if your vaccine is not WHO-authorized," she says, "you will need to go into official quarantine if you are identified as a close contact of someone who has tested positive for COVID-19."
Is there a hotline, like there was last year, for people to call if they want to report someone flouting the COVID guidelines around masks or something else? For example: What if my roommate or classmate refuses to comply with indoor mask requirements?
The dedicated hotline that had been set up last year is no longer active. Instead, the Dean of Students office says students should either call the DOS main number, 617-353-4126, to report a complaint, or complete an available online form.
Do we still have to complete the daily attestation notification every single day?
Employees have to do self-attestation only on the days they come to campus. They do not need to do so on weekends, sick days, vacation days, remote days, or travel days. That is a change, as previously employees were supposed to complete the attestation every weekday. Students should continue to fulfill the daily attestation that they receive from Healthway.
What's happening with testing categories?
Ah, the testing categories: 1, 2, 3, 4. Okay, the overwhelming majority of people who were in categories 3 and 4 will be moved to category 1, meaning they will be on campus at least one day a week and have to get tested weekly. Categories 2 and 3 will impact very few people. Category 3 will cover people who work in other locations and visit a main BU campus only intermittently. Category 2 will cover people who, for whatever reason, have to get tested more than once per week.
One other change: employees won't have to change their category if they are going on vacation or for sick time. They can just remain in category 1.
Masking: what are the rules?
Masks are still required indoors in classrooms, shared offices, public common areas, and on the BU Shuttle, as well as at healthcare facilities. Private offices? Masks are not required. Individual residence hall rooms, or residential apartments? Same, no mask required. Of course you take them off while eating, but social distancing during meals is one way to stay safe. An even safer way? Eat outdoors when you can.
Will BU offer the same quarantine and isolation accommodations to students as it did last year?
Yes, BU will offer the same private accommodations and services for undergraduate and graduate students residing in campus housing, using similar assignment protocols, says Peter Smokowski, vice president for auxiliary services. While quarantine housing is not available to off-campus students, BU offers isolation housing for those students, if requested. He adds that the location for quarantine and isolation housing has been moved to 580 Commonwealth Ave.
Anything new with FitRec?
As of August 31, FitRec will be open for full-time students' informal recreation use on a drop-in basis. No reservation is needed, and cardio machines, weights, stretching, basketball courts, and lap swimming are all available. And it will continue to be open for reservation use for part-time students and for faculty and staff. But there are some guidelines to be aware of:
Your BU ID, as well as a green badge on the BU Healthway app, are required for entry.
You must review and sign the FitRec User Agreement before your first visit.
Face coverings are required to enter and must be worn at all times, including during exercise. The exceptions are when swimming or showering.
FitRec users must wash or sanitize their hands before and after exercise and using equipment and wipe equipment and machines before and after use.
Wherever possible or practical, maintain six feet of physical distance
Will club sports and intramurals operate during the fall semester?
Yes, club sports and intramural activities will resume their pre-pandemic programming, with strict adherence to personal hygiene and disinfection protocols.
There was a travel ban on club sports during the pandemic. Will that be lifted?
Yes, the travel ban will be lifted for the fall, but again, with strict adherence to compliance, personal hygiene, and disinfection protocols.
Last, what about BU Athletics (go Terriers!)? Can students and fans attend games?
Students and fans are permitted to attend BU hockey and basketball games, and all games for that matter, Smokowski says. But there still is a mask-wearing requirement for indoor sports.