Andrew Bacevich: The United States Is Ignoring 2020's "Apocalyptic" Wake-up Call
Public Policy
Andrew Bacevich: The United States Is Ignoring 2020's "Apocalyptic" Wake-up Call
In provocative new book, After the Apocalypse: America's Role in a World Transformed, BU emeritus professor calls for redefining national security
"If there is defunding to be done, it should begin not with the police but with the Pentagon." Coming from a former US Army colonel, that line from Andrew Bacevich's new book makes readers take notice. And it's not the only eye-popper in After the Apocalypse: America's Role in a World Transformed (Metropolitan Books, 2021).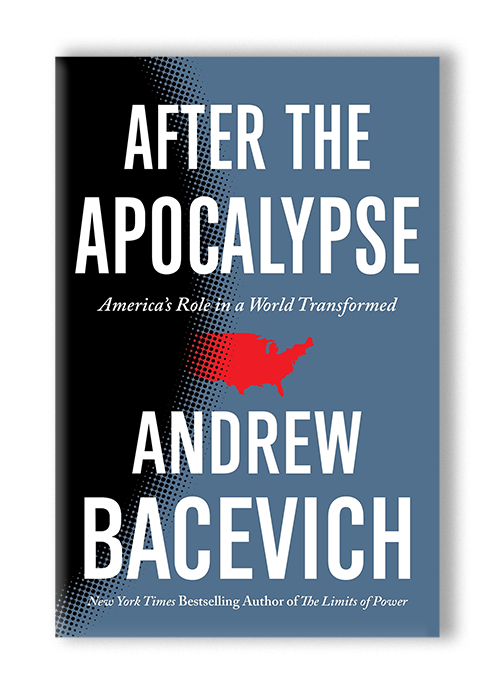 Bacevich, a College of Arts & Sciences and Pardee School of Global Studies professor emeritus of history and of international relations, writes that the United States should withdraw from NATO within a decade; pull our military out of the Middle East, recasting terrorism there as a criminal matter for law enforcement and courts rather than US soldiers; and cut military aid to Israel, which, like NATO, "is perfectly capable of defending itself."
The theme in all these proposals, he argues, is refocusing national security on what he calls the actual threats we've ignored, revealed during the "apocalyptic" wake-up call of 2020: underinvestment in pandemic-containing health measures, systemic racism, and climate change. By contrast, Bacevich writes, NATO, a Cold War counter to the long-gone Soviet Union, is antiquated. And while our Asian military presence is necessary against a rising, provocative China, militarism otherwise forged failed wars in Iraq and Afghanistan—Bacevich's son died in the former—argues the book, which the author discussed with BU Today.
BU Today:
Do President Biden's expansive spending proposals reassure you that he's committed to addressing some of the crises you write about?
Bacevich: On several fronts, President Biden has acted with impressive boldness. Of course, unveiling an initiative is one thing and implementing it is something else again. The Congress is deeply divided along partisan lines, with Republican members more interested in staying in Donald Trump's favor than in actually governing. So I think it remains to be seen whether Biden will be able to make good on his promises of reform. The 2022 election is a further complicating factor.
BU Today:
Leaders must weigh the political feasibility of their ideas. How feasible are the ones you suggest in the book?
Bacevich: My book describes 2020 as an apocalyptic year, with a pandemic, economic crisis, climate-induced calamities, a toxic presidency, a reckoning with racism, and a resurgence of angry populism all putting enormous pressure on basic institutions. To my mind, the year bears comparison with 1968, which was awful. My contention is that dealing with these multiple and overlapping challenges to our democracy will require adjusting the role that we have chosen to play in the world. I see few indications that the Biden administration or the foreign policy establishment more generally see a need for real change on that score. Illusions of US global primacy persist.
Bacevich: I applaud the decision in the sense that we have failed to accomplish our stated purposes there. Persisting won't change the outcome. It's time to allow Afghans to decide their own future. That said, we cannot simply walk away from the mess that we have helped to create. The possibility of large-scale humanitarian disaster cannot be excluded. The Biden administration should be preparing a response to that contingency now.
BU Today:
Some observers argue that the absence of another 9/11 in the last two decades shows we've done something right in terms of security.
Bacevich: Sure, we've done some things right. In September 2001, we left the homeland utterly undefended. Since then, we have put in place various defensive measures that greatly reduce our vulnerability. We could have achieved these improvements without occupying Afghanistan for 20 years and without invading Iraq in 2003. In other words, the Global War on Terrorism was a needless and costly distraction.
BU Today:
If your policy suggestions were adopted, how would we monitor, and thwart if necessary, potential terrorist attacks on the United States from abroad?
Bacevich: Your question seems to imply that preventing terrorist attacks should rate as national security priority number one. I would respond by saying that if we keep our guard up—a big "if," I grant you—the threat posed by terrorism is manageable. I am far more concerned with other dangers that have not received the attention they deserve. We have seen those dangers firsthand during the apocalyptic events of 2020. The primary objective of US national security policy should be to ensure the safety and well-being of the American people where they live. That's a big job, best accomplished by steering clear of needless foreign wars.
BU Today:
NATO, at last month's summit, extended its Article 5 pledge—that an attack on one member is considered an attack on all—to space. Would US withdrawal from NATO allow for any collective defense agreement, on Earth or in space, between the United States and the other NATO nations, if an extraordinary threat presented itself?
Bacevich: I am mystified by proposals to devise a new and more ambitious rationale for NATO's existence. The alliance was created to provide for the territorial defense of alliance members, with a Soviet invasion of Western Europe the most worrisome scenario. A Russian territorial assault targeting NATO members represents a minor threat today. But to the extent that the alliance retains any plausible purpose, deterring Russia should be its focus. Accomplishing that purpose is well within the capability of NATO's European members.