Agganis COVID Testing Site to Close, with 808 Comm Ave Taking On Capacity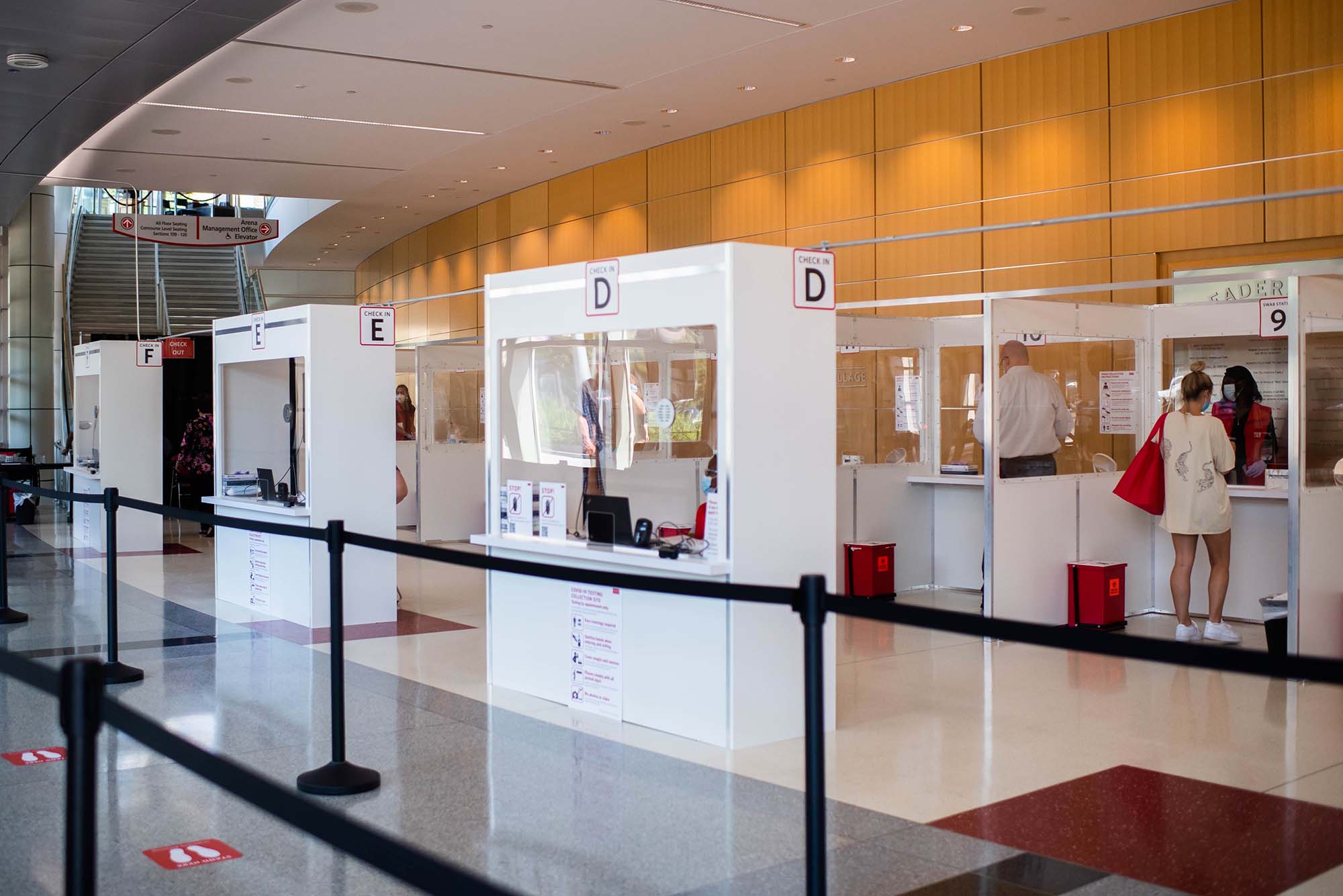 COVID-19 Testing
Agganis COVID Testing Site to Close, with 808 Comm Ave Taking On Capacity
Issues linger with students booking, then missing appointments without canceling them
One challenge that's arisen early in the fall semester with Boston University's COVID-19 testing system is making sure people, especially students, treat their appointments seriously, like medical appointments—stick to their chosen day and time, and when they can't make it, canceling with enough notice so that someone else can use that slot.
BU officials say no-shows without cancellation are a big reason why there has been a lack of available appointments. And sticking to test appointments, they say, will be even more important moving forward, with the closing of the testing facility at Agganis Arena on Wednesday evening at 9 pm. Moving forward, students will be tested at 808 Commonwealth Ave., while faculty and staff will continue to use self-testing kits.
BU Today caught up with Kevin Gonzales (COM'08, Questrom'15), collection site operations director, to explain why Agganis will no longer be a testing site, how the system will handle all the tests that were performed there, and what tips he has for people struggling with finding appointment slots.
BU Today:
Why is BU closing Agganis for testing now, so early in the semester?
Gonzales: A vibrant residential campus is a major goal of BU for this semester, even while continuing to test everyone on campus. Allowing Agganis Arena to return to its regular programming is a key part of what makes the BU Charles River Campus such an exciting place. We were lucky to keep the Agganis testing site for as long as we could, because it was critical to get us through Move-in and the first weeks of the semester. As students become more comfortable with the testing process, they are able to move through the sites faster and faster as the semester goes on. Having Agganis available for testing during the early weeks of the semester allowed us to give students more time and attention to get them acclimated to the testing protocols.
BU Today:
OK, but a lot of tests were performed at Agganis, right? What steps are being taken to ensure that other sites, like 808 Comm Ave, are able to handle the increased capacity?
Gonzales: When the Kilachand Center collection site closed in July, we took a number of those booths and repurposed those to 808 Comm Ave. This will allow us to check in and observe more students simultaneously. We are also keeping all of our staff on board, despite going down to one location on the CRC. The 808 Gallery will have enough staff to ensure the increased volume of students can move through without significant delays and receive the same, if not better, attention from the collection site staff.
BU Today:
Will the hours at 808 Comm Ave remain the same or be expanded?
Gonzales: The 808 Gallery will be open for testing from 8 am to 9 pm, with the only [brief] closure being at 2 pm to allow for a shift change. After working closely with our colleagues at Environmental Health & Safety and at Campus Planning & Operations, we have devised methods to clean and stock the collection site throughout the day while still seeing patients. Over the past year, we fully closed the collection site for this purpose, but now we can continually take patients throughout our 13 hours of operation.
BU Today:
We've heard about some of the issues with appointments and people not showing up. How has the testing been going so far, and what would you like the BU community, especially students, to know about this change?
Gonzales: I can't believe it's been a full year since we started this program! While the collection sites, Healthway, the Clinical Testing Laboratory, and all of our other support teams are very familiar with the process, we recognize that there are a lot of students, faculty, and staff that are experiencing this for the first time. The testing has been going incredibly well, especially due to our increased volume. However, while the process is similar to the fall of 2020, we are now testing a full campus and that leads to some unique challenges. Here are some tips for the BU community this semester:

– Please test only within your testing cadence. Do not test more frequently unless instructed by Healthway.

– If you are concerned about symptoms, no matter how mild, please call Healthway at 617-353-0550 immediately and/or report the symptoms on your daily attestation.

– Book your test in advance! Same-day appointments are not guaranteed this semester and appointments can fill up fast.
Show up on time for your appointment. We design the schedule to minimize lines and wait times.

– If you know you cannot make your appointment, please cancel it so someone else can test.

– Be attentive and kind to the collection site staff (and all of your fellow Terriers). They are here to help you stay healthy and get through the semester safely. Feel free to get to know them a bit as you will be seeing them once a week.