Fall Move-out, Intersession, Spring Move-in: What You Need to Know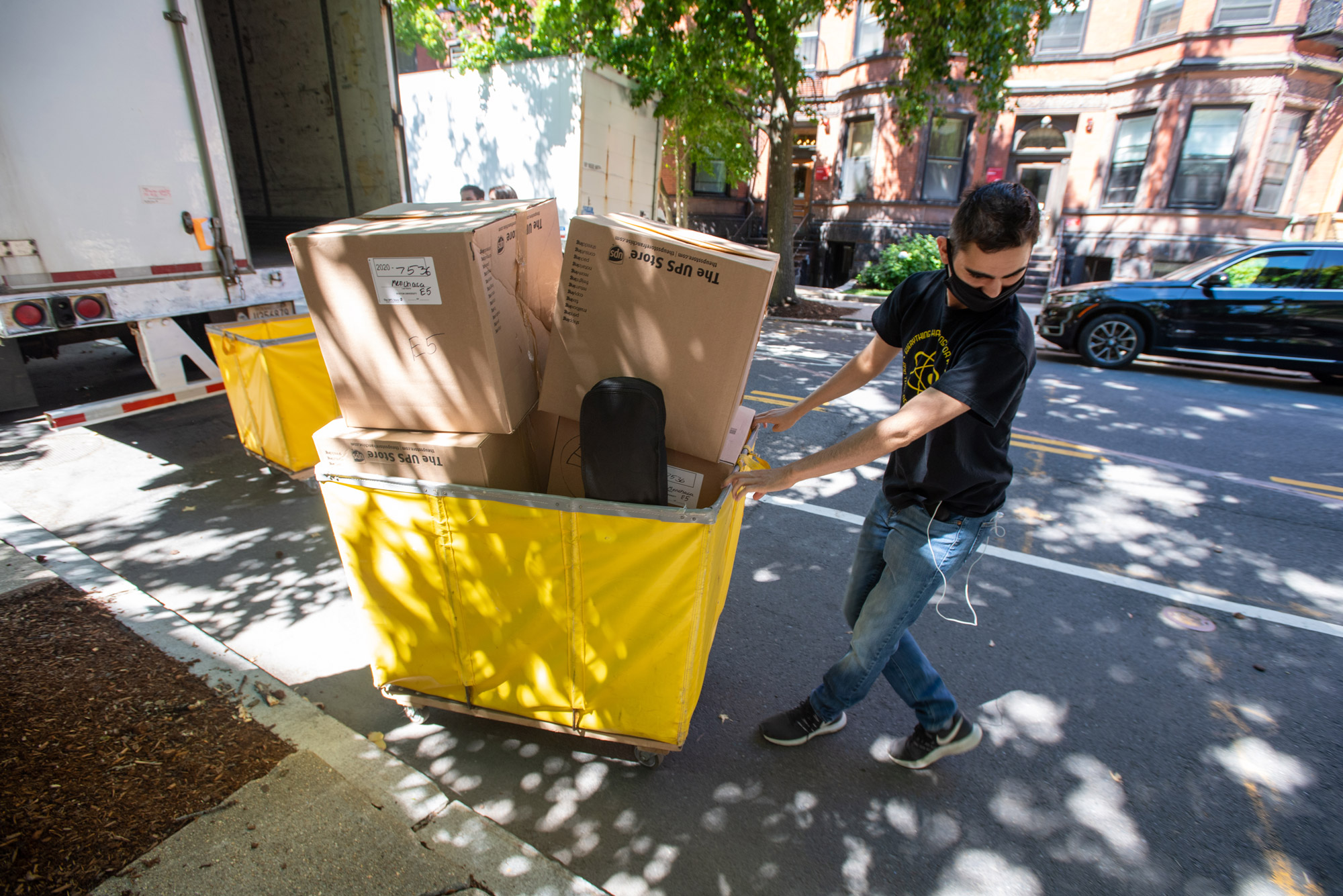 Back2BU
Fall Move-out, Intersession, Spring Move-in: What You Need to Know
Important dates and details to keep in mind
The coronavirus pandemic isn't going away anytime soon. And that means that spring 2021 Move-in is going to look a bit different. In fact, it's going to look a lot like this past fall's graduated Move-In, with time slots and required COVID-19 tests in accordance with Massachusetts' travel orders.
And this year, students who don't want to travel during intersession (December 20 to January 10) will be able to book a room for just $40 a night at the Hotel Commonwealth. Quarantine and isolation housing on campus will remain open, with full services. (See below for more details.)
Classes for the spring semester will begin a week later than usual—January 25—and spring break has been canceled to reduce the risk of COVID infection on campus.
But first, some information on dates you need to keep in mind for the close of the fall 2020 semester.
Fall Move-out
Leaving campus after finals? Make sure you're out by Sunday, December 20. Dining halls close after dinner on Saturday, December 19, and dorm-style residences close at noon the following day, December 20. (Retail dining locations will also close at noon on December 20.) All apartment-style residences, including 33 Harry Agganis Way, will remain open during intersession. Students who are moving out—those who are graduating, taking a leave of absence, or withdrawing—must remove all belongings from their rooms and drop off their keys with Residence Life by noon sharp on December 20.
Students coming back for the spring semester can leave belongings in their rooms. RA walk-throughs are still on the docket in dorm-style residences, along with sanitizing in common spaces.
Intersession
Can't go home for the break? This year, intersession housing will be available at the Hotel Commonwealth in Kenmore Square from December 20 to January 10 for $40 a day. Students will be put up two to a room, and can sign up and pick their roommate through the My Housing Portal starting November 2. (If you don't have a roommate, one will be randomly assigned.) All students are responsible for their own meals during this time. If you're residing in campus quarantine or isolation housing, however, full services—including meals—will be provided during intersession.
Although the University can't enforce COVID-19 guidelines during intersession, it's important that everyone continue to observe them. "The guidelines set forth by BU are certainly intended to keep our entire BU community safe, but they extend beyond just BU," says Judy Platt, director of Student Health Services. "This is not just a team effort at the University level—as a state and as a country, we all need to engage in public health measures to keep each other safe. Whether there is a requirement or not, adhering to these guidelines keeps everyone safe."
Students staying in apartment-style and vacation housing for the break are still expected to complete COVID-19 testing during intersession, with more information coming in the following weeks.
Spring Move-in
This year's spring Move-In is from January 14 to January 24, 2021. Just like in the fall, all students living in BU housing—returning or new to campus—are required to sign up for a return date and time. There are two move-in shifts each day, 8 am to noon and 1 to 5 pm. Moving in needs be completed during those time slots. In order to maintain the requisite social distancing, each shift will be limited to a maximum of 370 students, so be prepared with a backup date and time if your desired time slot is filled. (Sign-up runs from December 14 to January 8 on the My Housing Portal.) 
---

This is not just a team effort at the University level—as a state and as a country, we all need to engage in public health measures to keep each other safe.

---
Want to come back before January 14? Good news—you can, as long as you get approval in advance. For students choosing early spring Move-in, sign-up begins November 23 and ends December 13. All requests will then be reviewed by a committee, with priority given to student-athletes returning for training and international students traveling from outside of the United States. "Students are advised to be approved for early arrival before making their travel plans," says Paul Riel, associate vice president for auxiliary services. Early Move-In for approved students is from January 9 to 13.
Early or not, all Move-in days will work the same way. On your designated return day, you'll need to: first, check in at your designated ResLife station, and second, complete a COVID-19 test. Tests can be scheduled through BU Healthway and must be completed on your Move-in day, during your time slot. And if you're coming to campus from a high-risk state, note that you'll have to follow a seven-day stay-in-place advisory until you have three negative COVID-19 tests (two for graduate students)—so no leaving your room except for meals, testing, and medical appointments.
"We are all in the midst of making plans and making adjustments," says Kenneth Elmore (Wheelock'87), associate provost and dean of students. "As students and their families begin to think about the transition to the spring semester, we encourage everyone to continue to follow the advice and guidance from our medical professionals, and to safeguard their own personal adherence to COVID precautions and protocols. We will continue to communicate our updated plans and details for both intersession and the spring semester as they become available."
Note: New students are allowed one person to help them with Move-in. (If you're a returning student, you're on your own.) All students and helpers are required to wear face masks and are expected to observe social distancing and best sanitizing practices.