Upward Bound toward College, Remotely
Education
Upward Bound toward College, Remotely
This summer, BU-run program for high schoolers goes virtual, and students prepare for Friday's award ceremony
By her own account, Victoria Omoregie wasn't doing great during her first year of high school.
"It was very challenging," says Omoregie (CFA'21), who is from Boston's Dorchester neighborhood and attended the Snowden International School in Copley Square. "I struggled a little in my classes, and I did not feel comfortable reaching out for help."
Finally she shared her frustration with her mother, and together they found Boston University Upward Bound, part of the national federally funded Upward Bound education program.
Upward Bound gives qualifying high school students a boost toward higher education with classes and tutoring, plus nonacademic programs that improve study and life skills. Qualifying students come from low-income households or are first-generation-to-college hopefuls, and must come from a list of high schools or neighborhoods around Boston identified as having a need.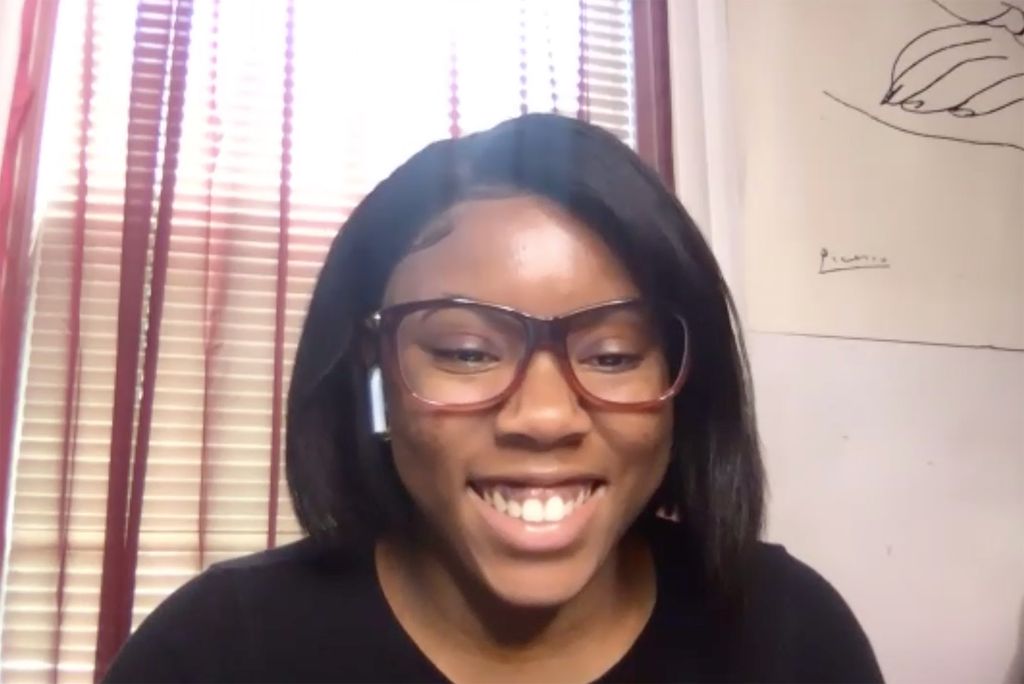 "At first I didn't want to do it," Omoregie now says, with a laugh. But she's glad she did. She enrolled in the program the summer after ninth grade. In addition to improving in academics, she made big strides in skills like time management, self-confidence, and public speaking.
And she connected with the college-age tutors, many of them BU students. "They felt like someone I could go to who wasn't a teacher or an adult. A sophomore in college to a sophomore in high school, so we weren't that far apart, and they knew my experience."
Now a rising senior studying acting at BU's College of Fine Arts, she found time to serve as an Upward Bound tutor herself during her past two years at BU.
"I would not be where I am today without that program," she says. "It changed me so much."
She's not alone.
A feeling of empowerment
"Without Upward Bound, I would not have gone to college, would not have gone anywhere," Tony Award–winning theater director Kenny Leon told this year's students over Zoom. "Upward Bound's roots are deep."
Leon is one of several alums of Upward Bound programs around the country who went online to give pep talks to the students in the BU program this summer after it was forced to go virtual because of the coronavirus pandemic. So this year students are participating from home, rather than living—and learning—on the Charles River Campus. Others who made an impression were lawyer Nicole Bluefort, businessman and author Steve Pemberton, and NASA astronaut Jose Hernandez, who talked about his childhood growing up in a migrant farm labor family in California and his journey from there to space.
"I want to give you that feeling of empowerment: 'If he was able to do it, given his situation, why can't I?'" Hernandez told the students. "That's what I want to leave you with, the feeling that anything is possible if you are willing to work hard for it and get a good education."
Talk to some of the students, and it's clear the message is getting through.
"BU Upward Bound has provided us with people who come from situations like ours, and they can tell us what does and doesn't work," says Manegabe "Manny" Bujiriri, a rising senior at Chelsea High School, who thinks law school might be in his future. "Nicole Bluefort started her own law firm, and she gave me insight into what I could accomplish, because she came from a similar situation, being a minority in America and growing up in a low-income city where there are not many opportunities."
Steven Phung, a rising senior at Boston's Josiah Quincy Upper School, says he joined Upward Bound for help with academics and college-entrance hurdles like writing his personal essay. But he says this summer's speakers were also key in helping him stand up for himself with his family, who want him to be a doctor, even though he wants to be a software engineer. "Steve Pemberton told how he was at his foster home and they told him not to go to college, and he made his own rational decision: 'College is the way for me to achieve my goal,'" Phung says. "I want to do something I'm going to be good at, and it's my choice. This teaches me how to have self-confidence."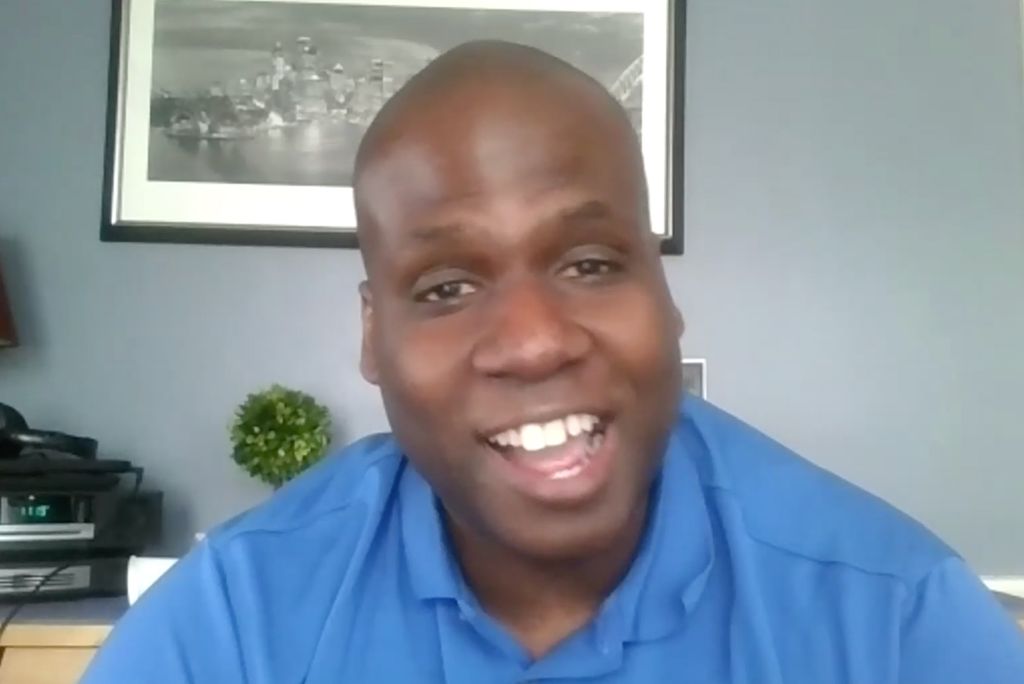 "As with the speakers, we intentionally hire staff that reflect what the students have gone through," says Reggie Jean (CAS'95, Wheelock'05), director of BU Upward Bound since 2015 and its twin, Upward Bound Math Science, since 2019. "At least, they have that cultural competence to help students navigate some of the challenges they face due to all the isms they might see," like racism, ageism, xenophobia.
"Students are pretty savvy, they know when people are the real deal and when they're just pulling their legs," says Jean, who has been with the organization in one way or another since becoming a tutor in 1994, while a BU undergrad. "If you have folks who are able to communicate with students in a compelling manner and give them the dos and don'ts, it really benefits so many students."
Upward Bound: "like a GPS for students"
Boston high schoolers are recruited while in the 9th or 10th grade "because the longer we work with them, the more success they have," Jean says. They can stay with the program till May of their senior year, by which time their college plans should be on track.
This year, 103 high schoolers are in the program, attended by about three dozen staff and volunteers, including teachers for their math, science, literature, writing, and foreign language classes. About half of the tutors are BU students. Additionally, four Wheelock College of Education & Human Development science fellows are doing their pre-practicum in the Zoom classrooms.
During the school year, high school students come to campus twice a week after school for homework help from tutors, many of them BU students, and for MCAS or SAT prep. There's also a workshop for seniors focused on financial aid and college success strategies, from time management to dealing with a roommate to what it's like moving to a predominantly white campus.
During the summer—well, not this summer—the students move into Warren Towers for a six-week program of classes and group projects during the day and enrichment programs in the evening. It's like a mini–college experience.
"One goal of the summer program is to give students that residential experience, so when they go off to college, it's not a foreign experience to them," Jean says. "They've not only heard about ways to navigate it, they've experienced it. They've had to get up on their own and walk to classes."
Altogether, it can mean big growth for students.
"In my first summer, I knew I really wanted to go back, because there was a writing class that I really liked. It inspired me to keep on, and now I have a journal where I write every day," says Josiah Quincy student Sharayah Severino. "When I was dealing with a lot of issues, I used my journal as an outlet, which my teacher recommended. I plan everything and lay out my feelings there, which really helps me regulate my emotions and my stress."
---

With Zoom, it's not the same, but it's still moving the needle forward for a lot of students.

---
Severino says she's considering studying nursing, but "I even think I may want to be a writer, but I'm not sure about anything yet."
Students who've been through Upward Bound graduate from college at numbers that exceed the national graduation rate of all college-going students, Jean says. One of the staff members this year, Michael Dennehy, is a principal investigator charged with measuring program outcomes, data that will come in handy when program administrators apply for a five-year grant renewal next year. Dennehy oversees the Office of College Access and Student Success at Wheelock, where Upward Bound is based.
"What's great working with students from ninth grade on is that you get to see them become different versions of themselves," Jean says.
This year, of course, the pandemic has meant that everything has been on Zoom, including preparation for the group project that ends each student's summer. Hence the summer's theme, which underlies the projects: "Resiliency: Overcoming Challenges in Your Actual and Virtual Worlds."
"With Zoom, it's not the same," Jean says, "but it's still moving the needle forward for a lot of students."
In the first year, for a lot of them "if they say one word to us all summer it's an accomplishment," Jean says. "But by the time they get to college, they've had the chance to present long-term projects two or three times and feel comfortable asking and answering questions to adults. In the seniors skill survey, their comfort level speaking with adults is just off the charts. It's something important for them to do in college and in self-advocacy in general."
Normally the summer projects are presented in person. But for this year's presentations,students recorded their online presentations last week. They will be recognized at Friday's award ceremony. ABC newsman John Quiñones, another Upward Bound alum, will be the keynote speaker. 
The Upward Bound program is "like a GPS for students," Jean says. "This is where you are, this is where you are going to end up, and this is the roadmap that's going to get you there."