BU Men's Hockey Stuns BC 5-4 in Beanpot Overtime Thriller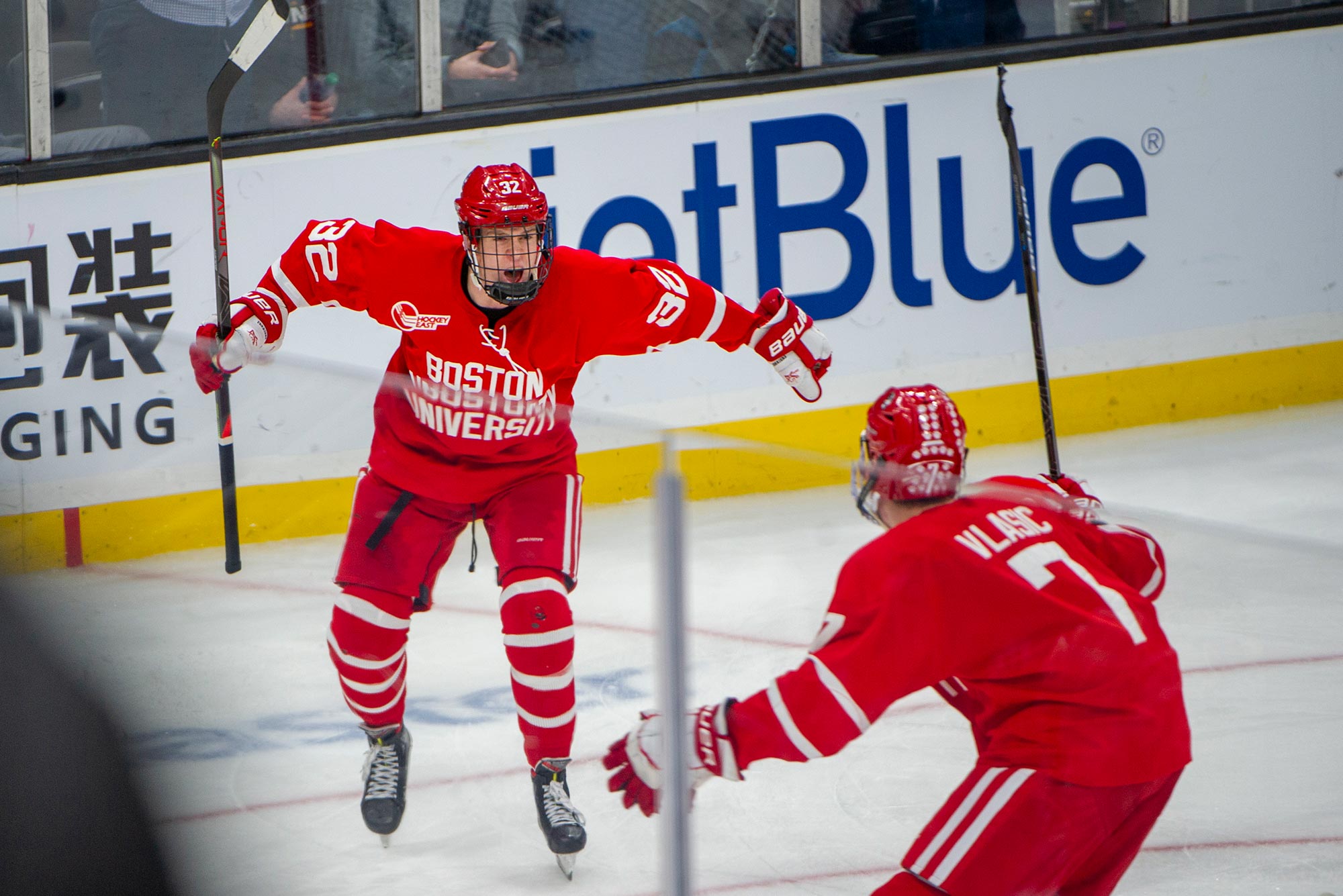 Beanpot
BU Men's Hockey Stuns BC 5-4 in Beanpot Overtime Thriller
Terriers to face Northeastern in Beanpot championship
The BU men's hockey team owns a tournament-record 30 Beanpot titles, and the Terriers earned a chance Monday night to add to their collection in the 68th edition of the storied ice hockey tournament. A valiant comeback effort ended with a rebound goal and a 5-4 double-overtime win over fifth-ranked Boston College in the semifinals at TD Garden February 3.

The Terriers will face defending champion Northeastern in the Beanpot final at TD Garden next Monday at 7:30 pm.

The Terriers (10-8-7, 7-4-5 Hockey East) fell behind by two goals on two occasions, but stormed back in a furious third period that saw them tie the game 3-3, take a brief lead, then surrender it with less than a minute in regulation, 4-4, sending the game into overtime. The Eagles (16-7-1, 10-5 HE) were put to rest on a goal by Wilmer Skoog (CAS'23) at 7:20 of the second, sudden-death overtime period.
"That was just an awesome feeling," Skoog said. "It was the biggest game I've ever played. In overtime, too. I was just super happy." 
It was a fitting, frantic end for the two teams. Of the last nine Beanpot meetings between the Eagles and the Terriers, six were decided in overtime.

BC was the aggressor from the outset, scoring two goals in the first eight minutes. The Eagles, Hockey East's highest ranked team, made a forceful statement early before a boisterous Garden crowd.

The Eagles first score was an even-strength goal just 2:15 into the game. BC's Patrick Giles took a back-handed pass from behind the BU net, fooling Terrier goalie Ashton Abel (CAS'23), who didn't appear to expect the puck to change direction. Abel ranged to his left, but Giles' shot came from the opposite direction.
BC tallied its second goal following a David Farrance (CAS'21) tripping penalty. Eagle freshman Alex Newhook took advantage with a quick move in from the side off a pass for the power play tally, and it was 2-0.
On their first power play opportunity of the game, the Terriers got on the board at 9:13 of the first period. Captain Patrick Curry (SHA'20) potted his 15th goal of the season, with assists from Farrance and Logan Cockerill (SHA'21). A stellar feed from Cockerill across the crease to Curry sliced the deficit in half. It was Curry's fifth career goal against the Eagles.
But BC struck again at 17:48, when captain David Cotton's shot bounced around the ice, and after an initial save, the puck caromed off the skate of BU's Alex Vlasic (CAS'23) into the goal for what seemed like a safe 3-1 third period lead.
But it wasn't.

"We just spoke about resiliency and doing it for the guys who only had one Beanpot left," said Patrick Harper (COM'20).
The Terriers rallied to tie the game with two goals in a span of 70 seconds late in the third. Farrance tallied a goal at 12:36, with assists from Curry and Harper. Harper then added a power play goal from Farrance, capping a ferocious Terrier flurry, to tie the game at 13:46.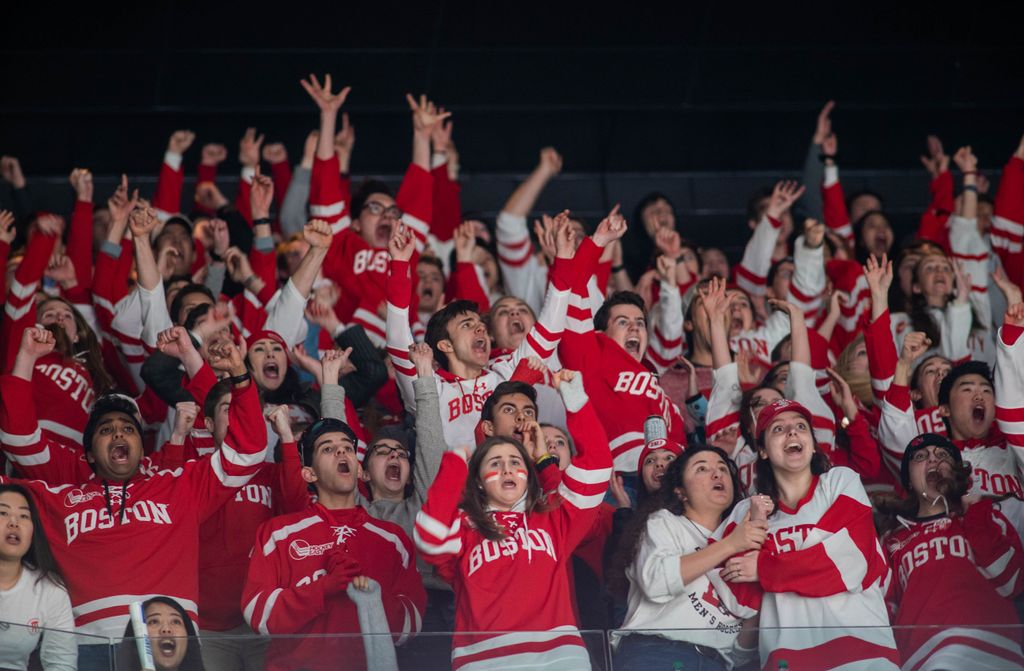 After trailing most of the game, suddenly it looked good for the Terriers—Trevor Zegras (CAS'23) found classmate Robert Mastrosimone (CAS'23) for a score at 18:18 to give the Terriers their first lead. But screaming Terrier fans had barely sat back down when BC's Cotton knotted it up at 4-4 on a power-play tally, taking advantage of a Curry hooking penalty, at 19:02 of the third period.
The teams went to an NCAA-mandated five-minute overtime, and no one scored, forcing a tie in both teams' official records. But for tournament purposes, the game continued, and finally ended when Skoog struck. For NCAA statistics, the final goal does not count.

But it matters in Beanpot history.
"That was a pretty wild game. I thought the first couple periods, we had some good moments, some bad moments," said head coach Albie O'Connell (CAS'99). "We came out looking to win." 
The 68th Annual Men's Beanpot Tournament: The Terriers play in the championship game on Monday, February 10, at 7:30 pm, against defending champion Northeastern. Harvard lost to the Huskies in Monday's first game and will take on Boston College in the February 10 consolation game at 4:30 pm. Purchase tickets on Ticketmaster. All men's Beanpot games are played at TD Garden, 100 Legends Way, Boston, and will be broadcast live on NESN or NESN+ and WTBU Radio.