Students Could Face Suspension for Weekend Party Violating COVID Rules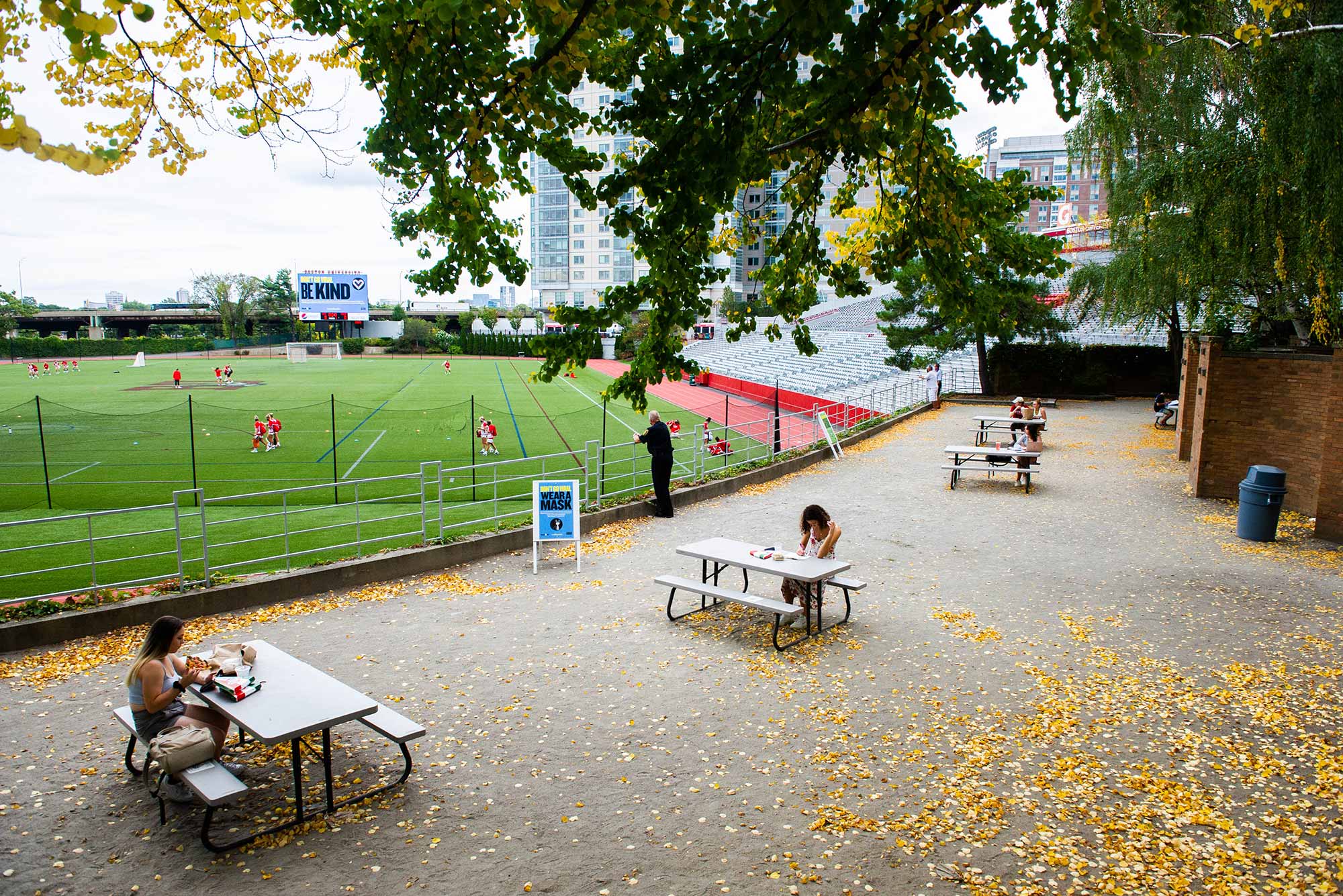 COVID on Campus
Students Could Face Suspension for Weekend Party Violating COVID Rules
Underage drinking, no social distancing at "highly problematic" event
Individual disciplinary hearings will begin Tuesday for 20 students nabbed by the Boston University Police Department early Sunday morning while having a beer party outdoors on West Campus—and not following University-mandated COVID-19 guidelines on gathering size, masks, and social distancing.
The violations could earn them each a semester-long suspension, says Kenneth Elmore (Wheelock'87), associate provost and dean of students.
"There were 25-plus people with alcohol, close together, with no masks or their masks pulled down around their chin," Elmore says, calling the incident "highly problematic."
"This weekend's alleged violations are violations of the expectations we set out for this academic year," he says. "The alcohol use in public and under legal drinking age, public noise disturbance, and the notion that the police had to respond all exacerbate the matter."
In late August, amid reports of large parties and COVID-19 outbreaks at other college campuses, Elmore issued a blunt warning to students: "There will be a few students who won't take COVID-19 seriously and their stay in our community will be short-lived—if you host or attend a large off-campus or on-campus gathering, social, or party, you will be suspended from Boston University."
Specifically, he said, the University would suspend students who host or attend on- or off-campus gatherings exceeding 25 people, which follows the Massachusetts limit on indoor gatherings.
If there are suspensions for this weekend's incident, they would be the first for violation of COVID-19 guidelines. A couple of students have been told to switch to remote learning and not come back to campus after quarantine violations.
Just before 1 am Sunday, a residential staff member called BUPD to report a large gathering with music and alcohol in an area behind Claflin Hall and Sleeper Hall known as "the grotto," according to BUPD Chief Kelly Nee.
"Multiple" students ran off as the first two officers approached, but 20 remained, surrounded by empty and partially full beer cans and a portable speaker playing loud music. According to their student IDs, the remaining students were all under 21. With five officers on the scene, the students were directed to clean up the trash and disperse, and the incident was reported to the Dean of Students office. No one was taken into custody; BUPD, like other police departments, doesn't enforce COVID-19 guidelines.
---

I understand that a lot of freshmen have felt like they got a lot taken away from them because of COVID—their senior year, prom, graduation—but just because they're tired of the pandemic doesn't mean it's over.

---
On Monday, the Judicial Affairs office began notifying the students of their hearing dates. Hearings should be finished by the end of the week and will involve multiple hearing officers, Elmore says. Students will be notified of the results by the end of the week, if possible.
The possible consequences include a semester-long suspension with no refund for tuition or room and board or a deferred suspension, which means they would be suspended if they incur a second disciplinary infraction of any kind.
Suspended students are not allowed to continue their classes, even via distance learning. It's a "pretty severe" penalty, Elmore says, but adds that students need to follow the COVID-19 guidelines for their own good and the good of everyone around them who is trying to continue the education process despite the pandemic.
Other students on campus say they support the administration's stand, as students who refuse to follow the guidelines could disrupt the school year for thousands of people on campus, as well as endanger their health.
"They were warned in advance," says Sebastian Grigore (Questrom'21). "They knew the current situation and potential consequences and still willingly made the choice to congregate in a large group."
"As a senior, I think it's really frustrating to see underclassmen not making good decisions," says Geneve Lau (COM'21). "I understand that a lot of freshmen have felt like they got a lot taken away from them because of COVID—their senior year, prom, graduation—but just because they're tired of the pandemic doesn't mean it's over. I do agree that it can be a really difficult time to be a first-year student right now, socializing and meeting people. I don't have the step-by-step guide for how exactly they should meet more people, but risking others' ability to stay on campus is really not the answer."
A hotline set up by the Dean of Students office for students to anonymously report violations of COVID-19 public health guidelines received 187 calls in just its first few weeks. But weekly statistics reported by the administration show that most students are following the guidelines.
Students need to think before having parties or other gatherings, Elmore says, and follow a simple set of rules. Keep gatherings small. Keep your masks on. And enforce social distancing.
"You just can't have large-scale parties," he says. "And that's important, with Halloween coming."
Brady Gardner (COM'22) and Alexander Puri (COM'21) contributed additional reporting to this story.