Six Students Given Deferred Suspensions after Weekend Party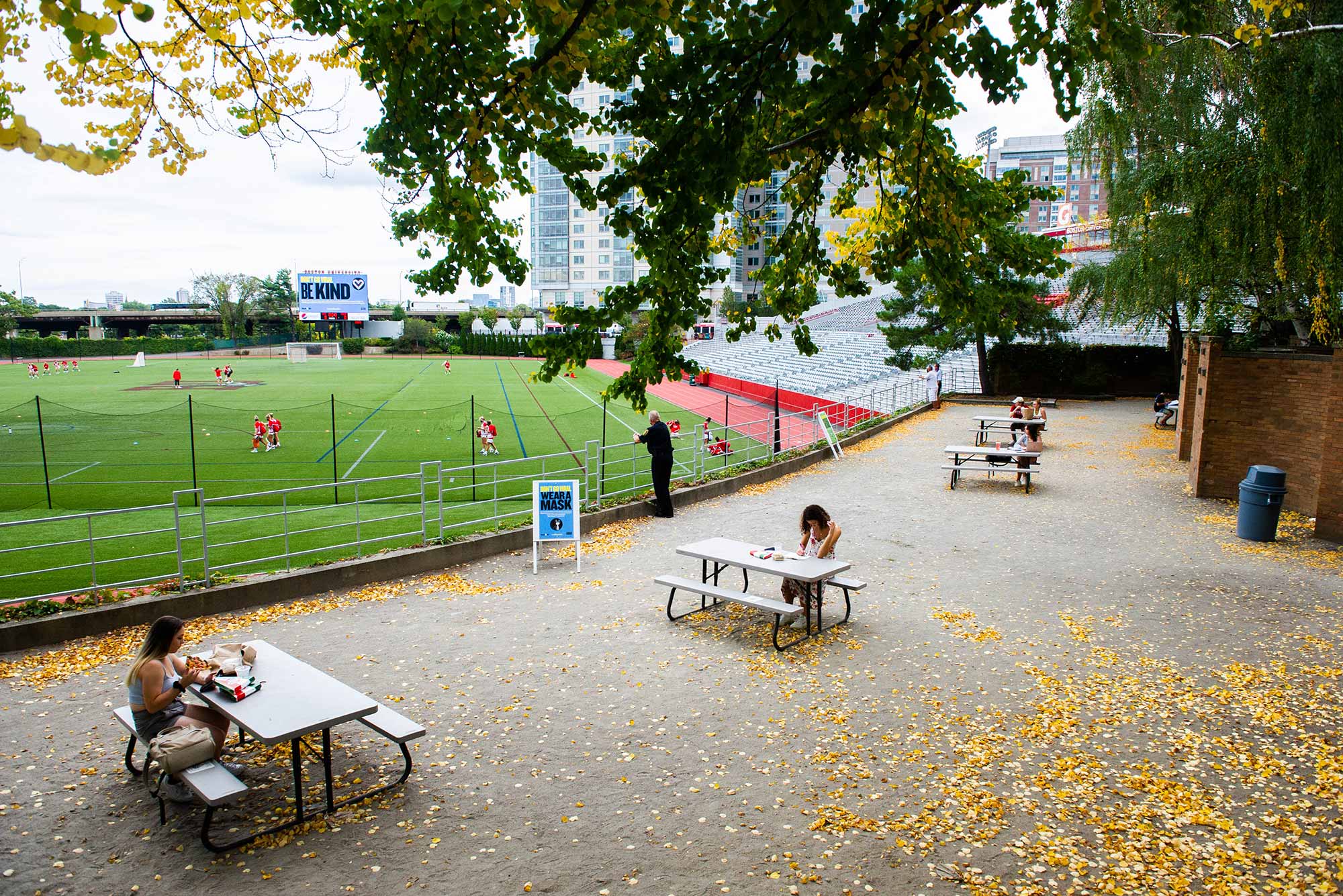 COVID on Campus
Six Students Given Deferred Suspensions after Weekend Party
Underage drinking and ignoring COVID protocols resulted in the sanction
Editor's note: An earlier photograph used with this story showed students at the Grotto.  None of the students in that photo were involved in the incident cited in the story.
Six first-year Boston University students have been hit with deferred suspensions after BU police broke up an outdoor party of about 20 students on West Campus early last Sunday morning and found some there drinking alcohol underage and not following University-mandated COVID-19 guidelines on masks and social distancing.
Deferred suspension means that a second disciplinary violation of any kind will result in the students being suspended for the rest of the semester, with no refunds for tuition or room and board, says Kenneth Elmore (Wheelock'87), associate provost and dean of students, who decided on the punishment.
Through disciplinary hearings run by the Judicial Affairs office and witness interviews this week, the University determined that the six students punished were the group responsible for both the beer found at the scene and most of the mask violations. The 14 other students identified by police as present, also first-years, will not face any discipline. Elmore says that what looked like one large gathering was actually four or five smaller groups who did not know each other, even though all were using the area behind Claflin Hall and Sleeper Hall known as the grotto.
What might have remained an internal disciplinary matter in any other year became public and controversial because of the COVID-19 pandemic and concerns about a possible outbreak that could disrupt the semester for thousands of students, faculty, and staff, as well as spreading the deadly coronavirus within or even beyond the BU community.
At Boston Mayor Marty Walsh's daily press briefing on Wednesday, he addressed the issue of college parties in frank terms. "We're seeing small outbreaks due to parties, due to college students, due to irresponsibility," Walsh said. "My message to college students is clear. Most of them are freshmen and sophomores that came to the city. You wanted to come to Boston, you wanted to be here, you want to be treated as adults. Act like it."
---

If we had this incident outside the COVID circumstance, they probably would have gotten University probation.

---
Why not suspend the BU students? "I don't think this warrants it," Elmore says. "We received a report, and what we always do is we investigate. We notified the students involved that there were allegations and gave the students a chance to tell their side of the story. We conducted a fair investigation. These students got due process.
"If we had this incident outside the COVID circumstance," says Elmore, "they probably would have gotten University probation. This is fair and appropriate to the circumstances." The students can appeal the decision.
Just before 1 am Sunday, a residential staff member called the BUPD to report a large gathering with music and alcohol in the grotto, according to Kelly Nee, BU police chief. Multiple students ran off as the first two officers approached, but 20 remained, surrounded by beer cans and a portable speaker playing loud music. According to their student IDs, the remaining students were all under 21. They were directed to clean up the trash and disperse. No one was taken into custody; BUPD, like other police departments, doesn't enforce COVID-19 guidelines.
Despite initial reports of a throng of maskless students, it appears that nearly everyone present had a face covering, Elmore says, although witness statements confirmed that the six who were penalized, in particular, had their masks lowered or were not vigilant about wearing them, despite being less than six feet apart.
In late August, amid reports of large parties and COVID-19 outbreaks at other college campuses, Elmore told students that failure to take the COVID rules seriously could earn them a suspension, with no refund for tuition or room and board. Specifically, he said, the University would suspend students who host or attend on- or off-campus gatherings exceeding 25 people, which follows the Massachusetts limit on indoor gatherings. It's not clear that the weekend incident passed that number, Elmore says.