Time to Retire the Rhett Name? You Can Weigh In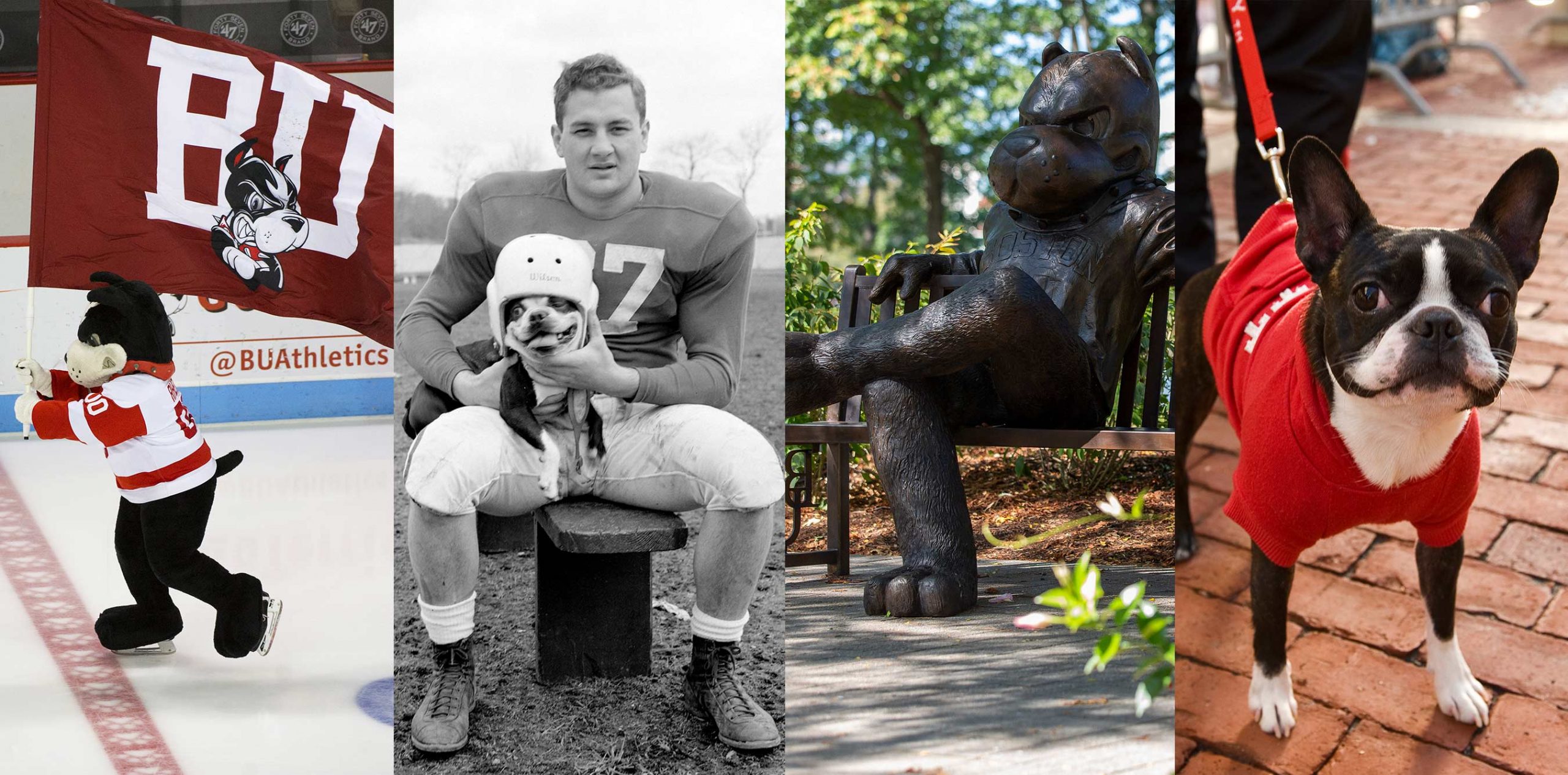 Mascot
Time to Retire the Rhett Name? You Can Weigh In
Community forums about mascot moniker scheduled on Thursday and Friday
The scrappy little Boston terrier has been BU's mascot since he beat out a bull moose in a student vote in 1922. At various times he has been called Kappa, Danny, Danny II (don't ask), Gulliver, Fumbles—belatedly renamed Touchdown—and Terrier III. It wasn't until the 1980s that he was nicknamed Rhett.
Now the question is, should he still be called Rhett going forward?
Amid a national reckoning on race and a strong push to make BU an antiracist community, a Mascot Committee of students, administration, faculty, and alumni will recommend to President Robert A. Brown next month whether to retire the name Rhett, which is associated with slavery and the Confederacy via the character Rhett Butler in Margaret Mitchell's 1936 novel Gone with the Wind and its 1939 film adaptation.
"Gone with the Wind offers a nostalgic look at the antebellum era, in which slavery exists and it's not problematized," says committee cochair Harvey Young, dean of the College of Fine Arts. "The mascot has been associated with Rhett Butler since the 1980s. Is it appropriate?"
The committee will hold two virtual forums this week for members of the BU community to have their say on the topic. The Zoom sessions are scheduled for Thursday, September 24, from 12:45 to 1:45 pm, and Friday, September 25, at noon. There is also a page for written comments.
"We're not questioning the good deeds of the mascot. We're inviting the community to consider whether it's worthwhile to retire the nickname, as has happened multiple times before," Young says.
If Brown decides the nickname should be retired, a separate process could begin to choose a new handle for the University's mascot.
After the death of Terrier III in 1969, the canine mascot remained nameless through the 1970s. In the early 1980s, student Braden Wright (COM'86) suggested naming him Ret, reversing the first three letters of Terrier. That quickly evolved to Rhett by the final home football game in 1983, based on the idea that the mascot and Rhett Butler were both courageous rogues with a fondness for scarlet—BU's trademark color and the name of Butler's love interest, slave owner Scarlett O'Hara.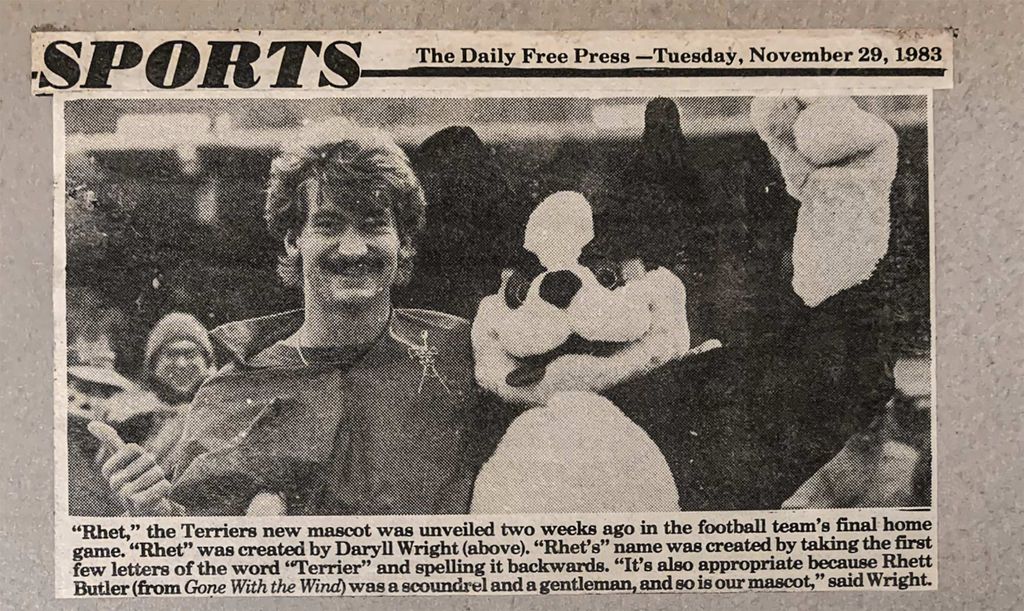 Today, Rhett is a popular presence all over campus, from his appearances at athletic events to a sculpture donated by the BU Alumni Council on a bench near the BU Beach to the burger joint named for him in the George Sherman Union.
But as racial justice has become more and more a central topic in the national conversation, some in the BU community began to ask if that name was appropriate. As played by Hollywood icon Clark Gable in the 1939 movie, Rhett Butler was indeed a rogue, but he also fought to defend the Confederacy and treated Scarlett O'Hara in a way that would be considered abusive today. Hollywood's depiction of the brutal institution of slavery was hardly realistic, either.
"It is reasonable for people to question why, at a university founded by abolitionists, we have a mascot nicknamed for a character in a film whose racist depictions are completely at odds with our own tradition," Brown wrote in a July email announcing the formation of the committee. "It is time to address this question."
The committee is cochaired by Young and Steve Hall, vice president for alumni relations. The 11 other members comprise faculty, representatives of the trustees and overseers, and half a dozen students.
Earlier this year, HBO Max briefly removed Gone with the Wind from its offerings to prepare videos explaining the film's context and racist depictions. Most reports say that Black cast members weren't even allowed to attend the movie's premiere in Atlanta on December 15, 1939, where a group of Confederate veterans were guests of honor. But Black actor Hattie McDaniel went on to become the first African American to win an Oscar, for her supporting performance as Mammy in the film.
In an astonishing footnote, BU's most famous alum, Rev. Martin Luther King, Jr. (GRS'55, Hon.'59) appeared at an all-white charity ball the day before the premiere—as a 10-year-old singing in his church choir.
BU's Mascot Committee will hold two virtual community forums this week for members of the BU community to have their say on retiring the Rhett name. Sessions are scheduled on Thursday, September 24, 12:45 to 1:45 pm, and Friday, September 25, noon to 1 pm. A page for written comments is also available.