Is It Time to Rename Rhett, BU's Mascot?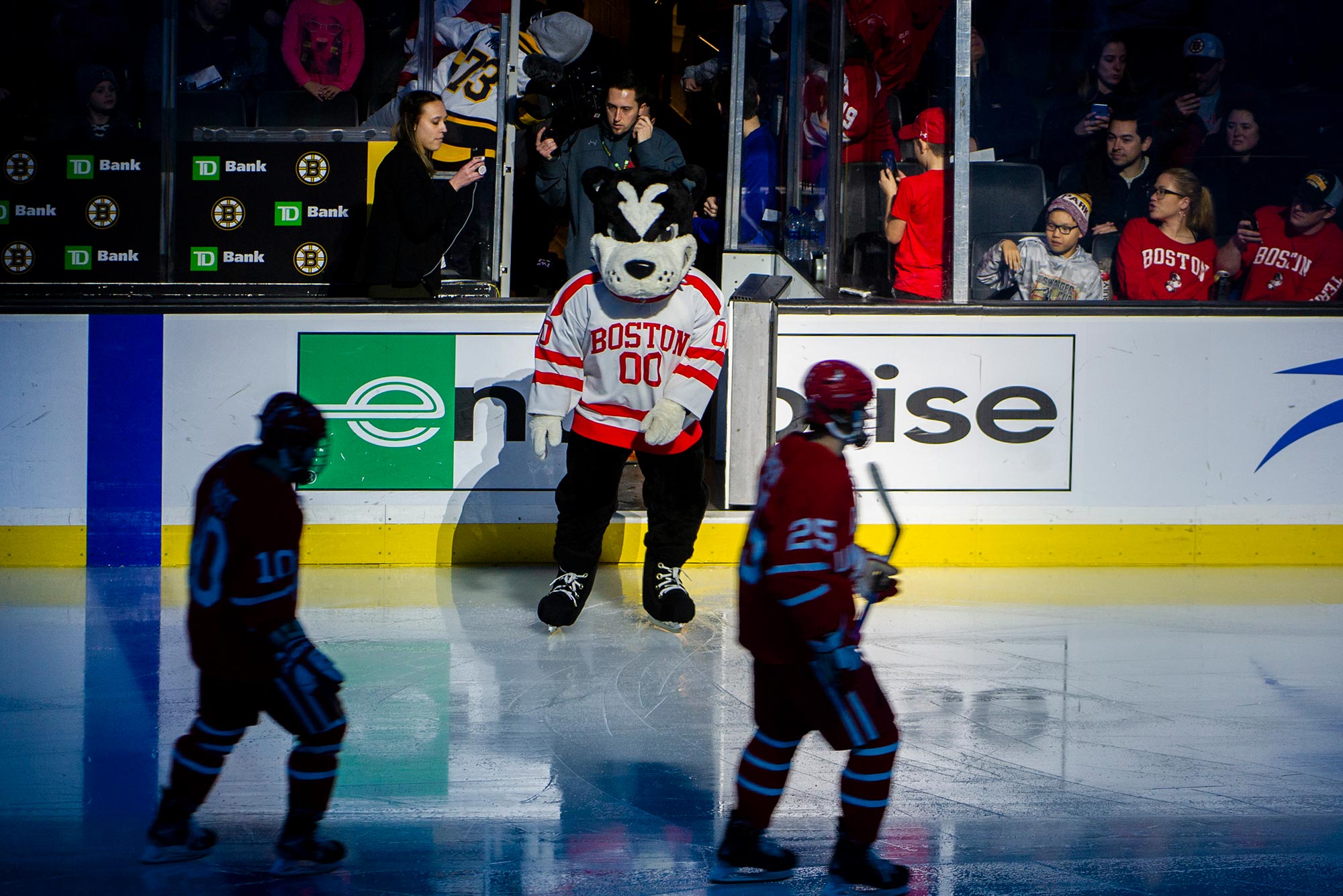 Campus Life
Is It Time to Rename Rhett, BU's Mascot?
BU committee to consider changing the Boston terrier's name as racist depictions in Gone with the Wind are criticized
As cities, towns, and states across the country remove statues and flags honoring racist legacies, and institutions take a fresh look at the symbolism behind their mascots, BU is considering whether to rename its sports mascot, named after Rhett Butler in Gone with the Wind.
BU President Robert A. Brown wrote in a letter to students, faculty, staff, and alumni on Wednesday that he has formed a committee to consider changing the mascot's name in response to concerns that it is a tribute to a character associated with the Confederacy, slavery, and sexual assault. Committee cochair Harvey Young, dean of the College of Fine Arts, says the Boston terrier, chosen for its lovable and fiercely intelligent demeanor, would remain BU's mascot.

"It is reasonable for people to question why, at a university founded by abolitionists, we have a mascot nicknamed for a character in a film whose racist depictions are completely at odds with our own tradition," Brown wrote. "It is time to address this question."

It's a question not everyone thinks is worth examining, however. Across social media, people reacted to Brown's letter differently, with some arguing that it's an easy decision and Rhett's name should be changed, and others suggesting that BU should be focused on far more important issues.
It's unclear exactly when BU's mascot got his name, but the Boston terrier was selected over a bull moose in 1922, almost two decades before Gone with the Wind was released in theaters. BU students seized on the movie's romantic power, naming the mascot "Rhett" because "no one loves Scarlett"—a play on the school's official color—"more than Rhett."

That cute association stuck. And in the 1950s, students began donning a Rhett costume at BU athletic games, youth clinics, national cheerleading competitions, and various BU promotional events. Today, Rhett stands 6'3" tall, weighs in at 200 pounds, and has his own bio page.

Brown named Young and Steve Hall, vice president for alumni relations, as cochairs of the committee that will explore the name, and he has requested a recommendation by mid-October.

"A mascot helps to galvanize a campus and create community," Young says. "The charge of the committee is to actively and respectfully listen to alumni, students, staff, and faculty as well as our greater Boston friends and neighbors as they share their opinions on whether the name 'Rhett' should be retired."

The recent killings of Black Americans by police and weeks of national protests and outrage in cities and towns across the country has led to renewed dialogue about systemic racism in the United States. Mississippi officials, after decades of opposition, will permanently remove the Confederate flag from the state flag, and around the country dozens of Confederate statues have been taken down, including a Confederate soldier at the University of Mississippi and a HeyReb! mascot statue honoring Confederate "rebels" at the University of Nevada, Las Vegas. Earlier this year, the University of North Carolina at Chapel Hill lifted a ban on renaming buildings following a controversy over one named for a former KKK leader.

Last month, HBO Max removed Gone with the Wind (the highest grossing film of all time) from its offerings, returning it after two weeks in a renewed format that includes two accompanying videos denouncing its racist depictions and celebration of slave ownership. (Black scholar Jaqueline Stewart hosts the introduction examining the film's historical context, noting that Black cast members weren't even allowed to attend the film's Atlanta movie premiere in 1939.)

Boston attorney Arcangelo Cella (CAS'11, LAW'14), who wrote to Brown and started an online petition to pressure the University to change the mascot's name, says Rhett's legacy as a rich Confederate sympathizer who ultimately leaves Scarlett cannot be overlooked.

"The reference to Rhett Butler as a loving partner is another example of exalting the film and the character without acknowledging his troubling behavior," Cella wrote in a letter to Brown. "Behavior which might have been accepted at the time of the events depicted or at the time the movie was made, but which is recognized today to have been deeply wrong."

Nina Silber, a College of Arts & Sciences professor and chair of history and the author of This War Ain't Over: Fighting the Civil War in New Deal America (University of North Carolina Press, 2018) says she thinks many people make simple romanticized associations with the Rhett Butler name, viewing the character, played by Clark Gable, as dashing or brave. But, she says, people are generally unaware that he sought to save Scarlett from an attack by a Black man in a storyline that perpetuates deeply racist myths.

In that way, Silber says, the discussion about the Rhett name is an opportunity for people to learn about those associations and examine the problem with fresh eyes.

"Look how deeply baked into our culture racism is," Silber says. "It's baked in in ways we don't even realize."