BU to Open New Center to Support First-Generation Students
First-Generation Students
BU to Open New Center to Support First-Generation Students
With $6 million contribution from shuttered Newbury College, the Newbury Center will aid in academic advising, mentoring, access to resources, and more
Rose Chen grew up in New York City, juggling school with helping out at her parents' restaurant. When she arrived at Boston University in 2017, she was the first in her family to go to college. But she didn't feel like she belonged at BU until sophomore year, when she and a group of other first-generation students were invited to have breakfast with President Robert A. Brown, who told them that he, too, had been the first in his family to attend college.
"He acknowledged how hard it was for us to get here," recalls Chen (Wheelock'21), who wants to be a science teacher. "The fact that he had studied chemical engineering really resonated with me."
This week, BU took a big step toward helping more students like Chen, announcing that in January it will open the Newbury Center, a support hub for first-generation students—undergraduate, graduate, and nontraditional students—from matriculation through graduation. The Newbury Center is named for, and endowed by, a $6 million contribution from Newbury College, a private liberal arts institution that closed its doors in Brookline in 2019 after more than half a century of serving students from all backgrounds, 70 percent the first in their family to go to college. 

"It's hard for first-generation students to ask for help. They think, 'I've done it this far by myself, I don't want to be a burden on someone.'"
Maria Dykema Erb

At 755 Commonwealth Ave., in the heart of the Charles River Campus, between Marsh Chapel and Mugar Memorial Library, the Newbury Center will offer services such as mentoring and family outreach and engagement, as well as help students connect with internships and study abroad programs, all aimed at strengthening academic, social, and post graduation success. Crystal Williams, vice president and associate provost for community and inclusion, will oversee the center, and BU has hired Maria Dykema Erb as its inaugural director. Erb will arrive on campus in January from the University of North Carolina at Chapel Hill Graduate School, where since 2016 she has been codirector of Diversity and Student Success.
For BU, the Newbury Center comes at an opportune moment. Roughly 17 percent of BU undergraduates, and nearly 18 percent of the freshman class, are the first in their families to go to college.
Specific and unique challenges
"The new center sends an explicit and clear signal that we want to make investments in supporting access, equity, and inclusion for all of our students," says Jean Morrison, BU provost and chief academic officer. "But we recognize that first-generation students face specific and unique challenges and we want to make sure we are providing the support that ensures that their experience is fulfilling, that they have full access to all the programs and experiences the University offers."
Nationally, with college viewed as the springboard to upward mobility, between 25 and 33 percent of students seeking four-year degrees are first-generation students. At BU, nearly half of first-generation students are Pell Grant–eligible and nearly a third are from underrepresented racial and ethnic groups, according to University data. These students have retention and graduation rates similar to their peers.

"He [President Brown] said he was first-generation, too. He acknowledged how hard it was for us to get here."
Rose Chen
"If you look at the performance of first-generation students, they've been exceptional," says Brown, who, as his family's first collegian, graduated from the University of Texas at Austin. "They're motivated and resilient." But their experience at BU is different from that of their peers whose parents went to college, Brown says. "They don't have the same resources that are available to non–first-generation students, resources that will make their experiences at the University more similar and more rewarding." The new center aims to close that gap, he says.
"We are extremely proud of the partnership we've developed with Newbury and to merge our shared commitments and traditions in this important new center," Williams and Morrison wrote in a letter to faculty and staff.
"The Newbury Center at BU will continue the proud legacy and mission of Newbury College, providing access and support for higher education to a diverse, first-generation, and lower-income population of Boston students," Margaret Winslow, former chair of the board of Newbury College trustees, says.
Providing support so students can thrive
The center director, Maria Erb, who grew up on a small dairy farm in Vermont, is the first person in her family to go to college. She holds an undergraduate degree from the University of New Hampshire and a master's in education from the University of Vermont. She has more than 28 years of experience in diversity and inclusion work, student recruitment and access, academic advising, retention, and outreach, and student life, and has won national recognition for her work with first-generation students.
"Maria was the unanimous recommendation of the selection committee as an extraordinary candidate," Williams says. "Everyone talked about her experience, her leadership, how student-centric she was. I think BU is extraordinarily lucky, and I can't wait to get her on the team, having her work on behalf of first-gen students, and let her go."
At many institutions, first-generation students are left to form their own support organizations, Erb says. "And that means they are the drivers—they have to find their own space, they have to work to make something happen."
At BU, the Newbury Center will provide that space—and much more. "My philosophy is that we can't keep adding to the burden of marginalized students by expecting them to do everything for themselves," Erb says, "but rather ask, how can we provide support, professional development, social networks for students so they can thrive."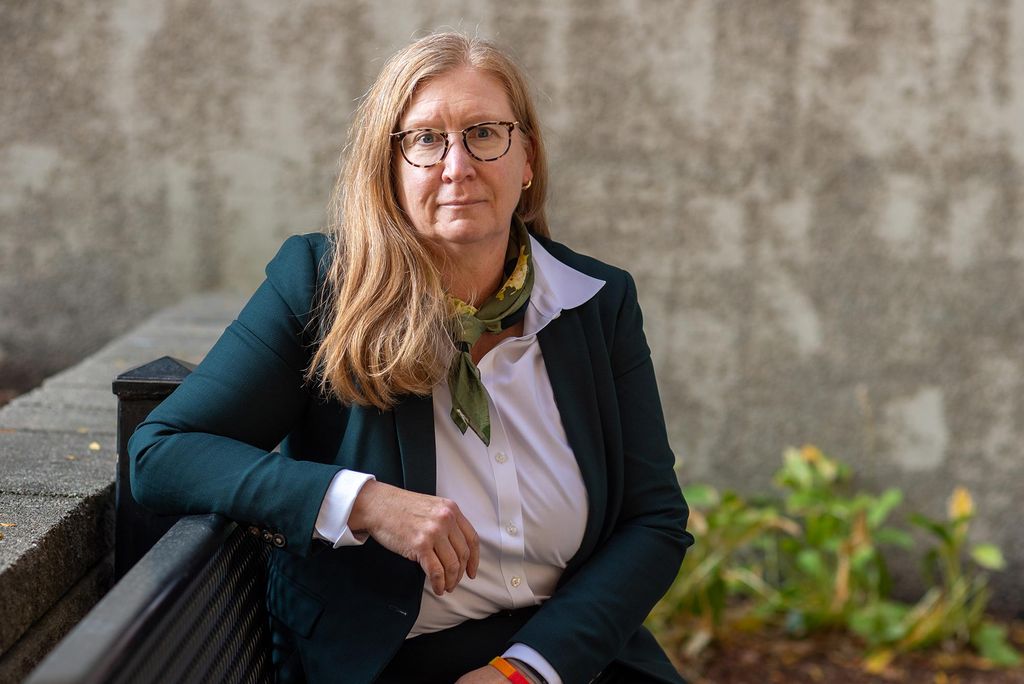 "The Newbury Center will be a catalyst to create greater awareness of the unique experience these students bring to a traditional college campus, and the most effective methods to build upon their strength and academic potential."
Christine McGuire

More than just a physical space, the center will bring together BU's already existing programs for first-generation students, including the University Service Center's First Gen Connect—the group Rose Chen joined and that had breakfast with Brown—and Wheelock College of Education & Human Development's College Access and Student Success office. Williams says she envisions the center as the core of a broad community of first-generation students and their families, along with faculty and staff who identify as first-generation and alumni. This community will welcome students who may not fit the conventional definition of first-generation students, those whose parents graduated from four-year colleges, but who identify as first-generation because their families are low-income, from other countries, or for other socioeconomic reasons.
"These students are the first in their families to do something as momentous as getting a college degree, which we know is an entry point into pivoting into a different social class," Williams says. "They're making pathways that don't exist and very few of us understand the magnitude of that. Your siblings, your nieces and nephews, are all watching you. They're all standing behind you through that path."
This is often true for international undergraduate and graduate students, says Christine McGuire, vice president and associate provost for enrollment and student administration, who led the planning group that recommended the new center for first-generation students. "Entire extended families may be contributing to the student's education. The pressure can be extreme."
Brown directed the establishment of the first-generation planning group. "There is a lot of interest in this population," McGuire says, ticking off the help that is already available to first-generation students at BU, from individual schools and colleges as well as from the Howard Thurman Center for Common Ground. "The Newbury Center will be a catalyst to create greater awareness of the unique experience these students bring to a traditional college campus," she says, "and the most effective methods to build upon their strength and academic potential."
The hidden curriculum
For all the drive and success in school that gets them into BU—as at other colleges and universities across the country—first-generation students arrive on campus not knowing "the hidden curriculum," as it's often called—how to navigate the thicket of financial aid and how to find a mentor, the importance of faculty office hours, and the value of study abroad and internships, which, in addition to all their other benefits, can help jump-start a career. The Newbury Center will help ensure that first-generation students have access to, and take advantage of, these programs.
"The first semester was tough," says Chen, whose parents are Chinese immigrants. "My grades dropped. I was afraid to go to office hours." Eventually, she did start going to office hours, turned her grades around, and through the University Service Center, became a peer mentor with First Gen Connect.
At the First Gen Connect breakfast with the president, in February 2019, Chen remembers, Brown asked if the students at the table had taken advantage of study abroad. "We told him we were worried about the expense—whether our scholarships would carry abroad," she says. The students also spoke of their worries about giving up their part-time work-study jobs on campus to go abroad. Brown eased their financial concerns by explaining that their scholarships would generally cover the cost of study abroad—and telling them about stipends. She left the breakfast feeling empowered, says Chen, who was recently accepted for Teach for America, "like I had a greater role."

"I want this center for first-generation students to be the very best that exists in the country and there is no reason for it not to be."
Crystal Williams
Busy juggling their classes with part-time jobs, first-generation students often feel as if they don't have time to participate in extracurriculars and other campus activities to the same degree as their peers who are not first-gen students, according to the BU planning group's report. Research also shows that first-generation students' success can be significantly improved by support and information.
The new center and its counseling and mentoring services are expected to play an especially vital role now, with the coronavirus disproportionately impacting Black and Latinx communities and essential workers. "I think these first-generation students, and especially their families, are going to be more susceptible to the downside of this," Brown says. "They may have families with people out of work, people moving in with them." The center will be critical, he says, "in helping these students be in a position to get jobs in an environment where jobs are going to be harder to come by."
Today, says Morrison, with increasing focus on college access and best-selling memoirs like Educated, Tara Westover's critically acclaimed account of being a first-generation student in a survivalist-minded family—Westover, "when she goes to her first chemistry exam, she doesn't know what a blue book is," Morrison points out—the term first-generation is part of the higher education lexicon. Roughly 33 percent of adults in the United States hold four-year degrees.
But when Bob Brown went to the University of Texas in the early 1970s, only 10 to 15 percent of American adults held four-year degrees, and most were men. As for being the first person in his family to go to college, he says, "I never thought about it." Students could go to "a large public university very inexpensively and it was not set up with graduation and retention rates as anything that anyone cared about," he says. "You were thrown in with the pack. It was sink or swim."
But, Brown says, "the world we live in today is a very different world than it was for me being a first-generation student. Even off the top of my head, if I take my six closest friends in college, I can't tell you who was a first-generation college student. My best friend's father ran a pig farm in central Texas, and I don't know what his educational level was. You didn't look at it [not going to college] as a deficit the same way as today."
But now, if nearly 20 percent of BU's freshmen class is first-generation, Brown says, "that means nearly 80 percent of their classmates' parents went to college." And that 80 percent has the advantage of a ready-made network, and resources, to boost their chances of success.
"Despite all the challenges they may have faced, first-gen students have made it to the same place as people with more resources," says first-generation planning group member Raul Fernandez (COM'00 Wheelock'16), himself a first-gen student and now Wheelock's associate dean for diversity, equity, and inclusion. "Who is more remarkable than they are?"