New Guide for Undergrads Details What Campus Will Look Like This Fall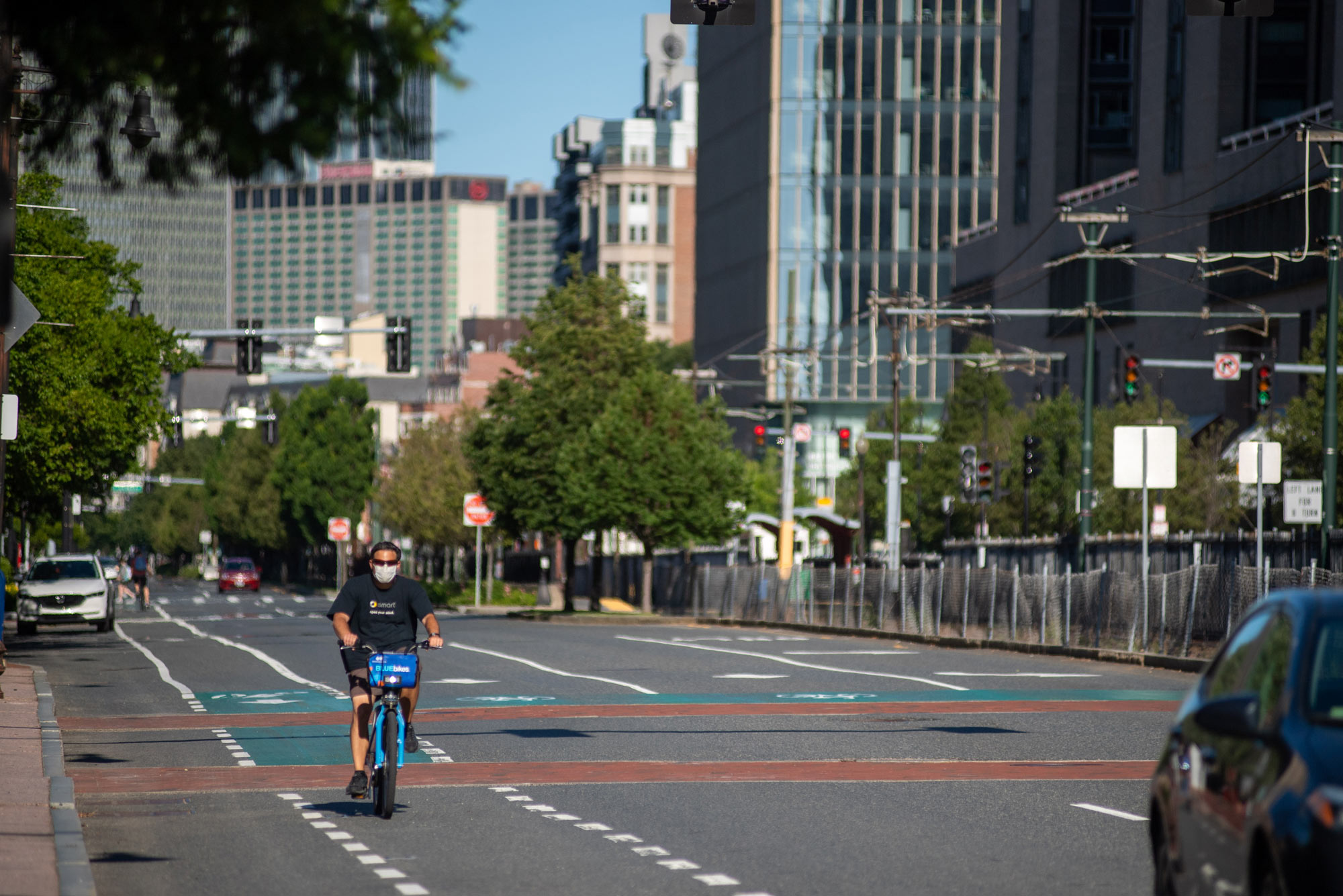 Campus Life
New Student Guide for Undergrads Will Lay Out How Life at BU Will Be Different This Fall
"Same Campus, New Campus Life" explains the many changes being put in place for students' return
This fall, when students return to campus they will find it very different from a year ago. Dozens of changes have been made, from the placement of furniture to the way meals are paid for. Numerous rules and advisories have been put in place, affecting such things as how students communicate with their resident assistant (by phone or email now) to where to change after a workout at FitRec.

All of the changes are being made to help combat coronavirus, as Boston University continues its staged return to a fully operational residential community. And all of these changes are important, so the University is providing a new Campus Life Guide—"Same Campus, New Campus Life," which can be found on the University's Back2BU website. The guide, written for undergraduate students (a graduate student guide is in the works), is an online PDF that will be updated as plans for the fall progress. 

In the guide's welcome letter, Kenneth Elmore (Wheelock'87), dean of students and associate provost, writes that the University is continually working to make life on campus as rewarding and inspiring as ever. Students and parents should keep an eye on the Back2BU website to learn more about what campus life will be like in fall 2020, Elmore says, and he urges everyone to "use their judgment from the moment they wake up until the moment they go to sleep."
Peter Smokowski, vice president for auxiliary services, says the most compelling and urgent goal of the University is to provide students, faculty, and staff with a vibrant campus, but one that is as safe as possible. "The BU campus experience will be different in myriad ways," says Smokowski, who led the multifaceted project with Elmore. "Physical spaces in dining halls, residences, and shared common spaces such as FitRec will look different, and we will call upon each member of the BU community to adjust their routines in these spaces to help protect themselves and others in this new environment."

Input for the undergraduate student guide was solicited from dozens of BU staff members representing areas of expertise like housing and dining, as well as from faculty and students. It is designed for quick reference as well as a careful read (or two). "It was a village of BU experts coming together at a critical time to find a way back to a new normal," Smokowski says. "We don't have all the answers, but we're working on them."
"Same Campus, New Campus Life" tells first-year and returning students what they need to know at this point about every aspect of life on campus, with a special emphasis on the new responsibilities of all students and the new precautionary measures, like screening, testing, and contact tracing for COVID-19.
On that front, the University is developing a health app and web portal (using BU authentication) through which students, faculty, and staff can report symptoms of the virus. Every day, residential students will be required to take their temperature and report any symptoms through the health app before leaving their rooms. Students living off campus as well will be required to do so before leaving home. The University is also setting up several COVID-19 testing centers on campus, where community members—students, faculty, and staff—will be tested according to a schedule based on their living and working situations. And because rapid identification of infection is crucial to controlling the spread of COVID-19, the University will implement contact tracing for anyone in the BU community who tests positive and has had interactions on campus. That effort involves identifying and reaching out to people who an infected person has come into contact with.
The guide makes it clear that it is essential that people living together work together to follow new precautions, guidelines, and requirements. Those include some cleaning protocols and practices.
There is plenty of must-know information about BU's new teaching format too. Called Learning from Anywhere (LfA), the hybrid format gives students the choice of attending in-person classes or doing so remotely. The new format was chosen because it can accommodate safety requirements that may be imposed by public health authorities, as well as travel challenges faced by some students. LfA provides students with the option to live on campus and be in the classroom in person, or participate remotely from a residence hall or an off-campus home.
In previous years, the University has encouraged students to stay together. This year, the rule is stay apart—six feet apart. Gatherings in lounges and other informal spaces will be limited to no more than 10 people, and students must maintain physical distancing at all times and wear a face covering over their nose, mouth, and chin. Want to know more about required face coverings? Read the guide. And do not move the lounge furniture in campus residences, because it has been carefully positioned to maintain at least six feet between chairs. Unsurprisingly, visiting rules have been restructured: access to rooms and living spaces in campus residences will be limited to building residents only, at all times. Overnight guests are not permitted.
The guide has a section on the many resources available to assist students during this crisis, including tips to combat feeling overwhelmed. BU's Wellbeing Project has compiled a list of University health and wellness activities and support groups that are currently providing virtual services.
Dining, too, will be different. Service in BU dining halls will be contactless, and students can no longer huddle with their friends in dining hall seating. FitRec has lots of new rules as well. Students will still be able to work out, but they will do it in the clothes they arrive in—and leave in.
There is a lot to learn, and students are urged to think of the new guide as required reading. And rereading.