MLK Day Celebration Will Honor Three Women for Important Roles in the Civil Rights Movement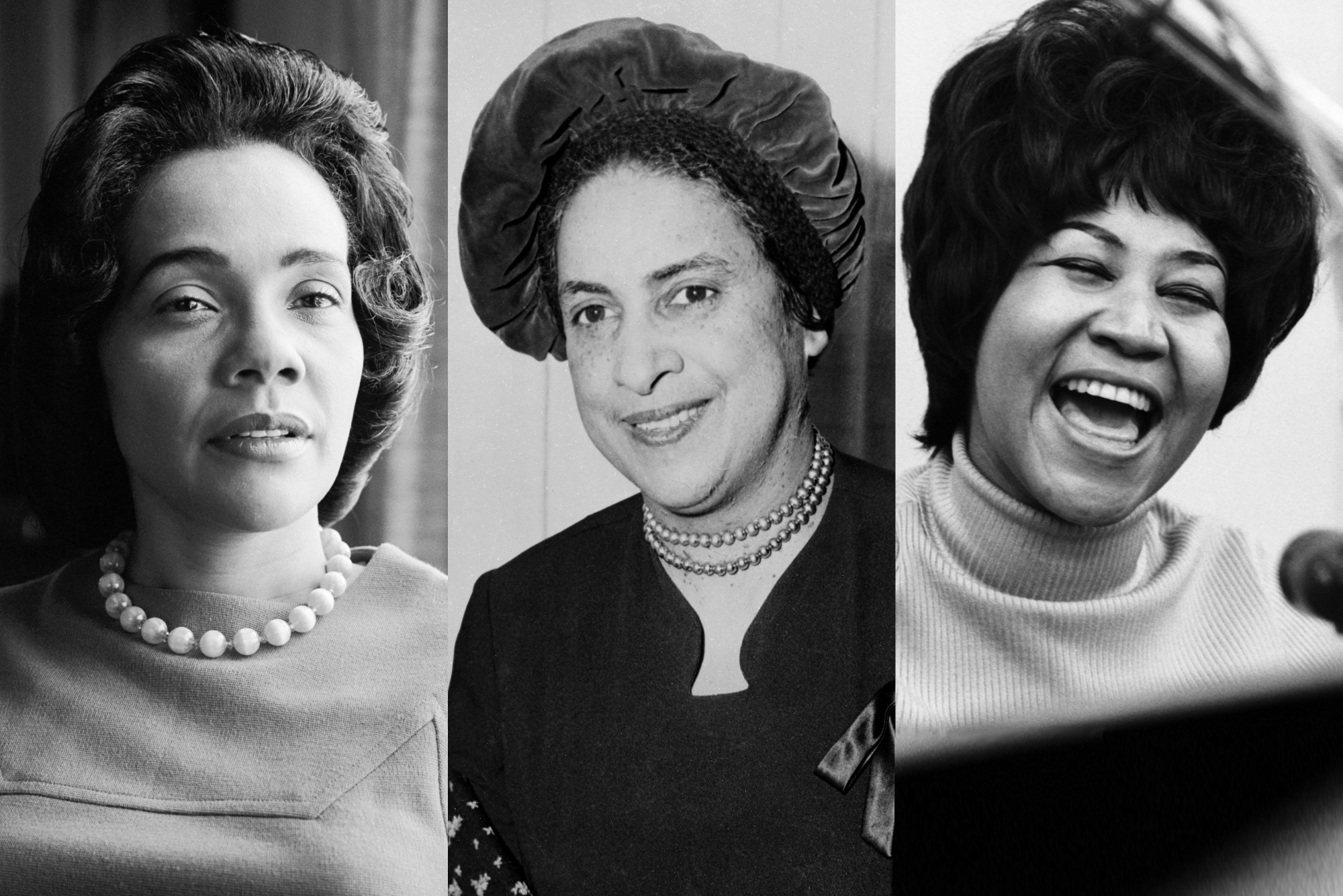 Martin Luther King
MLK Day Celebration Will Honor Three Women for Important Roles in the Civil Rights Movement
Coretta Scott King, Sue Bailey Thurman (Hon.'92), and Aretha Franklin will be focus of BU–City of Boston event on Monday
Athene Wilson heard Aretha Franklin on the radio when she was a little girl in Jamaica, and that voice has been a touchstone ever since.

"I love her," says Wilson, a Boston-area R&B, soul, and jazz singer. "Her music, her work, what she stood for, civil rights, all of that. She gave her time, her tithe, her talent. She stirred people and moved them."

Wilson will sing three of Franklin's songs in a tribute as part of the University's annual Martin Luther King, Jr., Day of Celebration on Monday, January 20, at noon in the George Sherman Union Metcalf Ballroom. The event, like last year's, is hosted in partnership with the city of Boston. Mayor Martin J. Walsh, Senator Edward Markey (Hon.'04) (D-Mass.), and Brenda Cassellius, superintendent of the Boston Public Schools, top the list of speakers at the event, which is free and open to the public.
While honoring the legacy of King (GRS'55, Hon.'59), this year's event focuses on three African American women with deep ties to the Civil Rights Movement: Aretha Franklin, Coretta Scott King, and Sue Bailey Thurman (Hon.'92). The day after the annual MLK Day holiday, the Howard Thurman Center for Common Ground will open at its new home at 808 Commonwealth Ave.
"We have a really long history of hosting these reflections on Dr. King's life and work," says Kenneth Elmore (Wheelock'87), associate provost and dean of students. "But we've also thought about the broader implications of that work, which include so many other people. We're talking about freedom movements in the United States. And this year we want to give honor to these three women and the roles they played."

Coretta Scott King met her future husband in 1952, when she was a student at the New England Conservatory of Music and he was studying theology at BU. She was a human rights activist in her own right both before and after his assassination in 1968.

An author, lecturer, and historian, Sue Bailey Thurman traveled around the world in pursuit of international peace and fellowship and was the founder of the Museum of African-American History. She was married to Howard Thurman (Hon.'67), who in 1953 became dean of BU's Marsh Chapel, the first black dean of a mostly white US university. As dean, Thurman was a mentor to King. The Thurmans were the first African Americans to meet Mohandas Gandhi and to discuss with him the use of nonviolent resistance to effect social change in the United States.

Aretha Franklin, who died in August 2018, contributed to both the Civil Rights Movement and the women's movement, appearing frequently at free concerts and benefits, as well as with financial support behind the scenes. In 1970, she famously offered to post bail for jailed radical Angela Davis. But it was Franklin's soaring voice that is remembered as her most indelible gift.

"We always incorporate music into these celebrations," Elmore says. "As human beings, whenever we are faced with searching for answers or needing to heal, we tend to go to art. Aretha is out of a tradition of blues and gospel music, but also affected people by how she looked and carried herself and lived. She was about a level of soul and of protest and of healing for a lot of people."

---

As human beings, whenever we are faced with searching for answers or needing to heal, we tend to go to art.

---
Franklin had no close ties to BU, but she had an effect on people everywhere. Aaron Goldberg, a College of Fine Arts lecturer in music and director of BU Bands, was driving to campus from his home on August 16, 2018, when he heard on the radio that Franklin had died.

"It's just like, noooo! She was such a great musician, performer, really an American icon," says Goldberg. "And in that moment I said, we've gotta do a tribute concert."

He called Herbert Jones (MET'17), director of BU's Inner Strength Gospel Choir, and they tried for months to organize an event, but weren't able to pull it together until Elmore suggested making it part of the University's annual MLK Day celebration, complete with an all-female band. In selecting which songs to include, they stayed away from some of Franklin's biggest hits, like "Natural Woman (You Make Me Feel Like A)" and "R-E-S-P-E-C-T," choosing instead three songs representing different styles: "Today I Sing the Blues," "You Send Me," and for a rousing closer, "Rock Steady."

"Aretha was monumental" as an artist and an activist, Jones says, noting that she sang at at Barack Obama's inauguration, a symbolic echo of her mentor, Mahalia Jackson, singing at John F. Kennedy's. "She was not on the front lines marching, but making statements with her music and activism within the music business, giving money to causes, and playing benefits."

But it always comes back to the music itself.

"Her 'Amazing Grace,' it's playing back in my mind right now," says Wilson, who like Franklin began her career singing in church. "She's sitting at the piano, and she opens her mouth and starts singing. And whatever bad day you think you're having, she just takes you places."
MLK 2020, a Commemoration of Martin Luther King, Jr. (GRS'55, Hon.'59), hosted by BU and the city of Boston, will be held on Monday, January 20, at the George Sherman Union Metcalf Ballroom, 775 Commonwealth Ave., at noon. The event is free and open to the public.