Mayors Say Their Cities Are Unsafe for Pedestrians, Cyclists—but Cars Still Rule
Urban Health
Mayors Say Their Cities Are Unsafe for Pedestrians, Cyclists—but Cars Still Rule
Highlights from annual BU-led 2019 Menino Survey of Mayors
America's mayors think their cities are "too oriented toward cars." They fear for the safety of pedestrians and cyclists. They're building bike lanes. They're worried about vehicular greenhouse gas emissions.

But lowering speed limits to protect the growing ranks of walkers and cyclists? Or discouraging drivers by making parking more expensive and harder to come by?

Well, not so fast.

It will surprise no one who drives, bikes, skateboards, rides scooters, or walks down Commonwealth Avenue—or anywhere else in Boston or just about any other US city—that cars still own the urban road, according to the 2019 Menino Survey of Mayors conducted by Boston University's Initiative on Cities (IoC).

Released Tuesday, January 21, in Washington, D.C., the annual report collects data from interviews with more than 100 mayors across the country about their most pressing concerns and provides insight into the problems they're grappling with. The insights into the mayors' attitudes on issues from road safety to mitigating climate change arrive at a time when one Democratic city leader, Pete Buttigieg, mayor of South Bend, Ind., and two former mayors, Michael Bloomberg and Bernie Sanders, are running for president, while a number of other mayors have dropped out of the race for the nomination.

Only mayors from cities with populations over 75,000 were surveyed. Founded by the late longtime Boston mayor Thomas M. Menino (Hon.'01) and Graham Wilson, a College of Arts & Sciences professor of political science, the survey does not identify the mayors who were interviewed or their cities. (This year's survey also comes at a time when BU is launching a new program developed by the IoC, called Public Impact Scholars, to "equip BU faculty with new skills and knowledge to influence local and state policy and discourse for positive societal impact.")

Now in its sixth year, the 2019 IoC survey asked mayors for the first time about the extent to which they are taking up the call, from cyclist and pedestrian advocates as well as many transportation experts and urban planners, to reorient their cities away from cars.
"We started the survey in 2014 for two reasons: to learn more about mayoral perspectives and priorities and to understand knowledge gaps," says Katharine Lusk, IoC codirector. "In other words, where can we and others help mayors get smarter, make better decisions, or use more evidence?"

This year, mobility and public safety stood out as one of those gaps. "We knew from last year's survey that traffic crashes are the number one health issues for which mayors feel they're held accountable," Lusk says. "So, they're motivated to do more to improve roadways and protect people, but most are not yet aware of the latest evidence on how best to do that."
There is plenty of evidence showing that lowering speed limits and reducing the availability of parking makes the roads safer for pedestrians, cyclists, and drivers, according to the survey. It also cites research suggesting that even high-density cities have too much parking that's priced too cheaply—an open invitation to workers to keep driving in rather than consider alternative transit methods.
The survey finds, however, that a large majority of mayors don't seem to align their own views with what the evidence shows could help. Mayors think their speed limits are set at the appropriate levels and enforced adequately, and they believe their cities' parking availability and pricing are also appropriate.
"We need parking," one surveyed mayor said. "I disagree with the concept that people won't have cars. In [our state] you need a car."
"Our data show that city leaders have no interest in changing their current parking scheme," says IoC faculty affiliate and survey coauthor Katherine Levine Einstein, a CAS assistant professor of political science.
"People love their parking spaces," Einstein says. "Mayors know this. They've been to public hearings. They've heard people yell about bike lanes, about parking. If you're the mayor of a northeastern city like Boston or New York, it's theoretically easier to imagine moving away from a car-based culture because people can get places by bike, mass transit, by walking. In contrast, if you look at southern and western cities—places that were built up largely around car infrastructure—it's going to be much harder. If northeastern cities haven't figured it out, how is Atlanta going to do it?"
Some mayors said they didn't have the power to do anything about speed limits.
"I have concerns about our speed limits and have tried to get them lowered," said one. "Everyone on the council has, at one point, also tried to lower them. We are tied by state regulations."
Nearly half of all mayors believe travel for cyclists, pedestrians, and people with disabilities is not safe in their city. Nearly three-quarters believe cities should make their roads more accessible to bicycles—even if it means sacrificing driving lanes or parking.
At the same time, however, when asked to weigh different infrastructure priorities, 66 percent of mayors listed roads as one of their top priorities, while bicycle and pedestrian friendliness was a top priority for only 22 percent. These results remain virtually unchanged from when the question was asked in 2015, despite continued increases in pedestrian and cyclist fatalities.
"Mayors are really worried about the safety of vulnerable road users—pedestrians, cyclists, the elderly, children, people who are disabled—and are taking some steps to implement urban policies that improve their safety," says Einstein. "However, their perceptions on speed limits, parking, and bicycle lanes suggest that they do not necessarily support some of the key policies that we know would make these vulnerable road users safer."

And, she says, some of the reasons for the increasing number of pedestrian and cyclist fatalities—such as the growing number of SUVs and trucks and their increasing size—are out of the control of mayors. "It's important to flag what we should be holding mayors accountable for," she says, "but they don't get to control what kinds of vehicles people buy. If you're going to be hit by a car, you'd rather it be a Honda Civic than a Lincoln Navigator."

With numerous footnotes citing academic research on parking, bike lanes, pedestrian safety, and related issues, the survey is a treasure trove of information for people who care about transportation and the future of cities.

But it's one thing for researchers to produce reams of evidence that support forcing a change in how people behave—for example, driving alone to work in a city five days a week. It's another thing to actually get people to change.
"When city leaders make it easier to park, they encourage car commuting," the survey authors write, citing The High Cost of Free Parking (Routledge, 2005) by Donald Shoup, a UCLA professor. "This both worsens congestion and creates a constituency of regular drivers who demand more parking, resulting in a potent political obstacle to reforming urban parking systems."
Although mayors broadly support bicycle lanes, they may not be aware of current best practices in cycling infrastructure design, according to the survey. While the most recent analyses show that painted bike lanes may make conditions more dangerous for cyclists, a striking 82 percent of mayors believe that painted bicycle lanes are a safe alternative when physically separate bicycle lanes are too expensive.

"The evidence suggests that paint alone—either in separate or shared bicycle lanes—does not improve cyclist safety," the survey says.

A few mayors acknowledged the problem. "Painted bicycle lanes are useless," one mayor told interviewers. "They've got to be separate."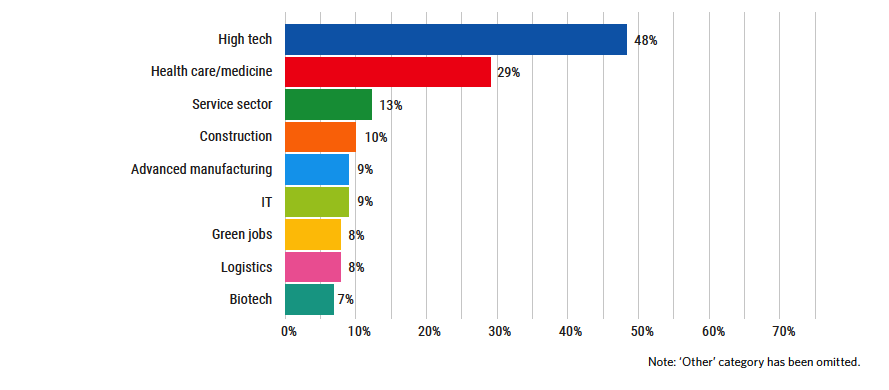 Biking continues to be a partisan issue. Democratic mayors are significantly more likely to favor street safety initiatives—from bicycle lanes to stronger penalties for moving traffic violations—with 92 percent favoring the creation of more bike lanes even if it means sacrificing traffic lanes or parking spaces, compared with 34 percent of Republican mayors. "The partisan divide has grown by more than 30 percentage points since 2015," the survey finds, "with Republicans substantially less likely to endorse this trade-off or adopt a neutral position than they were four years ago.
Some other survey highlights:
Mayors want to talk about infrastructure—and they want the presidential candidates to talk about it too. In an open-ended question, 45 percent of mayors said infrastructure was the issue related to cities they hoped would be discussed during the campaign. The next top issue was housing affordability, with only 15 percent of mayors choosing that issue.
In what the survey says may reflect growing concerns about the impact of climate change in their cities, 25 percent of mayors cited water, wastewater, and stormwater projects when asked what kind of large infrastructure project they would make their top priority if they were given an unrestricted grant.
Two-thirds of mayors view vehicles as the largest source of greenhouse gas emissions from their city. The same percentage believes it's important to improve their city's electric vehicle infrastructure, even if it means less parking for nonelectric vehicles. But while 92 percent of Democrats believe that cities should play a strong role in reducing the effects of climate change, even if it means sacrificing revenues and/or using financial resources to do it, only a quarter of Republicans do.
In one of the less surprising survey results, mayors see high-tech and healthcare jobs as the wave of the future for their cities. They're worried about the decline in manufacturing and retail jobs.

For the 2019 survey, which is supported by Citi Community Development, and the Rockefeller Foundation, 119 mayors from 38 states were interviewed during summer 2019.
In addition to Einstein, the survey coauthors are David M. Glick, a CAS associate professor of political science, Maxwell Palmer, a CAS assistant professor of political science, and Stacy Fox, IoC associate director.