Your Guide for a Sustainable Move-in and Life on Campus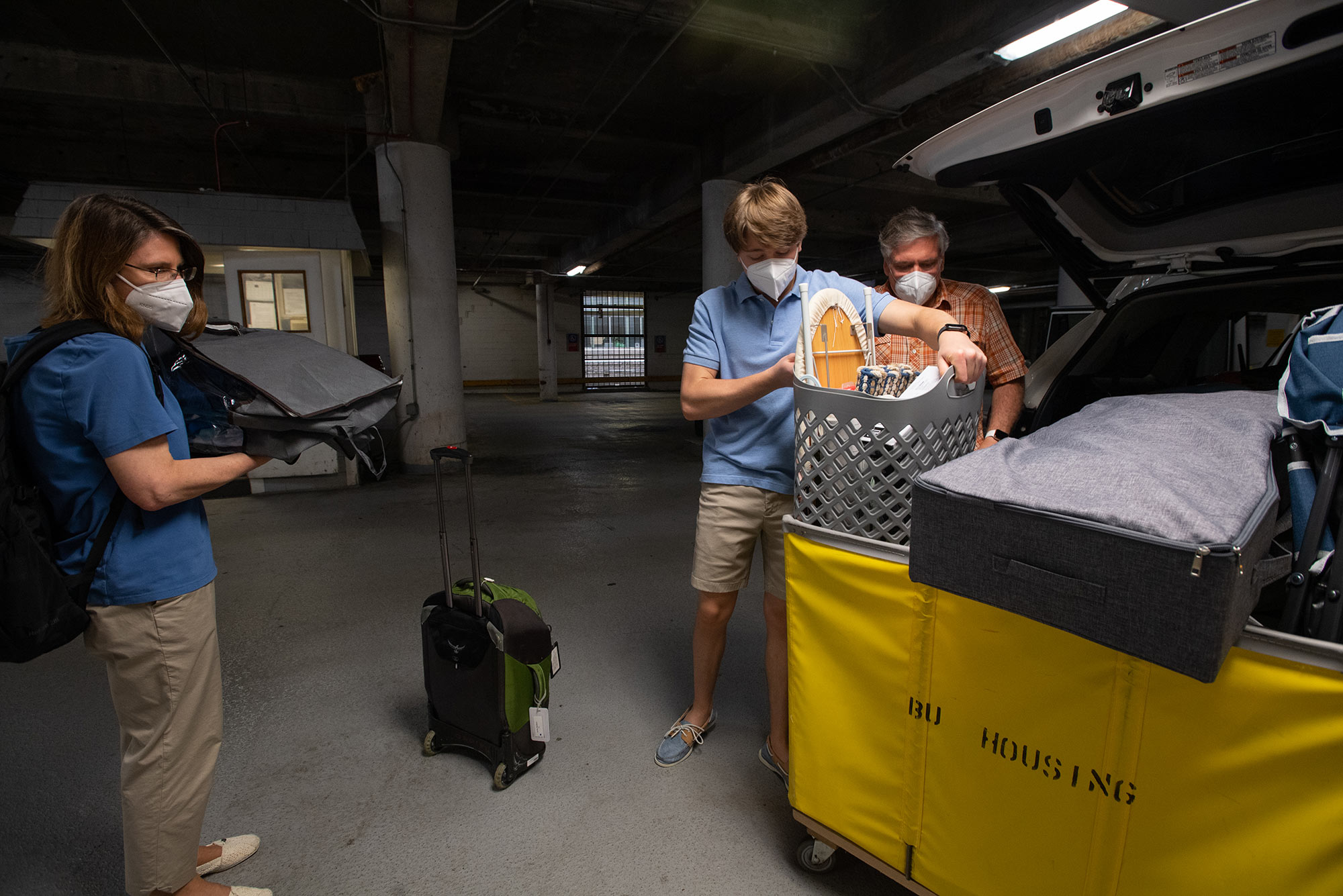 Eco-friendly Tips
Your Guide for a Sustainable Move-in and Life on Campus
16 tips for environmentally friendly ways to pack, eat, and study
Back-to-school time is here, and as you pack your bags, the folks at BU Sustainability have some tips for how to pull off an environmentally friendly Move-in and some suggestions on how to live a more environmentally conscious lifestyle once you've unpacked.
1.
Save your shopping for Boston
It's easier to know what you'll need once you move into your new space. Shopping for dorm supplies once you've arrived on campus, when you have a better sense of your space and what items might be available for sharing with others, is a good idea. That way, you can avoid purchasing things you won't need or want. Stores such as Goodwill and Target are within easy reach—and by shopping locally, you not only reduce your carbon footprint by not having items shipped, but you also won't have to bother with all that packing material. An added bonus: having less to unpack and gives you more time to enjoy Boston.
2.
Don't forget your reusable water bottle and utensils
Chances are it will be hot during Move-in. Don't buy cases of plastic bottled water. The city of Boston has high-quality drinking water, so bring a reusable water bottle you can refill. Water filtration pitchers, like a Brita, also save space in your mini fridge. Your wallet will thank you as well.
Avoid using plastic utensils and plates. Purchase reusable food containers rather than using foil and plastic wrap.
Swap out paper napkins and paper towels for reusable cloth products. You'll save space in your dorm without large rolls and multipacks. It's another way to save money, too.
Bringing a reusable mug when purchasing coffee at campus dining locations will save you 25 cents per cup. It adds up.
3.
Smart power and lighting
Opt for a smart power strip to reduce energy consumption.
Power strips are permitted in University housing so long as they meet the following specifications:
– 15 amps rating
– 14-gauge wire
– Built-in circuit breaker
– 1875-watt maximum power
– UL listed
Find more information here.
If you're bringing a desk lamp, make sure your bulb is LED. Raise window shades to let in natural light and switch off overhead lights.
Sorting your trash, recycling, and food waste correctly is one of the most important ways you can contribute to BU's Zero Waste plan. Make sure to read the signage carefully and sort it out! All residence halls have common area trash and recycling, and Warren and West Campus also have food waste collection. Designate one waste barrel in your room as a recycling bin, and if you live in Warren Towers or West Campus, make sure to also have a container with a lid for your food scraps; these will make it easier to bring recyclables and food waste to the designated spot on your floor.
5.
Use reusable bags…and save money
Boston's plastic bag ordinance means you'll have to pay extra for each shopping bag you use. Bring reusable bags with you when you shop. All the cents add up.
6.
Leave the printer at home
Don't shell out big bucks for a personal printer. All dorms have a printer, and BU gives every student a printing allowance. In many cases, it is not necessary to print. This can save you time by not having to organize and store papers.
7.
Make your bedding eco-friendly
Purchase bedding made of organic materials such as cotton and bamboo that have been grown without pesticides.
Don't forget to break down and recycle cardboard boxes at your designated cardboard recycling areas during Move-in. Recycling stations are conveniently located outside all residential buildings or areas during Move-in.
9.
Natural heating and cooling…and better air quality
Close blinds on a hot day to keep your room cool; open blinds on a cold day to let in the sun's warmth.
Add a few plants to your room. They improve air quality and have been shown to aid in overall mood and stress levels.
Open windows to let in the breeze. Use fans as needed.
Avoid using air fresheners that are loaded with chemicals. Opt instead for a box of baking soda; it's cost-effective and will absorb odors, especially in your fridge and sink drains.
Choose environmentally friendly cleaning products and detergents, and ones with minimal packaging. Select options that do not use phosphates, which pollute waters and damage ecosystems, or petrochemicals, which are made from petroleum or carbon. Learn more here.
11.
Use Uber and Lyft sparingly
Whenever feasible, walk, take the T, or use a bike, skateboard, or roller blades to get around campus. This will allow you to save time and money while reducing your carbon footprint and contributing to cleaner air. Be sure to take advantage of BU's student discount for Bluebikes membership. Use the Terrier Transit app to help with trip planning and comparing your transportation options.
12.
Change your computer settings
Be sure to switch off lights when you leave a room.
Unplug your power cords when they're not in use.
Share a fridge with your roommate or use your dorm's common fridge if there is one, and keep the temperature at 35F. Freezers should be kept at 0F.
15.
Make sure your eyes aren't bigger than your belly
Practice mindful eating.
BU Dining uses a sophisticated food waste tracking platform called Leanpath to identify and reduce food waste. You can help BU advance on the path toward Zero Waste by taking only what you plan on eating, and participating in Weigh the Waste events. Learn more here.
Take shorter, cooler showers. Washing your clothes in cold water reduces energy use and helps clothes last longer. Try to hold off doing laundry until you have a full load—and air dry on a drying rack (it's cheaper, too).