Move-Out: Five Things to Know if You're Retrieving Belongings from Campus Housing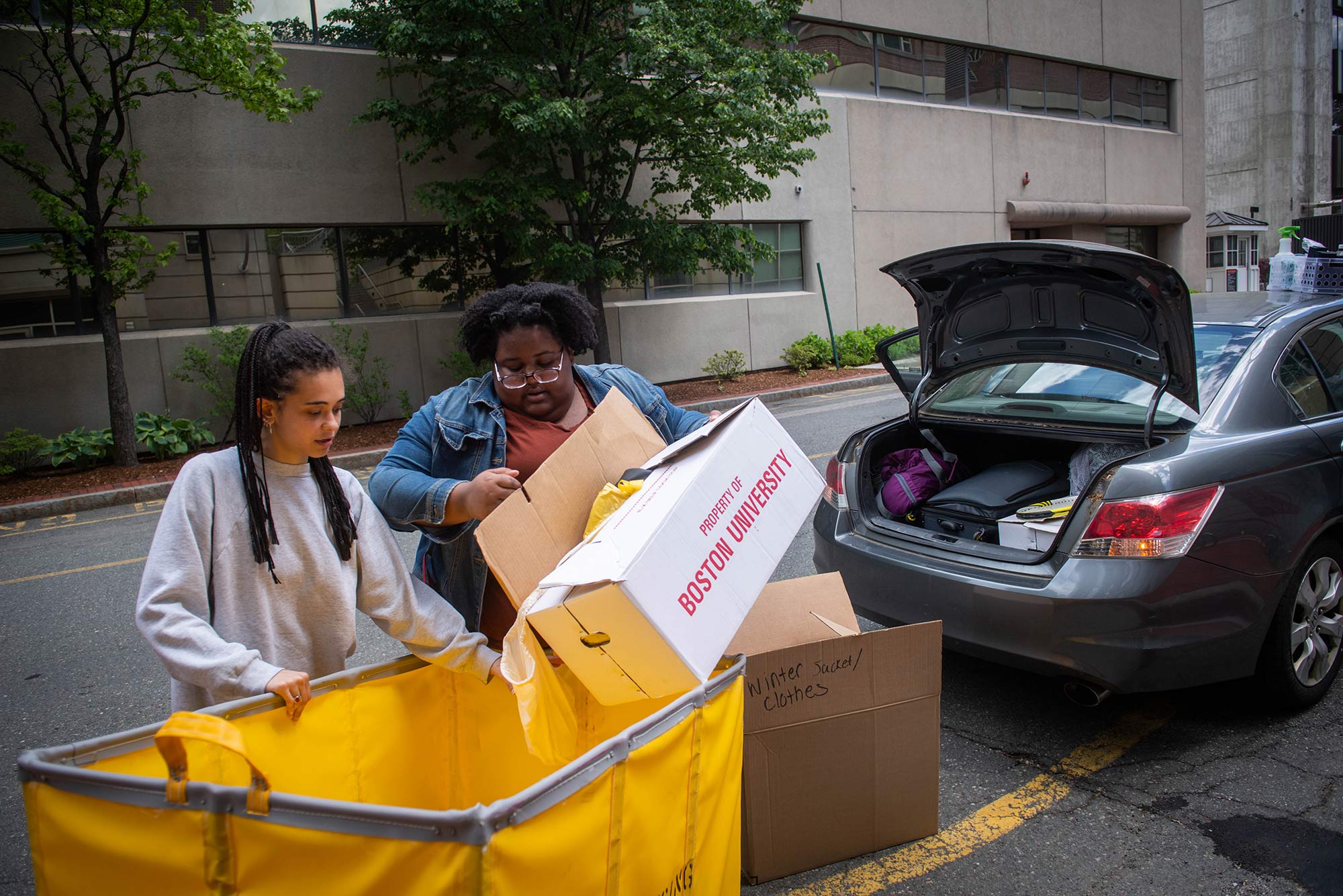 Safety
Move-Out: Five Things to Know if You're Retrieving Belongings from Campus Housing
Extensive safety protocols in place now through June 27 as students return
Normally busy at this time of year with plans for fall Move-in, BU will be busy for most of the month overseeing Move-Out: the controlled process enabling students to retrieve belongings left in rooms, suites, and apartments because of the COVID-19 pandemic and the shift to remote teaching and learning after spring break.

Move-Out began Monday and runs through June 27. The University has devised extensive, detailed protections to guarantee the lowest possible massing of people and promote social distancing and the use of personal protective equipment.

"Trying to reunite students with their personal belongings has been challenging," says Paul Riel, associate vice president for auxiliary services. Consider what he and other University employees had to do to get to this point: divide students into eight "Terrier Groups," ranging in size from 900 to 1,600; slot each group into a variety of pick-up days and times to be on campus, discreet for that group, to avoid overcongestion at a time when spreading COVID-19 remains a threat; and make plans to safely police those groups' flow through or around 161 buildings across campus.
As announced in early May, BU waited to schedule Move-Out until after Massachusetts eased its stay-at-home advisory. The details of anything, from parking to PPE, students need to know for Move-Out can be found here. Here are five key takeaways.

You should NOT return to campus if you have any one of these COVID-19 symptoms one hour before arrival: fever above 100℉ and/or chills or feeling hot (if no thermometer available); sore throat; cough; runny/stuffy nose/nasal congestion (unrelated to seasonal allergies) not relieved by antihistamines); difficulty breathing, shortness of breath; diarrhea with or without respiratory symptoms; nausea and/or vomiting; headache; generally feeling unwell; fatigue and/or muscle aches; loss of sense of taste or smell; rash; and "COVID toes" (foot lesions or pain unrelated to typical causes like a corn, bunion, or callous).
You're allowed one helper to pack items and move them, and you have three hours to finish those jobs. The University will provide carts, packing boxes, and tape if you need them, free of charge, but you're encouraged to bring your own boxes, bags, and suitcases. Boxes and tape will be located in the lobby of your residence. Each Terrier group's three-hour allotment runs either from 9 am to noon or 2 to 5 pm. Note: The University may have packed some rooms already, leaving boxes marked with residents' names and BU IDs for easy retrieving.
Masks are mandatory. You're responsible for providing your own PPE while on campus, and that includes masks for every student and guest while they're inside residences. You also should practice social distancing at all times (at least six feet between people).
There are different procedures for getting onto campus, depending on your residence. If you live in one of the larger halls—say, Myles Standish or 33 Harry Agganis Way—report directly to the Residence Life office in your hall; staff will confirm your Terrier group and inspect your University ID. Residents of small halls and brownstones—examples include South Campus and Bay State Road—should first report to their hall/area Residence Life office for the same checks.
Both groups will then go to their rooms to remove all of their belongings. Next, return your key to your hall/area Residence Life office. Make sure to update your home mailing address on the Student Link (under "Personal Information") if you haven't already, and if you get your mail through the US Postal Service, make sure to update your information online. 
Leave nothing behind in your room. Once you've left campus, anything left behind will be regarded as abandoned and could be discarded; the University will not store or ship any remaining items.