Five Things on My Mind As I Enter Senior Year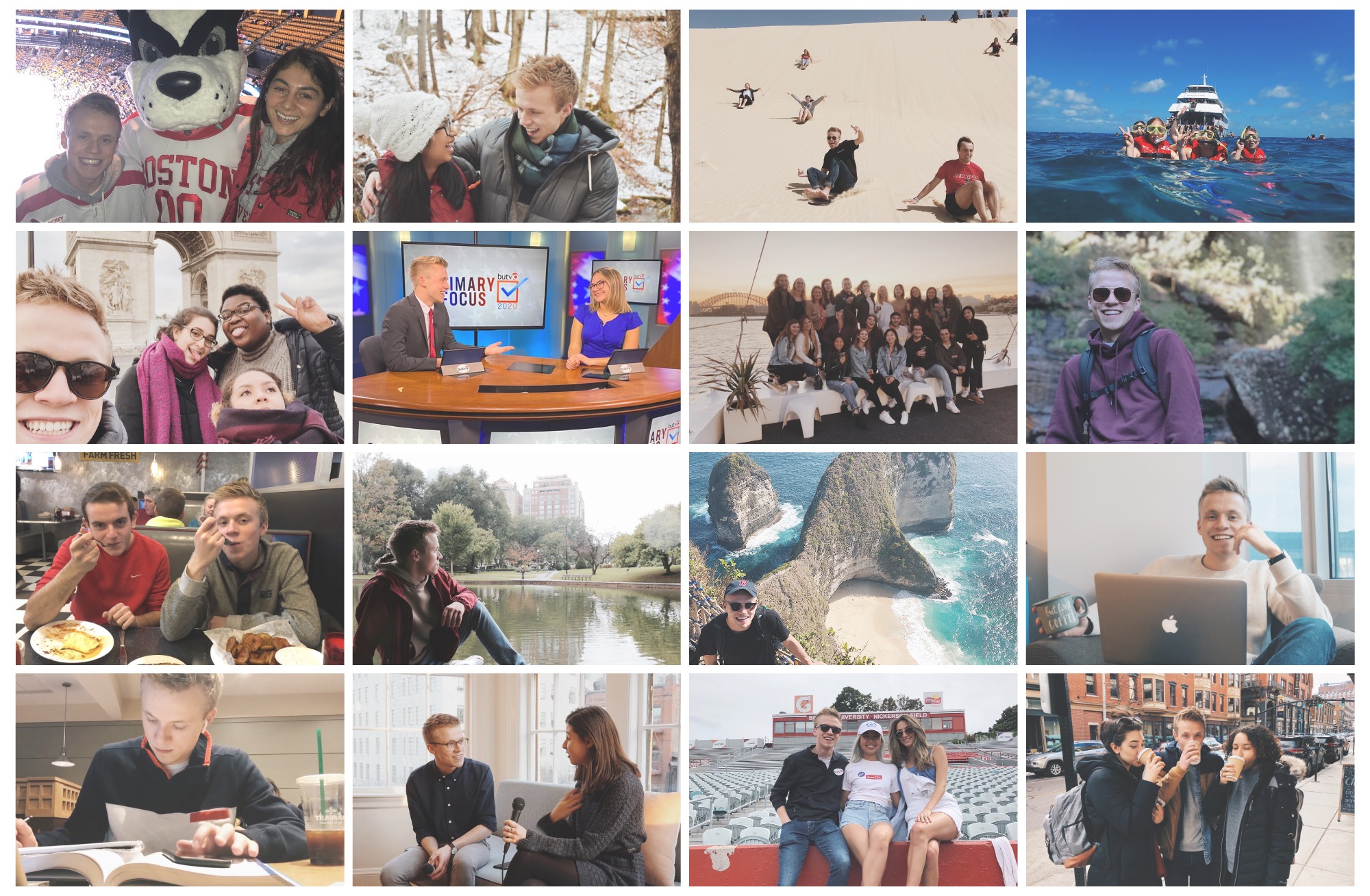 Student Stories
Five Things on My Mind As I Enter Senior Year
A COM student reflects on his BU journey
Graduation always seems so distant in the future. I remember in high school thinking 2017 was a lifetime away. Then I moved across the country, from San Francisco to Boston, thinking the day I'd say goodbye to Boston University in 2021 was forever in the future.

Now, a few Beanpots, many finals, a couple of Marathon celebrations, a study abroad semester in Sydney, and three short years later, the next time I'm in Boston will be to finish my journey at BU. I still vividly remember my very first steps on campus. I had flown for a long weekend to New York with my dad. Being a West Coast kind of guy my whole life, it was a trip like no other. I begged my dad to get us a train up to Boston because selfishly I wanted to see more of the Northeast.

It was unknown then that casually deciding to tour BU would be a decision that changed the rest of my life. Fast forward to a few months later: I was pulling up to Warren Towers with my mom, meeting my roommate, and settling in with the first feelings of horrifying, but refreshing, independence.

Since then, I've grown into somebody that boy in 2017 probably wouldn't recognize. In just three years, I've made friends that have become family, flown around the world, won a college Emmy with BUTV10, learned from BU's best public relations experts, bonded with classmates over our world turning upside down from a pandemic, and recognized that while my time at BU is coming to a close in just a few months, that graduation date in January 2021 isn't something to be afraid of, but a culmination to remember why I chose BU.

So we were packing up our things again, and I was making one last move across the country. It was almost too much to consider, but these are the five things on my mind:
---
1. The best friendships won't end with college
The reason I loved my time at BU so much was because of the people I spent it with. Saying goodbye to Comm Ave, though, doesn't mean I'll say the same to them. I think about the friends who still call me from the very first week of FYSOP, before classes even started. I met friends in Sydney while studying abroad who I consider family. If we can make the time for Facetime (and Zoom!) while we're apart, then a full-time job, move to another city, or anything in between can't get in the way of that. The truth is, we bonded over sharing experiences, and saying goodbye is just another moment we'll share together.
2. Energy is best spent trusting in your virtue, rather than improving your flaws
What made me #ProudtoBU on campus will still exist off-campus, but of course, there's part of me that wonders: How will I compete in the real world? That term, "real world," gets thrown around a lot—but why isn't BU the real world?
My time in Boston has helped me discover exactly what I value, and opposingly, the things not worth my energy. I found that at BU I gravitated towards my strengths. I learned that the best use of your energy and contribution is to exercise your confidence in one thing, rather than neglect it by striving to reach an expectation. It takes a strong maturity to unapologetically embody pride in your passion, without feeling an obligation to improve areas where you aren't as confident.
3. Making the most of your last semester means changing nothing
I still have one semester, just 12 weeks to go. There's this unexplained pressure to make it the best, but trying to make it the most fulfilling isn't possible. Every semester so far has taught me something new, opened up new doors, and challenged me in unpredictable ways.

It's important to remember every moment and soak in every minute I have with the people who built me into the person I'm proud to be. I look forward to covering the 2020 election with BUTV10. I will conclude my legacy as a public relations student by giving all I have to those who have built an experience of a lifetime in just four years. I want to make the most of every resource BU offers. There's no longer an excuse to skip office hours or walk by without visiting the BUild Lab. Now is the time to walk in, introduce myself to everyone, and meet as many new people as I can over coffee at Pavement.

The times I remember most are the moments I hesitated to say yes, but did. If we were meant to relax in our comfort zones, then I would have never stepped foot in Boston—and that's a reality I couldn't imagine.
4. Listening to others
One of my biggest takeaways is that sometimes the most powerful thing we can do is listen. I have learned more than I ever imagined from professors, but the stories of my peers and my friends are the ones that taught me to understand and empathize with a perspective beyond mine. I had never been thrown into such a diverse pool of people, and now there's no other pool I'd want to be in. You grow by understanding others, and BU introduced me to people with incredible stories, contagious ambition, and dreams bigger than reality itself.

I think back to my freshman year often, when I craved answers and advice from people just a few years ahead of me. BU wasn't always the 135 acres I call home. It was an overwhelming world of opportunity that left me wondering which step to take next. One of the most valuable objectives I can have now is to think about who I was three years ago and share what I've learned with incoming freshmen. I think about the words I would say to my younger self. Instead of keeping them to myself, it's a privilege to share what I've learned, all while listening to what is still left to learn.
5. How lucky I am to have something that's hard to say goodbye to
I've had 17 different addresses in my life. I've lived in five different states and two countries. Saying goodbye isn't new, it's not foreign, but this time it feels different.

BU was the first major decision I made on my own, and now the next major decision is to leave. As a kid, you're sort of along for the ride, trusting in those raising you. For me, that trust was built by defining a home by the people I shared it with. When I travel back to see my family, I don't see my childhood home or walk down the street I grew up on. My family is what makes going home, home.

Now, as I prepare to say goodbye to BU, this feels different, but with a sense of trust that a place is just a place. Comm. Ave and the city of Boston taught me more about myself than I even knew existed. Physically, I'll say goodbye, but the friends I made, interests I learned, and skill set for the future I built is a reminder that BU not only feels like home, but is something I'm lucky to carry with me for the rest of my life.