Barnes & Noble @ BU Institutes Pandemic Protocols for Fall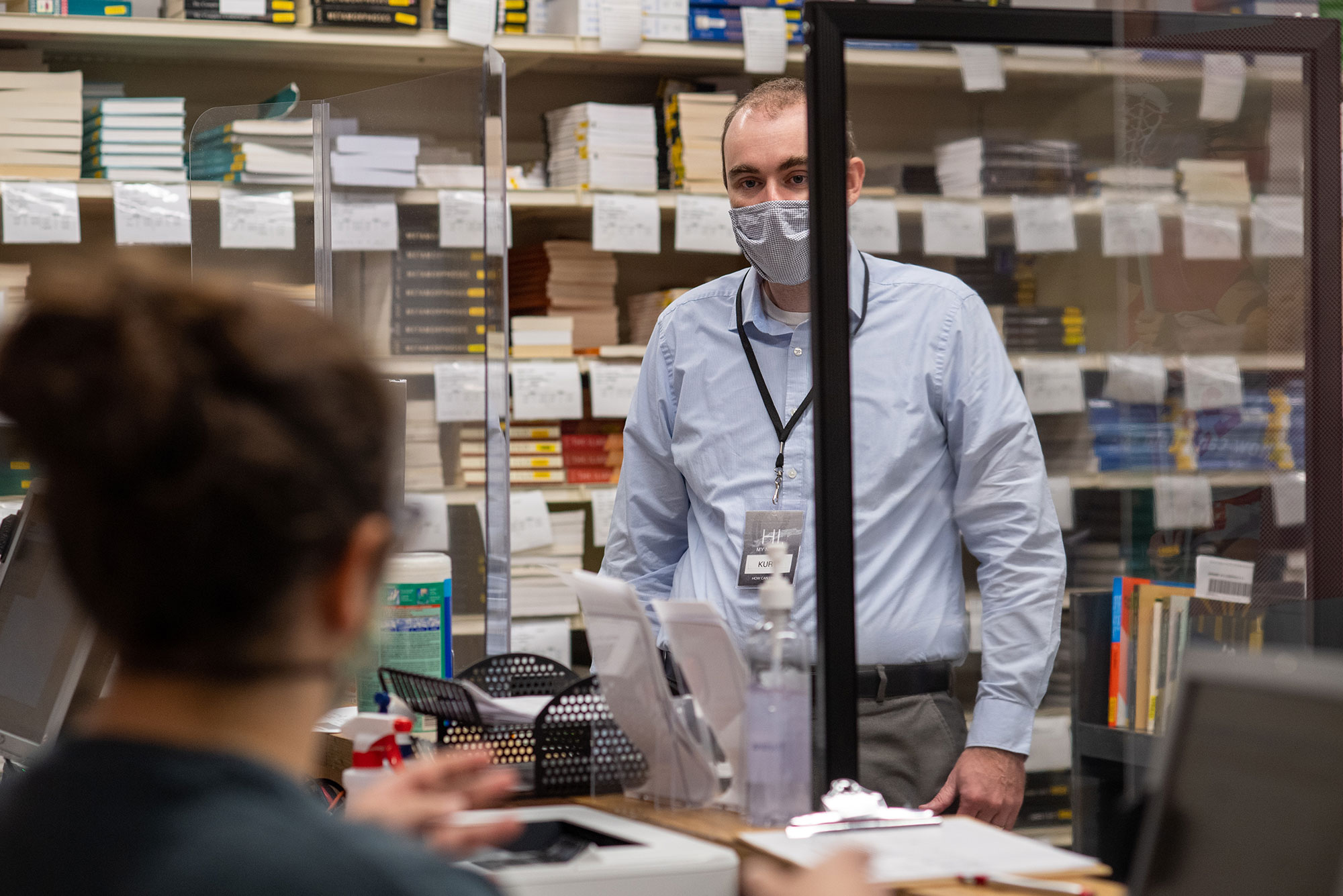 Coronavirus
E-Books, Touchless Pickup, and More on Tap at Barnes & Noble @ BU This Fall
Campus bookstore has numerous pandemic protocols in place to help keep customers safe
One of the side effects of the COVID-19 pandemic is…books in quarantine.
Rented textbooks, to be specific. When returned to Barnes & Noble @ Boston University, they are checked in, put on a shelf, and sit there for at least 48 hours—twice the time required by state guidelines for returned materials—and significantly longer in most cases.
It's actually the same system as in previous years, says Kurt Mahnke (CAS'04), general manager of the campus bookstore, but now "we make sure they don't go anywhere quicker."
That's just one of countless ways, large and small, that the bookstore—like just about every other facet of campus life—is changing to prevent the spread of coronavirus.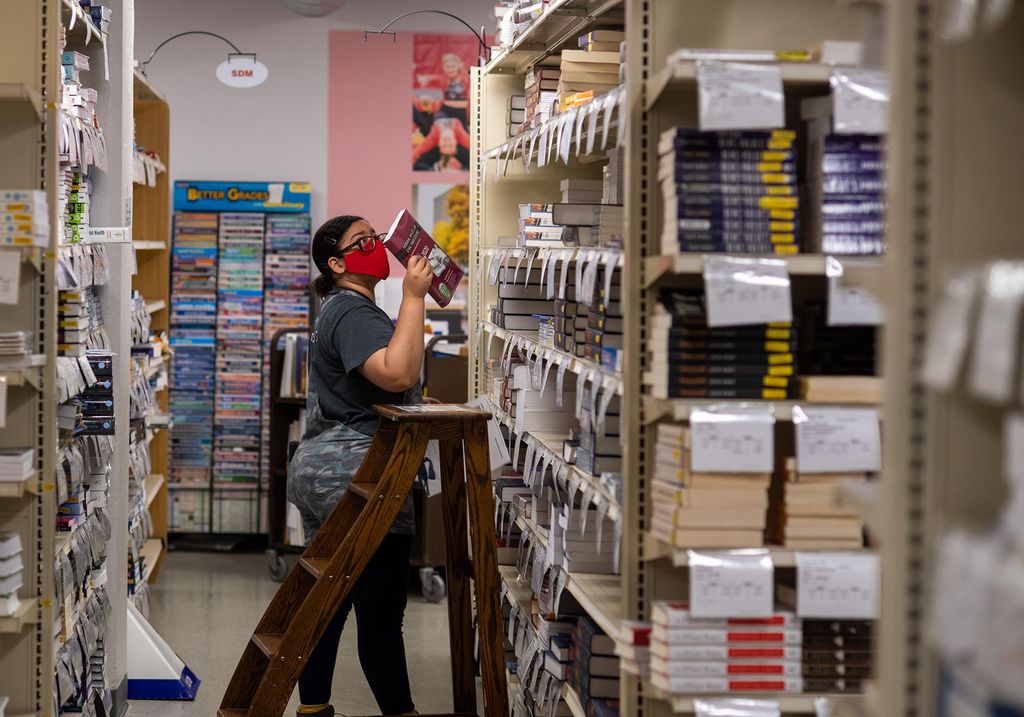 "We want to make our customers as safe as possible," Mahnke says. "So we are adhering to the state guidelines and we are adhering to the BU guidelines."
Steps such as social distancing, mandatory mask-wearing for staff and customers alike, and clear barriers between customers and cashiers will be familiar to anyone who has been shopping anywhere since March. Floor markings dictate the flow of foot traffic to help maintain social distancing. There are sanitizing stations throughout the store and rigorous cleaning and sanitizing protocols are in place.
The bookstore now has a maximum occupancy of 133 people, both customers and staff, half the limit of before the pandemic. But after many quiet weeks since March, "we're excited to have students back on campus, just like everyone else is," Mahnke says. "It feels like the spring and summer have been years. Just seeing the movement and excitement on Comm Ave has been great."
The bookstore is also offering online ordering for direct delivery or touchless (reduced contact) pickup, as well as digital materials for instant access, all methods that work well in the current situation, he says. The store has long had touchless payment capability, and its new e-receipt function was in the works long before the pandemic hit—and it complements the store's health and safety protocols.
"The Move-in process has changed significantly from our normal process," Mahnke says. "We've seen student traffic earlier than in the past, buying patterns will be different, course material selections have been different."
Shifts to e-books over hard copies and from purchase to rental of textbooks have been underway for several years, he says. The trend toward e-books has ramped up even further lately because of the change to remote learning for the summer.
---

Just seeing the movement and excitement on Comm Ave has been great.

---
"We did see a heavy shift to digital materials in the summer," Mahnke says. "It's a little too early to tell what the mix will be this fall. But I would guess that we're going to see heavier use of digital options if we're comparing to last fall."
Syllabi are changing too. Some course materials that were used previously in a traditional classroom may not be ideal for BU's new Learn from Anywhere (LfA) model, he says, so professors have changed their orders. A current lab manual may not fit when you're going to have some students in the lab and some attending virtually.
Mahnke has been part of the bookstore for a long time, starting there in 2002 as an undergrad, stocking shelves and running a cash register. He stayed on after Commencement, eventually rising to supervise the textbook operation before leaving in 2006 for other Barnes & Noble positions, as textbook floor manager at the Harvard Coop and store manager at Bunker Hill Community College. He returned to run the BU store in June 2019, not long after it moved to 910 Comm Ave from its longtime location in Kenmore Square to make way for redevelopment.