Don't Miss BUTV10's Star-Studded Variety Show, Airing Tonight
Film & TV
Don't Miss BUTV10's Star-Studded Variety Show, Airing Tonight
Special will feature music, dance, and comedy by BU students and interviews with notable alums
When Bravo TV star Andy Cohen agreed to participate in a new BUTV10 production called From a Distance: BUTV10 Variety Hour, producers knew they were onto something attention-grabbing.
The show, airing tonight on College of Communication station butv10.com and BUTV10's​ Facebook Live​, mimics a Friday night on campus, albeit virtually, with music, dance, and comedy performances by student groups like Indian folk dance team BU Bangra, improv comedy troupe Liquid Fun, and popular musical theater group BU on Broadway.
Also appearing on tonight's special are some big names in entertainment sharing words of encouragement and career advice.
Guests are Ginnifer Goodwin (CFA'01), who has starred in hits like ABC's Once Upon a Time and the HBO drama Big Love, and Russell Hornsby (CFA'96), best known for his roles on ABC Family's Lincoln Heights, HBO's In Treatment, and NBC's Grimm. Hollywood industry veteran Madeline Di Nonno (CAS'82), Geena Davis Institute on Gender in Media chief executive, and hockey legend and 1980 Olympic gold medalist Mike Eruzione (Wheelock'77) also hopped on board, as did New York Times writer Sopan Deb (COM'10).
"I feel a kinship with BUTV," Deb says. "That's where I partially got my start for my career. And I will say that those who are there today are able to do far more than I was able to do when I was in college. It's incredibly impressive."

And then there's Emmy-winning TV personality and producer Cohen (COM'90), best-known as the host of Bravo's Watch What Happens Live with Andy Cohen and for corralling the women of the Real Housewives franchise for interviews. (Fun fact: Cohen was executive producer on the Emmy- and James Beard award–winning reality cooking competition television show Top Chef.)
"He was our dream guest," says BUTV general manager Malaika Moyer (COM'21).

Moyer says that how Cohen came on board is a weird story. The variety show is hosted by Nick Mason (COM'22), whose father, Anthony Mason, is cohost of CBS This Morning. Nick, home in the family's NYC apartment since March, has been helping out with his father's daily broadcasts. Moyer thought the younger Mason, a budding screenwriter, would be perfect to host the special. To reach Cohen, Nick enlisted his father, who contacted CBS This Morning cohost Gayle King, and she forwarded the request to Cohen.
Moyer says this all came about just last week, which has led to some long production hours. Living at home in San Diego, she's been working on the project from 8 am to midnight most days. Neither she nor fellow producer Guy Jackson (COM'20) are getting course credit for the project. They were motivated, she says, by their love of live TV and desire to give their classmates a chance to smile and escape the isolation of the coronavirus, however briefly.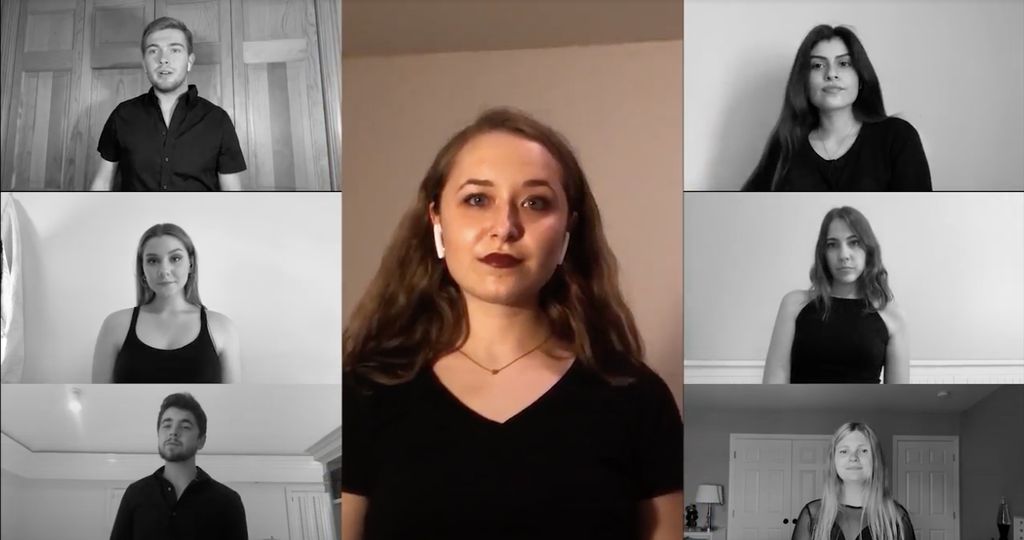 "We all miss the student life we had on campus," she says. "This was our way of connecting the student body back to the performances they would see at Tsai and BU Central."
Jackson, along with Moyer, is a member of the BUTV10 board, and he brought the variety show idea to the board. He was inspired after a recent internship at Done+Dusted, the Los Angeles production company that helped produce the recent special virtual graduation event #GraduateTogether, featuring President Barack Obama, Lebron James, and Olivia Wilde.
Board members seemed hesitant at first, Jackson says, but Christophor Cavalieri (COM'81), a COM assistant professor of television, helped champion the idea. It took off from there, even though Jackson, Moyer, and the other producers, Naba Khan (COM'20), Lexi Matthews (COM'22), Josee Matela (COM'20), Riley Villiers (COM'21), and Sydney Hager (COM'20), are working remotely. 

The outcome has impressed the pros. Deb, recently gave the student creators a big plug on Twitter:
When I was at BU, we were not doing stuff like this at BUTV. Good for these guys/my future bosses. https://t.co/IxfM1KBr1s

— Sopan Deb (@SopanDeb) May 19, 2020
Jackson says that for the recent graduates who worked on the show, the undertaking was a parting gift to their classmates.
"A lot of us are not feeling motivated and are kind of bummed, especially those who want to do live stuff [involving TV production] but can't," he says. "Now everybody is thankful to be able to do this. It's a driving force, helping us to stay motivated, helping us to stay engaged with one another."
View a trailer for From a Distance: BUTV10 Variety Hour here.

From a Distance: BUTV10 Variety Hour premieres tonight, Thursday, May 21, at 8 pm ET on butv10.com and BUTV10's ​Facebook Live​.