BU Unveils Don't Go Viral Campaign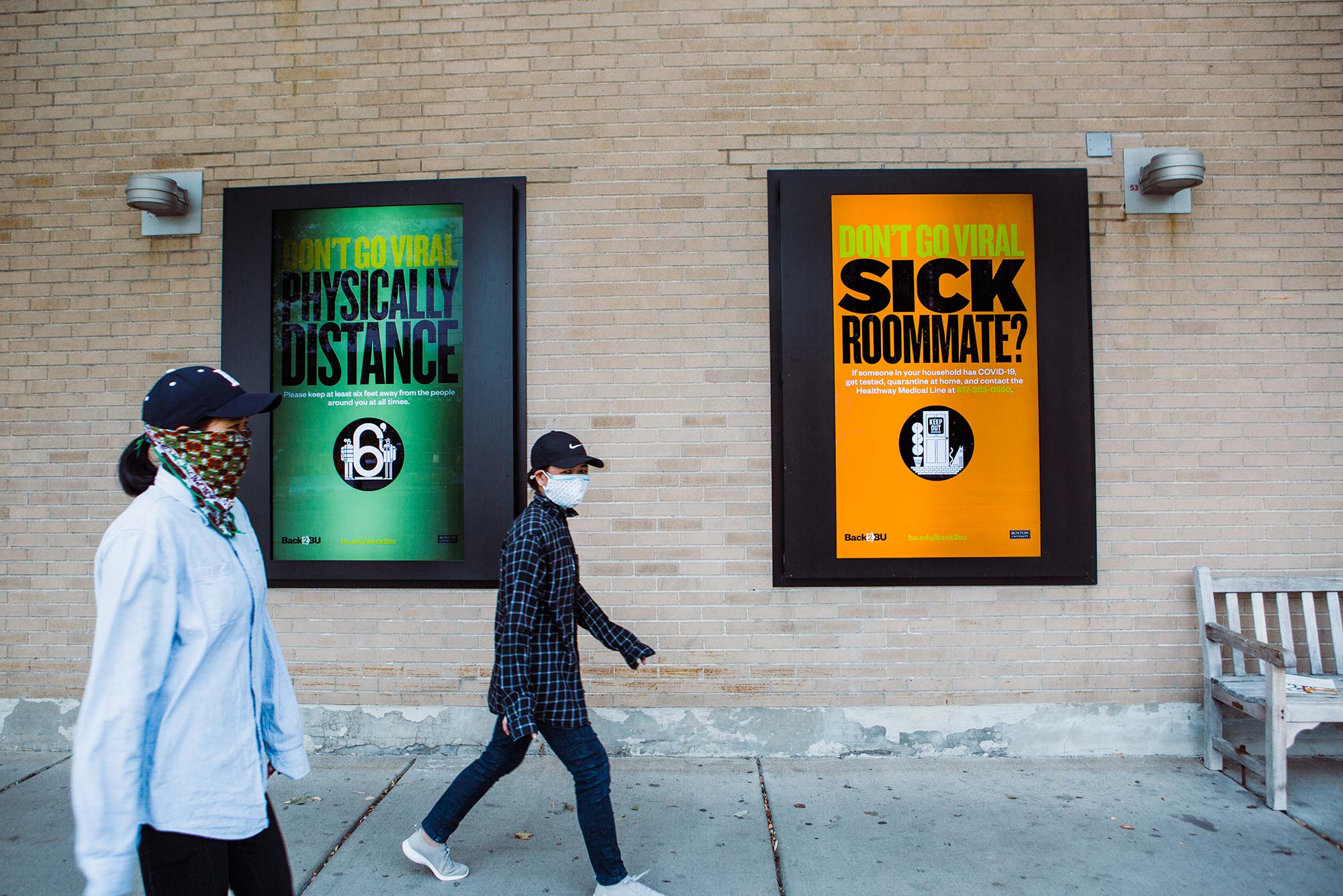 Coronavirus
BU Unveils Don't Go Viral Campaign
Anti-COVID public health messaging is intended to work hand-in-hand with students' F*ck It Won't Cut It initiative
It's the anti–COVID-19 public health campaign that doesn't drop any F-bombs.
The University's Don't Go Viral campaign is popping up already on electronic message boards at Warren Towers and with posters, pop-up banners for building lobbies, branded masks, and stickers for hand sanitizing stations rolling out around campus.
Don't Go Viral, launched by BU Marketing & Communications, broadcasts messages such as DON'T GO VIRAL: MONITOR SYMPTOMS, to remind students, faculty, and staff to do their symptom checks at bu.edu/healthway, and DON'T GO VIRAL: DON'T TOUCH YOUR FACE, to prevent people from spreading viral particles on their hands to their mouth, eyes, or nose.
"BU has taken extraordinary measures to bring back our residential campus and in-person learning," says Carrie Landa, director of Behavioral Medicine at BU Student Health Services. "Now, more than ever, we want our community to remember to continue to follow public health guidelines to reduce the transmission of COVID."
The Don't Go Viral campaign was planned to work in counterpoint with the F*ck It Won't Cut It campaign, a first-ever joint effort between students in the College of Communication's AdLab and PRLab whose aim is to grab students' attention through TikTok videos, Instagram posts, and infographics featuring that, ahem, edgy language.
"The AdLab and PRLab students did an incredible job in creating the F*ck It Won't Cut It campaign, but the message is intended to be peer-to-peer," says Landa. "The idea behind Don't Go Viral was to engage our entire campus community, providing steps to take for prevention as well as intervention, if needed."
Messages, including DON'T GO VIRAL: WASH YOUR HANDS (Scrub often with soap and warm water for at least 20 seconds) and DON'T GO VIRAL: WIPE DOWN SURFACES (Use sprays or wipes with at least 70 percent alcohol to disinfect frequently touched objects and surfaces), are broadcast in bold type and vibrant colors. Other messages, like DON'T GO VIRAL: CALL THE COVID-19 SUPPORT LINE and DON'T GO VIRAL: CALL FOR MEDICAL ADVICE, offer phone numbers and other contact information. They also contain the URL for the Back2BU website for more information.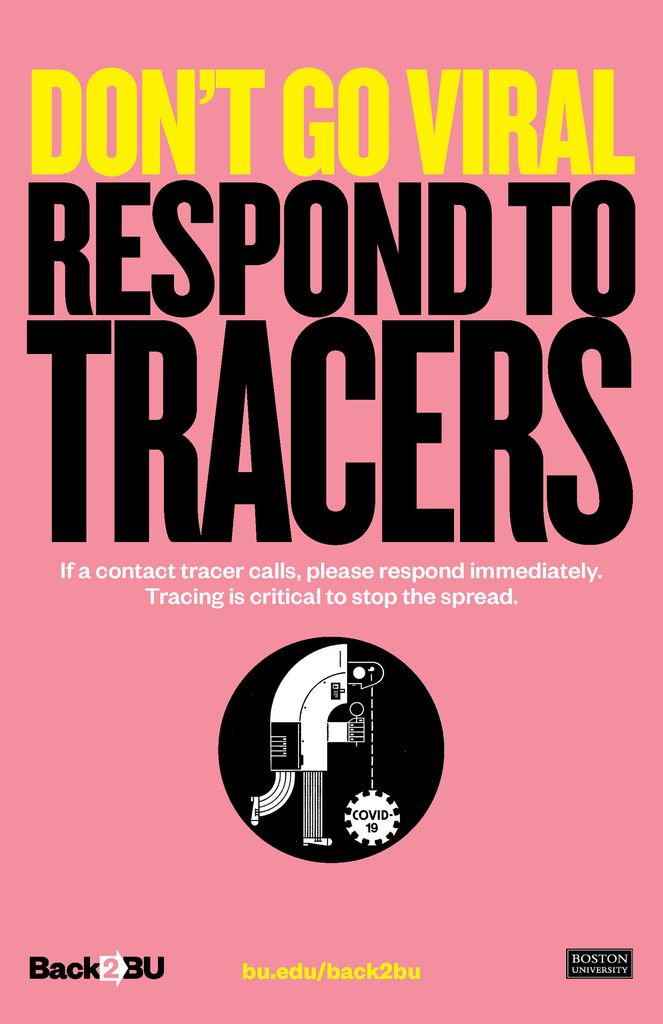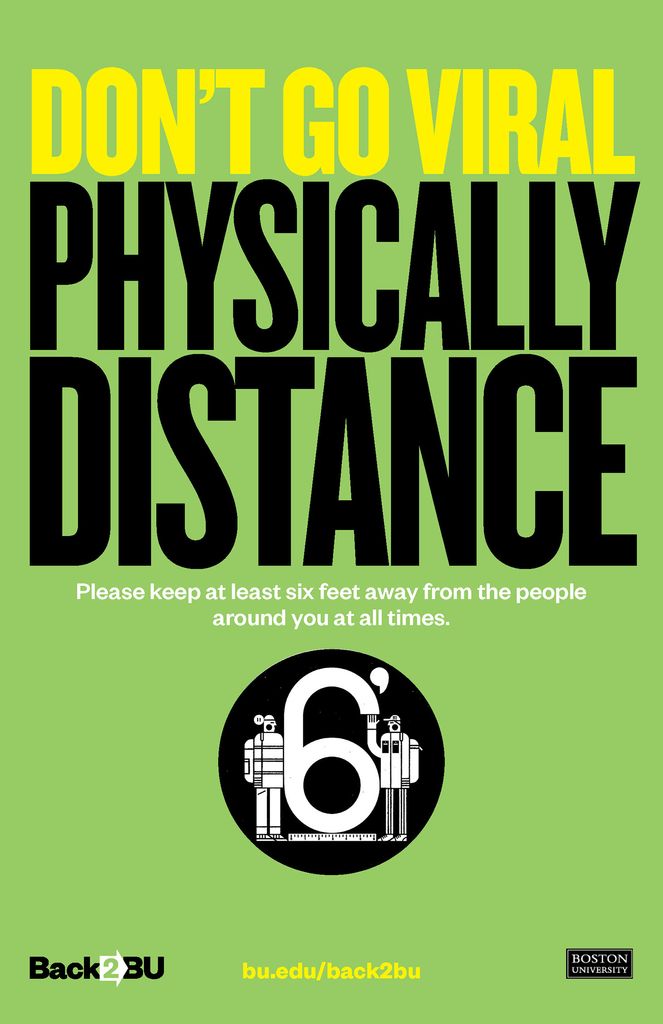 "We felt strongly about having a campaign that stood out on campus—different from all the other messaging that you may see, COVID-related or not," Landa says. "The campaign covers everything from behavioral steps folks can take to keep themselves and each other safe to providing information about what to do if you're not feeling well or were in contact with someone who is ill."
The main difference between the two campaigns is that Don't Go Viral focuses on things like wearing a mask, calling for medical help, and getting tested, where the F*ck It campaign focuses on situations students might encounter and what they should do to both follow guidelines and not miss out on the fun. F*ck It also has a big social media presence aimed at students, while Don't Go Viral has been designed to appear in heavily trafficked places where it will be seen by all members of the University community.
Still, the campaign features some funkier touches, including appearing on the Big Belly trash cans along Comm Ave. The Don't Go Viral campaign will likely run through the fall semester.
Alexander Puri (COM'21) contributed to this report.