BU suspends out-of-state Alternative Service reak trips as coronavirus spreads, and also cancels all University-sponsored international trips for foreseeable future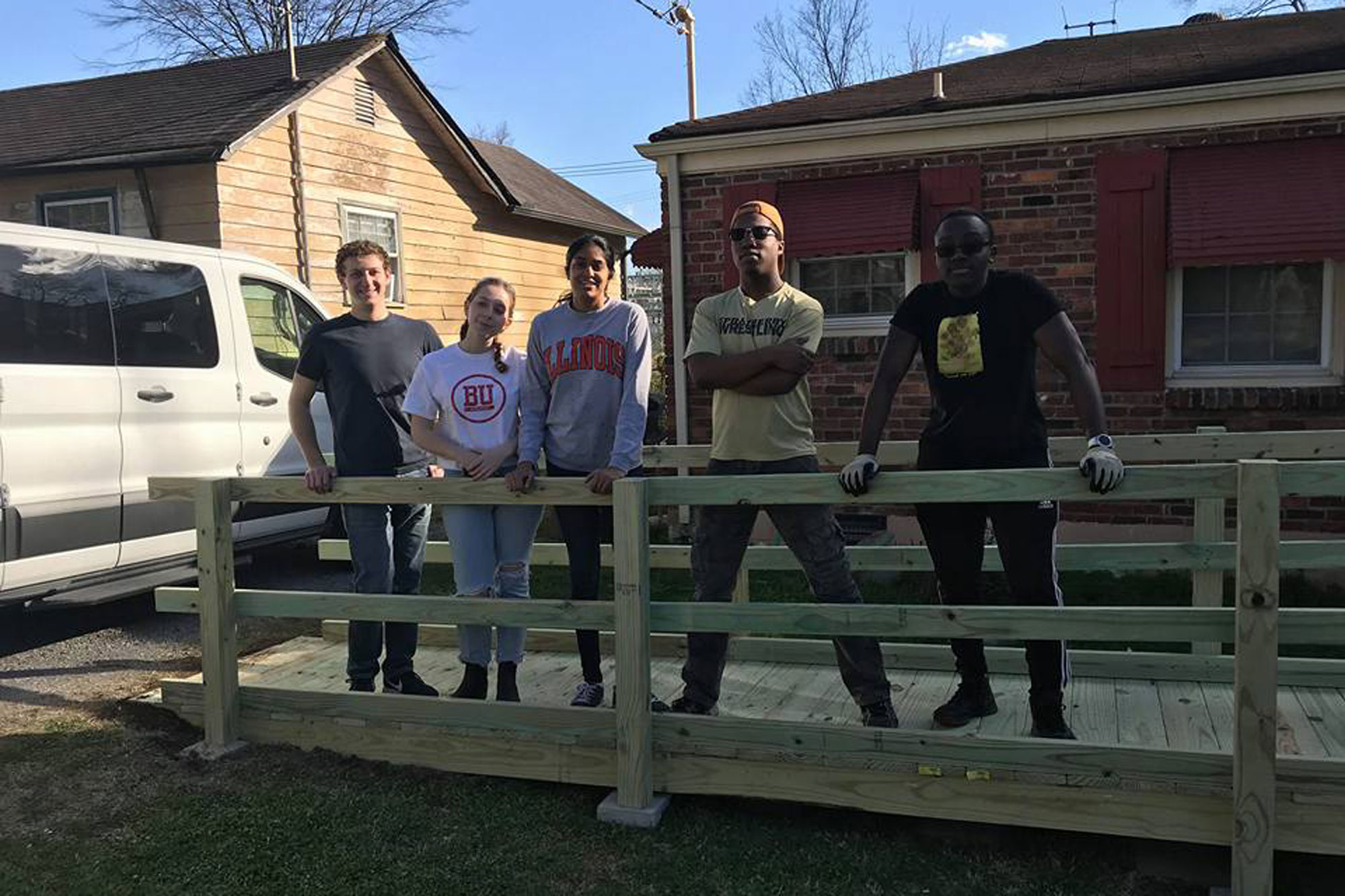 Campus Life
BU Suspends Out-of-State Alternative Service Break Trips as Coronavirus Spreads
In a separate decision, all University-sponsored international trips canceled for spring
BU announced on Wednesday, March 4, the suspension of this year's Alternative Service Breaks (ASB) trips to 20 locations across the country because of the spread of the coronavirus across the United States.

In a separate decision Wednesday, the Office of the Provost announced in a letter sent to BU faculty, staff, and students that all University-sponsored international group trips for spring semester have been canceled.

The announcement regarding ASB trips from the Community Service Center (CSC), which oversees the program, and the Dean of Students office affects an estimated 250 students who were scheduled to leave Saturday for weeklong trips to Iowa, Illinois, Utah, North and South Carolina, Georgia, Louisiana, Tennessee, Kentucky, West Virginia, Pennsylvania, California, Maine, and Puerto Rico. They were to be partnered with nonprofits, schools, and community groups for a week of volunteer service. It is the first time since the program started in 1988 that it has been suspended. Instead of canceling this year's ASB program altogether, the CSC will offer those who registered the opportunity to volunteer with local Boston area nonprofits. Those students who elect to volunteer in the modified ASB program will be able to stay on campus in their current housing and have meals in the Warren Towers Dining Hall, which will be open from 8 am to 8 pm throughout spring break. All ASB students will be refunded the cost of their trips, which ranged from $270 to $1,100.
"After careful consideration with colleagues and medical staff, we have decided to keep all Alternative Service Breaks within the Greater Boston Area due to concern for the well-being of our student and staff participants," CSC director Orpheo Speer wrote in an email to all student volunteers, chaperones, and CSC staff on Wednesday afternoon. "With the best interests of our students, families, our community, and the communities we serve, we are adjusting to meet the shifting needs of those around us."
ASB volunteers are being directed to the Community Service Center's ASB FAQ page for information about alternative programming in Boston next week and for information about refunds.

"Although the suspension of our program is difficult for our volunteers, our team, and ourselves, the safety of everyone involved is the most important priority," say ASB coordinators Nicole Sancilio (CAS'20, Sargent'20) and Tobi Dele-Oni (Sargent'20). "Our mission—international service, sustainable partnerships, and social justice education—emphasizes the goal of putting all our communities first. This decision supports that goal."

Regarding the decision to cancel all University-sponsored international group trips for spring semester, Jean Morrison, University provost and chief academic officer, said in her letter that the decision was made "in response to recent guidance from the Centers for Disease Control" and statements made earlier this week by Massachusetts Governor Charlie Baker and the Massachusetts Department of Health.

"For those who had school-based trips planned, we encourage you to work with your chairs and deans to develop alternate activities or other ways to mitigate the impact on students," Morrison wrote.

Any ASB student with questions should contact Orpheo Speer at ospeer@bu.edu. Students with questions about international trips should contact Joe Finkhouse at finkhous@bu.edu or Sarah VanKirk at svankirk@bu.edu.

For more information on how COVID-19 is impacting spring break and travel, see the University's FAQ page. Additional information about COVID-19 can be found on the University's new coronavirus website.