Toughest Job on Campus? Try Being an RA during COVID-19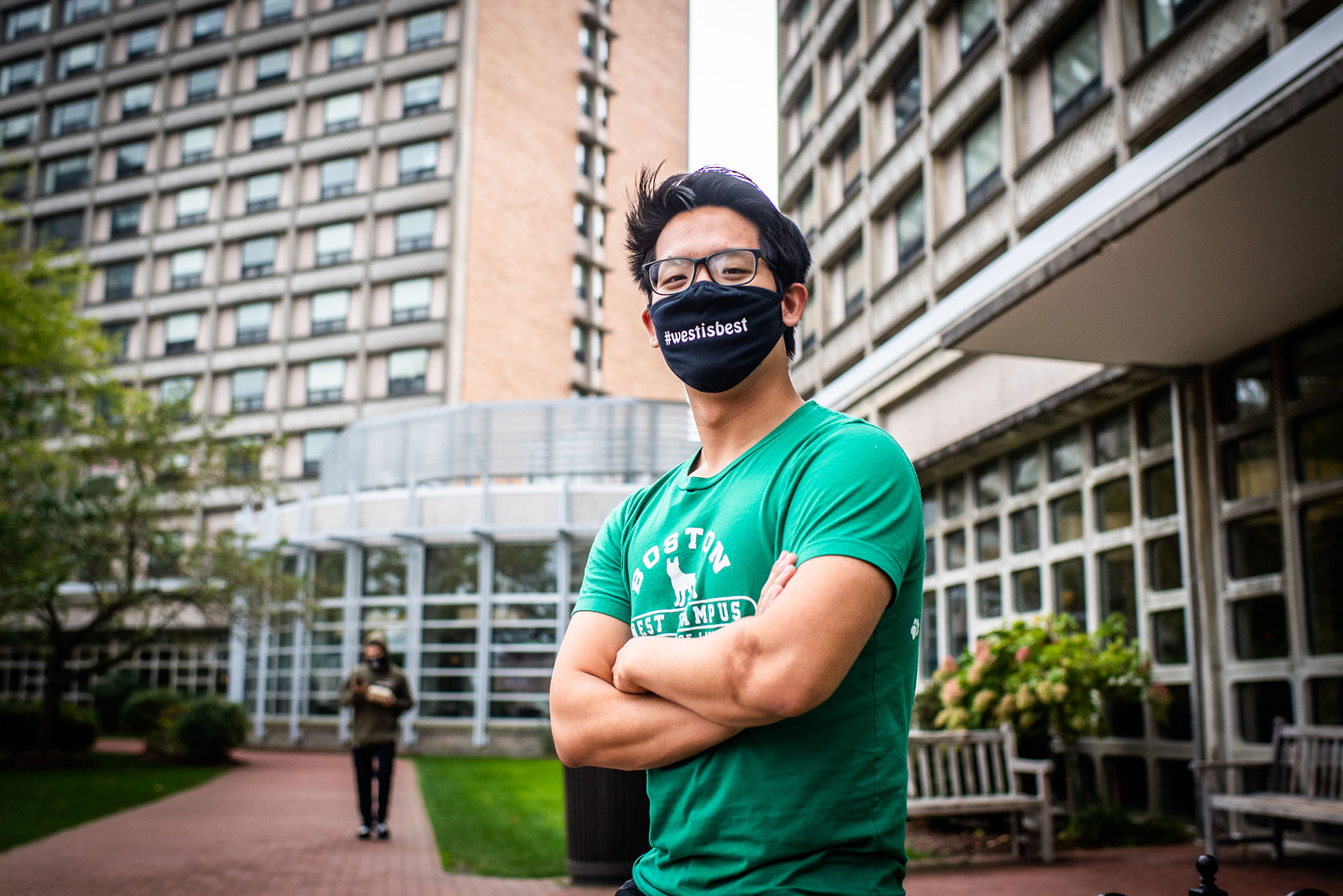 Residence Life
Toughest Job on Campus? Try Being an RA during COVID-19
Four BU resident assistants on the added stress of managing dorm life during a pandemic requiring masks, social distancing, and lots of Zoom
As if being a college resident assistant didn't have enough pressure already—helping new students adjust, tamping down loud parties, managing roommate spats, maybe even working with police or mental health professionals in a crisis—today's RAs face a whole new level of responsibility: keeping students safe and residence life healthy during COVID-19.
And by the way, do all of this while managing their own classes and studies.
Being an RA now means making sure students are wearing masks, even in small groups, and aren't gathering in large numbers inside cramped dorm rooms without giving it a thought like they used to. It means helping students manage common bathroom use, and warning them about the dangers of going to parties. And while cleaning up vomit in a bathroom was never a pleasant part of RA life, it could now be dangerous, potentially exposing them to the coronavirus.
"RA training certainly looked different than in other years," says David Zamojski, assistant dean of students and director of residence life. "Content was delivered via virtual presentations and discussions and prerecorded educational sessions." This year's training topics covered student engagement, connecting virtually with residents, caring for students in distress, antiracism, empathy, and self-care.
Typically, BU has about 285 RAs, but this year there are 261 undergrad and graduate resident assistants. BU Today reached out to a handful of them across campus to share their experiences so far this semester. Here is what Claflin Hall RA Ali Husain (CAS'21), Sleeper Hall RA Dragon Ding (CAS'21), Bay State Road RA Nathan Simani (CAS'21), and 10 Buick Street RA Erika Yoon (ENG'21), a biomedical engineering grad student, had to say.
Q
&

A
with Ali Husain (CAS'21), Dragon Ding (CAS'21), Nathan Simani (CAS'21), and Erika Yoon (ENG'21)
BU Today:
What's the hardest part about being an RA this year, compared to previous years?
Ali Husain: I would say that the hardest part of the job that differs from years past is twofold: first, it's the difficulty meeting with, connecting with, and even recognizing our own residents. We no longer have in-person events and face-to-face communication is limited, and when it does occur, it's behind masks. Learning about our residents and building a bond with them is much more difficult. It also seems that many students (myself included) seem to just be feeling Zoom fatigue, so connecting with residents virtually has also been quite a challenge. 
Another hard part of being an RA is the uncertainty of our housing situation should the University decide to close again. As RAs we're compensated solely in the form of room and board, and in the case of a shutdown it's uncertain whether RAs will also be sent home, reassigned, or allowed to stay. That uncertainty sets a feeling of unfairness on us, especially when we've already put in quite a lot of time for training, move-in, and other front-loaded efforts of the semester.

Dragon Ding: To be honest, the hardest part of being an RA is the lack of social connection with your residents. Funnily enough, most of the interactions I had with some of my male residents were in the bathroom, but because we have to enforce bathroom schedules now, that sort of interaction became impossible. Alongside that, I can no longer just knock on people's doors and ask how their day is going and see what they're interested in based on their room decorations. It makes the RA position feel much less like someone who connects with their residents, and much more like a simple rule enforcer.

Nathan Simani: It's challenging to build community effectively while adhering to strict safety guidelines on campus. Students can only handle so much time on Zoom, and it's definitely a challenge to come up with events and activities that can still be exciting and engaging in a virtual context.

Erika Yoon: For me, the hardest part is learning how to build a close-knit virtual community, even though physically, we're living in the same areas. After attending classes on Zoom all day, it's difficult to motivate residents to join in on another community Zoom call, even if it's for a social event. It's also been difficult to balance wanting to assist and interact with residents while also maintaining a safe physical distance in order to prevent the possible spread of the virus.
BU Today:
Are you finding students are responsive when you tell them to do something or change their behavior?
Husain: Yes, for the most part. We find that students are no more difficult than in the past, but the difference is that now rule-breaking has more dire consequences, up to and including causing a full University shutdown. In the past, if students were breaking rules or being uncooperative, they would normally only be affecting themselves and their judicial standing at the University. Now, when residents pack into a dorm room, do not wear masks, or sneak away to large parties, it's us RAs, our other residents, and the school as a whole that are put in danger. In my personal experience this semester, I've felt that residents are more or less cooperative, but other RAs have had experiences that certainly differ.

Ding: I find that students have been pretty responsive when confronted by myself or another RA. I've had to bust a couple of parties already, and in none of those situations were the students confrontational or extremely uncooperative. However, I find that students often do not listen to the harder-to-enforce rules. For example, many RAs have warned residents about the dangers of going out and the spread of COVID-19, but last Friday, many students were still going out to Allston to go party. So while students have been responsive in situations with immediate confrontation, they don't uphold safety procedures as strictly as I hoped they would.
Simani: Students generally seem responsive and understanding when RAs ask people to change their behavior. There are always people who don't want to cooperate, but generally there is a great sense on campus that people want to stay on campus and want to make sure that they are doing what they need to keep themselves and others safe.

Yoon: So far, yes! All of the students I've interacted with so far have been very responsive and seem motivated to do their part in keeping BU healthy.
BU Today:
Is there anything you'd like BU to do better, to help support RAs during this challenging time?
Husain: Yes. BU's plan to return to campus, while extensive in some regards, really seemed to overlook the grassroots implementation of many of their precautions. For example, the enforcement of social distancing, masks, households, bathroom scheduling, and other day-to-day precautions mentioned in Back2BU have fallen down the chain of command from BU higher administration to the shoulders of RAs. RAs have a lot on their plate already, but to add these further responsibilities is burdensome, and also risky. To help, BU administration could at least acknowledge these added pressures on RAs, and provide something to make us more confident in our positions. A guarantee of housing in the event of a shutdown, further compensation of some form, or at the very least perks and supplies, such as masks, for us RAs. Our Residence Life professional staff have been extremely helpful and gracious in supporting us RAs, but the assistance from higher administration has been invisible.

Ding: I wish BU would provide the RAs with more immediate resources and knowledge about their plans to handle COVID-19 and other issues, such as social justice/BLM [Black Lives Matter] movement. Many times it feels as if the school expects us to create simple solutions so that the students are all safe and mentally sound, but issues like BLM and COVID-19 are too large for RAs to handle on their own. Many times this year, I felt that I have had to make up solutions on the fly because the school had not provided me with a formulated response, so that's been taxing on my mental and emotional health.
Simani: None really!

Yoon: So far, BU's done a great job adapting to the changes. For example, the recently revamped move-in process was updated from a manual paper form to a fully digital, no-contact process, which I was grateful for. They have since adapted many RA responsibilities to be virtual in order to minimize contact. I hope BU continues to understand that we may also feel nervous carrying out certain tasks and will work with us to adapt those tasks to make them safer for everyone. Moving forward, I think the best way BU can support RAs during this time is to keep RA's health and safety as a priority.

The last word goes to BU residence life director Zamojski: "We acknowledge that it's a challenging time for everyone. We continue to consider new ways to reach out and engage students, and are dedicated to ongoing conversation about what's working and what can be done differently in order to best serve the needs of our students. The RAs are terrific, and I appreciate their dedication to community every single day."