Could Three BU Law Students Win Asylum for a Brazilian Mother Fleeing for Her Life?
Special Report: Immigration
Could Three BU Law Students Win Asylum for a Brazilian Mother Fleeing for Her Life?
"Client is a 40-year-old woman who fears returning to Brazil having fled family violence there. Client and her children were separated for four months after crossing the US-Mexico border in May 2018."
On September 12, 2018, those 35 words landed in the inbox of Boston University School of Law immigration law instructor Sarah Sherman-Stokes. A Brazilian woman wanted asylum in the United States, for herself and for her 9-year-old son and 16-year-old daughter. The email barely hinted at the horrors she was fleeing—the beatings she suffered, the violence and sexual assaults her children had survived, the weeks she'd spent in detention at the US border, separated from her children and praying for them each day with a rosary she'd made from colored pencils. She had no money. This was her plea for help.

"I'm a mom—I've got a three-year-old and a five-year-old," says Sherman-Stokes. "How could I not take the case?"

She printed out the email—from Massachusetts Action Together, an advocacy group—and handed it to Luis Guerrero (LAW'20) and Briana Cardwell (LAW'20), law students enrolled in BU's Immigrants' Rights & Human Trafficking Program, where Sherman-Stokes is the associate director.

The students were learning asylum law by taking on cases pro bono—tough, messy, high-stakes cases that few big law firms have the time to handle. The students had listened to lectures and studied case law, but no textbook could prepare them for what would come next: as the fall semester started and returning BU students thronged the sidewalks of Commonwealth Avenue, Cardwell, Guerrero, and a third law student, Maggie Loeffelholz (LAW'20), took on the responsibility for the fate of a mother and her children.

And if that wasn't enough pressure, the clock was ticking. Asylum seekers must make their case within a year of their arrival, or they can be deported. The Brazilian woman, who for this story will be called Maria to shield her identity, had crossed the border on May 30, 2018, which meant three months were already lost. And the timing for anyone trying to win asylum in the United States could not have been worse.

Maria's son and daughter were among the nearly 3,000 children forcibly separated from their parents who were detained at the border during May and June 2018 under President Trump's zero-tolerance immigration policy. At the end of June, a US district court judge ordered the federal government to reunite the migrant parents with their children within 30 days. Trump announced an end to the family separations amid a bipartisan outcry—the separations nonetheless continued—but not before stories, pictures, and videos of children being housed in cages, without access to showers and hot meals, and crying for their parents had exploded on social media and made immigration the defining issue of the year.
Maria was one of the fortunate ones. She had made it to Boston after a 48-day journey through three Arizona detention facilities. And she had managed to get her children back, even as immigration officials struggled to reunite many families. Now, as summer turned into fall, she was caring for them and cleaning six houses a day with a group of other Brazilian women, while hoping that someone would be able to help them stay in the United States. (Maria has another daughter, who is older and was already settled in the Boston area.)
Sherman-Stokes was just back from the border, where she'd taken a group of BU social work and law students to help migrant parents in overcrowded Arizona detention centers, when she got the email about Maria. An experienced attorney, Sherman-Stokes supervises her students on cases, but doesn't do the work for them. It's their file, their client. If Maria was going to win asylum for herself and her children, it would be on the work of three Boston University law students who had never before tried a case.
Those 35 words
Guerrero, 24, and Cardwell, 25, are Boston-born children of immigrants: Guerrero's parents are from Ecuador, Cardwell's father is from Belize. Guerrero has the sturdy build of a soccer player and is as reserved as Cardwell, with her dazzling smile, is outspoken. Loeffelholz, who is 28 and a native Iowan, had worked with young refugees for five years in Maine.

When Sherman-Stokes presented Maria's case to her three students, they assured her they were ready for it. In truth, they had no idea what they were getting into—learning all about the trauma Maria and her children had suffered, navigating the language barrier (Maria spoke only Portuguese), immersing themselves in the murky complexities of immigration and domestic violence laws, collecting witness accounts and police records from Brazil, and ultimately hoping to persuade a US immigration judge—a Trump administration appointee—to listen to one woman's story and grant her asylum.

Unlike in criminal court, indigent asylum seekers are not entitled by law to attorneys. Unless they can afford a private attorney or land pro bono assistance—as Maria did—they're on their own to navigate America's legal system. Those without lawyers rarely win in court. The three BU law students were Maria's best chance.

Their first hurdle was seeking the specifics behind the 35-word email. Fears returning to Brazil…Family violence…Crossing the US-Mexico border. They needed more. "It wasn't even a paragraph, just two sentences," says Guerrero.

"That was the scary part—we had no pieces," says Cardwell. "We literally had to find the pieces and figure out how they fit together to make the story."

Step one was to meet their client.

Chaotic first meeting
The windowless conference room on the 13th floor of BU's School of Law filled quickly. It was the end of September, 2018. The law students were meeting Maria and her children for the first time.

The dozen people in the room included three interpreters, the students, the children, and Maria. With her long black hair and broad, open face, she looked much younger than her 40 years. Sherman-Stokes had asked Guerrero and Cardwell to handle most of the work on Maria's case. Their classmate, Loeffelholz, who was handling other asylum cases, would be responsible for the children. If Maria won her case, they would almost surely get asylum, too.
Guerrero confided to Cardwell that he was nervous: Maria was his first client. He marveled at how much experience Cardwell had—as an unpaid intern at Greater Boston Legal Services immigration unit and volunteering in college with the Massachusetts Immigrant Refugee Advocacy Coalition.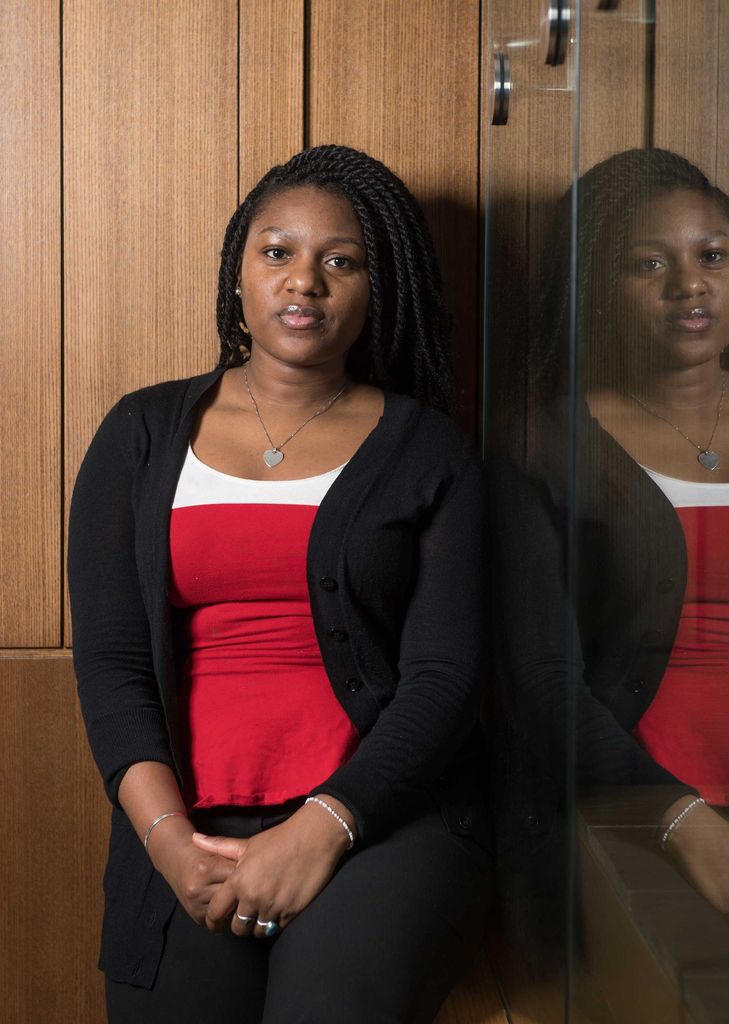 But Guerrero had done an internship the previous year with Project Citizenship, a nonprofit that helps immigrants become citizens. Plus, in high school and college, he had worked alongside his parents at their convenience store, LJ Market, in Methuen, Mass., which doubles as an Ecuadorian takeout restaurant. Listening to the stories immigrant customers told was an education on its own.
Guerrero and Cardwell introduced themselves to Maria and explained through the interpreter that they would be representing her. They began guiding her through the thicket of federal immigration paperwork. Even a typo or an incorrect address could be used as a reason to deny asylum. Accuracy was imperative.
Leading Maria into a small meeting room, where she could speak out of earshot of her children, the students assured her they'd answer all her questions. But they would also have to ask some questions. What was the family violence back home she feared? What happened to her in Brazil? Why did she come to the United States with her children? What would happen if they got sent back?

Maria poured out her story in a way that Sherman-Stokes had told the students traumatized people often do—in disjointed fragments, leaving out details that would later prove important to her case, while elaborating on events that mattered less.

"Her story was so confusing," Cardwell said later. "We were so lost."

Cardwell, who grew up in Dorchester, remembers wanting to be a lawyer since age 10. When she was in ninth grade two of her favorite relatives were deported to Belize—and she began to think about immigration law. She was a sophomore at Bowdoin College when news from Ferguson, Mo., shook her out of her comfort zone: a white policeman had killed an unarmed black teenager, and a grand jury declined to indict the officer.
"I called my mother," Cardwell says. "I said, 'How did that happen? I don't understand.' My mother didn't say anything. What could she say? I cried for the longest time."

Overriding her parents' fears for her safety, Cardwell traveled from Maine to Boston to join a protest against the Ferguson decision. "And I thought, 'I've got to do civil rights law, too.'"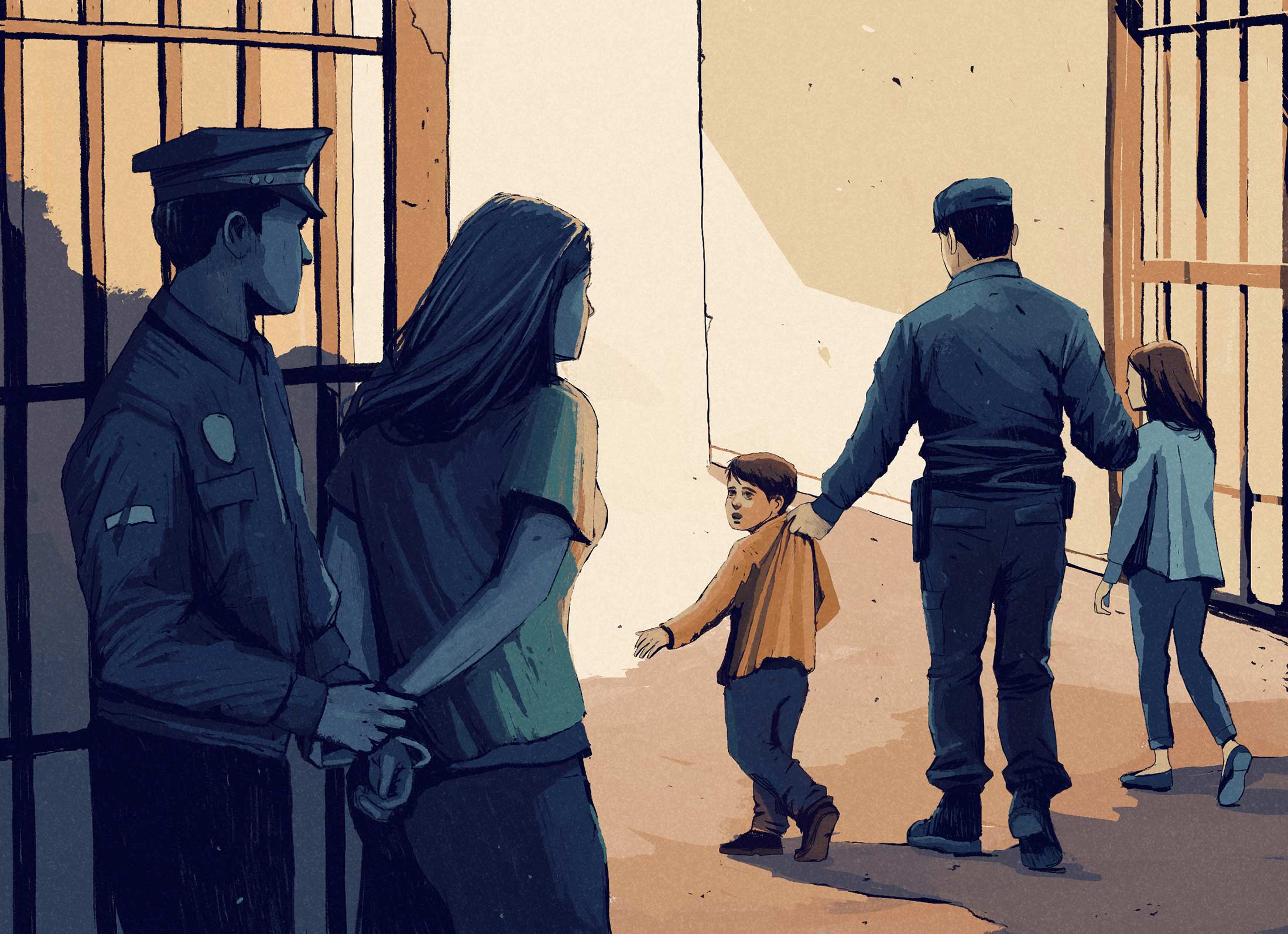 A chilling story pours out
Sitting in the small meeting room that September morning, Maria told the students her ex-boyfriend had hit her. But then, weeping, she burst out with a jumbled account of an execution-style killing in her home in Brazil.

The day was hot, she recalled. She came out of the bathroom to a sound like firecrackers, only to find her then-six-year-old son, his face frozen, pointing at her new boyfriend, on the floor in a pool of blood. Shot four times, he died before the ambulance arrived. One of Maria's teenage daughters, who had been in another room, had seen a man, a friend of Maria's abusive ex-boyfriend, run from the house. Maria was sure that her ex-boyfriend, a known criminal, had orchestrated the murder. Making it all the more traumatic for her son, Maria's ex-boyfriend was his father.

The law students had been trained to say comforting words. "Sarah had told us to show empathy," Cardwell recalls. But Maria's account "was so horrific and shocking, neither of us said anything."

For Guerrero, hearing such graphic details about domestic violence and trauma was hard to absorb. "I think at first, I was almost in shock at the things she was telling us that I couldn't imagine anyone going through," he says. "And she's telling us firsthand."

Guerrero felt uncomfortable, too—as a male in the room listening to her story of abuse. "I was worried about the gender dynamics," he says, although Maria had assured him she was fine with his being there. "I talked a lot with Sarah about that."

Some people are great talkers. Guerrero, who was the captain of his high school soccer team, is a great listener, a skill he honed at the family market. "I got to talk to a lot of undocumented immigrants—hear their stories, about their journeys, problems with the system, and then just the constant living in fear."

He remembers a couple, afraid of being deported, who asked his parents to be godparents to their new baby. His parents said yes, promising they would help get the child safely to Ecuador if the couple was sent back. Guerrero, who was already applying to law school, set his sights on BU, and the Immigrants' Rights & Human Trafficking Program.

A grant of asylum brings with it protection from deportation, authorization to work in the United States, and eligibility for benefits such as Medicaid. To gain asylum, applicants must convince a judge they meet the international definition of a refugee: "A person who is unable or unwilling to return to his or her home country, and cannot obtain protection in that country, due to past persecution or a well-founded fear of being persecuted in the future, on the basis of race, religion, nationality, membership in a particular social group, or political opinion."

That last part—being in a persecuted group—has expanded in recent years to include people who are gay and transgender, as well as survivors of domestic violence. A precedent was set under the Obama administration, in 2014, when asylum was granted to a Guatemalan woman beaten so severely by her partner during pregnancy that her baby was born with bruises.

But in June 2018, Trump's Attorney General, Jeff Sessions, reversed a decision granting asylum to an El Salvadoran woman who said she'd been sexually, physically, and psychologically abused. His ruling, Matter of A-B, in which he termed domestic violence "a private matter," made it much harder for asylum seekers with such claims to prevail in court. "Generally," Sessions wrote, "claims by aliens pertaining to domestic violence…perpetrated by nongovernmental actors will not qualify for asylum."

The meeting with Maria lasted more than two hours. It left Guerrero and Cardwell drained—and worried. Despite all that Maria said she'd endured, they couldn't see a clear path for winning her asylum.

"We don't have a case," Cardwell said to Guerrero. "How are we going to do this?"

What kind of lawyer do you want to be?
The Immigrants' Rights & Human Trafficking Program was created by Julie Dahlstrom, a LAW clinical associate professor, in 2017, with Sherman-Stokes as associate director. The program, under the School of Law, combines a yearlong legal clinic—the 16 or so students who enroll each fall provide pro bono representation to survivors of human trafficking as well as noncitizens facing deportation—with an intensive seminar focused on skills such as client interviewing and counseling, developing a theory of the case, research, and written and oral advocacy.

Sherman-Stokes expects her students to reflect deeply, in writing, on their values and motivations, and on this question: What kind of lawyer do you want to be?

At the end of September, soon after that initial meeting with Maria, Sherman-Stokes listened as Guerrero and Cardwell explained why they didn't think there was a case for asylum—or, at least, not one they could win. Maria had told them her ex-boyfriend had hit her once or twice. That wasn't enough to prove reasonable fear of persecution.

Sherman-Stokes pushed back. She instills in her students the importance of avoiding generalizations—about people, cultures, countries—as they build relationships with clients. She also has handled enough domestic violence cases to know that more often than not, they rarely involve one or two incidents. More typically, there is a pattern of abuse. She had a hunch there was more to Maria's story.

She told Cardwell and Guerrero to meet with Maria again. It was all part of learning how to build rapport with clients, to earn their trust and get their full story. It takes time, especially when you're working with interpreters and scared, impoverished clients trying to cope with day-to-day struggles—like keeping a job and being a parent—that come with being a noncitizen living under threat of deportation.

But that's part of the BU law clinic's goal—to have students apply their classroom experience to the courtroom, with real clients, real judges, real stakes. "We don't want students to just hold the flashlight," Sherman-Stokes likes to say. "We want them to fix the car."

That can be daunting. "Sarah gives us a lot of responsibility," says Loeffelholz. "It's scary—and incredibly rewarding."

The full story comes out
Guerrero and Cardwell took Sherman-Stokes' advice. They continued to meet with Maria throughout the fall. They told her they felt bad about asking her to relive her painful past in vivid detail, but that they had to know more—about her life in Brazil, about how many times she was beaten, and whether she'd gone to the police—so they could build the strongest case to bring before the judge.

As it turned out, Sherman-Stokes was right.

During the eight years they were together, Maria told the law students, her boyfriend beat her many times and raped her. More than once, he held a gun to her head and threatened to kill her if she left him. She reported the abuse to the police. She got a restraining order. He ignored it. The police did nothing.

But there was more. Maria told Guerrero and Cardwell that her ex-boyfriend, in a jealous rage, had driven a car she was riding in into a tree, knocking out her front teeth and sending her to the hospital. And she said that he had sexually abused her two daughters. It had been going on for some time before one of them confided in Maria; he had told her daughter that he would kill her if she told anyone. That was the moment when Maria worked up the courage to leave.

These were the details Guerrero and Cardwell needed. As Maria shared more, they gained confidence about her case. But they knew the odds. In 2018, immigration judges denied asylum in 65 percent of the 42,224 cases they decided.
"With asylum," Cardwell says, "you could have the best case and you still wouldn't get it."

In mid-October, the students and Maria appeared before the immigration judge who would hear her case, Todd Masters. (From 2014 to 2019, Masters granted asylum in only 26 percent of cases, according to TRAC.) He set a date for her hearing: April 9, 2019, at 9 am. They had six months to prepare.

Masters also reminded them to file Maria's asylum application and affidavit by January 14, 2019. If they missed the deadline, she could be deported.

Her 48-day journey
For lawyers representing asylum seekers, the story of their client is the central evidence in the case. Guerrero and Cardwell would have to help Maria, a traumatized, Portuguese-speaking woman with a ninth-grade education, tell her story in writing (a first-person affidavit they would prepare with her), as well as orally, in her testimony before the judge.

Sherman-Stokes teaches her students about the power of narrative storytelling; she assigns them to read an essay titled "Telling a Winning Refugee Story," by Stacy Caplow, a Brooklyn College of Law professor.
The affidavit in an asylum case, Caplow writes, should "produce a story that is convincing to even the most dubious audience."

But the story alone isn't enough. Maria and her student attorneys would have to present corroborating evidence—documents, police records, witness affidavits, and a "country conditions expert," who could put her claim in the context of Brazil—its social, economic, and cultural environment. In other words, Guerrero and Cardwell needed to find an expert who could explain to the judge how Maria's story was plausible and was unlikely to be concocted simply in an effort to win asylum.

Maria's journey began at the border, when she had to pass through US Customs and Border Patrol and the Department of Homeland Security system. After she approached border patrol agents near San Luis, Ariz., on May 30, Maria and her children were brought to a detention facility in Yuma, Ariz. After three days there, guards put Maria in handcuffs and took her children from her. Her son, who is autistic, panicked and clung to her, she said, but a guard grabbed him by his shirt and forced him into a separate room.

On June 4, appearing before a US magistrate judge, Maria pleaded guilty to entering the country illegally, a misdemeanor, and was sentenced to one day in jail, with time served. That same day, without her knowledge, her son and daughter were put on a plane to Chicago and taken to a shelter operated by the Health and Human Services Office of Refugee Resettlement. Maria was moved to the detention center, run by Immigration and Customs Enforcement (ICE), in Eloy, Ariz.

She and her children remained apart, in different states, for 47 days (not four months, as the initial email to Sherman-Stokes had said). For a month, Maria didn't know where her children were, or how to contact them.

When she finally learned their whereabouts, she was allowed to do a video call with them. "My son was in despair, asking if I was arrested," she says. "I told him I was in a shelter trying to figure out the documentation to get them out."

On July 17, she made bond—the $6,000 was paid by a friend. Freed from detention, and having passed a "credible-fear" interview with an asylum officer—the first step to applying for asylum—Maria flew to Boston, where she has relatives. (Greater Boston has attracted more Brazilian immigrants in recent years than any major metropolitan area in the country.)
But her children were still in Chicago.

Once she made it to Boston, Maria received a call from a federal agency informing her that her children would be arriving on a plane the next day. She went to Logan Airport to meet them. "It was very emotional," Maria says, tearing up as she spoke through an interpreter. She took them to McDonald's—their first family meal together since before they had crossed the border at the end of May.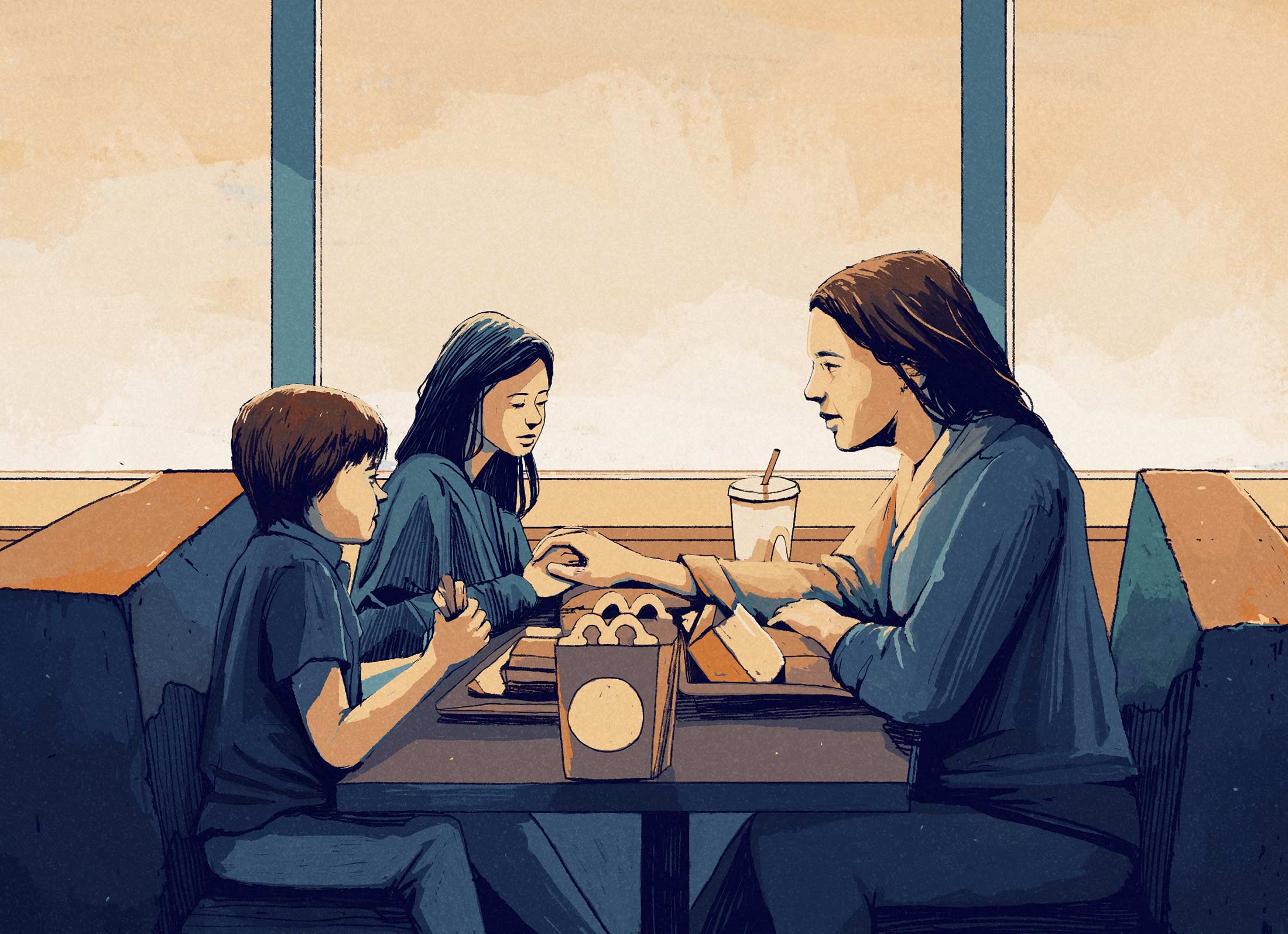 In pursuit of papers
Confident in Maria's story, the students needed corroboration. They needed paperwork, specifically affidavits—from Maria's two daughters, and from her sister, who had witnessed some of the abuse. They also needed police records. As Sherman-Stokes had told the law students repeatedly: "Credibility is the crux of asylum."

Guerrero, with an interpreter on the line each time, called seven or eight different police agencies in Brazil before he reached the military police in Maria's rural home state of Minas Gerais in southeastern Brazil, about a 10-hour drive from Rio de Janeiro. The first person he got on the phone told him no one was around to help him.

When Guerrero called again, the officer who answered told him that only a legal representative or someone with power of attorney could request these records—and the request had to be made in person. Guerrero explained that he was a legal representative for Maria at Boston University, and handling the case pro bono, so he was unable to come to Brazil. The officer said he was unable to find the reports.

Guerrero persisted, calling the police again and again. He finally reached an officer who said he knew Maria, and he agreed to email Guerrero five police reports involving Maria and her ex-boyfriend.

This was the breakthrough they needed.

Guerrero had the reports translated. They proved that Maria had gone to the police on numerous occasions to complain of her ex-boyfriend's abuse and that she had reported the murder of her new boyfriend—and identified the men she believed carried it out.

One report even documented a death threat made by Maria's ex-boyfriend: "Told [Maria] and [her daughter] that he would shoot them with a revolver," it read.

A second report documented a physical assault and another death threat against Maria: "Threatened her that if she presented herself before a judge, she better make a steel helmet to protect herself from the gunshots that he would aim at her head."

The final piece
With Maria's story solid, and corroborating paperwork in hand, there was one last key to the law students' case. Cardwell had been researching experts on "country conditions" in Brazil—the high rate of domestic violence and killings of women, the muted response by police in some parts of Brazil, the attitude of the newly elected president, Jair Bolsonaro, who once proclaimed to a female congress member, "I would never rape you because you don't deserve it."

This was all part of Cardwell and Guerrero's efforts to establish that Maria was more than a victim of domestic violence—that she had been persecuted as a member of a particular social group—Brazilian women—and that the police and the government of Brazil were unable or unwilling to protect her.

Cardwell was determined to find someone who could testify in court on Maria's behalf. Cardwell reached out to more than 15 people; those who returned her calls or emails either didn't have the time, or wouldn't testify without being paid. When Cardwell explained that BU's law clinic took these cases pro bono and didn't have the budget to pay experts, it didn't help.

December went by and she still hadn't landed an expert. The hearing was three months away. "We were really stressed out about that," says Cardwell. "We needed an expert."

Meanwhile, they worked with Maria on her affidavit, and with input from Sherman-Stokes, wrote draft after draft.

"I was beaten and threatened with death on numerous occasions by my ex-boyfriend….After I left him…he arranged for his friends to murder my new boyfriend….I'm afraid those men, or [my ex] will kill or harm me and my family if I am forced to return to Brazil."

Finally, in early March, Cardwell found her expert. Elizabeth Leeds, former head of MIT's Center for International Studies, is a senior fellow at the Washington Office on Latin America (WOLA), a human rights research and advocacy group, and is an expert on police reform and human rights and women's security in Brazil. Cardwell asked if she would be willing to meet with them—and, importantly, if she would testify for no fee.

Leeds (CAS'64), who first worked in Brazil for the Peace Corps after college, said yes.

"That was a big turning point," says Cardwell.

All the pieces were coming together as the crucial hearing date approached. And yet, as Cardwell and Guerrero's confidence in their case grew, so did their anxiety.

"There was that fear that this is a person's life in our hands," says Guerrero, "and if we didn't win this case, she could go back to where she was suffering that persecution, and who knows what would happen to that family?"