BU Students and Faculty Strike for Climate Action, Joining Thousands at City Hall Plaza and the State House as Part of the Youth Climate Strike
Climate Change
BU Students and Faculty Join Global Strike for Climate Action
Thousands of young people marched into downtown Boston for the Youth Climate Strike, demanding urgent climate action and leadership
Ever since 20 million Americans first took to the streets on April 22, 1970, the first Earth Day, to sound the alarm for environmental and climate crisis, modern environmental movements have become a patchwork of celebrated victories—like shrinking the ozone hole and passing the Clean Air Act—and mournful setbacks. Since that day almost 50 years ago, it's safe to say that our planet hasn't gotten healthier.

On Friday morning, young people in Boston and around the world took part in an organized Climate Strike to say: Enough. We are done with business as usual. The majority of the day's organizers were under 18 years old. To make their voices heard, an estimated 7,000 Boston-area youth, students, and adult allies joined the global call to strike for climate action, with a daylong protest at City Hall Plaza, followed by demonstrations at the State House. Nearly 2,000 strikers streamed inside the State House to rally, with security at the door prioritizing entrance for young people.

"To achieve the Green New Deal at the scale and timeframe required by the climate crisis, we need to do more than just show broad public support. We need a mass movement of noncooperation to hold people in office accountable for protecting our future," says student activist Owen Woodcock (CAS'20), a member of the Sunrise Movement.
---


As young people, we have a lot more of our lives to lose to climate change, and it is important to have the people most affected feeling empowered to do something about the problem. It is really important for young people to have a way to fight for our future.

---
Woodcock organized a Friday morning rally on Marsh Plaza, followed by a march to the strike at City Hall Plaza. He joined Sunrise about 18 months ago—at the time, the movement had about 11 chapters of activists (called hubs) and as of this month has grown to 290 hubs across the country—and he's since taken on the role of Sunrise Boston hub coordinator. For him and many other Sunrise Boston hub members, working to support the strike has been a top priority—many members were actively involved in making the strike a success.

"As young people, we have a lot more of our lives to lose to climate change, and it is important to have the people most affected feeling empowered to do something about the problem. It is really important for young people to have a way to fight for our future," Woodcock says. "Having the strike be youth-led ensures that youth voices are listened to and put at the center of this fight for our survival."

The strikes on Friday followed the lead of youth climate crusaders like 16-year-old Greta Thunberg from Sweden, who sparked the Fridays for Future school strikes across the world, 17-year-old Jamie Margolin, who founded ZeroHour, and young leaders of the Sunrise Movement, who are stepping up to demand climate action, because, as Margolin testified before Congress on September 18, their futures actually depend on it.

"Climate change is happening and there's really no reason for BU to be invested in fossil fuels," says Katie Barnes (CAS'22), pointing out the student-led demand for BU to end its investment in fossil fuels. "The state of Massachusetts has to do a lot more to address this too."

The march and strike—perhaps fittingly on an unseasonably warm day—was filled with chants and protest signs, with cars honking in support. BU student leaders led the pack of about 100 students down Commonwealth Avenue, through bustling Newbury Street, and past the Boston Common to City Hall.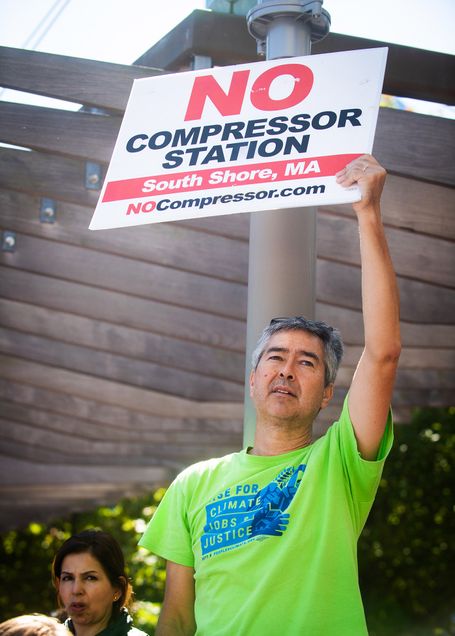 "I am here because something needs to be done—we can't keep going on as normal," says Mackenzie Finocchicco (CAS'22), marching alongside Barnes. She feels skeptical about some policy ideas from the movement, but feels strongly that "we can't keep going on as normal."

Roughly one in four young people have participated in a walkout, attended a rally, or written to a public official to express their views on global warming—activists who are not even of voting age. With global temperature averages and ocean temperatures consistently on the rise, greenhouse gas concentrations at record highs, and a shrinking timeline to remake society so the world does not warm 1.5 degrees C above preindustrial levels, many adults participated in the strike to have the backs of these young people.

"We have a responsibility to recognize and affirm student leadership," says Nathan Phillips, a College of Arts & Sciences earth and environment professor, who spoke at the Marsh Plaza rally and marched along with students to the strike. "The least we, as in people in my generation, can do is have the youth leaders' backs," he says. Phillips paused as he smelled a gas leak on Commonwealth Avenue—which contributes the potent greenhouse gas methane to the atmosphere, a common problem in cities with aging infrastructure. "This is ironic, to be walking over a big part of our problem. We can't just keep pretending we can do things the same way."  

Sanaya Shroff, a College of Engineering PhD student in biomedical engineering and president of Graduate Women in Science and Engineering, joined the strike, she says, because as "graduate students we have the unique ability to participate in place of people who can't afford to miss work or can't strike for any reason. We need to make our voices heard and we're educated enough to know this is a real problem."

"Climate change, particularly for young adults, is unnerving. Possibly more so than for people of my generation," says Cutler Cleveland, a CAS professor of earth and environment and associate director of BU's Institute for Sustainable Energy (ISE). "Our world is almost certainly going to become warmer and a less stable place to live. That's just going to happen. But right now, we're just trying to mitigate the worst of it, and students know that it's no longer speculative—they are going to be living in this world."

Cleveland contributed to BU's aggressive Climate Action Plan, which has set the University on a trajectory to achieve carbon neutrality by 2040. Construction is scheduled to begin next spring on the University's new Center for Computing & Data Sciences building, which will be 100 percent fossil-fuel free. Cleveland and the ISE team also contributed critical research necessary for the city of Boston to set the course for its own climate plan, Carbon Zero Boston, which aims for the city to eliminate its net carbon emissions by 2050.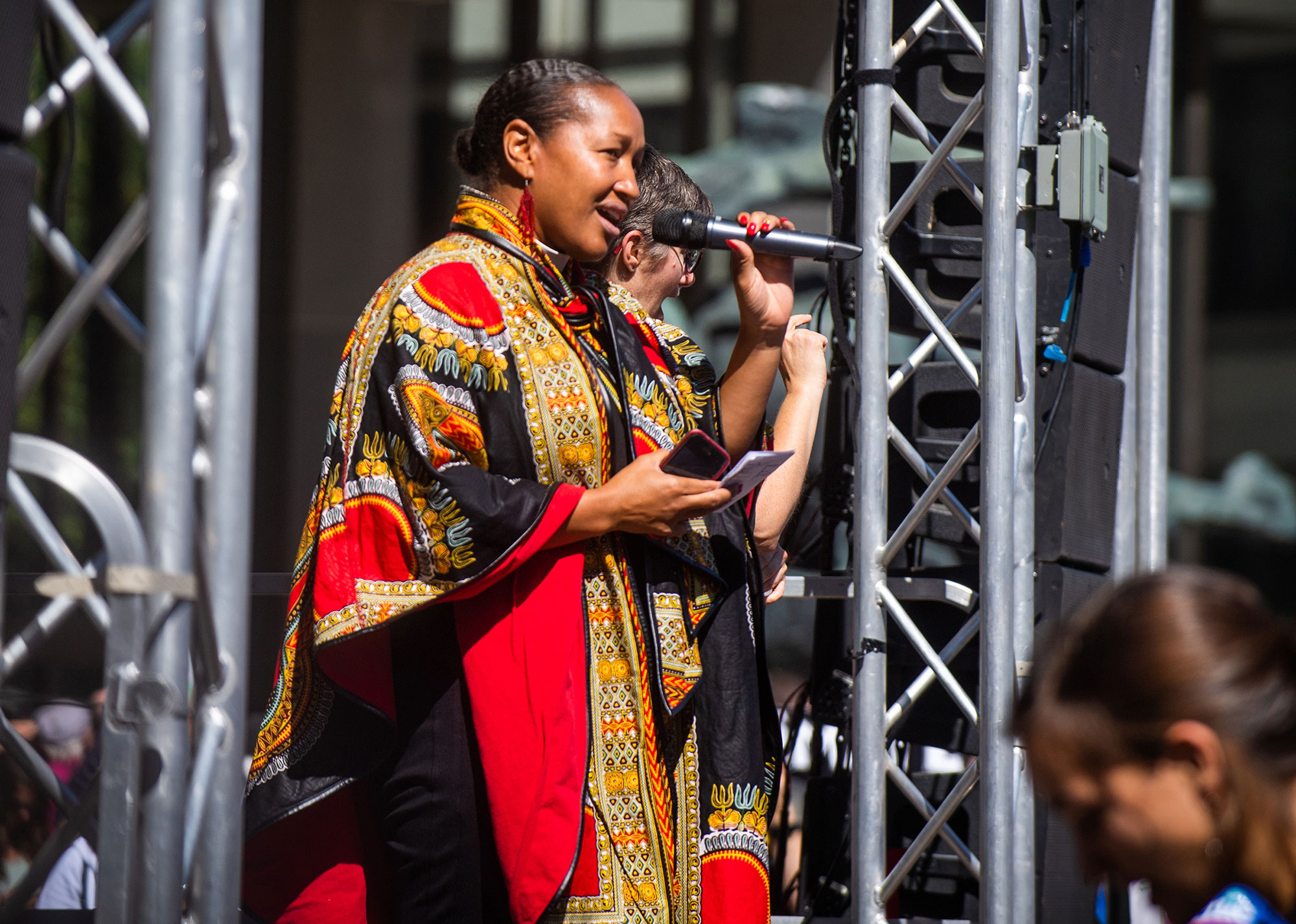 "For me the crisis is very spiritual, because even knowing we are making these terrible decisions, we keep making them, so to me that's an obvious sign that it's deeper than just having the information," says Rev. Mariama White-Hammond (STH'17), a keynote speaker at City Hall Plaza. To her, climate is deeply connected to structural injustices throughout history, from slavery to economic inequality to gun violence. She has felt called to this work all her life, she says, and it's an integral part of her work as a pastor of the New Roots African Methodist Episcopal Church in Dorchester.

Boston Mayor Marty Walsh, former Obama administration EPA head Gina McCarthy, and a number of young activists also got on stage to speak to the crowd.

"Everything is interconnected," says Tawnya Smith, a College of Fine Arts associate professor of music education, who attended the strike with Karin Hendricks, a CFA associate professor and chair of music education. "Arts have the power to speak to the heart, that's the only thing that's going to move things fast enough to prevent the worst damage," Smith says. 

"As people see for themselves what scientists have been predicting with increasing precision over the past decades—whether on the news or in their own backyards—they're going to start to get worried about it," says Sarah Finnie Robinson, founding director of BU's 51 Percent Project, who attended the strike in New York City. "When people start to care, the first question people have is, What can I do about it? and this climate strike is this tremendous exhibition of action from the younger generation."

Since starting the 51 Percent Project, which identifies effective climate communications messaging and is named for the just barely half of Americans concerned about global warming, the percentage of people at least "somewhat worried" has gone up to around 62 percent, according to survey results from Yale, Finnie-Robinson says. She signed BU up as a founding institution with Covering Climate Now, a coalition made up of 220 news outlets from around the world, intended to strengthen the media's focus on the climate crisis. "There's really no subject in the newsroom that climate doesn't touch, and the same can be said for a university."
Sunrise member and BU rally organizer Woodcock says he has received wide support for his activism from peers and faculty, but he still feels there is a lack of urgency around the climate crisis and would like to see climate become a much bigger priority in general on campus.

"The energy that these young people bring is truly inspiring. We know we can win and we will win, we're only going to get bigger and better," he says. "The most important thing to do is to get involved with a movement and fight as a collective for our future."