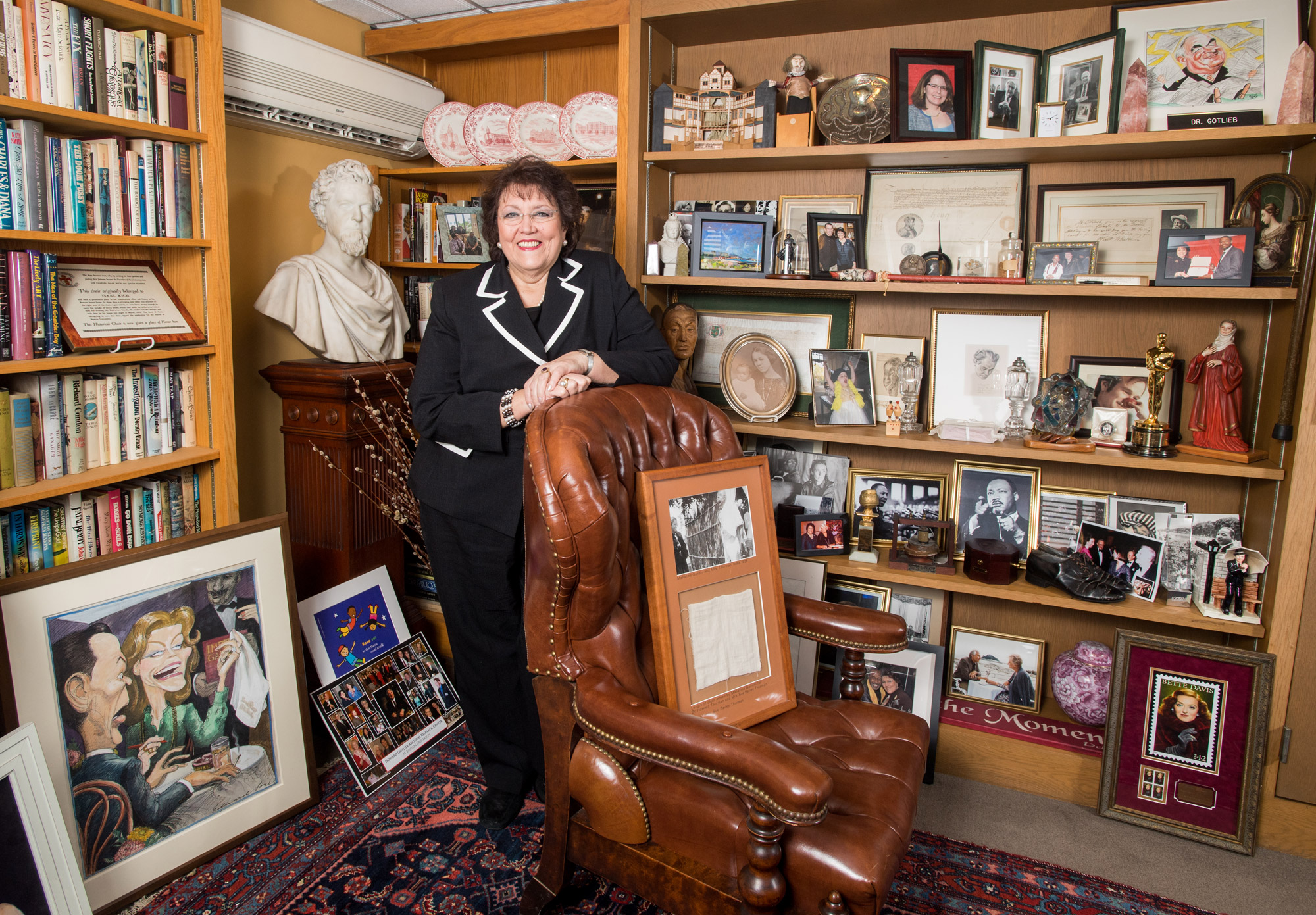 Campus & Facilities
The Collector Steps Down
After 43 years of helping to preserve history, Gotlieb Center's Vita Paladino says goodbye
Vita Paladino still remembers the job listing that changed her life. It read: "Must be willing to work with authors and famous people."
"I thought, that's for me," says Paladino 43 years later. She answered the ad and found herself being interviewed by Howard Gotlieb (Hon.'88), the director of BU's Special Collections, who was looking for a secretary. He offered her the position on the spot.
It turned out to be the ideal job for her. Paladino (MET'79, SSW'93) grew up in Brooklyn and Long Island, in a family that hailed from England and Italy and that prized books, history, and education. From an early age, she was interested in other people's stories, other people's lives. "In my first grade report card, my teacher wrote: 'Vita is more interested in her neighbor's work than her own,' Paladino recalls with a laugh.
Now, after more than four decades at the Howard Gotlieb Archival Research Center (Special Collections was rechristened in 2003 on its 40th anniversary), Paladino is stepping down. On Friday, she will leave the artifact-packed office she has occupied on the fifth floor of Mugar Memorial Library since replacing Gotlieb, who died in 2003. (She was named managing director in 2004 and director two years later). Under her tenure, the center's holdings have grown by 30 percent. Among the notable collections she's secured are those from actors Robin Williams, Geena Davis (CFA'79, Hon.'99), and Mary-Louise Parker, journalists Dan Rather (Hon.'83) and Jonathan Alter, notable opera singers such as Denyce Graves, Deborah Voigt, and Robert Merrill, and famous politicians like the late Thomas Menino (Hon.'01), longtime Boston mayor and cofounder of BU's Initiative on Cities.
Her background as a social worker, along with her innate curiosity about how others live, made her an excellent fit for Gotlieb's vision, which was to build a comprehensive archive of public figures, currently working in politics, journalism, and the arts, who were shaping society.
Paladino became Gotlieb's protégé, working at his side as he built Special Collections into one of the nation's preeminent archival research centers. He taught her to be something of a talent scout, looking for people who were just starting to make a name for themselves in their field and securing their papers early, while they were still on the rise.
Case in point: Mary-Louise Parker. She had just won an Emmy Award for her performance in HBO's Angels in America when Paladino reached out asking if she'd consider donating her papers to HGARC.
"Mary-Louise had done Prelude to a Kiss, How I Learned to Drive, and Proof on Broadway and I thought these were very tough plays, and I thought her acting was extraordinary," Paladino recalls. Something about Parker's talent and style caught her eye. "You fall into her characters, and she's captivating as a person."
Parker says she was a bit taken aback when Paladino contacted her. "When she first reached out to me in regard to my papers, I thought it was a mistake," she says. "It sounded like an honor intended for someone else, but this formidably distinguished woman was speaking to me in that unmistakably velvet tone, saying all the perfect things and validating me in ways you only expect from your parents. She assured me that she did indeed mean me, and I did my best not to screw it up, hoping she would like me when we met in person…. I remain deeply honored that she saw something in me, and grew to trust me."
Another fan of Paladino's? Broadcasting legend and longtime CBS News anchor Dan Rather, who says he was struck from the outset by Paladino's leadership skills. "She is trustworthy, loyal, and kind, decisive and determined, with a clear vision of what she wanted the collections to be—which is for them to be world-class," Rather says.
Confidence, compassion—and deep understanding of human nature
How did she manage to acquire such an impressive array of material during her tenure? The key is to be confident, Paladino says, without being awed by someone's fame. "There's a person you have to reach," she says. "They have to trust you and see your own personhood. You have to be full-bodied, you have to know their profession, know their relevance to society."
Those qualities have proven invaluable in building the collection. HGARC's acquisition budget from the University is only $150,000 a year, so Paladino has had to persuade most individuals to give their papers and memorabilia for free.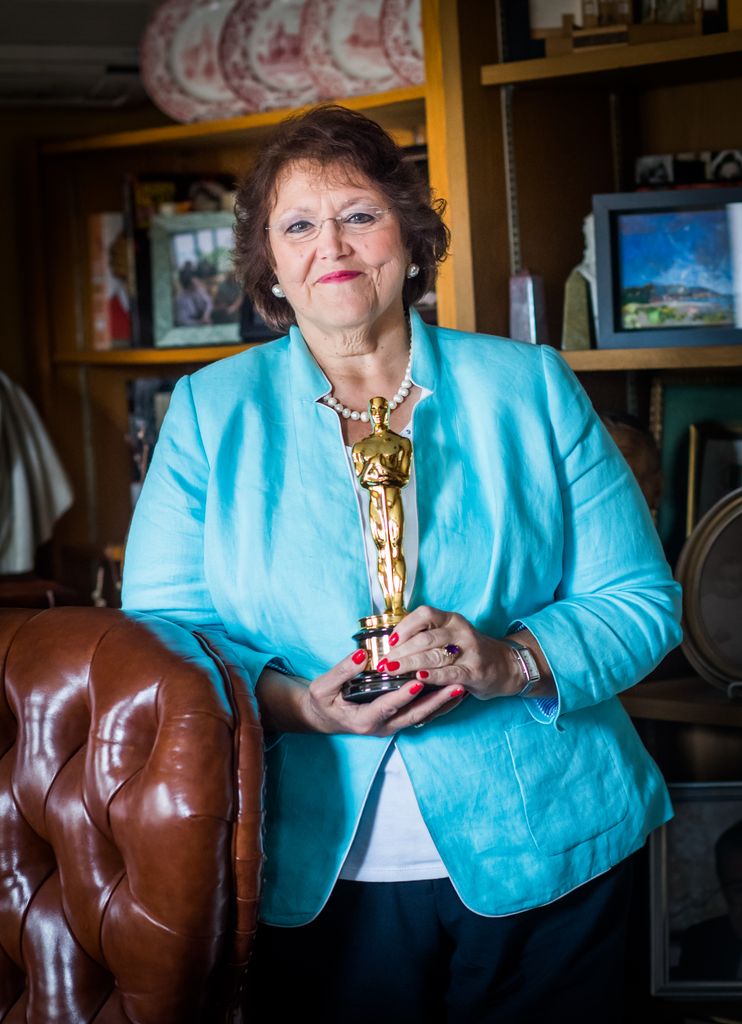 "I write to them and then I may not get a response, so I write to them again, and I may get an answer or not," she says. "Then I write to them again, and then, let's say they win an Oscar—I write a letter to congratulate them." She's been known to send Christmas and birthday cards to folks as well, with gentle reminders that the Gotlieb Center is still interested in their papers. "You have to have compassion, you have to have a deep understanding of human nature. You have to understand that they're not all-powerful, that they're also vulnerable."
Paladino drew on her experience as a social worker when working with individuals and building relationships. She says that background has given her insight into family dynamics, something she's frequently used when hoping to acquire a collection. "Sometimes I'd say to them, 'Look I want you to discuss this with the kids.' You can't work blindly, like it's just a business transaction, because in the end, this is a family business and you're going to have to work with the family."
While courting legendary actor Lauren Bacall to acquire her papers, she urged Bacall to check with her three children before donating her collection to BU. Bacall did and her 2009 Honorary Academy Award has pride of place in Paladino's office. And it was Paladino who convinced her not to destroy the love letters between her and her first husband, actor Humphrey Bogart.
"When I asked her, 'Why would you destroy them?' she said, 'They were meant for me,'" Paladino recalls. "And I said, 'Well, that's just what my mother would say.'" Paladino convinced Bacall that preserving the letters would give her children a chance to learn more about who their father was. The two worked out an agreement stipulating that only Bacall's children would have access to the letters for the first 20 years, and only after that would they be made available to researchers and the public.
As Paladino prepares to leave, she says she's particularly grateful for the opportunity to be a positive influence on the public figures she's worked with, offering words of encouragement when they found themselves in a career slump or at a professional or personal crossroads. It's one of the things she learned from Gotlieb, who would send notes to writers when their publishers let them go and they were struggling to get their next book published.
She's equally proud of how HGARC has blended easily into the BU culture. Under her direction, the center opened its collections to BU faculty and students, not just to outside researchers. She also instituted the Student Discovery Seminar series to open the archives directly to students and launched a Student Enrichment series, bringing the Boston Ballet and other performing arts groups to campus. HGARC also has 13 College of Arts & Sciences undergrad interns each semester, as well as a handful of Simmons University interns studying docent management. "The place is a hub of student activities," she says with a smile.
As for what's next, Paladino says she plans to indulge her passion for sociology and for other cultures and travel. She's already planned a trip to Peru, followed by a tour of Spain and a trip to Italy with her son. And she's set her sights on Greece, a safari in Tanzania, and a trip to New Zealand and Australia as well.
"I'm just going to keep going. You'll have to catch me," she says with a glint in her eye.