Running to Help Others
BU community members tackle Boston Marathon to support local charities
Nat Heitmann doesn't need to worry about packing on the freshman 15. The biomedical engineering major has been running 12 to 13 miles a day through Allston, Brighton, and Jamaica Plain—sometimes even to his hometown of Arlington, Mass., in preparation for Monday's Boston Marathon, his first.
Freshman Heitmann (ENG), who ran track at Arlington High, says he was motivated to enter this year's Marathon in memory of high school friend Jeremy Kremer-McNeil, who died in 2015. The two were teammates on the soccer field and members of the high school band.
"At some point I thought, I have to do something to spread good in his name, because he did have such passions and he was such a kind-hearted person," Heitmann says of Kremer-McNeil.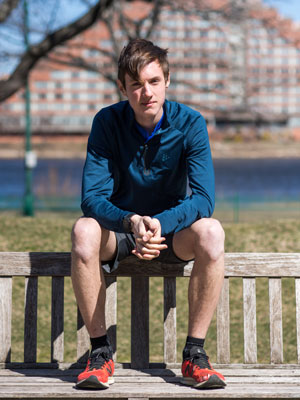 Last year, Heitmann approached Kremer-McNeil's parents to ask if he could run the 2019 Boston Marathon and raise funds for a local nonprofit in honor of his friend. They were thrilled. Heitmann will be running Monday in support of Tenacity, a nonprofit organization that empowers underserved Boston youth through in-school, after-school, and summer literacy and athletic programs. Kremer-McNeil's parents selected the charity. Heitmann has pledged to raise $10,000 for the organization.
Most of the approximately 30,000 runners competing in this year's Boston Marathon earned entry by meeting the race's qualifying time. But roughly 3,000 earned their bibs by agreeing to fundraise for one of the three dozen charities sanctioned by the Boston Athletic Association's official Marathon charity program. Not all applicants are accepted, and every runner competing for charity must raise a minimum of $5,000 to qualify and be prepared to make up the difference themselves, if they fall short of their fundraising target.
Heitmann is one of a number of BU students and alumni to take on the challenge. Others include: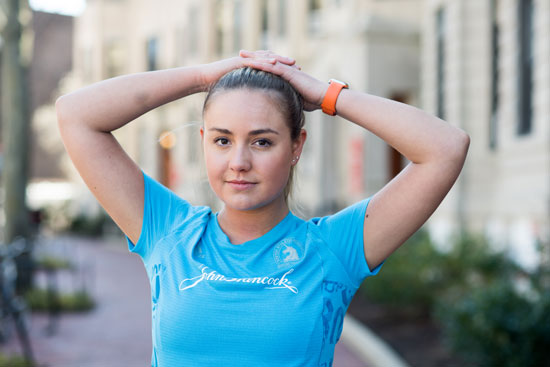 Senior Julia Lindsay (Questrom, CAS) is running to raise money for BU's Chronic Traumatic Encephalopathy (CTE) Center, which is doing groundbreaking research on CTE, the long-term consequences of repetitive brain trauma in athletes and military personnel.
It's a cause that's personal for Lindsay. She has suffered a series of concussions, the first when she was 10 years old and fell from a horse. Her doctor didn't believe the concussion was severe. She says she was misdiagnosed, and as a result, she experienced short-term memory loss during middle school. She struggled with reading and pronunciation and experienced chronic headaches. "It wasn't until I was in 10th grade, after receiving countless head injuries from sports, that I realized my concussions were impacting my life," she says.
Lindsay worked with specialists to strengthen her memory while playing sports in high school. But she was forced to abandon her dream of playing competitive field hockey in college after a ball hit her in the head, in the same spot she'd injured when she was 10. Today, she copes with short-term memory loss, but has made the Dean's List every year.
Lindsay has pledged to raise $5,000 to support BU's CTE Center, with the hope of helping to end concussion trauma.
Graciela Briceno (CFA'09) saw her first Boston Marathon in 2006. Now, 13 years later, she's running it to support the Brookline Symphony Orchestra, which is part of Team Brookline, a group of community organizations participating in the Boston Marathon for charity. The nonprofit performing arts group's volunteer musicians bring free concerts to local schools and nursing homes, and traditional concert halls, where tickets are affordably priced. Briceno plays the viola in the orchestra.
"A big part of our mission is to make quality orchestral music accessible to all," Briceno says.
She believes the arts play a vital role in bridging cultural divides, and that children can develop important social-emotional skills by participating in music. "Being an artist should not be limited to a select few," she says.
Briceno has pledged $6,000 as a part of Team Brookline, in support of the Brookline Symphony Orchestra.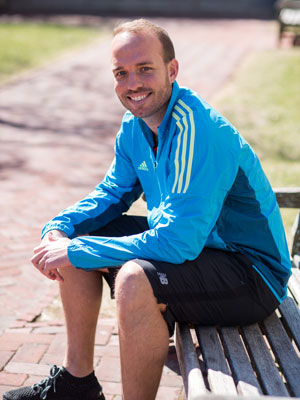 Graduate student Matt Letendre (Wheelock), associate director of Leadership Gifts, West Coast, for BU's Development and Alumni Relations, says he decided to enter the Marathon as a show of support for his girlfriend, Michaela Baril, and her father, Jeff. Jeff has retinitis pigmentosa, a group of rare genetic disorders that lead to blindness. Michaela has the gene that leads to the disorder, although not the progressive variant that her father has.
"I do fundraising for a living and didn't want to arbitrarily pick a charity and not have my heart behind the cause," Letendre says.
He is running in support of Massachusetts Eye and Ear, an international center for the treatment and research of eye diseases, including retinitis pigmentosa. He has pledged to raise $10,000, inspired, he says, by his girlfriend's father's optimism.
"Jeff does not allow retinitis pigmentosa to negatively impact his spirit and outlook," Letendre says. "He recognizes that he will eventually lose his sight completely, so he lives each day to the fullest."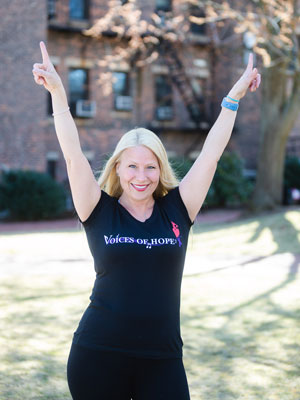 Chrissy Cerretani (COM'00,'04) ran her first Boston Marathon in 2018 and is thrilled to be running it again this year. She is using the race to support Voices of Hope, a nonprofit comprising more than 200 talented local residents affected in some way by cancer, who perform concerts to raise money for the Massachusetts General Hospital Cancer Center.
Cerretani has proudly been a member of Voices of Hope for five years. She says the organization showed kindness and encouragement to her and her daughter, "at a time when we both so desperately needed uplifting and good people in our lives." She has pledged to raise $5,000 for the organization.
Nacole Tanguay (Questrom'04) is running her second marathon in support of the National Multiple Sclerosis Society. She first ran in 2017. Tanguay decided to get involved in the organization after seeing how much it helped a cousin diagnosed with MS. She's pledged to raise $8,500.
She ran her first Boston Marathon while fighting what later turned out to be pneumonia.
Despite her condition, she ran every step of the race. "I kept thinking of my cousin and what she had been through," Tanguay says. "When your knee's a little sore, it's pretty easy to say, toughen up and get through it, 'cause there are people that have some pretty big problems."
The 123rd Boston Marathon on Monday, April 15, begins in Hopkinton, Mass., at 9:02 am. The prime viewing is along Beacon Street, from East Campus through Brookline. The first runners should hit that area sometime after 11:30 am. The finish line is in front of the Boston Public Library on Boylston Street. Check out this online map to track the marathon.
Graduate student Geoffrey Line (COM) can be reached at gline@bu.edu.