Impassioned Reactions to Ben Shapiro's Speech at BU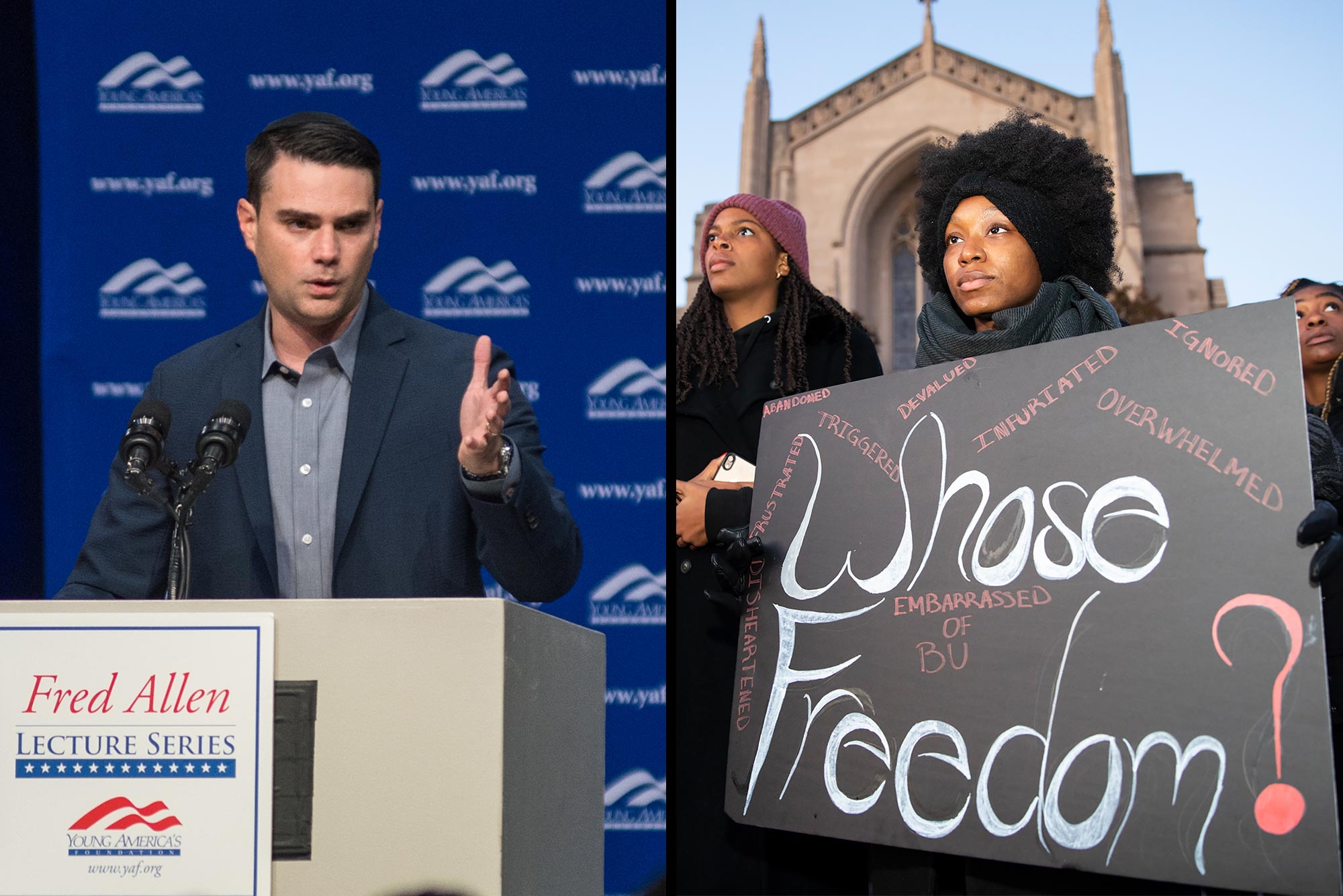 Voices & Opinion
Impassioned Reactions to Ben Shapiro's Speech at BU
Flurry of comments on the event range from pride to pain to support to anger to sadness
Ben Shapiro has left campus. But the conversation around the conservative commentator, blogger, and podcaster's speech Wednesday night about the legacy of slavery before a packed audience of 1,500 at the Track & Tennis Center continues to reverberate. On Twitter, on Facebook, and in the comments on the various stories about the event posted on BU Today, people are sharing heartfelt sentiments about Shapiro's words. And they are debating whether his talk, at the invitation of the BU student chapter of the conservative youth activism organization Young Americans for Freedom (YAF), should have been allowed to happen here.

Genuine emotion can be felt in the commenters' words, reflecting feelings from anger to pain and sadness to support.

Our point here is not to highlight the differences in the views being shared. Rather, it is to further the conversation, and encourage it, by choosing some of the most thoughtful comments that have been posted, and to encourage more of them. As Nobel Peace Prize winner Bishop Desmond Tutu said in a 2004 address at the Nelson Mandela Foundation in Johannesburg, South Africa, "Don't raise your voice, improve your argument."

Below is a selection from the many comments posted in the wake of Shapiro's speech. Click on a link below to reply directly, or leave your own comment at the bottom of this article.
---
La liberté des uns s'arrête là où commence celle des autres," a famous French quote which translates to "The freedom of some ends where the freedom of others begins." Please think deeply about this principle of living in harmony in a multicultural society.

Ali Guermazi, School of Medicine professor of radiology, November 14, 2019, 7:36 am
---
There is no such thing as "hate speech" in the United States, precisely because of our magnificent 1st Amendment. Unlike other Western countries without such protections, we don't ban controversial speakers on the basis of hurt feelings, much like we do not throw comedians in jail for off-color jokes.

First Amendment, November 14, 2019, 8:37 am
---
"Hate Speech" is not an actual concept as it pertains to law. To the extent that speech can be hateful, it is protected under the 1st Amendment. You may deem certain speech, words, or even syllables to be full of "hate," but they do not equate to physical "assault." As a mental exercise, try to imagine a society where words are equated with physical violence, where speech is policed by law, where the offense that someone takes can be grounds for penalization. This experiment has been tried many times over—in fact, it still exists in the world—and it never ends in the utopia you'd expect. Quite the opposite.

BU graduate student, November 14, 2019, 9:54 am
---
You're trying to refute an argument that no one is making. The original comment stated that "There is a line where hate speech is not protected as it becomes an assault." You responded that "'Hate Speech' is not an actual concept as it pertains to law." This is incorrect. "Hate speech" is a legal concept even though the US does not have European style hate speech laws. The legal concept of "hate speech" is discussed in multiple Supreme Court decisions. Hate speech is legal—up to the point that it is likely to produce imminent lawless action.
The original comment and my first response to you both are making the point that there are times when the First Amendment does not protect hate speech. No one is claiming that there's a US law specifically banning "hate speech," but rather that "hate speech," a recognizable legal concept, can be illegal when it has a sufficiently close nexus to imminent lawless action.

Noah Potash 2019/11/14 at 1:03 pm
---
White, straight, cisgendered people are fine for the most part. You don't see that. You see extremes. You see the crazy people who dress up like Nazis for attention. Speaking as a young, "straight white male" (as I've been labeled), most of us do condemn the actions of the alt-right. The title of this event was obviously provocative, and likely for a reason. Ben Shapiro does have a rocky past, but he is a representative of a different set of beliefs. You'd rather censor an opposing voice than hear what it might have to say, and that's concerning for the future of our country and freedom of speech. I'm glad that BU isn't as closed-minded as I had previously thought.

Alfred Schutt, November 14, 2019, 9:57 am
---
Cloaking this in balance and neutrality is truly emblematic of BU, and many American institutions just like it. The truth is that regardless of what you think of Shapiro himself, allowing him on campus with THIS particular topic, "America wasn't built on slavery," is a huge affront to black and brown students, and a huge support to white racists at the expense of BU's diverse student body. This was a really shameful move on BU's end, but not surprising. Institutions like BU, after all, are built on and fueled by the status quo. The demand now must be that BU must stop invoking MLK and Wiesel when they please, and ignore them when convenient. This is, after all, the white moderate that MLK derided. To YAF and other colleagues on campus reveling in this: you'll find resistance any corner you turn with your exclusionary and racist politics, you fragile white snowflakes. It must be very scary to live in an America, the most diverse it has ever been, that is seeking to yank from you your undeserved, unearned privilege. And yes, you are correct, we are coming for it, full force.

An Arab Alumna, November 14, 2019, 8:59 am
---
Kudos to Boston University for hosting Ben Shapiro. I don't know what he has said in the past, but I found nothing offensive (or even significantly controversial) about his speech yesterday. I think that Hannah Gray, former president of UChicago, said it best: "Education should not be intended to make people comfortable, it is meant to make them think. Universities should be expected to provide the conditions within which hard thought, and therefore strong disagreement, independent judgment, and the questioning of stubborn assumptions, can flourish in an environment of the greatest freedom."

Ari Trachtenberg, College of Engineering professor of electrical and computer engineering, November 14, 2019, 11:07 am
---
I am so happy that BU allows people with different opinions to speak at the school. I want my child to know what others think and process that information for herself, or chat about it with other students. That's what is supposed to happen in college. The problem is students want the schools to be echo chambers to their beliefs. Hey, I don't like horrible people, and many people differ in what they consider "horrible," but that person has every right to speak on campus and I would encourage my child to listen and learn. Saying you are embarrassed of BU is saying you don't believe in having our basic freedoms and the First Amendment. I want my child to go out into the world with eyes wide open, not closed and deaf to anything they don't agree with. The 1st Amendment wasn't designed to protect fragile feelings, it was designed to protect free thought. I'm thankful BU is a school that will not roll over to voices who can't get their way. If you don't like it, go and protest—that's your right!

Suzanne, 2019/11/14, at 3:38 pm
---
America was built on freedom, sure…freedom for white, landowning men, at the expense of freedom for everyone else, most notably the slaves who enabled the landowners to build their wealth at a fraction of what the cost would have been with paid laborers. Those who say that America was built on slavery aren't saying that there are slaves now or that descendants of slaves have lives just as bad as their ancestors. The point is that America as it exists today would not be the same as an America without slavery. The point is that many white people in this country benefit from the wealth and prosperity that their slave-owning ancestors accrued as it was passed down through their family, and other white people benefit from a society and government that was built to favor whiteness and disenfranchise people of color. The point is that white America acts like repealing slavery and Jim Crow laws was enough to undo the legacy of slavery and racism that still impacts Black Americans. We may all be free now, but white people like myself sure as hell got a head start on taking advantage of that freedom. Us leftists just want to level the playing field and actually do what we can to ensure that everyone has the freedom and ability to reach their full potential and self-fulfillment. If people like Ben Shapiro really cared about freedom, they'd be helping our cause. Instead, he chooses the reality he wants to see and brainwashes others into believing him. It's one thing to listen to someone else's views when you're arguing about things like the economy or how to best solve America's healthcare crisis; it's quite another to tolerate a bigot's views on human rights.

Danielle McPeak (CAS'16, SPH'20), November 14, 2019, 9:38 am
---
Completely agree. If conservatives want to enable the freedom of people of color they can start by joining our activism for criminal justice reform, properly funding public schools in disenfranchised school districts, and fighting for legal protections against payday loan scams. If they want entrepreneurship and capitalism to be a part of the solution they can start organizations that help people of color navigate the legal frameworks of attaining business loans and starting a small business. THIS is the conservative answer to these issues, and it aligns with liberal activism. Victim blaming and telling POC that their lives are bad because they're too lazy and stupid to make something of themselves is not only insulting, it's just not factually accurate.

James, BU graduate student, November 14, 2019, 11:53 am