Ben Shapiro: the Speech, the Protests, the Reactions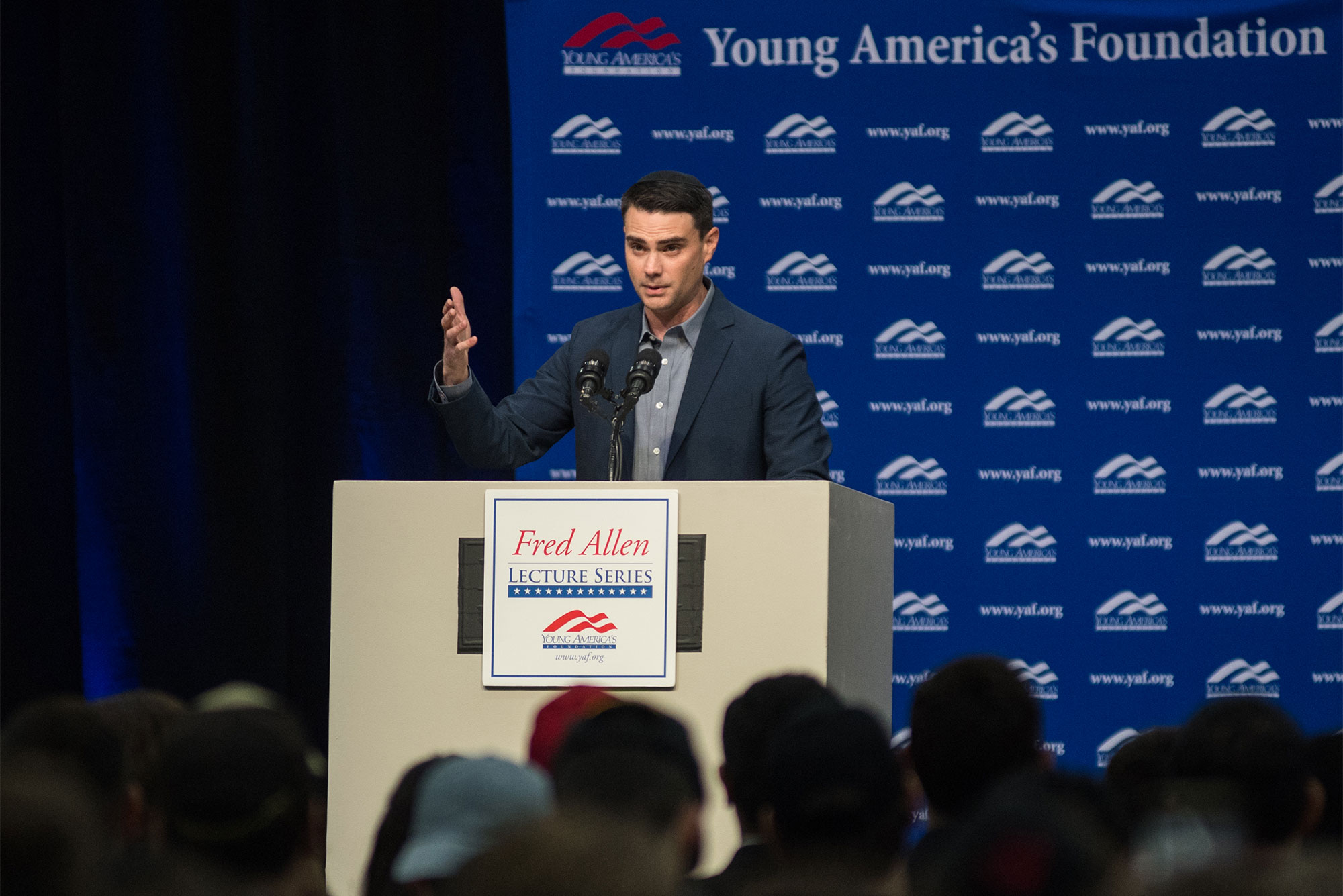 Politics
Ben Shapiro: the Speech, the Protests, the Reactions
Conservative firebrand parries hecklers from the left, and right, during speech on the legacy of slavery
Conservative firebrand Ben Shapiro lectured an audience of 1,500 on the legacy of slavery and parried hecklers from the left and the right in an appearance on the Boston University campus Wednesday night that was arranged by a conservative BU student group and protested by some 200 students who marched in silent solidarity up Commonwealth Avenue.

Perhaps surprising some in the audience, Shapiro spent much of his talk outlining the history of American opposition to what he acknowledged as the horrors of slavery and the evils of Jim Crow. But by the end of his speech he derided the idea that "every single problem in America today is based on slavery," asking, "Are teens in Chicago today killing each other at rapid rates because of slavery?"

"Freedom is what makes America unique, not slavery," said Shapiro, editor-in-chief of the far-right Daily Wire news website, a former Breitbart editor, and host of The Ben Shapiro Show podcast. And he said that America is "one of the least racist multiracial countries today," citing Barack Obama's two terms as president.
His appearance was hosted by the Boston University chapter of the conservative youth activism organization Young Americans for Freedom (YAF) and presented by the Young America's Foundation Fred Allen Lecture Series.
In the days leading up to the event, students, faculty, staff, and parents of students weighed in on Shapiro's appearance at BU. There were angry comments on Twitter and Facebook, as well as a number of small protests around campus and letters posted on Twitter. The debate mostly broke into two camps, with opponents arguing that Shapiro's words and messages were both hateful and hurtful and that he was not deserving of a platform at the same University that includes Martin Luther King, Jr. (GRS'55, Hon.'59), Howard Thurman (Hon.'67), and Nobel Peace Prize winner Elie Wiesel (Hon.'74) among its alumni and faculty. Others, however, countered that Shapiro represents a new voice for young progressive conservatives and that those opposing his speech were exaggerating his views or were unwilling to hear alternative viewpoints.
In his opening remarks, Shapiro at first saluted the crowd of protesters who had gathered outside BU's Track & Tennis Center, where the event was held. "The lecture that I'm giving is almost pointless, because if America was built on slavery, not freedom, then we wouldn't have a bunch of protestors outside exercising that freedom—and good for them," he said, noting the frigid weather. "That's Boston Strong right there, good for them. That is the courage of your convictions. More power to them."

But, he said, "no thanks to the leftists who sought to have this lecture canceled out of apparent fear of my wretched evil…who wrote that BU should ban me to protect its students from me. Look at me. Saying things."
Shapiro, 35, spoke under heavy security provided by BU police, Boston police, and a private security firm hired by the University. A couple of hecklers were escorted out during the event and one group of demonstrators stood and walked out while blowing whistles and shouting anti-fascist slogans. But most of the noise was cheers and applause from supporters.

The YAF distributed free tickets to the event to 1,000 students, faculty, and staff, and 500 were distributed on a first-come-first-served basis to the general public. BU YAF chair Diana Soriano (CAS'20) introduced Shapiro, and YAF member Mia Cathell (COM'21) moderated a contentious Q&A session that followed his 45-minute speech.
Most of his lecture, titled America Was Not Built on Slavery, It Was Built on Freedom, was focused on disputing the idea that the legacy of slavery plays a central role in American life today. "History's problems do manifest in today's problems," Shapiro said. "But those who are determined to see America's story as a continuing story of oppression, those determined to paint America's history as an eternal story of brutality and slavery, rather than as a struggle toward freedom and equal rights in concert with the original founding principles of the country, suggest that slavery remains the defining feature of American life."

Many anticipated opposition like that voiced by a transgender activist and others on the left during the event, but at least as many of the questions were complaints from those on the far right who said Shapiro was smearing "America first" alt-right activists as racists and worse.

In the days before Shapiro's appearance, several posters promoting his speech were defaced, and by Wednesday afternoon, more than 2,200 people had signed a Change.org petition calling Shapiro a "racist hatemonger" and decrying his appearance on campus.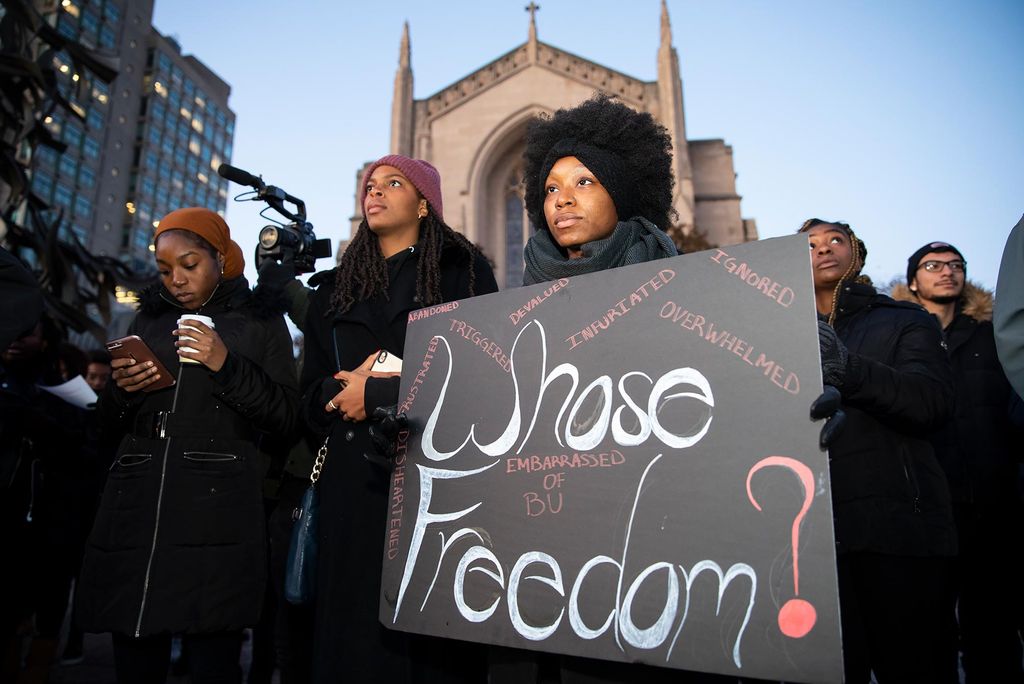 In addition, a group of 133 BU students released a statement on social media Tuesday under the name "Black BU" expressing their opposition to Shapiro's speech and announcing plans to march from the Howard Thurman Center for Common Ground at the George Sherman Union to the Track & Tennis Center.

"Abandoned, triggered, frustrated, disheartened, devalued, infuriated, overwhelmed, ignored, and embarrassed of BU," the statement said. "This is how we feel. This is how BU has made us feel. This is how our peers, the Young Americans for Freedom, and those who condone their actions have made us feel." The letter specifically addressed the title of Shapiro's talk, adding: "This school constantly boasts about their most famous alum, Dr. Martin Luther King, Jr., but by endorsing a conversation titled 'America Was Not Built on Slavery, It Was Built on Freedom,' this institution is ostracizing the very community that Dr. Martin Luther King, Jr., fought for."

Shapiro was having none of it. "According to Black BU, the very presence of this lecture at BU's campus reminds us that we are not one BU, that this BU does not belong to us, just as our minds and bodies do not and have not belonged to us since our rights as human beings were stripped away from us in the wake of slavery.
"This is a lie, this is an abject lie," he said. "BU is indeed designed for us, that is why you are here. Your rights are fully intact. Those of your ancestors were not. Stop conflating the past with the present, or the tremendous, unforgivable evil done to your great, great, great, great, great grandparents with your experiences today in America. They are not the same."

The view from outside
A little before 5 pm, a crowd of approximately 200 students, among them Black BU members, filed out of the Howard Thurman Center onto Marsh Plaza and proceeded silently up Commonwealth Avenue, arms linked. Many held signs reading "Hate speech ≠ free speech" and "Racism kills."
Once they reached the Track & Tennis Center, the students gathered behind steel barriers across from the doors, where in spots they were five people deep. They were joined by BU Social Workers for Justice, several professors, and members of Students Against Hate Speech, who led an initial chant of "Racist, sexist, anti-gay, Ben Shapiro go away."
Among the protesters was Kahjirah Taylor-Harris (CGS'20), who read from a prepared statement. "Boston University, the Young Americans for Freedom, the nonblack people on BU's campus have placed the black students on campus in danger and it is not okay," she said. "You have failed to protect us and respect us. You have used us and capitalized off of us in the namesake of diversity and inclusion while saying fuck you. You have reminded us that this facade of liberalism is constantly backed by whiteness."

Rozime Lindsey (CFA'23) was one of the protesters. "The title of the event, America Wasn't Built on Slavery, It Was Built on Freedom, made me so upset," he said. "If you just look at history, look at the facts, how did we come to be? By the hands of and the work of my ancestors. I can't believe BU would pay that much money, or even allow something like this to happen. Especially a school like this, that tries to focus on equality—it doesn't seem right. It's really ignorant of BU and really ignorant of people to even support this man."

Those opposed to Shapiro's appearance also cited comments he has made in the past about Arabs and the LGBTQ community.

In response to the opposition, BU officials noted that the appearance was organized by BU's YAF students, not the University. Kenneth Elmore (Wheelock'87), associate provost and dean of students, emphasized that student organizations, faculty, and departments have always had the freedom to invite speakers to campus without needing University approval.

"I certainly understand that there is a view that this guy denigrates people," Elmore said before the event. "But I also hope what we can do is to let the program happen, let people who are against it challenge these ideas, and have good and real conversation about this. That's what a good university is about."