Paving the Way to Citizenship
Veronica Serrato (LAW'88) helps green card holders with the daunting process of becoming naturalized US citizens
They are determined to use their experience, influence, and positions to help make their business, organization, and world a more inclusive place. They are breaking barriers—and then reaching back to help those behind them overcome the same hurdles. They are mentoring students or younger colleagues, hiring diverse candidates, offering opportunities, and ensuring that employees succeed and are promoted so that their workplace and their communities reflect the richness and talents of the country's increasingly diverse population.
They are BU alumni, faculty, and staff—of every race, ethnicity, age, and gender—and they are "Opening Doors" for the next generation.
Veronica Serrato applied to Harvard without help from anyone, not from her Mexican immigrant parents, not from a high-priced, private consultant—that profession hardly existed back then—and not even from the guidance counselor at her all-girls Catholic high school in suburban Chicago, where Serrato was one of the top two students.
"She said I'd never get into Harvard. She'd throw me a parade if I got in," recalls Serrato, the eldest of five children and the first person in her family to even dream of college. "I applied anyway."
That same indomitable spirit, that refusal to take no for an answer, drives her work today as leader of Project Citizenship, a Boston-based nonprofit that helps permanent immigrants navigate the dauntingly cumbersome bureaucratic process of becoming naturalized US citizens.
Although her guidance counselor may not have regarded Serrato as Harvard material, Harvard had, in fact, sent her an application in the mail. Shutting herself up in her bedroom with her knockoff Smith Corona and her Merriam-Webster Collegiate dictionary with the red cover falling off, she banged out her application to Harvard—and one to Stanford.
"I'm not exceptional," Serrato says. "Mine is just a typical immigrant story. The United States is full of people like me."
She got into both, and in fall 1980, her father, a highly skilled welder who hadn't had the opportunity to go beyond the sixth grade in Mexico, piled the family into his van and drove his 18-year-old daughter to Cambridge. It was her first visit to Harvard, her first trip East—and it would be her first time away from her close-knit family.
"College blew me open," says Serrato (LAW'88).
After graduating from Harvard with a BA in government and political science, she went on to the BU School of Law, then spent more than two decades as a public interest lawyer advocating for low-income families and children before becoming executive director of Project Citizenship. "I was lucky to be born on this side of the border," Serrato says. "I've always wanted to pay forward the opportunities that I received."
Citizenship, she says, is the path to full participation in American democracy—to voting in elections and to other rights and benefits, such as high priority in sponsoring family members for a green card (a permanent resident card that allows them to live and work permanently in the United States), traveling freely between countries without time restrictions, receiving full federal aid for college, and working at jobs not available to noncitizens.
With President Trump's hostility toward immigrants and his recent policy proposals that would make it harder to apply for citizenship—and the fear his administration has sown among green card holders as well as those who are undocumented—the work of Project Citizenship feels more urgent now than ever, says Serrato, whose parents became citizens in the early 1990s, several decades after they had arrived in the United States, so that they could vote and because they worried that laws regarding Social Security would change in a way that penalized noncitizens.
"Citizenship is the immigration solution," she says. "It's the only protection against deportation." Motivated by the anti-immigrant platform of Trump's presidential campaign, Serrato applied for a Mexican passport in 2016, and two years later, she became a dual citizen of Mexico and the United States.
An ordinary immigrant story
"I'm not exceptional," Serrato says. "Mine is just a typical immigrant story. The United States is full of people like me."
Her parents, Beatrice and Emilio, met and married in Chicago in 1962, after emigrating, separately, from Moroleón, in the state of Guanajuato. In one generation, they would put all five of their American-born children through private colleges or universities—and all five would go on to successful professional careers.
Chicago's steel mills were booming, and Emilio found work there as a welder. Beatrice, who had graduated from high school in Chicago and spoke excellent English, earned a degree in cosmetology and opened a hair salon in the family's home (they'd moved to suburban South Holland from Chicago's South Side when Veronica started high school).
"We were solidly middle class," Serrato says. "I always had more than I needed."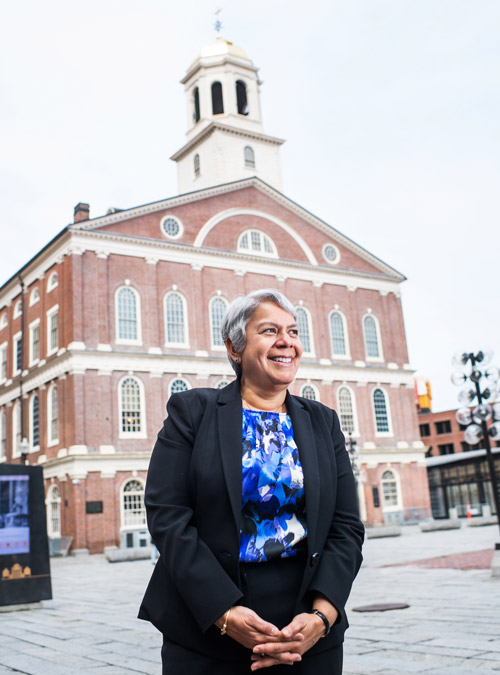 Her parents, who were extremely protective, sent all five children to parochial schools. "My parents worked hard to achieve assimilation quickly for us," says Serrato. "That was part of my success."
She was in kindergarten, she recalls, when she decided she wanted to be a lawyer—like Perry Mason, the criminal defense lawyer in the television series she watched with rapt attention. "I think I just had this sense that I wanted to be able to go out and be a strong advocate for others, to be able to stand up in such a forceful and eloquent way that wasn't my experience," says Serrato. "That's not how Mexican girls were raised."
Her high school did not offer Advanced Placement, but she was in accelerated classes with all the other top students. By senior year, she had the second highest grade point average in her class, while also serving as president of both the National Honor Society and the Spanish Club, working on the school newspaper, and holding down a part-time job at the candy counter at Sears.
For all her high aspirations, Serrato didn't know anyone who had been to an elite college and it didn't occur to her to apply to one—until Harvard and Stanford mailed her their applications. "I had good PSAT scores," she says. "That's how they must have found out about me."
"There were no college prep classes, no essay coaches, none of the nonsense they have today," she says. "None of us asked our parents for help. No one talked about first-generation students the way they do today."
Her secret to the SATs? "The Merriam-Webster Collegiate dictionary—that's what I had," says Serrato, who had entered kindergarten speaking only Spanish. "I worked my way from the As to Zs."
"If you look at the data on Boston, we're on the map internationally because of immigrants—their entrepreneurial spirit, what they're adding to the economy. Immigrants are not the problem—they're the solution."
Why her guidance counselor tried to dissuade one of the school's very best students from applying to Harvard—whether it had something to do with her being Mexican American, or female, or some of both—remained a mystery. "The nuns and staff were often bitter and mean," says Serrato. "It was something I was used to. I just coped and kept going."
Harvard opens the door
"Harvard was exciting, open, tolerant, diverse," says Serrato. "I'd never met anyone before who was Jewish. I'd never seen that much ethnic diversity, religious diversity. And everyone was smart. Everyone starts at the same level."
The mix included a lot of Latino students, many of them from Puerto Rico. "I certainly felt Mexican," she says, "but I also felt Chicagoan and had to learn to not say pop or gym shoes.
"I don't recall encountering prejudice per se because I am Mexican," she says. "I remember feeling completely like a fish out of water because I had attended an all-girls Catholic high school, where I wore a uniform and had never had so much independence. My best friend had parents who were a doctor and a nurse. They were the most educated and gentlest people I had ever met, and they welcomed me into their home for holidays and dinners."
Her junior and senior year she worked part-time at the Harvard Kennedy School of Government Institute of Politics as an assistant to the receptionist. "I started meeting all these people someone like me would never meet—Jackie Onassis, John Kennedy, Jr., Betty Friedan. They were all just people. They were brilliant and they had a lot to say, and I absorbed it like a sponge."
After graduating, in 1984, she spent a year at Boston Children's Hospital as an administrative support staffer on a multidisciplinary sexual abuse team that included a nurse, a psychiatrist, and a lawyer. The hospital's associate general counsel, Richard Bourne, who recently retired, became a mentor. The experience cemented Serrato's goal of becoming a lawyer.
From BU LAW to Project Citizenship
Her grades won her a spot on BU Law Review her first year in law school. "BU was very competitive and at the time it had a reputation for being cutthroat," she says. "I knew I was capable. Maybe it was that Harvard arrogance."
And yet, at the end of that first year, she received a form letter from BU offering her tutoring—tutoring for students of color was how she understood the letter. "If they had looked at my transcript, they would have said, 'Would you like to be a tutor?'" recalls Serrato, who would go on to become a LAW instructor and win the school's Victor J. Garo Public Service Award, given annually to an alum demonstrating exemplary commitment to pro bono work. "I came home and ranted at my husband and the world and threw the letter away." She decided the tutoring offer was well-intentioned, if insulting, and whatever anger may have lingered over it, she channeled into her work.
After building a career as an attorney specializing in public interest and poverty law, five years ago she became executive director of Project Citizenship. She had never practiced or studied immigration law, so had to give herself a crash course in the field. "BU LAW taught me how to learn," she says.
Serrato and her team of pro bono lawyers, law students—from BU and elsewhere—and other volunteers have helped almost 6,000 low- and moderate-income permanent immigrants in New England become naturalized citizens.
In May 2018, the Mexican government honored Serrato with the Ohtli Award for her work in helping Mexican immigrants achieve their dreams. "We're planting seeds," says Serrato. "Maybe this generation won't experience the success I've experienced, but a future generation will."
Project Citizenship guides green card holders through the 20-page application—with the extensive documentation required for naturalization—prepares them for the English and civics exams, and helps them obtain the $725 fee waiver they may be entitled to. All its services are provided without charge.
With waiting times for people to become naturalized citizens almost twice as long, 10 months, as they were 2 years ago, according to the New York Times, and the Trump administration proposing policy changes that would require yet more documentation from green card holders, the path toward citizenship has gotten steeper. Many of those who are eligible have been scared away from applying by Trump's anti-immigrant stance, says Serrato. She and her team are stepping up their outreach efforts to the estimated 48,000 foreign-born permanent residents of Boston and the surrounding area who are eligible for citizenship.
"The vast majority of immigrants are law-abiding, moral, hardworking members of our communities," Serrato says. "If you look at the data on Boston, we're on the map internationally because of immigrants—their entrepreneurial spirit, what they're adding to the economy. Immigrants are not the problem—they're the solution."
They are people like her parents, Beatrice and Emilio Serrato, who worked their way into the American middle class and stressed to their children the value of education. "It's just a piece of you to make things better," says their eldest daughter. "My father always says he can fix things, even when they're not broken. I think that's part of the immigrant experience—taking what you have and making something of it."
Do you know BU alumni, faculty, and staff who are opening doors or breaking barriers themselves? Email Cindy Buccini at cbuccini@bu.edu and recommend them for our series "Opening Doors."
This Series
Also in
July 31, 2023

April 21, 2023

February 24, 2023