NFL Legend Nick Buoniconti Dies; Had Pledged to Donate his Brain to BU CTE Center for Research
CTE
Patriots Legend Nick Buoniconti Dies 
Hall of Fame linebacker pledged to donate his brain to BU CTE Center for research
New England Patriots legend and Hall of Fame linebacker Nick Buoniconti, who two years ago held an emotional news conference at which he said he had dementia and pledged to donate his brain to BU's CTE Center, has died.
The Center, directed by Ann McKee—who is also a William Fairfield Warren Distinguished Professor and BU School of Medicine professor of neurology and pathology, chief of neuropathology at the VA Boston Healthcare System, and director of the brain banks for the Framingham Heart Study and BU's Alzheimer's Disease Center—released a statement on Wednesday: "We are profoundly saddened to learn of Nick Buoniconti's passing. Nick was one of a kind, an NFL Hall of Fame legend whose impact on the field was remarkable, but whose impact off the field was even more so."

Buoniconti, who starred on the last NFL team to finish a season undefeated, the 1972 Miami Dolphins, and played for the old AFL Patriots from 1962–68, had told the New York Times that he hoped his act of donating his brain would help others: "My life is not what it was, and I just want to be able to help with Ann [McKee's] research and hopefully the research will end up helping so many other players."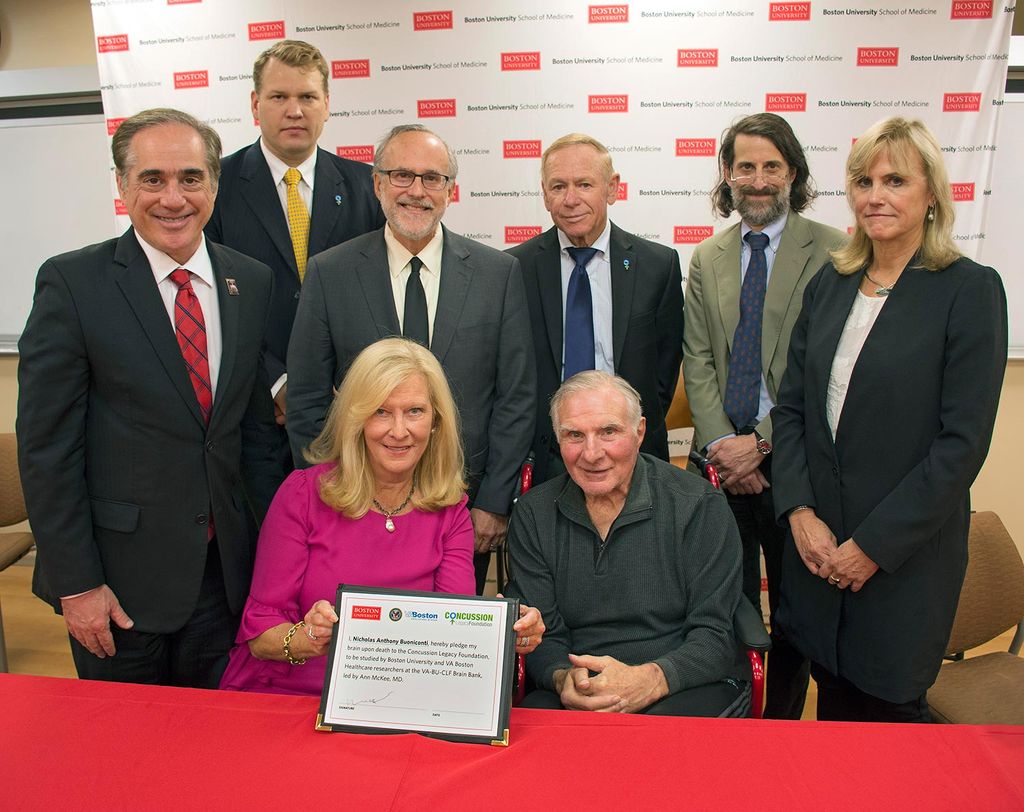 For now, CTE can only be diagnosed in the dead, although progress is being made toward diagnosing it in the living. McKee and other CTE Center researchers have found that repetitive subconcussive hits to the head—like you commonly see in tackle football—appear to be the root of the disease. Studying the brains of deceased NFL players, other athletes, and veterans (Center scientists have amassed nearly 700 such brains) has yielded new clues to what drives CTE. But it's still unknown how common CTE is, why some people get it and others don't, and how it can be treated and possibly prevented.

Because so much of the research has been on the brains of former football players, there is a dearth of data about how CTE affects women (only two women, anywhere, have ever been diagnosed with the neurodegenerative disease), which recently prompted the launch of a new study to study the brain health of female former professional soccer players, including Brandi Chastain and Michelle Akers.

Buoniconti, in addition to pledging to donate his brain after he had been diagnosed with dementia, said he would donate his spinal cord as well, to honor his son, Marc, who was paralyzed while playing football in 1985 at the age of 19.

"My dad has been my hero and represents what I have always aspired to be; a leader, a mentor, and a champion. He selflessly gave all to football, to his family, and to those who are less fortunate," Marc Buoniconti said in a statement.

In 2017, he wrote a book about his life and his father called Undefeated: From Tragedy to Triumph.

"[Nick] advocated for spinal cord injury research after his son Marc was paralyzed while playing football and he fought tirelessly for player safety," the CTE Center said. "In his last years, Nick courageously fought the greatest battle of his life against a devastating and untreatable neurodegenerative disease that was most likely CTE, or chronic traumatic encephalopathy. Nick pledged to donate his brain to the BU CTE Center and established a research fund with his wife, Lynn, to accelerate research on the diagnosis, care, and treatment for CTE. He said, 'I owe it to the thousands of others who will follow me on this trek.'"

Buoniconti, who was 78, is survived by his wife, Lynn, sons Marc and Nick, Jr., and daughter Gina.