New BU Panel on Gender-Based Harassment Gets to Work
Goal is to change culture for work and study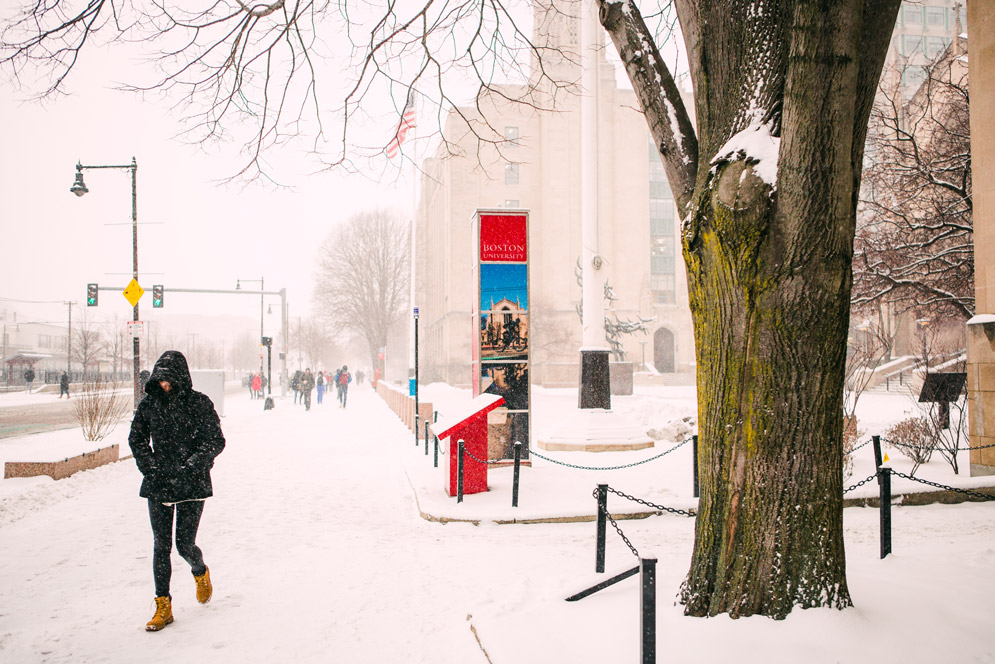 TAKEAWAYS
A University-wide group will seek ways to combat gender-based harassment
The goal: changing the " culture and climate" of the academic environment
Current harassment training programs have not been shown to be effective
---
A group of leaders from across Boston University's Charles River and Medical campuses will begin working to recommend ways the University can better provide an environment for students, faculty, and staff that is free of gender-based harassment.
Gender-based harassment—defined as behaviors that communicate that someone does not belong or merit respect based on their gender—is the most common form of sexual harassment and creates a climate that emboldens other types of sexual harassment, according to the National Academies of Sciences, Engineering, and Medicine. And the common forms of harassment-prevention training have not been shown to change behavior.
"We have to start working on proactive cultural change and the establishment of a positive and constructive welcoming environment, for women in particular," says Jean Morrison, University provost and chief academic officer.
Morrison announced this week the formation of the Working Group on Gender-based Harassment Prevention, charged with finding ways to "cultivate a culture and climate across all disciplines at BU that rejects gender-based harassment." The panel is to deliver its recommendations to Morrison by September 30.
The change sought means "ensuring that we are not enabling or looking the other way where there are cultures that allow gender-based bullying or harassment or sexual assault," Morrison says. "There's an array of behaviors we want the group to think about, and it's going to take work to create a positive climate that encourages and supports women."
The impetus for BU's action comes from a 2018 National Academies report spotlighting the pervasiveness and troubling consequences of harassment in the academic environment. Sexual Harassment of Women: Climate, Culture, and Consequences in Academic Sciences, Engineering, and Medicine says a systemwide cultural change in higher education is needed to prevent sexual harassment.
The report "provides a disturbing account of the scope of gender harassment in these fields," Morrison wrote in announcing the move. "According to the National Academies, academic environments have the second-highest rate of sexual harassment (58%) when compared to the military (69%), the private sector, and the government."
"This is a national conversation, and the question for us is, how are we at BU going to do our part to ensure we have an inclusive, civil environment that allows our scholars to do their best work?" says Jennifer Grodsky, vice president for federal relations, who will chair the working group. Its first meeting is set for Friday afternoon.
Grodsky says that while the National Academies report was the jumping-off point for this initiative, she has been following discussions among government funders considering policies to address issues in awarding grants. The National Academies is also forming an Action Collaborative, which will bring together a group of like-minded universities to work collectively on the issue.
Morrison says that Grodsky "brought the idea forward that it was timely for BU to make an effort to look at our practices."
The National Academies recommends that the higher education community needs to focus on diversity, inclusion, and respect, as well as do more to support targets of sexual harassment and hold harassers accountable. There is also a search for ways to change power dynamics in advisor-trainee relationships—where graduate students and researchers may feel their career is contingent on the approval of a single person. Some universities are considering changing the model so graduate students have several faculty mentors, rather than one, defusing that imbalance of power, Grodsky says.
The national discussion focuses on medicine and the hard sciences—as in the #MeTooSTEM hashtag—but the BU effort will range across the academic landscape. "It's not just science and medicine. We want them to look broadly at all disciplines," Morrison says.
"As one of the first universities in the United States to open all its divisions to female students, the first coeducational medical college in the world, and the first American university to award a PhD to a woman, BU has a historic commitment to providing a welcoming and respectful setting for students, faculty, and staff of all genders," she wrote in the announcement. "It is a commitment etched into our narrative and an essential part of BU's continuing effort to attract the very best faculty and students to our campuses."
Besides Grodsky, the other members of the working group are: Karen Antman, dean of the School of Medicine and Medical Campus provost; Emily Barman, associate dean, Graduate School of Arts & Sciences, and professor of sociology, College of Arts & Sciences; Victor Coelho, professor of music, College of Fine Arts; Hyeouk Chris Hahm, associate professor and chair of social research, School of Social Work; Aviva Lee-Parritz, associate professor of obstetrics and gynecology, School of Medicine; Naomi Mann, clinical associate professor of law, School of Law; Elise Morgan, professor of mechanical engineering, materials science and engineering, and biomedical engineering, College of Engineering; Emily Rothman, professor of community health sciences, School of Public Health; Christopher Schmitt, assistant professor of anthropology, College of Arts & Sciences; Michael Sorenson, associate dean of the faculty, natural sciences, and professor of biology, College of Arts & Sciences; Mounika Vutukuru, president, Graduate Women in Science & Engineering, and PhD student, College of Engineering; Muhammad Zaman, professor of biomedical engineering and materials science and engineering, College of Engineering; Julie Sandell, senior associate provost, ex officio; and Gloria Waters, vice president and associate provost for research, ex officio.