Arts & Culture
Never Too Old to Learn
BU art historian Jonathan Ribner shares his passion with senior citizens through volunteer lectures
On a hot summer afternoon, Jonathan Ribner is standing, as he often does, at a podium in a darkened room showing slides of works by 19th-century artists. Today's topic is the French painter Henri de Toulouse-Lautrec, known for his vivid depictions of Parisian street life and music halls. Ribner spends the next hour animatedly comparing and contrasting Toulouse-Lautrec's work to some of his contemporaries, among them Pierre Bonnard, Georges Seurat, and Pierre Puvis de Chavannes, to a rapt audience. But what makes today's different from his usual classroom lectures are his students: they're all in their 70s, 80s, and 90s—old enough to be the grandparents of his BU students.
"He's just as interested in his audience as we are interested in him," says Dodie Catlett, who says she makes a point to never miss one of his lectures—"unless I'm ill, which happened once."
For the past four years, Ribner has spent his summer vacations and intersession breaks volunteering as a guest lecturer at Hebrew SeniorLife, a residential community in Brookline's Coolidge Corner. He became interested in working with older learners after giving lectures to seniors through BU's Evergreen program, an experience he found especially rewarding. "It made me think about whether there were other people who could benefit from having lectures like these," he says.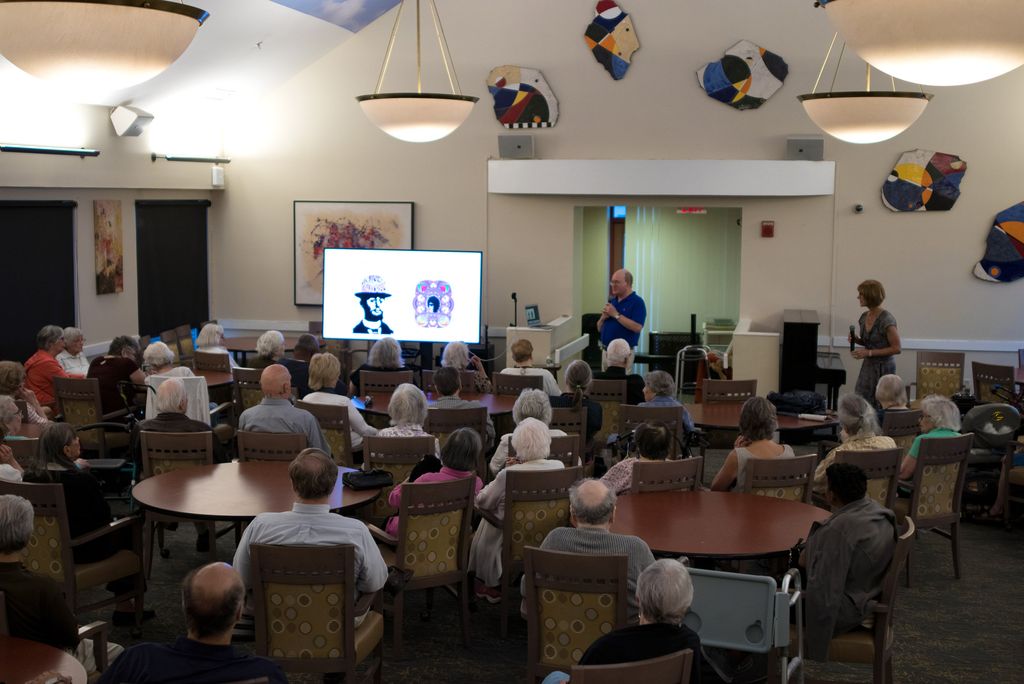 A Brookline resident, Ribner contacted Laura Baber, Hebrew SeniorLife community outreach and program coordinator, to ask if the facility would like to have a series of art history lectures for their residents. "In a nanosecond, we said yes," Baber says.
"He gets that as people grow older, they need to feel relevant. It's so difficult for many of our residents to get out to a museum because of the physical limitations some of them have," Baber says.
In fact, a just-released study sponsored by the AARP reveals that social isolation and loneliness are among the biggest challenges seniors face. The study surveyed about 2,000 Americans age 50 to 80 and found that more than a third of seniors felt a lack of companionship at least some of the time, and a quarter of them said they sometimes or often felt isolated. One third of seniors said they socialized with friends, family, or neighbors once a week or less.
Events like Ribner's help.
"Through his lectures," Baber says, "they're able to learn and engage and enjoy and remember going to a museum and seeing a piece he's talking about."
---


He inspires me to want to go beyond the lectures.

---
Ribner says the experience has been more rewarding than he ever anticipated.
"It's nice to know that you're doing something that means something to somebody, that you can make their lives more interesting. They respond so strongly. And it keeps me on my toes because they're really good listeners. They're a good audience because they're pretty frank about what they like and don't like."
During his Toulouse-Lautrec lecture, residents sit spellbound as Ribner recounts some of the more colorful aspects of the artist's life, including his affinity for brothels and alcohol. He weaves in Hollywood depictions of the artist, including 1952's Moulin Rouge, starring Jose Ferrer, and 1978's The Revenge of the Pink Panther, which has Peter Sellers, as Inspector Clouseau, disguised as Toulouse-Lautrec. The pop culture references draw nods of acknowledgement from the room.
Moments later, he's contrasting Toulouse-Lautrec with Vincent van Gogh, noting that both had very brief careers, dying at 37, and both were drawn to images of real life. The lectures move quickly from point to point, remaining entertaining and accessible. (No prerequisite in art history needed here, just an interest in the topic.)
Ribner makes a point of getting to know the residents attending his lectures. Many show him their own artwork or pieces they've collected by other artists. Earlier this summer, he was showing a slide of a painting by contemporary Colombian artist Fernando Botero when one resident excitedly mentioned that she owned three of his works. Another resident, originally from Russia, proudly showed him the intricate tiny sculptures of animals and figures resembling Japanese netsuke that he makes from palm nuts and ebony.
Over the years, the art historian has attracted a devoted following among the residents. They make a point of clearing their calendars to attend his lectures. Two of his most devoted fans, 89-year-old Catlett and 95-year-old Lillian Helf, say he makes them continue to want to learn.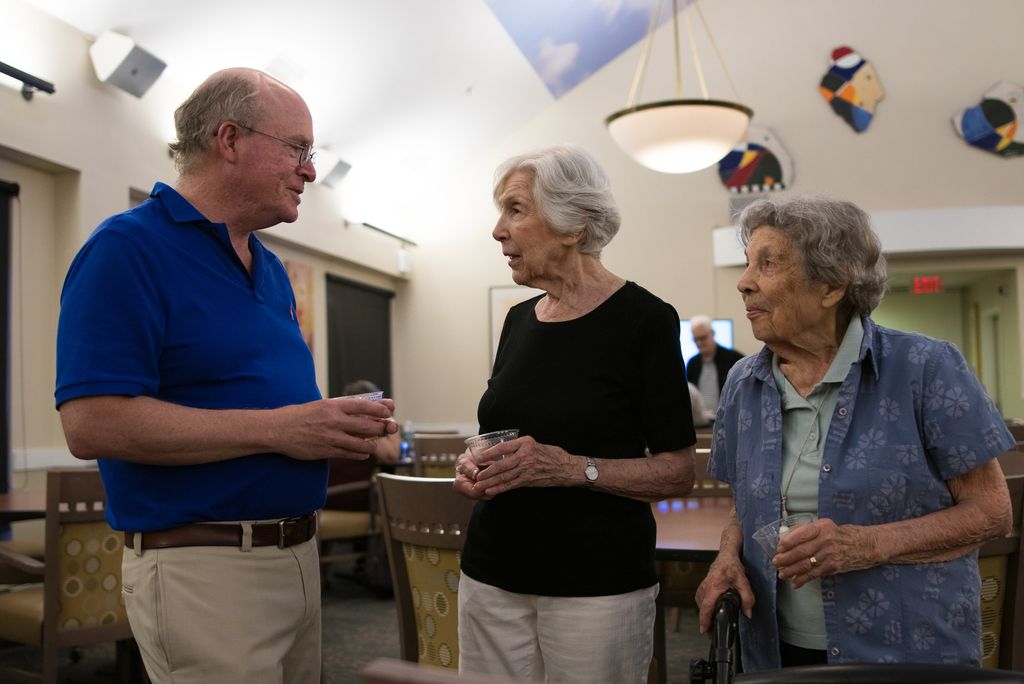 "We're in awe of him, truly," says Catlett, who spent 15 years producing catalogs for New York's Metropolitan Museum of Art. When she learned that he would be lecturing about Toulouse-Lautrec, she made a point of visiting this summer's Museum of Fine Arts exhibition Toulouse-Lautrec and the Stars of Paris before his talk. "I thought, I can't come to this without having a bit of background on the subject. He inspires me to want to go beyond the lectures," she says.
Helf, a former painter, now has vision problems and a series of recent falls has curtailed her ability to travel to museums, so for her, Ribner's lectures provide much needed intellectual stimulation. "He fills the voids in my knowledge of these people," she says. "And I find it very interesting, the connections he finds between them."
Ribner, who has taught at BU for 34 years, says it's refreshing to lecture to an audience that isn't obsessed with grades. Many of his BU students come out of a culture that's all about testing and multiple choice answers, he says, and they're very anxious about what will appear on exams. But the Hebrew SeniorLife residents "are there just because they want to be there. They're completely focused when you're lecturing. Sometimes, with the undergrads, they're surreptitiously looking at their phones. That's just completely alien to these people."
And unlike when he's teaching his BU students, Ribner says, with an older audience he often makes a point of showing them art that specifically addresses the aging process or the passing of life. They talk about artists like Rembrandt, Cézanne, Degas, and Monet and what happened to them as they aged, how their work changed and deepened as their eyes and hands failed them. Indicating that limitations are essential to the creative process, he suggests that works dating from an artist's later years are sometimes more innovative than those of their youth. 
"You get these much more broadly painted paintings by Titian. Rembrandt's late self-portraits are incredible, and Matisse, when he did those cutouts, he was in a wheelchair and he had his assistants paint the paper. Then he would cut them out and he would use the scissors like a drawing instrument," Ribner says, noting that his older audience is interested in talking about how artists deal with their infirmities as they wrestle with their own increasing physical limitations.
"It's kind of like a surrogate family," he says. "It's nice to be able to benefit from what these people can offer, because they have a wealth of experience. There's a certain warmth and a level of appreciation that's pretty extraordinary."