Start-up Nesterly Helps Grad Students Find Affordable Housing in the Homes of Empty Nesters.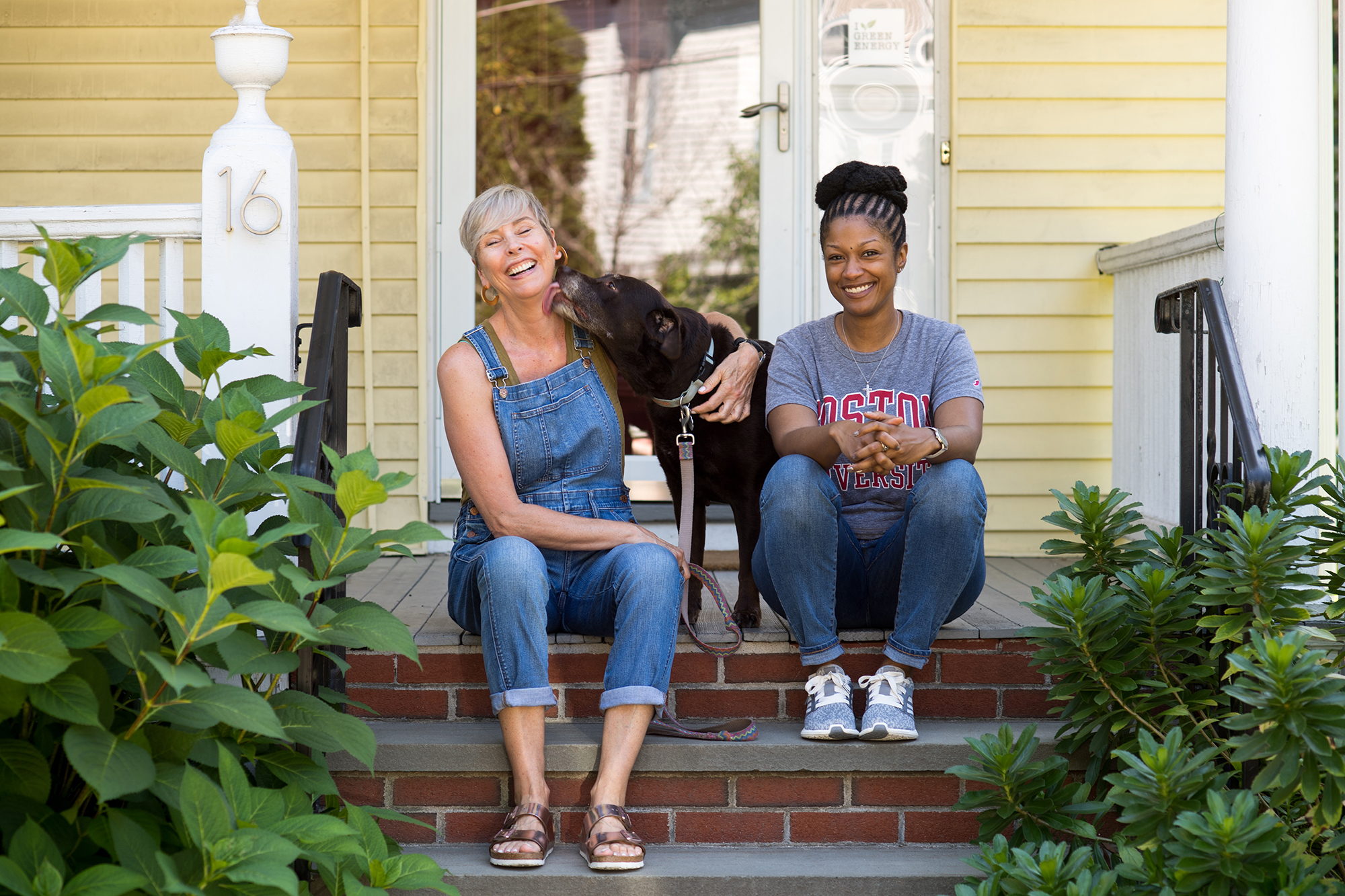 Housing
Grad Students: Need an Affordable Place to Live?  New Site Connects Generations
Nesterly matches students who need affordable housing with Boston-area empty nesters who have a room to spare
Sharrice Autry is a 36-year-old third-generation minister from Detroit studying at BU's School of Theology. Alison Brown is a 61-year-old mother of four adult children and an empty nester who lives in suburban Newton.
Together, they're congenial roommates in Brown's home who occasionally enjoy meals or watching old movies together on Netflix. Most college students would be thrilled to hit it off with their roommate like these two women, a generation apart in age and interests.
"It's been going fantastically well," says Autry.

"We just clicked," Brown says.
This kind of roommate matching is yet another win for the so-called gig or sharing economy, where short-term engagements and temporary contracts make it easier for people to connect and turn something like an extra room into a financial asset while helping a college student find inexpensive housing.

Autry and Brown found each other through a fledgling start-up called Nesterly, which connects graduate students and empty nesters with rooms to spare in Greater Boston. It's an arrangement that costs significantly less than renting an apartment and helps meet a need for less expensively priced student housing in a city with one of the most expensive rental markets in the country. According to the Boston Foundation, the average rent for a two-bedroom apartment in Boston is $2,500, higher than metro New York and exceeded only by San Francisco and Los Angeles. And those prices do not reflect the high cost of housing in the neighborhoods of colleges and universities, where landlords often inflate prices because of high demand.
Noelle Marcus and Rachel Goor, two MIT urban planning graduates, saw that problem as an opportunity. They launched Nesterly as a pilot with the city of Boston in 2017 as a way for graduate students already saddled with student loan debt to meet Baby Boomers who had not downsized. One analysis, by the real estate firm Trulia, estimates that there are more than 38,000 Baby Boomers in Boston with bedrooms to spare, and Marcus and Goor created Nesterly as a way to get those rooms on the market at prices that are 30 to 50 percent lower than market rates.
Makarand Mody, a School of Hospitality Administration assistant professor of hospitality marketing, is an expert on San Francisco–based Airbnb. He calls the Nesterly business model clever and similar to the "Private Rooms" option offered by Airbnb. Unlike Airbnb, however, Nesterly avoids local regulation because renters agree to a 30-day minimum stay.
With Nesterly, Mody says, "you don't have to deal with the headache of guests coming and going, so there's more stability. If you look at their market, the older demographic, that's a great proposition. You're not looking at unknowns coming into your home."
On the downside, he says, the company could face demographic challenges as the Baby Boomer population soars and the number of younger adults shrinks. The willingness of young adults to move in with their parents during graduate school could also hurt demand.
Nesterly works a lot like a dating website—but focused on forging intergenerational friendships rather than romantic relationships. Would-be renters create a profile and homeowners create a listing on the Nesterly site; both are encouraged to include personal information about hobbies or interests that can help spark a match. Students looking for a place to live can explore those listings on the site and reach out directly to a homeowner if they're interested.
---

We know it's a very personal thing to have someone move into your home. Many of these connections have turned into really nice friendships.

---
While many of the listings are in Dorchester, Roxbury, and Hyde Park, others are even closer to BU. A retired woman who owns a large Victorian home in Brookline recently offered rooms with new hardwood floors on the second and third floor of her home for $910 a month. A Rhode Island School of Design professor and her architect husband, who live near the Chestnut Hill Reservoir in Brookline, were leasing a "cozy east facing room" with a trundle bed for $850 a month.
A homeowner can review responses and meet interested renters in person before deciding whether one could be a good fit. They also have the option to reduce the rent if a tenant agrees to take on household duties, such as childcare, taking out the trash, or emptying the dishwasher.
When a match is made, Nesterly completes a full background check for US citizens using the company Checkr, Inc., to conduct a National Criminal Search, a Sex Offender Registry and Global Watchlist Search, and an address history search and social security check. (Review Checkr's screening policy in detail here.) In addition to the application, two references are required from a renter. Nesterly also handles the monthly rent payments, charging a 2.5 percent monthly fee.
Cofounder Marcus says finding the right fit is paramount for many aging homeowners. "We know it's a very personal thing to have someone move into your home," she says. "Many of these connections have turned into really nice friendships."
That's what happened when Abigail Herbst (SPH'19) moved into Brenda Atchison's Roxbury walk-up.

Herbst, who came to BU to study public health, says she was looking to live in a community "with kids and dogs," not just other graduate students who tend to get stressed out during exam time.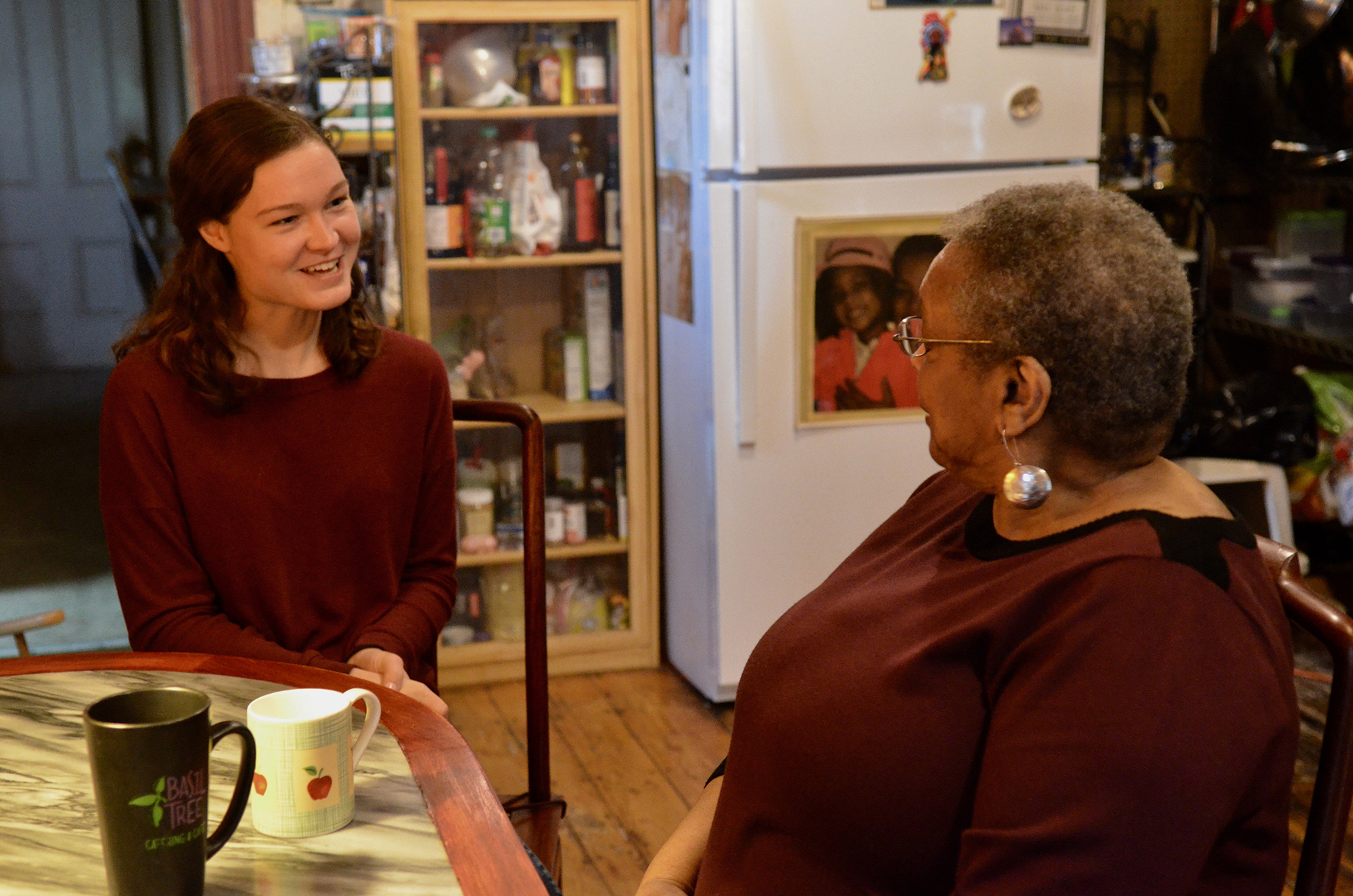 Atchison's Roxbury townhouse fit the bill. Because she has lived there for decades, she knows her neighbors well (a few are also relatives). She's also involved in the community. Retired from her job in the computer industry, the 68-year-old teaches cooking at the YMCA and works out of an art studio in the South End.
Atchison introduced Herbst to her neighbors and friends, helping her acclimate to her new environment. The two also occasionally dine together, talking about their day, goals, and projects with each other.
"It was really good for my mental health," Herbst says of the experience.
Atchison attended Herbst's graduation last spring, met her family, and shared in the celebration. Herbst understands how to live with others, she says, so when problems arose—as they did with another student tenant also living in Atchison's home—Herbst diplomatically helped the other tenant understand the household's cleanliness standards.
Atchison says she deeply appreciated how Herbst took on such responsibilities. "That is very important, because I'm not just renting rooms, that's not how I feel about it," she says. "When people walk into my home, they become an extension of my community."
The Nesterly website had dozens of furnished and unfurnished rooms across Greater Boston on offer on a recent afternoon, from a room in a Somerville home that also offers dinners cooked by a chef (the owner) to a space in a Chinatown high rise with a 68-year-old widow who speaks Mandarin. Rent prices ranged from $600 to $1,600 a month, although one Winchester homeowner had a sunny room in her Victorian for $100 a month.
BU theology student Autry, now living in Newton, found Nesterly after a bad experience renting a room in a Dorchester rooming house. It was cramped, overpriced, and stressful, she says, and her food in the community refrigerator would sometimes disappear.
She found the calm and comfort she needed at Brown's house, a four-bedroom so large that the women do not always see each other. (Autry shares a bathroom with Brown's son when he comes home from college during breaks, and another student tenant lives in a basement apartment.)
Brown, who went to boarding school in Europe, says she tries to arrange a monthly meal with her renters because she's always enjoyed living with other people. Autry loves her large, sunny bedroom, she says, and playing with Cadbury, Brown's nine-year-old chocolate Labrador Retriever.
It's also about $300 less a month than the Dorchester rooming house.
"It's really worked out fantastically well," she says.