Making Primary Care a Priority
BU parent B. R. Shetty endows scholarship fund for MED students entering pediatrics, family medicine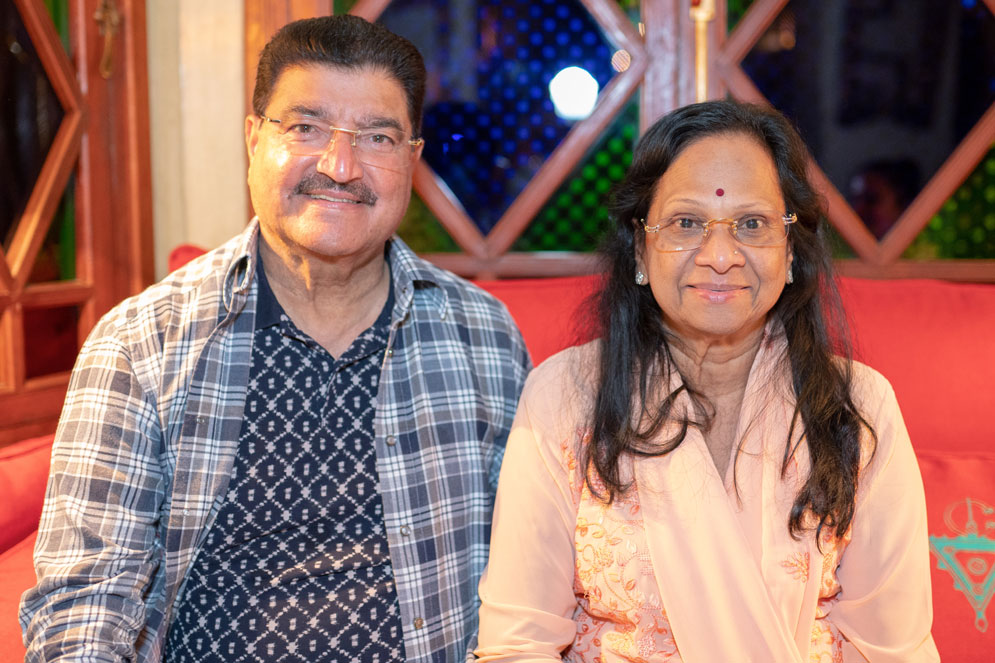 B. R. SHETTY KNOWS WHAT IT'S LIKE TO SERVE THE GREATER GOOD. And he knows about the debt that can result from that commitment.
While still in his 20s, he was elected vice chairman of the Udupi Municipal Council, the governing body in his native Udupi, a city in the Indian state of Karnataka. Shetty held the position for two consecutive terms, working to provide proper sanitary facilities, including underground drainage and septic tanks, as well as schools and concrete roads. "Improving the welfare of the community was very close to my heart," he says. He was also an active member of the Bharatiya Jana Sangh, a political party that worked to help people lead better and healthier lives.
But his support of others left him in debt, and he had to take out several loans. To repay them, he decided to leave his homeland for Abu Dhabi, "the land of opportunity," he says. He arrived in 1973 and, armed with a clinical degree in pharmacy, became the first door-to-door pharmaceutical salesperson in Abu Dhabi.
In 1975, driven by the rudimentary state of United Arab Emirates' healthcare facilities, he opened the New Pharmacy. Soon after, with his wife, C. R. Shetty, he established the New Medical Centre (NMC), the UAE's first private medical clinic. He cites two sources of inspiration: the vision of the late His Highness Sheikh Zayed bin Sultan Al Nahyan for "quality healthcare at affordable cost for all," he says, and his mother's advice "to serve mankind."
Today, NMC Health PLC runs 200-plus facilities in 20 countries, with more than 4,000 doctors treating over 8.5 million patients a year.
In the years since, Shetty, an original member of the BU International Advisory Board, has also become a global philanthropic leader. For example, in March, he established the Shetty Family Medical Scholarship at the BU School of Medicine with a $5 million gift to support MED graduates who accept residencies in pediatrics or family medicine.
The gift, he says, expresses his gratitude to BU, where three of his children earned degrees: Reema (Questrom'01), a former BU overseer; Seema (Questrom'03), a member of the advisory board of the Alumni Leadership Council, Middle East; and Binay (Questrom'04).
"I think it's only fair that having benefited so much from this world-class university, we do our bit in giving back," says Shetty. "I was lucky enough to stand on my own feet. BU reinforced for my children that they could do so too. I would like to give this opportunity to medical students to live their dream in service of society."
SUPPORT FOR MED GRADUATES
Other donors have supported MED's new Loan Forgiveness Program, through which the school uses its scholarship endowment to forgive loans of students who enter primary care.
The Karp Family Scholarships, created with a gift from the family foundation of trustee Stephen Karp (CAS'63), support graduates who specialize in pediatrics (see sidebar), as does the Dr. Elizabeth R. Brown Endowed Scholarship Fund, thanks to a gift from Elizabeth Brown, director of neonatology in the MED department of pediatrics from 1985 to 2008. Also created this year, with a gift from Dean's Advisory Board members Rachelle L. and Lee B. Silver (CAS'82, MED'82): the Rachelle and Lee Silver Scholarship Fund for students who match for residencies in primary care.
Parents of Brent (CAS'14, MED'17) and Drew (CAS'16, MED'19), the Silvers laud the school's strong commitment to caring for underserved populations and alleviating healthcare disparities—a key focus of primary care. And they praise Karen Antman, dean of MED and provost of the Medical Campus, for supporting students in need who choose that path.
"The leadership of Dean Antman in initiating this program is extraordinary," says Lee Silver. Rachelle Silver agrees. "We really need good primary care physicians—ones who are trained at BU School of Medicine," she says. "This program targets those who are going into primary care, instead of just a blanket giving across the board." And she hopes the gifts from her family and others will encourage others to support the program. "When people see the reasons for our giving, maybe they will say, 'I'd like to be part of that.'"
These awards will have an invaluable impact. The Association of American Medical Colleges recently projected that by 2030, the United States could face a shortage of between 14,800 and 49,300 primary care physicians.
---

"I believe everyone should have a right to access good healthcare," says Shetty. "And with the growing population, we need to ensure there are enough medical professionals to provide that access."

---
In 2018, with tuition alone clocking in at $58,976, MED students graduated with an average of $228,000 in medical school debt. For doctors in anesthesiology, orthopedics, ophthalmology, and similar specialties, where annual salaries range between $500,000 and $1 million, that's manageable. But pediatricians and family medicine physicians earn between $100,000 and $150,000 a year. For them, the debt can be crushing.
"If we had $600 million in a scholarship endowment and could make medical education free for all of our students like NYU School of Medicine has, we would do that," says Antman. "But given that we have $63 million instead, we are raising additional endowments to target the graduates who are most likely to have difficulty paying off their loans—those who go into primary care. Today our students have higher debt levels because of the high cost of living in Boston, our limited endowment, and our limited clinical income compared to our peers. We established our primary care loan forgiveness program to support our students."
"I believe everyone should have a right to access good healthcare," says Shetty. "And with the growing population, we need to ensure there are enough medical professionals to provide that access."