Investing in Good
CastleOak Securities' David R. Jones is showing investment banks can take the higher road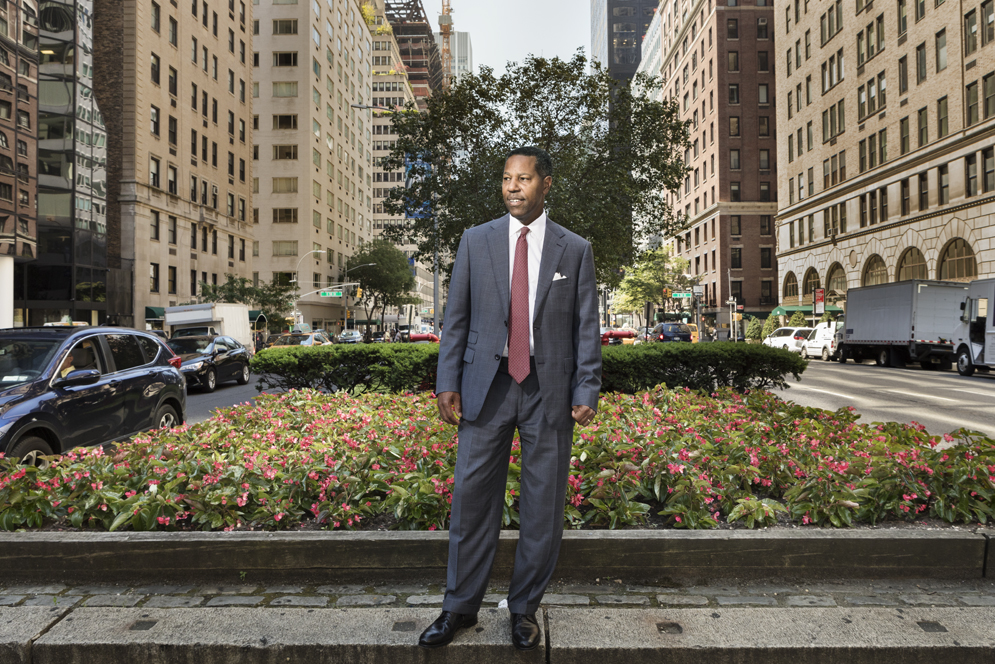 JP Morgan. Goldman Sachs. Bank of America Merrill Lynch. Morgan Stanley. A handful of well-known Wall Street firms dominate the investment banking industry. But in recent years, smaller boutique banks have begun taking a piece of the investment banking action, offering more attentive service to clients and better lifestyles for employees.
One of them is CastleOak Securities, a 60-person Manhattan-based investment bank led by David R. Jones (CGS'84, Questrom'86). Rather than providing the full gamut of investment banking services, Jones and his employees focus on a few areas of business where they have particular expertise. The majority of CastleOak's work is in the capital markets—helping corporations sell bonds or issue stocks to fund their businesses. In 2017, the firm helped raise millions of dollars in capital for Verizon, Comcast, AT&T, Ryder, Kroger, Capital One, and Prudential Financial.
"You don't work with many of those companies multiple times unless you're doing something good," says Jones, who cofounded CastleOak in 2006 and is its president and CEO. In 2017, Black Enterprise magazine named CastleOak its Financial Company of the Year, calling it "a magnet for leading corporate, government, and institutional clients as well as the Street's most talented traders and investment bankers." Jones says the company has assisted clients on public offerings totaling over $2 trillion since its founding.
The rise of boutique banks
For those big-name corporations, CastleOak and small firms like it bring a more diversified investment base than the companies would get working solely with big banks. When you're selling securities, says Jones, "you don't want to be beholden to one or two or three buyers. Corporations look to us to bring in smaller money managers that might typically get shut out in a bond deal or an equity deal." Bringing in more buyers, he says, reduces any one buyer's power to drive down the price of his client's stocks and bonds.
It can be challenging, however, to convince corporations that a 12-year-old firm deserves a place alongside banks that have been household names for a hundred years, Jones says. "The saying is, 'You can't lose your job for hiring Goldman Sachs.'" To compete, he says, his staff has to offer more responsive, high-touch service than more established peers.
Perhaps surprisingly, Jones says, it's never really been a tough sell convincing traders and bankers to leave those larger firms and work for his boutique bank. Most of CastleOak's employees are experienced professionals who were ready to trade the pressures of a big-bank job for a relatively less stressful role at a small firm.
"We believe in work-life balance," says Jones, a father of four. "When I go to my trading floor at 4:30 and it's empty, I don't freak out." If employees have met their numbers for the day, he says, they don't have to stick around just to impress the boss.
"In today's world, especially on Wall Street," he adds, "the pyramid gets really narrow at the top. Guys are always looking over their shoulder, wondering, 'Am I getting laid off?'" Most of his employees work on commission, he says, giving them more control over their own job security. As long as they're performing well, they know their jobs will be there.
And while big-bank employees can feel like anonymous cogs in a giant wheel, Jones says, those who work at a smaller organization can see the value they're adding to the company every day.
At CastleOak, they're also welcome to take their ideas right to the CEO.
"I'm very visible and walk around the firm all the time to create that inviting environment," Jones says. "Up until last year, I interviewed every person that was starting here. I wanted to meet them. I didn't want to be riding in the elevators with people who work for me and not even know who they were."
The son of the first black certified public accountant in Ohio, Jones has business degrees from BU and the University of Pennsylvania's Wharton School and years of banking experience—including time at Fifth Third Bank, Wachovia, and Merrill Lynch. By 2005, he was head of investment banking and capital markets at the New York bank Blaylock & Company. When the firm's future started to look uncertain, he and two other colleagues left, formed a strategic partnership with global financial services firm Cantor Fitzgerald, and opened CastleOak in 2006.
Their timing was right. Just two years later, the failure of US banking giant Lehman Brothers triggered a global financial crisis and dramatic changes in the investment banking landscape. According to Mark Williams (Questrom'93), a master lecturer in finance and author of a book about Lehman's collapse, the double-dealing that led to the 2008 financial crisis resulted in a loss of trust in big investment banks, which opened the door for boutique banks that could demonstrate their higher ethical standards and commitment to putting clients first.
Small banks have since made considerable inroads, particularly in the business of advising on mergers and acquisitions. According to Dealogic, boutique banks' share of US M&A revenue increased from 8 percent in 2008 to 18 percent in 2017.
As Jones told Bloomberg Television in 2011, the financial crisis helped his young firm in another way: layoffs at big Wall Street firms allowed him to pick up seasoned bankers from Goldman, Morgan Stanley, and Barclays.
"Initially, it was on my own personal credibility that we were getting a lot of our opportunities…. You definitely don't want to burn bridges. You've got to learn to deal with all kinds of people, to be respectful, as you go through your career."
The biggest challenge in launching a new bank, says Jones, was convincing potential clients to hire a firm that had no track record. "Initially," he says, "it was on my own personal credibility that we were getting a lot of our opportunities." That's why he always advises interns and other young businesspeople to manage their reputations carefully.
"You definitely don't want to burn bridges," he says. "You've got to learn to deal with all kinds of people, to be respectful, as you go through your career." That's especially true, he says, in a business like investment banking, which is as much about relationships as dollars and cents.
CastleOak secured its first deal—helping General Electric raise $300 million through the sale of floating-rate bonds—based primarily on business relationships Jones had established earlier in his career with GE executives. "That was basically the snowball that started it," he says.
Because companies can include several banks in their capital markets transactions, CastleOak doesn't need to compete head-to-head with big investment banks—it can participate in a deal alongside them. When GM Financial issued $1.25 billion in bonds earlier this year, for example, CastleOak was one of 10 banks comanaging the sale. "Our goal is not to replace the larger banks," says Jones, "it's just to take some of their economics."
Today, his company has offices in six major US cities.
"If you know how the economy works, it's really smaller businesses that drive it," he says, expressing pride in the livelihoods his firm provides for its employees and their families.
CastleOak also gives generously to charity. It sometimes gets business opportunities—such as its participation in Facebook's $5 billion initial public offering in 2012—because it's a minority-owned company. For that reason, Jones says, he feels a special obligation to back minority-focused causes.
CastleOak has funded scholarships for underrepresented students at BU and the University of Pennsylvania, sponsored the PGA Minority Collegiate Championship, and supported groups like the All Stars Project, which provides after-school programs for underprivileged kids. Jones also sits on a number of boards, including BU's board of overseers, the board of the Council of Urban Professionals, and the presidential advisory council for Hampton University, a historically black university in Virginia.
Jones is proud to have built a company that's a good corporate citizen and that stands alongside the titans of his industry, he says. "We work with every major firm on Wall Street in some area of our business, and I really am proud that if someone's going to write a story on the history of Wall Street, we'll be part of it."