How to Enjoy Your Halloween Candy So Your Next Trip to the Dentist Isn't Scary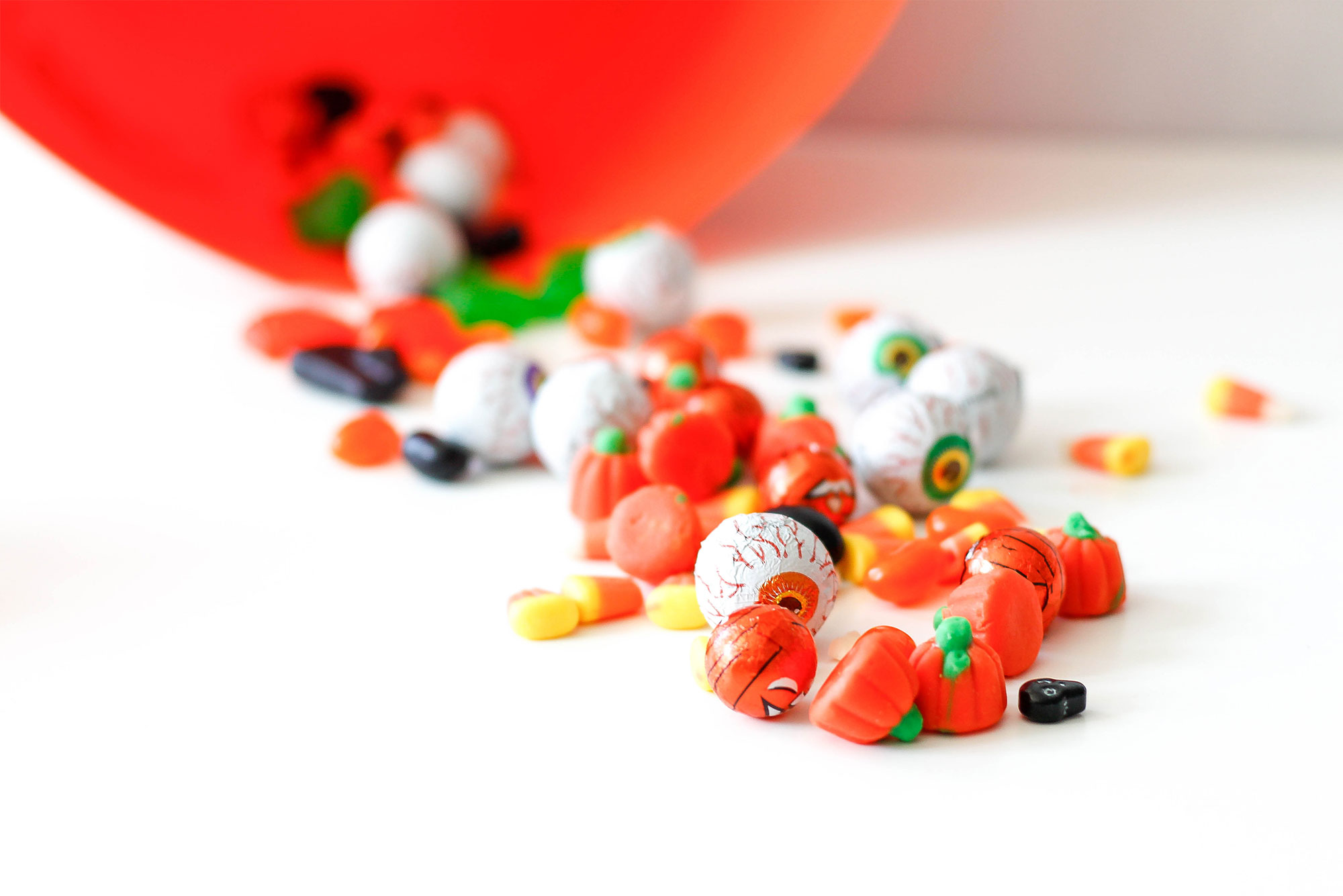 Dental Health
How to Enjoy Your Halloween Candy So Your Next Trip to the Dentist Isn't Scary
BU pediatric dentist offers his top tricks for choosing Halloween treats
Halloween is synonymous with candy. This year, Americans are expected to purchase a whopping $2.6 billion worth of candy—approximately 600 million pounds—for the holiday. The average young trick or treater will consume between 3,500 and 7,000 calories from their Halloween haul, the equivalent of up to three cups of sugar. So what happens when the sugar rush turns into a toothache at the end of the night?
We reached out to Breno Reboucas (SDM'07), a Goldman School of Dental Medicine clinical associate professor of general and pediatric dentistry, and asked him for some tips on how to choose the best treats for your teeth and how to keep up with good dental hygiene all year long. Happy haunting!
BU Today: What's the best way to enjoy Halloween candy while maintaining good dental hygiene?
Reboucas: Everyone should enjoy Halloween. The best time to eat Halloween candy is with meals or right after mealtime. Remember: they are called treats for a reason—snacking on them throughout the day is not recommended and will increase the risk for cavities. In the case of cavities, frequency is worse than quantity. Each time we indulge, the sugar combines with the plaque and an acid is formed. This acid, when repeatedly exposed to the surface of the teeth, is what dissolves the enamel over time and creates cavities in the teeth.

Make sure you keep brushing your teeth twice a day, use a toothpaste with fluoride—and floss and brush your teeth after the sweets.

Are there any preventive measures people should take to ensure healthy teeth during spooky season?
Parents play an important role during Halloween. We should screen the candies our children collect, giving preference to the ones that don't stay in the mouth for too long and are not sticky. Chocolate is a great option. The remaining candies can be shipped to the "Halloween Fairy."

After the kids are done eating the treats, if you are not near a bathroom, have them swish water around their mouth. This helps to remove some sugar from their mouth until they are able to brush their teeth.

Are there any candies people should make a point of avoiding?
The worst candy for your teeth is the one that stays in your mouth the longest. Hard candies stay in your mouth for a long period of time and sticky candies (e.g., gummy bears, fruit snacks) get lodged in your teeth and are hard to wash away.
Is sugar-free candy a gimmick? Or are there some actual benefits when it comes to dental health?
Sugar-free candies are great. They don't increase the risk for cavities and they also make us produce more saliva, which cleans and protects our teeth. Sugar-free gums and candies are ideal Halloween giveaways.
Do you think Halloween is the worst time of the year for your teeth and gums or are there other times throughout the year where we should be especially vigilant?
The secret for healthy teeth is to take care of them all year long. If you have good habits (visiting your dentist regularly, brushing twice a day, flossing, and using fluoride toothpaste), Halloween shouldn't be scary—at least for your teeth.
Which is more important—flossing or brushing?
Both. Flossing is like brushing between our teeth. Since our toothbrush can't reach in between our teeth, floss will remove the harmful bacteria from the narrow spaces for us, keeping our teeth and gums healthy.
What's your favorite Halloween treat? What do you hand out to trick-or-treaters at your house?
My favorite Halloween treat is dark chocolate. In my house we hand out sugar-free lollipops, chocolate, and glow sticks.