Getting to Know Your Neighborhood: Kenmore Square and Fenway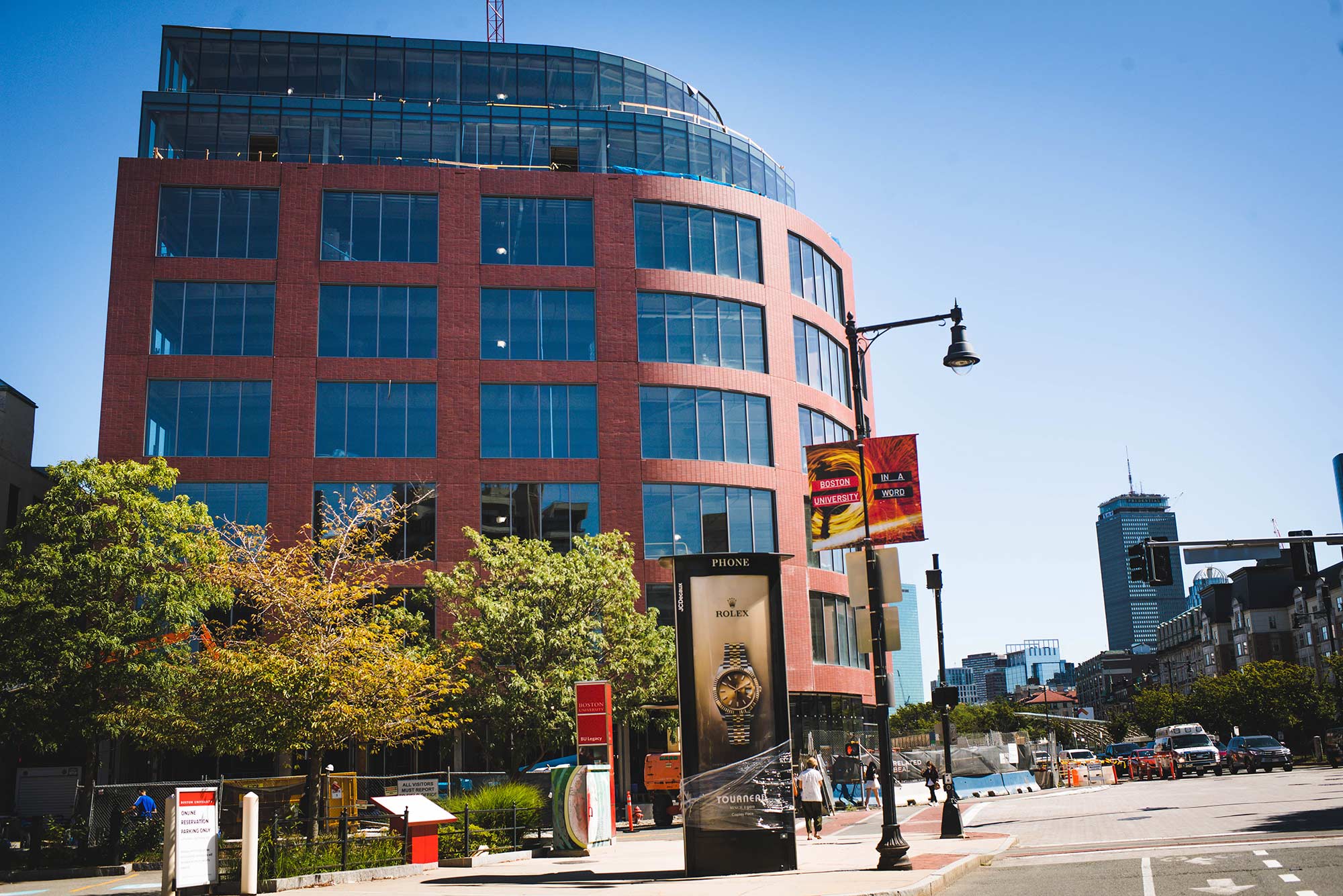 Things-to-do
Getting to Know Your Neighborhood: Fenway-Kenmore
More than just a stadium and a red, white, and blue sign
Not so much a square as a confusing convergence of Commonwealth Avenue, Brookline Avenue, and Beacon Street, Kenmore Square has several claims to fame—first may be the iconic Citgo sign. A beacon to visitors and residents on both sides of the Charles River since 1965, the sign's original five miles of neon tubing was replaced in 2005 by 240,000 red, white, and blue LED lights. In July 2018, the sign went dark for two months so that the 9,000 feet of lights on the double-sided 60-by-60-foot sign could be replaced with the latest LED lighting and new computers installed to manage the sign's famous animation. Close behind is Fenway Park, the jewel box of a baseball field that has served as home to the Boston Red Sox since its opening in 1912.
For years, Kenmore Square was little more than a busy doorstep to Fenway Park. Prior to the 1960s, it was part of Boston's Auto Mile, famous for more than 100 automobile dealerships. The 1970s ushered in a new era, when partiers from all over the region thronged to the infamous Rathskeller, a punk rock venue that helped launch the careers of the Ramones, R.E.M., and the Police, among others. During the 1980s, Kenmore Square fell into disrepair. By the 1990s, even the Red Sox were threatening to leave. But the 2002 opening of the Hotel Commonwealth, backed by Boston University, sparked a renaissance, helping transform the square into a dining and nightlife destination.
Today, Kenmore Square is undergoing yet another facelift, following BU's sale of several buildings on the north side of the square to the developer Related Beal. When construction is completed, it will dramatically change the area, with 310,000 square feet of space for offices, restaurants, and retail. Happily, the iconic Citgo sign will remain where it is for at least the next three decades.
The COVID-19 pandemic is also reshaping the area, shuttering many longtime mainstays, like the Hotel Buckminster, and popular eateries, including Eastern Standard. Some have already been replaced by new tenants, but others remain empty.
Below, our guide for some of the best places to visit while strolling through the Fenway-Kenmore neighborhood.
Comicopia
464 Commonwealth Ave.
A mainstay of Kenmore Square since 1989, Comicopia stocks several thousand comic book trade paperbacks, from Batman and Captain Marvel to new releases such as Death Plays a Mean Harmonica. New comics arrive every Wednesday, but you can check out the incoming stock online beforehand. The store carries a huge selection of indie and self-published titles, as well as extensive manga, YA, and graphic novel collections.
This affordable, postage stamp–sized pub, located where The Lower Depths Tap Room once stood, is all about craft beer, burgers, and hot dogs. With their 16 draft lines and extensive collection of cans and bottles, they serve up a rotating list of some of the best beer in New England and around the world. Their signature Pat LaFrieda blend hamburgers are locally sourced, and their 100 percent all-beef Kayem hot dogs are made from scratch right in the back. Whether stopping in before a Red Sox game, brunching with friends, or enjoying a night out on the town, the Kenmore has got you covered.
Rated Boston's top Indian restaurant by Zagat 18 years in a row, India Quality is the place to go if you're craving a warm, spicy curry. With more than 60 entrées, including beef, chicken, lamb, goat, and vegetarian options, the selection can be overwhelming. If you're having trouble deciding and are dining with a group, the Dinner for Four option includes a good cross section. The restaurant, which specializes in Northern Indian cuisine, is renowned for its coconut karma dishes and spinach poor bread. India Quality offers a 10 percent discount on dine-in and pickup orders with a valid college ID.
Nuggets
486 Commonwealth Ave.
Nuggets has been supplying BU students with music since 1978. With more than 10,000 records, including rare and out-of-print titles, this repository of pop culture sells several decades' worth of tunes, posters, and old copies of rock magazines, as well as videos and DVDs. Check out the store's extensive collection of local music, and browse its online collection here. Short on cash? No worries. Customers can buy, sell, and trade.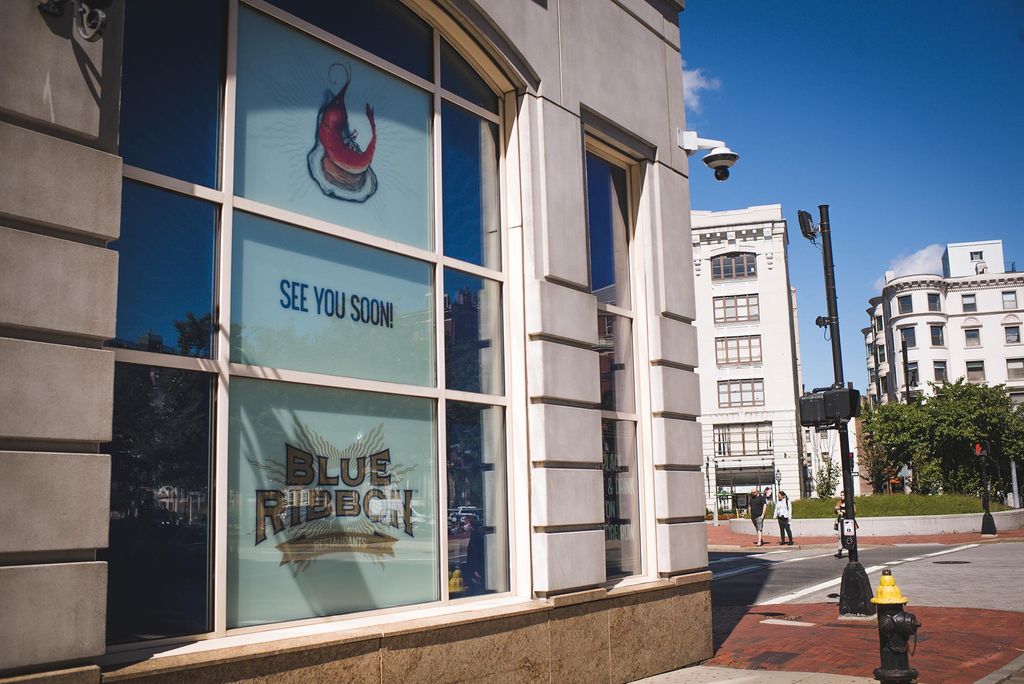 Prior to the COVID pandemic, the Hotel Commonwealth was a popular destination with diners from across the city who flocked to its two restaurants, Island Creek Oyster Bar and Eastern Standard, or to its intimate 18-seat cocktail bar, the Hawthorne, for the craft cocktails. Sadly, all of them shuttered during the pandemic due to a landlord-tenant dispute. Happily, New York–based Blue Ribbon Restaurant Group, which operates popular restaurants in New York, Las Vegas, Miami, and LA, has announced it will take over the hotel's three venues, introducing new dining options: a sushi restaurant in the space previously occupied by the Hawthorne, scheduled to open as early as this fall; a seafood restaurant replacing Island Creek Oyster Bar, opening late winter or early spring; and a brasserie, which will occupy the Eastern Standard space.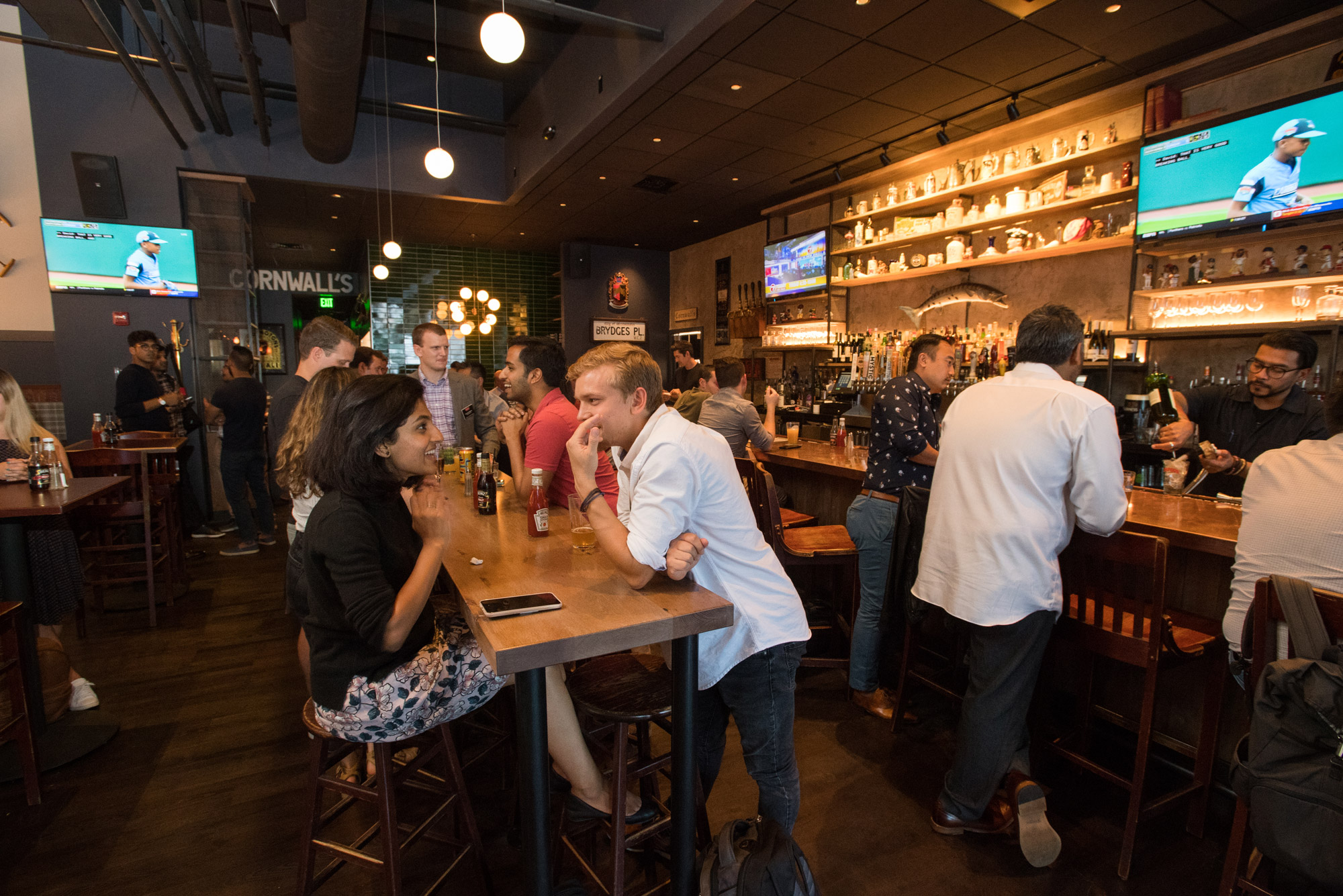 Boston bleeds green, especially on St. Patrick's Day—but the city was actually colonized by the English. Even so, British pubs are a rarity around here, which makes Cornwall's a cherished square fixture. It recently moved a few doors down from its previous location at 654 Beacon St., because of the construction on the north side of the square. With its steaming plates of bangers and mash and pints of hard-to-find English ales, Cornwall's would make any Brit feel at home. It's an excellent place to grab a glass of London Pride, a game of darts, or a round of Scrabble—the bar stocks a shelf of board games.
House of Blues officially opened in February 2009, returning to the area after vacating an early incarnation in Cambridge. Formerly home to the dance clubs Axis and Avalon, this 53,000-square-foot concert venue, restaurant, and bar headlines a musical act nearly every night of the week. Founded in 1992 by Hard Rock Café founder Isaac Tigrett and actor Dan Aykroyd, the chain features music by rock, jazz, blues, rap, hip-hop, soul, country, and folk artists, and Southern-inspired cuisine. It's also renowned for its Sunday gospel brunch. Check out its concert calendar here.
Opened in 2008, the Bleacher Bar lies under Fenway Park's center field bleachers, a few feet from the Ted Williams Red Seat, which commemorates the Splendid Splinter's 1946 502-foot home run, the longest ever hit into the Fenway bleachers. Offering a wide variety of local brews on tap and deli classics like roast beef, corned beef, and BBQ pulled pork, you'll find something to satisfy your hunger and thirst while getting an amazing view of the field—all at a reasonable price. It is open off-season as well as when the boys of summer play. The bar doesn't take reservations, so be prepared to wait if you're going on a game day.
Jillian's/Lucky Strike, a 70,000-square-foot, three-story entertainment complex, offers billiards in a 34-table pool parlor, an upscale bowling alley, plasma TVs, six full bars, and two restaurants. The latest addition, Cheeky Monkey Brewing Company, has craft beers, dart boards, pool tables, shuffleboard and parlor games, and an outdoor patio. Most patrons come for the bowling, but take note: despite 16 lanes, weekend waits have been known to last up to two hours. Note: only guests 21-plus are allowed in after 8 pm and everyone is required to mask up, except when actively eating/drinking.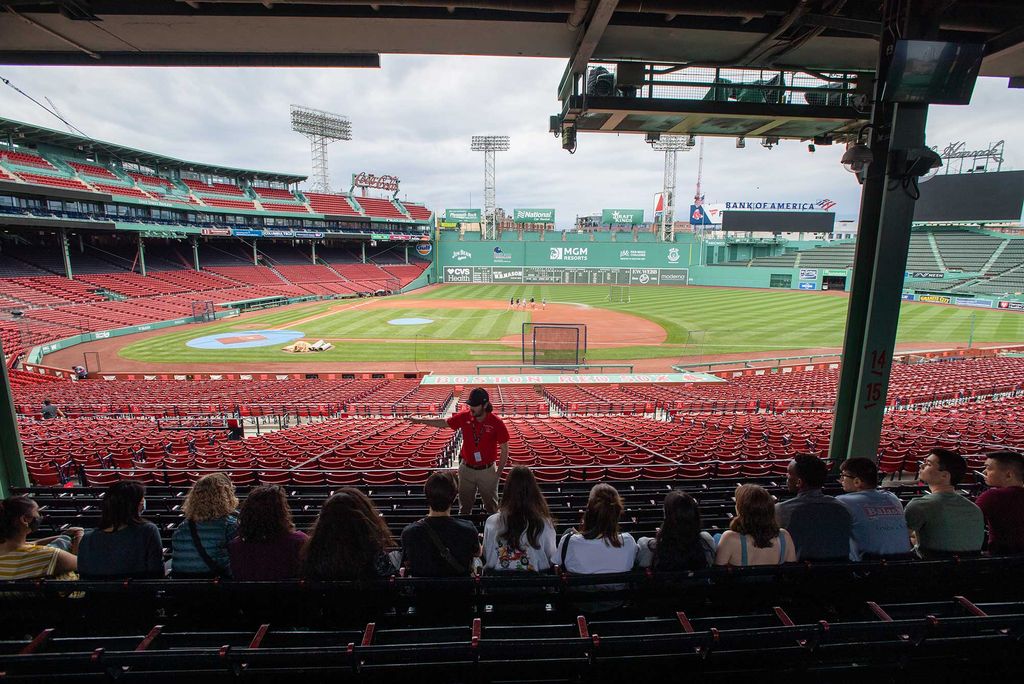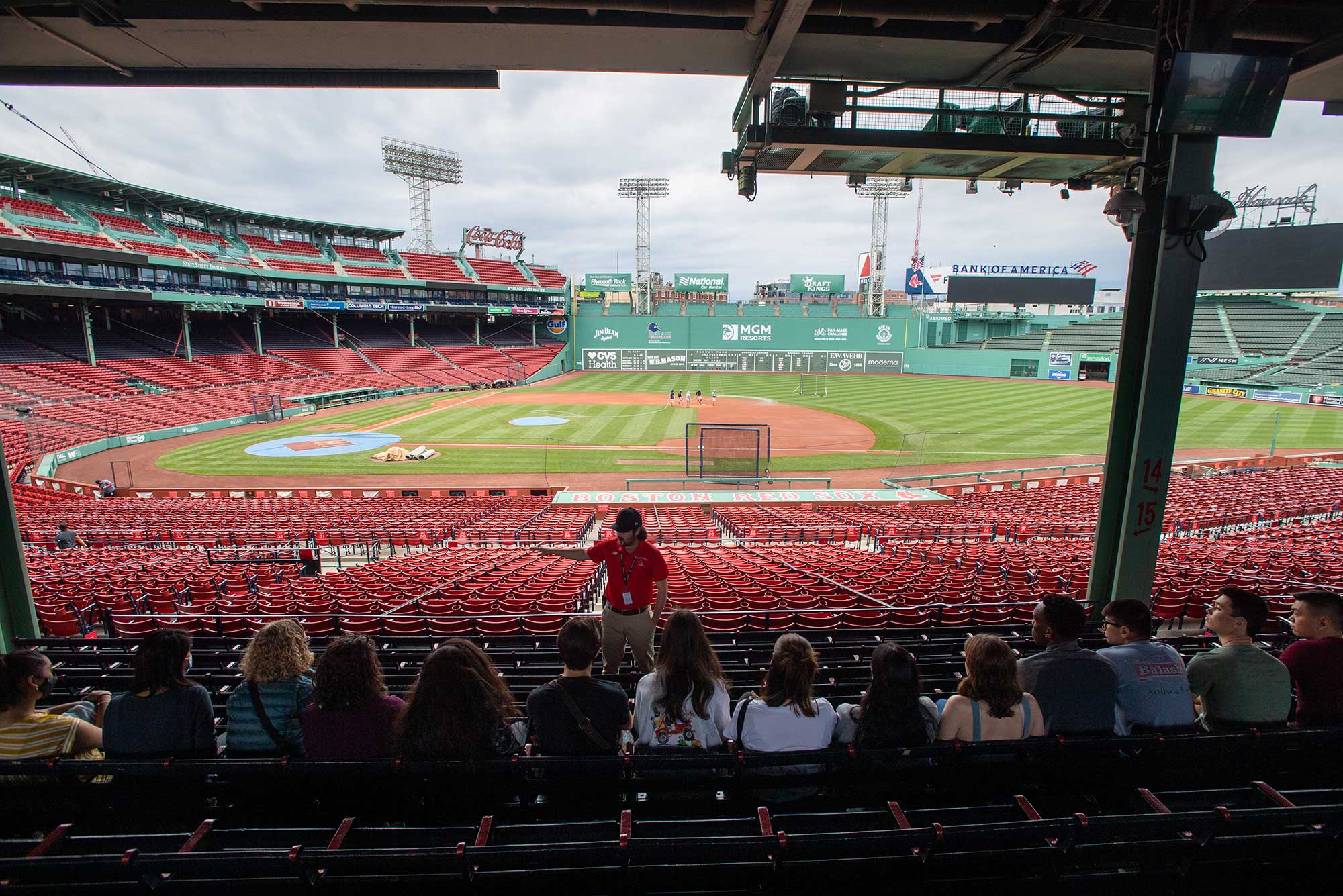 Home of the Boston Red Sox, Fenway Park is the oldest, the most famous, and arguably the most interesting baseball stadium in the United States. The park opened on April 20, 1912. With a capacity of just 37,305 spectators, Fenway is one of Major League Baseball's smallest stadiums. Because of its age and constrained urban location, renovations and additions have resulted in some unique and quirky features, most notably left field's famous Green Monster—a 37-foot wall that prevents home runs on many line drives that would clear the walls of other ballparks, but turns some fly balls into game-winners. Fenway Park tours consist of a 60-minute walk around the ballpark, with stops at the Sam Adams right field roof deck, the State Street Pavilion, the Green Monster seats, and the press box, though stops are subject to availability. Tour schedules and rates vary. Visitors are required to wear masks in all indoor areas, including restrooms and the team store. (Masks are not required in the bleachers.) For more information, call 617-226-6666.
Red Sox Nation fans will find plenty of must-haves at the Red Sox Official Team Store, right across the street from Fenway Park. What began as a single street cart in 1947, operated by twin brothers Arthur and Henry D'Angelo, today is a sprawling 25,000-square-foot store that's open year-round. You'll find all manner of Red Sox apparel, as well as commemorative memorabilia, pennants, keychains, glassware, game-used merchandise, and autographed baseballs. The Fenway Park tours begin and end here, although the store doesn't run them.
Owned by the famous Wahlberg brothers—actors Mark and Donnie and brother and restaurant chef Paul—this popular eatery serves up innovative burgers, fresh salads, and crowd-pleasers like Mom's Housemade Chili and smoked bacon mac 'n' cheese. The restaurant features a full-service bar and outdoor seating.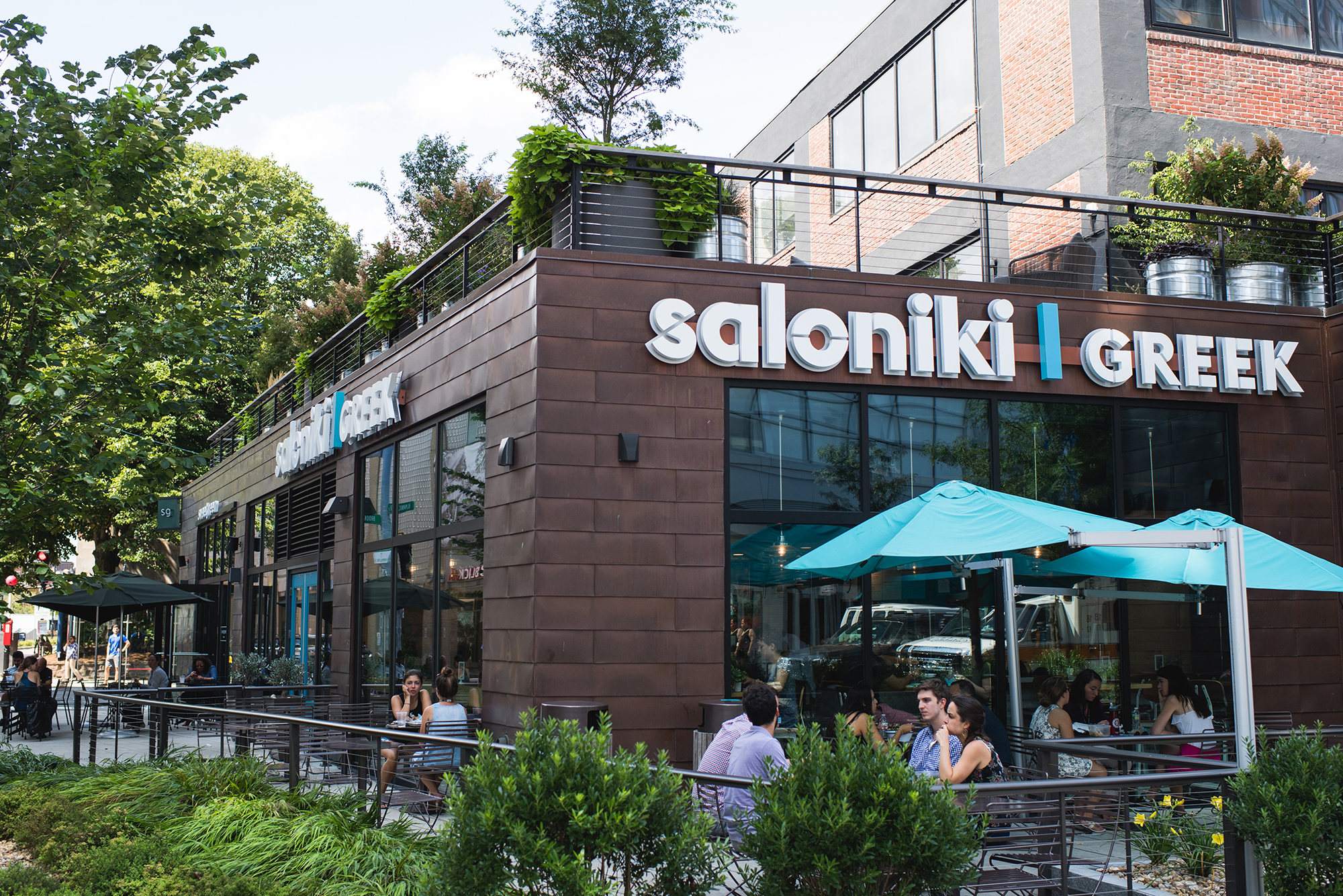 This sleek eatery, helmed by famed restaurateur and chef Jody Adams, a two-time James Beard Award winner, pays tribute to the "humble Greek sandwich shop." The Fenway location (there are two others, in Central Square and Harvard Square in Cambridge), offers traditional Greek fare, which can be ordered either as a plate or a pita. Try the classic Herc, braised honey-garlic pork shoulder and whipped spicy feta, or the Mykonos salad, a spicy slaw and zucchini-feta fritters concoction. You can also order a fantastic Greek salad, traditional soups, and yummy Greek desserts, such as baklava crisps. Greek cocktails are available, as well. Catch a seat inside or on the patio, or take it to go.
This Fenway outpost of the popular South End artisanal doughnut shop serves up filling doughnuts with an innovative twist. The doughnuts are formed from either brioche dough or cake batter, with house-made glazes, frostings, and toppings. The constantly rotating roster of flavors can include vanilla glaze, banana creme, chocolate old-fashioned, and the "Everything Bagel Donut," which tastes just like it sounds. Patrons can order full-size doughnuts and cinnamon minis (individually packaged stacks of four vanilla cake donuts rolled in cinnamon sugar), as well as decadent doughnut ice cream sandwiches and doughnut cakes (two days' notice needed for these). There are even vegan brioche specials, including rice pudding (coconut rice pudding and a coconut and cinnamon glaze) and summer berry.
Eventide
1321 Boylston St.
Eventide Fenway brings a counter-service version of the popular Portland, Maine, Eventide Oyster Company to Boston. Noted for its raw oyster bar and succulent lobster rolls, Eventide also serves up crudos, salads, fried seafood, and a delicious New England clam chowder. There's even a smoked tofu sandwich and a classic cheeseburger on the menu for those who prefer something other than fish. Be sure to save room for dessert: the bourbon caramel soft-serve ice cream is a wonderful post-lunch treat.
Hojoko
1271 Boylston St.
Named one of Boston's best bars of 2018 by Boston magazine, this Japanese-style tavern inside the hip Verb Hotel features a menu by James Beard Award–winning chef Tim Cushman and Nancy Cushman, owners of the popular Japanese eatery O Ya in the Leather District. Diners can enjoy robata-grilled koji chicken, pork and shrimp potstickers, sushi, and a selection of small plates. The chic eatery sports a Japan-inspired craft cocktail list, including the popular Tokyo Tea (tequila, long-leaf green tea, Midori, and lemon), and there's a patio for those who prefer dining al fresco. Patrons are required to wear face masks except when actively eating.
Honeygrow offers customizable stir-fries and salads designed to appeal to every palate. Diners order on touchscreens, navigating between suggested options and substitutions that you can select to customize your dish. A chicken stir-fry can be changed to beef, pork, or vegan in just a few taps. The salads are particularly noteworthy, drawing on locally grown produce. And try one of Honeygrow's "Honeybar" desserts to go along with your meal. The brownie crumble, apple pie, and fruit and granola bowls are the perfect sweet ending to your meal.
Tasty Burger is not your average burger joint. With a menu that is easy on the wallet, and fast food that leaves your mouth watering for more, Tasty Burger lives up to its name. The Big Tasty burger and the Spicy Jalapeño burger, at just $6.75, are both an excellent value. The hot dogs and chicken sandwiches are pretty tasty, as well. And it's open until 11 pm weekdays and midnight on weekends, perfect for those with a case of the late-night munchies. Be sure to check out the $10 Starvin' Student special: a burger or cheeseburger, side order of fries, and a can of beer.
For a unique dining experience, you can't beat the Citizen Public House & Oyster Bar's family-style pig roast. Available for groups of 10 or more, the meal begins with assorted shellfish and ends with a slow-roasted (for 14 hours) whole suckling pig. If pork isn't your favorite, there are plenty of other options, including lobster rolls, a slow braised lamb shoulder risotto, and Atlantic cod loin. The tavern also carries more than 350 whiskeys, including a small number of hand-selected single barrels.
Basho serves up some of the best sushi in Boston. There are plenty of inventive signature rolls, and fresh ingredients are flown in daily. It has a variety of seating options, from communal tables to private dining areas, making it an excellent gathering spot for groups both small and large. The restaurant also offers takeout and online ordering.
The second Fenway neighborhood restaurant from Top Chef finalist Tiffani Faison (also chef/owner of Sweet Cheeks Q, and more recently, Fool's Errand), Tiger Mama brings the best of Southeast Asian cuisine to Boston. The 135-seat restaurant opened in 2015 and draws on Thai, Vietnamese, and Malaysian cuisine, with a range of options, from crispy chicken "pops" with charred ginger chili sauce and cilantro peanut crumble to Singapore Street Noodles featuring crispy curry noodles, yu choy, and sesame seeds. Many of the inventive cocktails are inspired by Southeast Asia. The tiki drinks are especially popular. Open Tuesday through Saturday for dinner, it's known to get crowded, so reservations are recommended.
Formerly known as an "adult snack bar," Fool's Errand has undergone a recent transformation, becoming in essence a private restaurant. A reservation gets you the entire 400-square-foot space, exclusively reserved for you and your party. Owner Tiffani Faison and her hospitality team work with their guests to create elegant three-course individual menus, which can include items from ricotta gnocchi to Nantucket Bay Scallop Mi-Cut. The private dining restaurant also hosts a weekend Pop-Up Wine Shop, where you can purchase beer, wine, and cocktails to go.
For a taste of "the American South," head over to Sweet Cheeks Q for some authentic southern barbecue. There are tray deals and entrées like pork belly, fried chicken, pulled pork, and BBQ chopped brisket, each served with two sides. Most of the pork, beef, and chicken is all-natural, bought from local farms whenever possible, and all meats (except for the fried chicken) are gluten-free. If the hearty entrées aren't enough to fill you up, check out the More Sweet, Less Cheek options, a small selection of desserts, including a yummy chocolate caramel cake and a s'mores cup.
This 25,000-square-foot food hall is home to 11 restaurant stalls from some of Boston's top restaurants and chefs, plus two bars on the ground floor of the 401 Park building. Time Out Market came to the Fenway in 2019, becoming the third market of its kind to open in the United States, following the Miami and New York branches. The eatery lineup—which draws from Italian, Mediterranean, Asian, and American influences, among others—includes customizable rice bowls from InChu, authentic Mexican dishes courtesy of Taqueria El Barrio, and craveworthy mezzes, such as baba ganoush from Anoush'ella. Visitors can also stop at Gelato & Chill and Union Square Donuts for something sweet. The market is a great place to grab takeout, but it does feature indoor seating, as well as a 6,000-square-foot patio.
Formerly a parking lot for the historic Landmark Center building, this newly developed one-acre green space is part of the $650 million redevelopment of the former Sears, Roebuck and Co. warehouse and distribution center. The outdoor park hosts year-round activities, ranging from summer concerts to winter ice skating. The green space is anchored by a public art installation, Grouping of Works from Fountain, by sculptor Nicole Eisenman, and a contemporary glass pod, the year-round home of Trillium Brewing Company.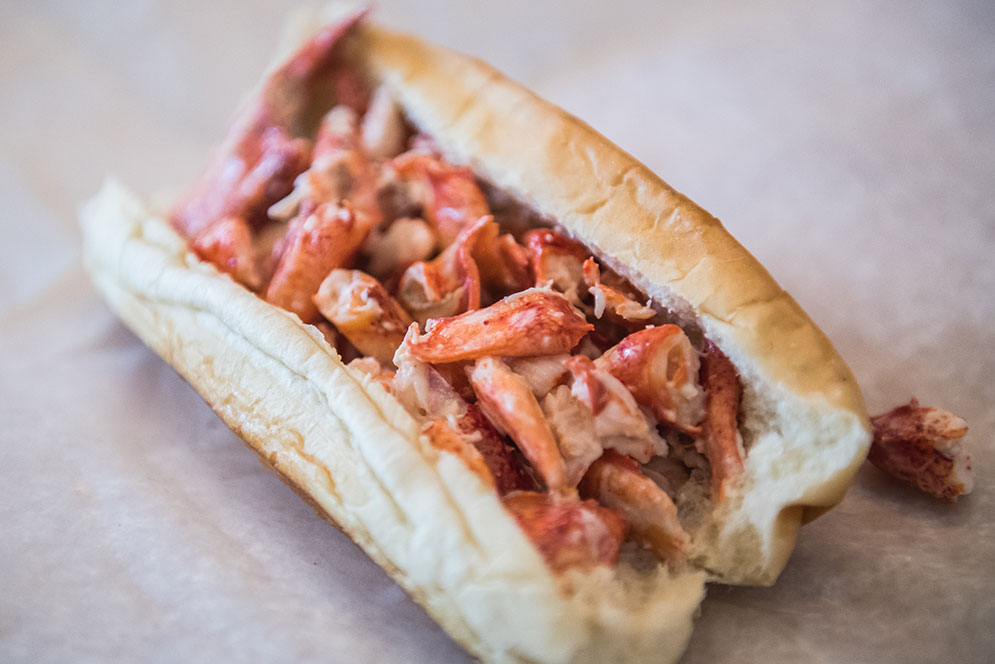 Chances are, if you've ever been to Kennebunk, Maine, you've stopped by Bennett's Sandwich Shop, famous for its lobster rolls. Happily, Bennett's also has an outpost in the Fenway and it's attracted a devoted clientele. The lobster roll is still king, but you'll find plenty of other delicious sandwiches, like a BLT served with cheese or a chicken cheesesteak. The shop also offers a variety of delectable breakfast sandwiches, served daily until 10:30 am.
"Influenced by authenticity," this French-Vietnamese café takes its name from phin (a style of brewed coffee) and barista. They serve a unique array of coffee and tea-based drinks, sweet and savory crepes, sandwiches and pastries. The Phin Rosé—drip coffee with rose syrup—is a new take on a classic, and the Strawberry Matcha n' Cream is a crowd-pleaser. If you want to try something different, Vietnamese Egg Coffee is Phinista's house blend filtered through a traditional phin, served with a mixture of egg yolk and condensed milk (served only on weekends). Can't decide on tea or coffee? Try the Phin 50/50.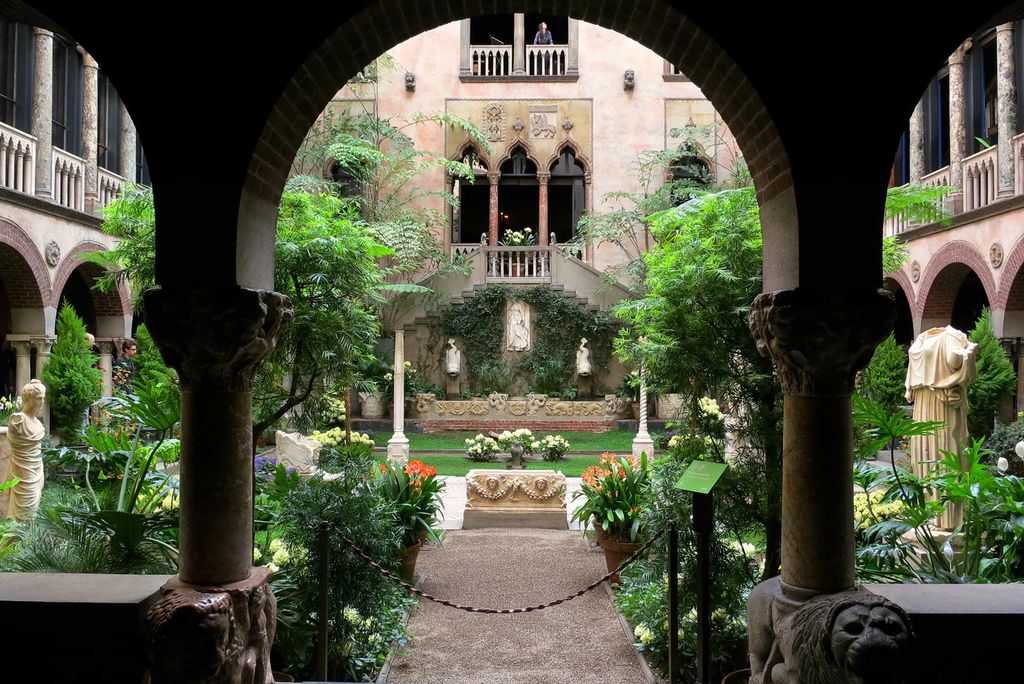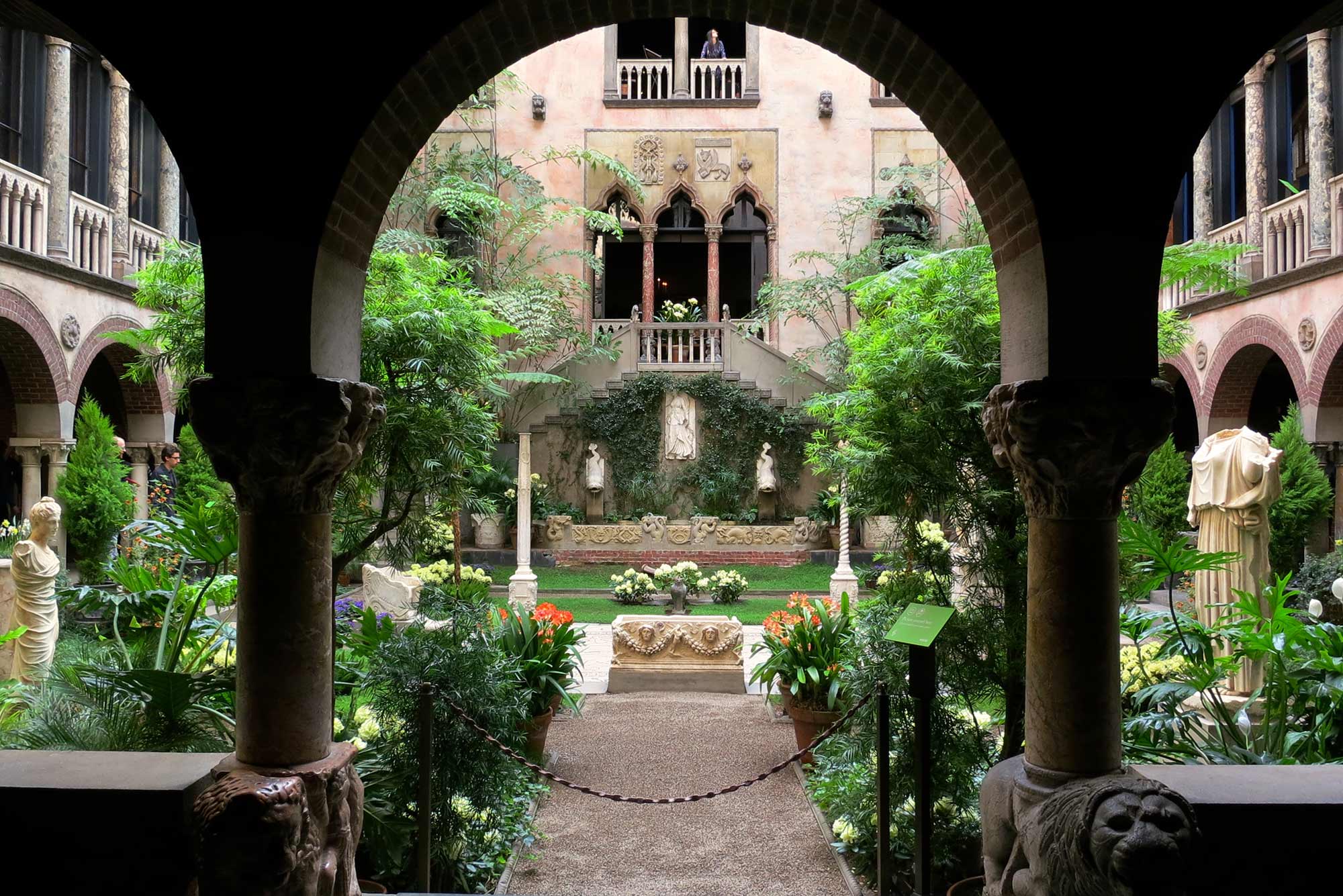 The Isabella Stewart Gardner Museum is one of Boston's most beloved cultural institutions. This Venetian-inspited palace contains artwork collected by prominent Boston art collector and philanthropist Isabella Stewart Gardner (1840–1924), who helped design the museum, personally overseeing how the collection was hung. At the center of the four-story palace is a mesmerizing courtyard filled with flowers year-round.
The museum's distinguished collection comprises more than 2,500 paintings, sculptures, tapestries, manuscripts, rare books, and decorative arts, all reflecting the taste of Gardner and her husband, Jack. Among them are works by Titian, Rembrandt, Michelangelo, Raphael, Botticelli, Manet, Degas, Whistler, and Sargent. The museum also hosts a highly regarded weekend concert series, along with digital programs exploring music at the Gardner.
The museum made international headlines in 1990 when a pair of thieves masquerading as Boston police officers entered the building and stole 13 works of art, among them priceless works by Vermeer and Rembrandt. The thieves have never been caught and no pieces ever recovered, making it one of the world's most notorious art heists.
In 2012, the museum opened a new $114 million, 70,000-square-foot glass-and-copper addition connected to the Venetian palace. It features a gallery for contemporary art, a visitor center, a state-of-the-art performance hall, a café, a gift shop, and a greenhouse.
Admission is free for BU students, faculty, and staff with a valid ID. Advance tickets are required, and all visitors and staff must wear face coverings.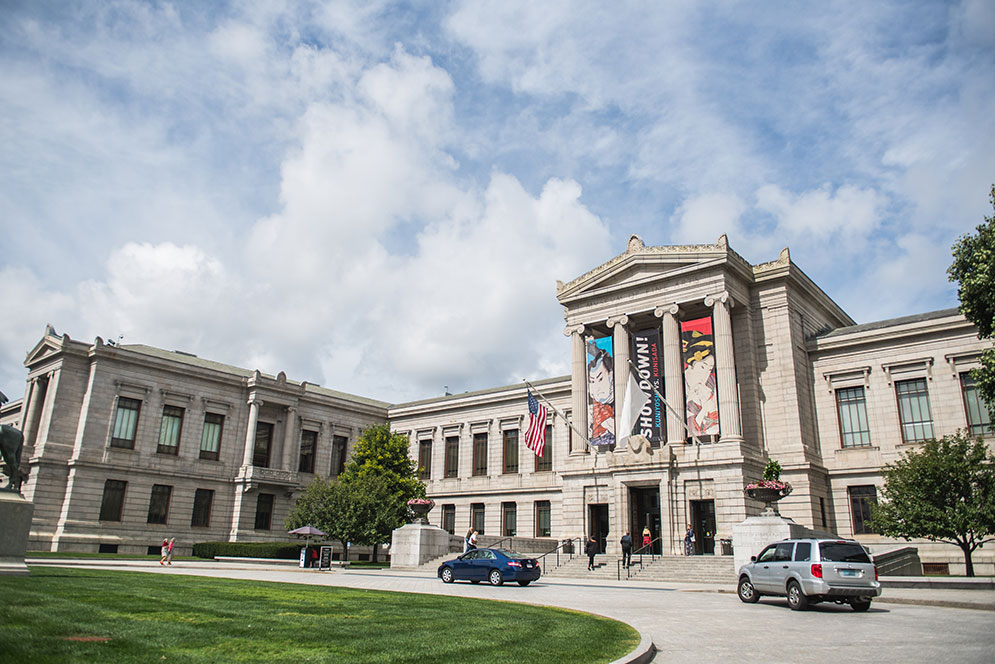 With a collection of nearly half a million objects, the Museum of Fine Arts is one of the nation's largest art institutions. It is also one of the most popular, with more than a million visitors a year. Famed for its French Impressionist and Post-Impressionist collection—with works by Manet, Degas, Renoir, Van Gogh, Monet, and Gauguin, among others—the MFA also holds an extraordinary collection of Chinese art, Egyptian artifacts, and the largest collection of Japanese art outside of Japan, which includes the iconic woodblock print, Fine Wind, Clear Weather, by Katsushika Hokusai, and more than 1,000 photographs of Japanese life in the 19th and 20th centuries.
The Art of the Americas wing opened in 2010, adding 53 galleries and enough exhibition space to display over 5,000 American objects, more than double the previous number. It houses the MFA's extensive American art collection, with numerous works by John Singleton Copley, Gilbert Stuart, John Singer Sargent, and American Impressionists Childe Hassam and John Twachtman.
MFA admission is free for BU students, faculty, and staff with valid IDs. Reserving tickets in advance is strongly recommended and special ticketed exhibitions require a timed-entry ticket. All visitors and staff are required to wear face masks inside and outside the building.
An oasis of green, the Emerald Necklace is a series of nine parks covering 1,100 acres, created in the late 19th century by one of the nation's foremost landscape architects, Frederick Law Olmsted, who was also responsible for New York City's Central Park. Olmsted designed the parks—which are linked by parkways and waterways—to provide a respite from urban living for people of all classes.
The Necklace begins at the Boston Common, winds through the Back Bay Fens (a former saltwater marsh in the Fenway), and ends at 485-acre Franklin Park, the city's largest park. The Emerald Necklace has numerous walking trails and bike paths and various events throughout the year. More information and maps are available here.
Getting There
To Kenmore: Take any MBTA Green Line trolley to the Kenmore Square stop or walk down Comm Ave. To the Fenway: Take an MBTA Green Line D trolley to the Fenway stop. To Fenway Park: Walk down Brookline Avenue from Kenmore Square; the park is on your left. To the Museum of Fine Arts and the Isabella Stewart Gardner Museum: Take an MBTA Green Line E trolley to the MFA stop or the MBTA 39 bus from Copley Square to the Museum stop.
This Series
Also in
November 18, 2021

March 4, 2020

February 26, 2020