A New Cornwall's? (Don't Worry, It's Really Close to the Old One)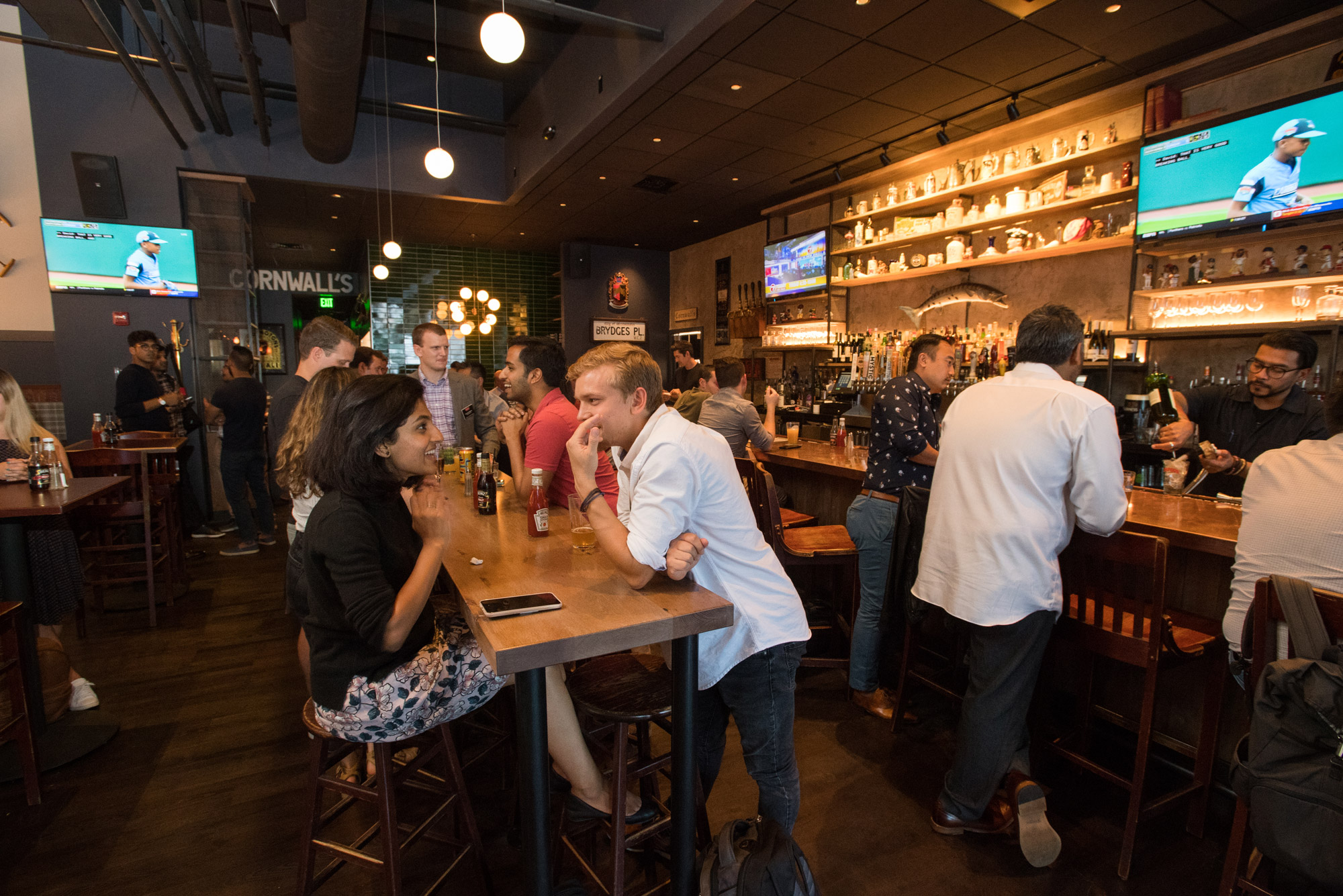 Food & Dining
A New Cornwall's? (Don't Worry, It's Really Close to the Old One) 
Popular pub moves to its fourth home in Kenmore Square
Fans of Kenmore Square institution Cornwall's have had to move a little to the right lately. Not politically—just a couple of doors down Beacon Street.

Last month, the popular pub in the shadow of the Citgo sign moved its taps and all its memorabilia from its longtime home at 654 Beacon to a renovated former bagel shop at 644 Beacon. The first pint at the new spot was poured on August 15.

"We opened the doors here and stuck a sign on the old place with an arrow pointing this way, and the room filled up," says Pam Beale, whose husband, John, founded the venerable establishment in 1973.

Cornwall's had to move to make way for a massive demolition and construction project involving several buildings on the north side of the square that were sold by BU to developer Related Beal in 2016.

Among the many BU staff, faculty, and students who have frequented Cornwall's over the years is Gary Nicksa, senior vice president, operations, who stops in for a burger and a beer a couple of times each summer. "Pam and John Beale have not only been an anchor in terms of the business community for Kenmore Square, but an anchor for the community, period," Nicksa says. "It's them personally, and their wanting to see Kenmore Square become more of a destination and a vibrant place."

"Cornwall's has for many years been a community gathering place for happy and graceful conversation," says another fan, Marsh Chapel Dean Robert Allan Hill, University chaplain and a School of Theology professor of New Testament and pastoral theology. "John and Pam Beale are, among many other things, caring and careful with students, grad students, and others who are part of their clientele. They also take good care of the neighborhood.

"It's an institution of some meaning and depth and empowerment, community, and belonging, and for that I am personally and genuinely very grateful," Hill says.

Related Beal, Cornwall's landlord for the past three years at its previous location and owner of the building the pub is now in, wanted to help the venerable pub remain in the neighborhood. "Related Beal was very receptive," Pam Beale says, to their desire to keep Cornwall's in Kenmore Square, "and worked with us to make it happen."

"We're thrilled that Cornwall's has opened its new doors," says Kimberly Sherman Stamler, president of Related Beal. "With its history in the neighborhood, Cornwall's is a wonderful anchor tenant, and we look forward to surrounding it with new companies and distinguished retailers, creating more jobs and enhancing the overall Kenmore Square experience for residents, neighbors, and visitors."

The name thing—Beale and Beal—is a complete coincidence. The development company name has no "e" at the end, and there's no relation as far as anyone knows. "When someone asks who owns the building, I say, 'Unrelated Beal,'" Pam Beale says with a laugh.

She says Related Beal's plans for offices and stores will continue the improvement of the once-downtrodden Kenmore Square, whose revitalization she attributes to the University. "If BU hadn't stepped in and stabilized the square" beginning in the 1980s, "there would have been no opportunity for anyone," she says. "We believe in progress."

Nicksa notes that Pam Beale chairs the Boston Planning and Development Agency Task Force for the BU Charles River Campus Institutional Master Plan and has been a member since it started in 1986. "That kind of civic engagement makes her a person that people go to for help in understanding how to get things done. She's been instrumental in helping the University and other organizations in developing their ideas for the square and surrounding neighborhoods."

The doors at the old Cornwall's closed on August 13 at 2 am, after "a wonderful closing party with lots of generations, lots of decades represented," Pam Beale says.

"It's bittersweet," John Beale says, "but every space has been good to us."

History has a way of accumulating on the pub's walls. The hardest part may have been moving all the plaques and bar mirrors, inscribed photos, trophy heads, and framed bar towels honoring venerable brews. "It's scary how much stuff there is," Pam Beale says.

While moving is a lot of work, it's nothing new for Cornwall's. This is the pub's fourth home in Kenmore Square since the doors first opened at 465 Commonwealth Ave. When that building went condo in 1983, Cornwall's moved to 510 Commonwealth, then to 654 Beacon when the Hotel Commonwealth became a reality in 2000.

John Beale was born in Boston, but his family is from Cornwall, a county in southwestern England, which is why he chose the Brtish pub theme for his eatery. There were plenty of Irish pubs in Boston, he says, but not many English ones. Cornwall's has become a little bit of a home away from home for Brits visiting Boston and for Americans who are fond of real ale and bangers and mash. There's a wide ale selection on tap, but the regulars tend to favor the Boddingtons, Newcastle, Old Speckled Hen, and Fuller's ESB and London Pride, among others.

Cornwall's has also attracted its share of celebrities over the years. Former Rhode Island congressman Patrick Kennedy had a book signing there, and the late NBC journalist Tim Russert and feminist icon Gloria Steinem have held down stools. Andrew Benintendi and the now-gone John Lackey are among the many Red Sox players who've stopped in over the years, Lackey on the very day of his highly publicized signing.

The Beales have added younger family members to the staff, with nephews Billy Moran behind the bar and J. R. Moran in the kitchen and niece Elizabeth Moran (MET'09,'11) doing a little bit of everything.

"This is about as close as you can get to the corner pub without being on the other side of the Atlantic Ocean," Nicksa says. "It's a place where, even if it's only once or twice a year, when you sit down, you're part of that pub family. You've got to stop and talk to John at the door, say hello to their nephews behind the bar and in the kitchen, and if Pam is there, you've got to stop and have a hug and a how-are-you-doin' with Pam."