Time Out Market Boston Opens in the Fenway—A Food Paradise Steps from South Campus
After much anticipation, Boston's newest food hall is here. Time Out Market Boston has come to Fenway's 401 Park building (formerly known as the Landmark Center), featuring 15 eateries from some of Boston's top restaurants and chefs. The food hall is the brainchild of Time Out, the global media group that produces cultural magazines for cities around the world. In 2014, the company launched the first Time Out Market food hall in Lisbon, Portugal, an idea dreamed up by João Cepeda, then Portugal's Time Out editorial director. The goal was to gather the best of that city's local food and culture under one roof. A second Time Out Market (in Miami) and a third (in New York City) opened in May. Boston is the fourth, with Chicago and Montreal next up, and London, Prague, and Dubai in the pipeline.

But right now, it's Boston's turn.

Time Out Market Boston opened June 26 in the historic Landmark Center, the Fenway art deco building built in 1929 as a Sears, Roebuck and Company warehouse and distribution center. Sears closed the warehouse in 1988, and the building was added to the National Register of Historic Places in 1991, but it sat vacant for years before reopening in 2000. The Time Out Market space was previously occupied by Best Buy, which closed in 2014. Since the announcement two years ago that Time Out Market would be moving in, Boston foodies have been anxious for its arrival.
---


"It's been an incredibly different experience opening up a concept within a concept versus opening your own restaurant."


---
It's been worth the wait. This is no ordinary mall food court. At Time Out Market Boston you'll find restaurant stalls by well-known Boston chefs like Michael Schlow of Tico, Peter Ungár (SHA'98) of Tasting Counter, and Tim and Nancy Cushman of O Ya and Hojoko. There are also two full-service bars, as well as a demonstration kitchen that will highlight a variety of local culinary stars.

Although there are 650 communal seats (both indoors and outdoors), food is served on porcelain ware, with real silverware, and you'll encounter some of the most attentive waitstaff you'll find anywhere—on a recent visit, our plates were cleared within a minute after we finished our food, and when one of us dropped a spoon, a staff member dashed over to pick it up.

Walking into a food market featuring 15 eateries spread over about 25,000 square feet can be a little daunting, so we've come up with a guide to some must-try dishes. And a word of advice: go with a friend who likes to share—that way you can sample even more items.

Are you in the mood for…

Seafood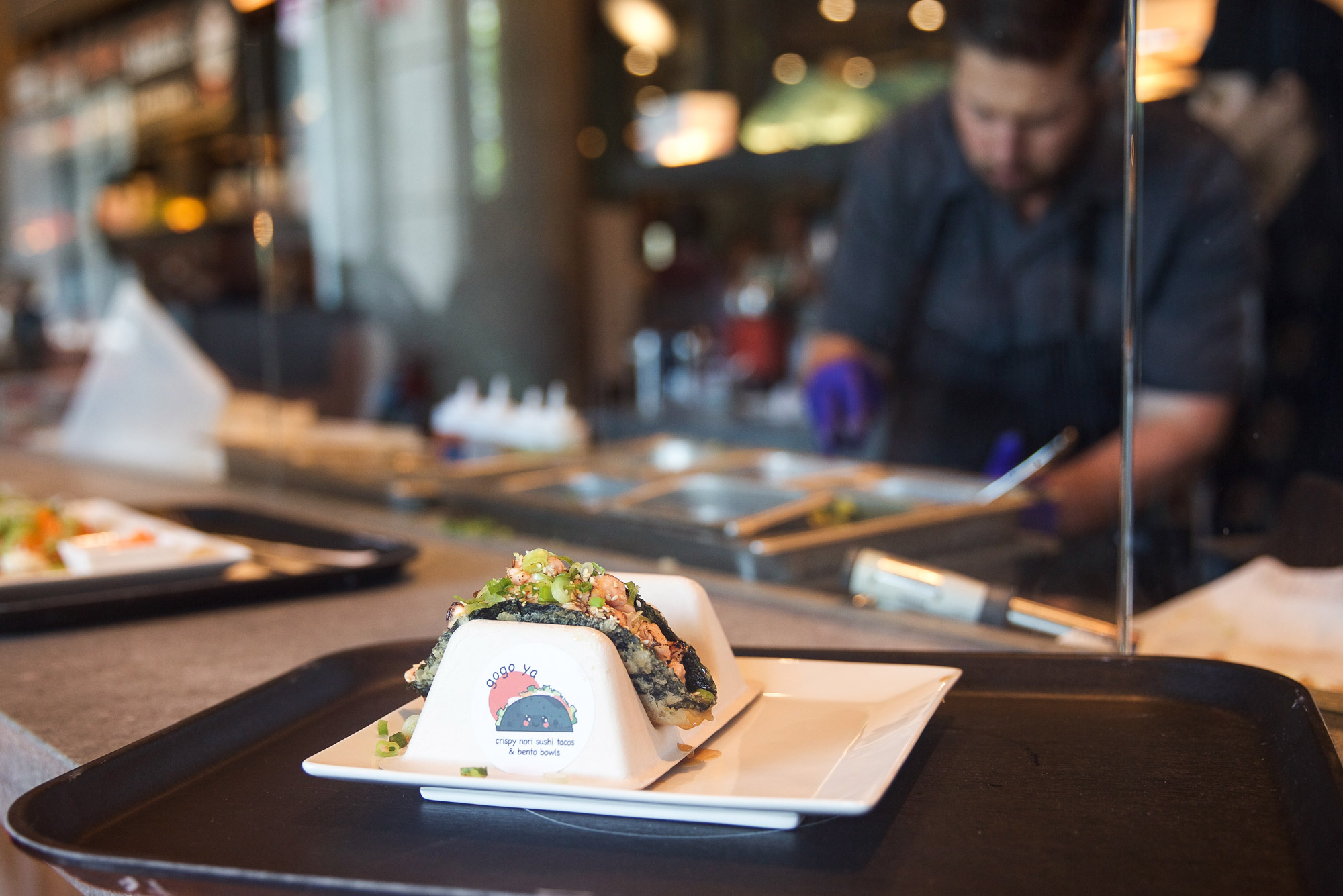 Crispy Nori Tacos
at Gogo Ya
This is Boston, after all, so it's no surprise that the new Time Out Market has a lot of tasty seafood dishes. The crispy nori tacos at this Tim and Nancy Cushman eatery feature a delectably crispy tempura-battered nori shell filled with your choice of spicy torched hamachi, smoked soy salmon, torched salmon teriyaki, spicy tuna, and grilled Maine lobster. There's also a non-fish option: crispy mushroom tempura.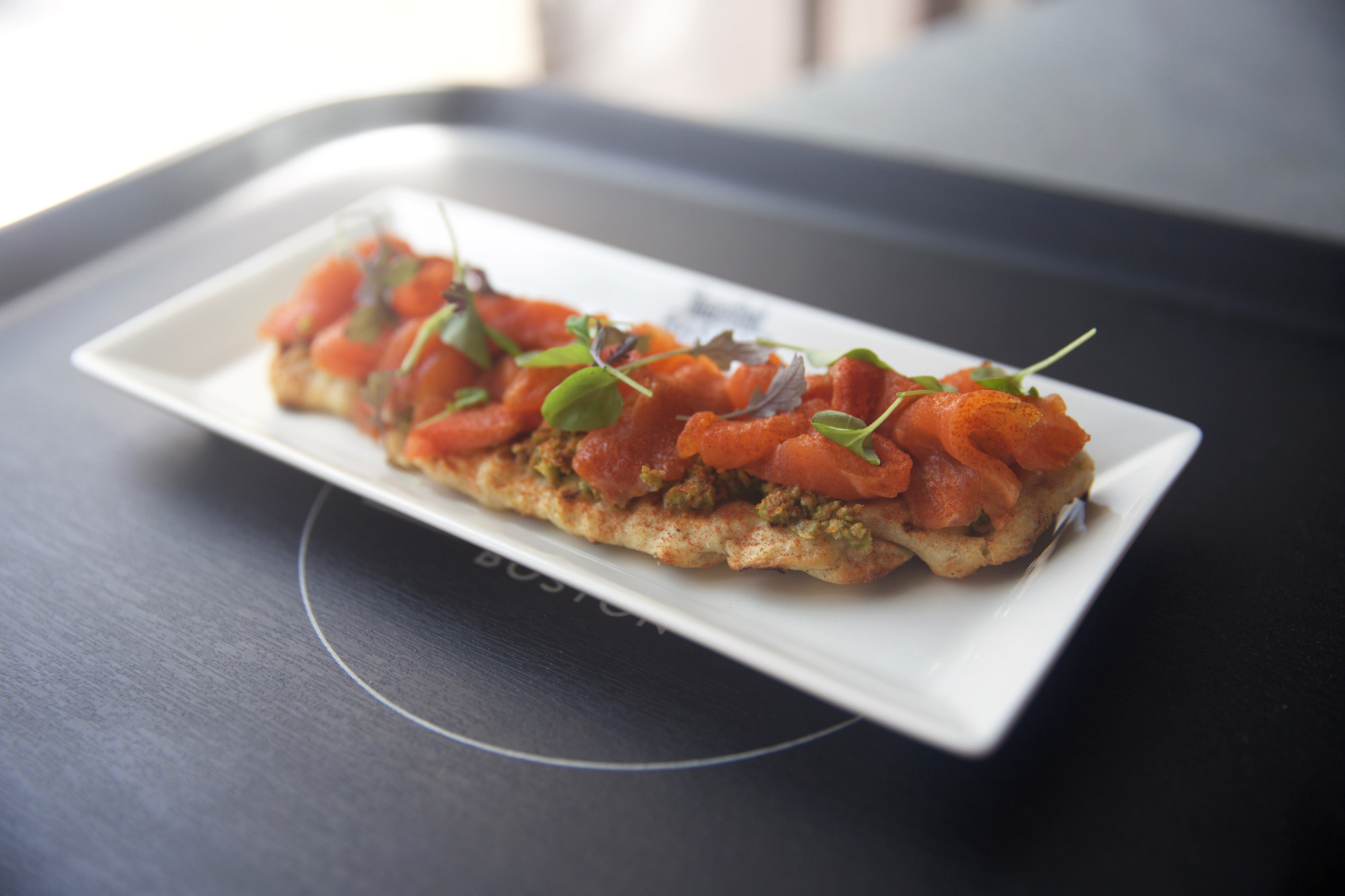 Grapefruit-Cured Ocean Trout
at Tasting Counter
Peter Ungár (SHA'98) has transported a taste of his 20-seat fine dining tasting menu at Somerville's Tasting Counter to the one in the Landmark Center. The menu here is à la carte and reflects the same commitment to using fresh local ingredients that's made his first restaurant famous. "It's been an incredibly different experience opening up a concept within a concept versus opening your own restaurant," Ungár says. "We're just really excited to get in there and begin cooking and serving guests." Try the grapefruit-cured ocean trout, served on a house-made sourdough flatbread with olive tapenade and smoked paprika— an exciting interplay of salty, sour, and smoky flavors.
Meat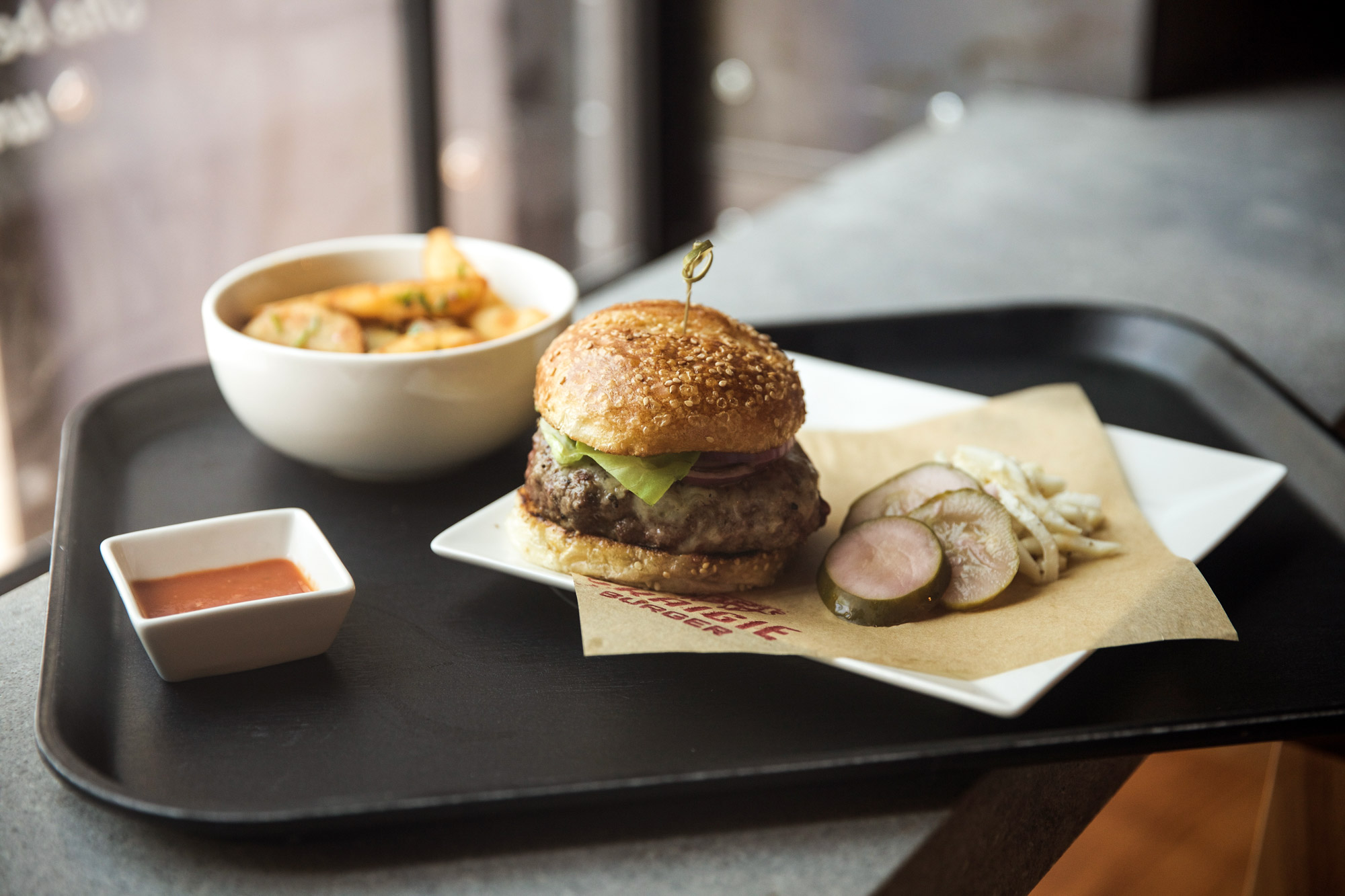 The Craigie OG
at Craigie Burger
The burger at Tony Maws' venerable Craigie on Main in Cambridge has become a Boston icon of sorts, thanks in part to the limited number available—only 18 per night. Every aspect of the burger is made in-house from carefully selected ingredients, including the bun.
Maws has brought the sensibility of this burger to his Time Out Market eatery, Craigie Burger. The Craigie OG, made from high-quality beef from Northeast Family Farms, topped with sharp cheddar and homemade ketchup, is based on the one served at the original, but because of the new eatery's larger volume, the bun is from local Iggy's Bread. This burger is sure to gain a cult following, too.
Mezzi Rigatoni with Spicy Fennel Sausage Ragu and Grated Parm
at Michael Schlow's
Chef Michael Schlow brings his expertise in Italian cuisine (he runs the popular pasta house Alta Strada, with locations in Wellesley, Mass., Connecticut's Foxwoods Casino, Washington, D.C., and Fairfax, Va.) to Time Out Market Boston with Michael Schlow's. It serves a variety of appetizers and entrées, from a baby artichoke salad to a well-executed spaghetti cacio e pepe.
But one of the undisputed menu stars is the rigatoni with spicy fennel sausage ragu, topped with grated parmesan. It's a true comfort dish, with perfectly al dente pasta and a rich, meaty sauce. Schlow has another stall at the market, Monti Roman Pizzeria, serving thin-crust Roman-style pizza.
Vegetarian

Fattoush Salad and Grilled Halloumi Cheese Bowl
at Anoush'ella
The Armenian-Lebanese fast-casual restaurant Anoush'ella, with locations in the South End and Lynnfield, Mass., brings a curated menu of its hits to Time Out Market Boston. You can get wraps and bowls filled or topped with your choice of braised beef, za'atar chicken, kofta, or falafel. We recommend the fresh fattoush salad, topped with grilled halloumi cheese and brightened by the addition of herbs and a pomegranate vinaigrette.
Something sweet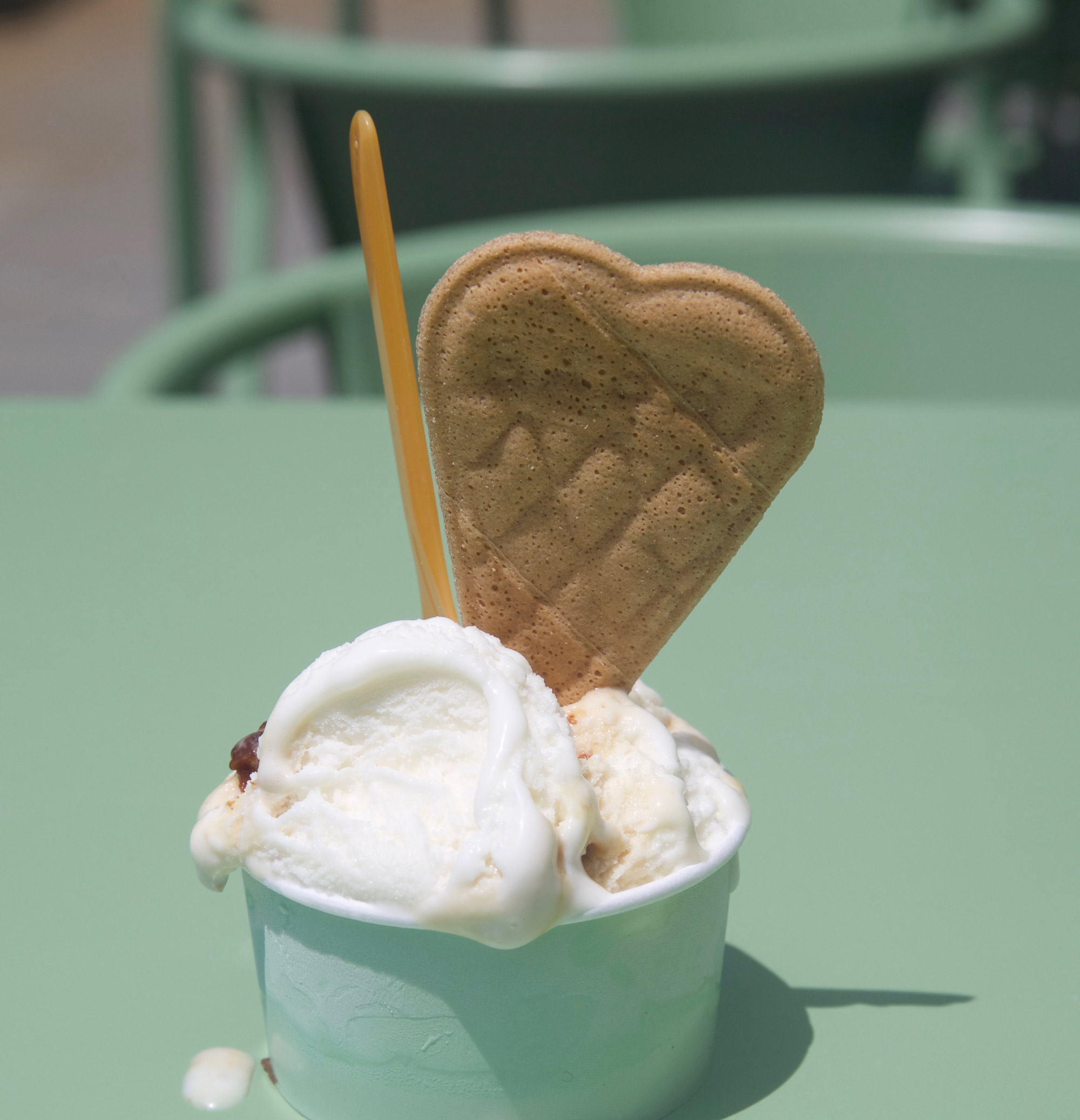 Ricotta and Fig Gelato
at Gelato & Chill
This Hingham, Mass., establishment has opened its first outpost in the Time Out Market, bringing its creamy, artisanal gelato, made from award-winning Italian recipes, from the South Shore to Boston. With a focus on seasonal ingredients, the flavor selections are constantly rotating. You really can't go wrong with any of them—there are even some knockout nondairy sorbettos, like the plum and the pineapple with rosemary. The ultimate indulgent pick is the ricotta with fig, featuring big chunks of fruit that play beautifully off the creamy ice cream.
Time Out Market Boston, 401 Park Drive, is open Monday to Friday, 7:30 am to 10 pm; Saturday, 9 am to midnight; and Sunday, 9 am to 10 pm. Some vendors, including Union Square Donuts, George Howell Coffee, Revolution Health, and Mamaleh's, serve breakfast from 7:30 am (9 am Saturday and Sunday), but all others open at 11 am. Find a complete list of vendors here .