Get Your Licks In: National Ice Cream Cone Day Is Sunday
Food
Get Your Licks In: National Ice Cream Cone Day Is Sunday
Check out our list of the best local ice cream shops
Americans love ice cream. There is nothing more quintessentially American than the ice cream cone. Born at the 1904 St. Louis World's Fair (the story goes that when an ice cream vendor at the fair ran out of dishes, a Syrian waffle maker came to the rescue, rolling out his pastries into horns that would hold the ice cream), ice cream cones became an immediate sensation.

This Sunday, the country will be enjoying its favorite frozen concoction from coast to coast during National Ice Cream Cone Day. To help with the decision of which spot to choose, we've put together a list of our picks for where to find the best ice cream cones in Boston.
As one of the city's most iconic and longest serving ice cream spots, Emack & Bolio's deserves to be on any list of Boston's best ice cream cone shops. When the chain started in Coolidge Corner back in 1975, it was a place for musicians to grab some late-night munchies (the Cars, Aerosmith, and U2 were all early customers), and today it has several locations in and around Boston and on the Cape. On the menu's rotating list of more than 100 flavors are Bananas Foster, Mud Pie (coffee ice cream with chocolate chips and Oreos), and Chunk-O-Funk (caramel ice cream, Oreos, and chocolate-covered pretzels). You'll also find sorbets such as raspberry and Alphonso mango. And the cones can't be beat. Emack & Bolio's invented the flavored cone in 1980: choose from Rice Krispies, Oreos, Fruity Pebbles, and Fruit Loops, to name a few. You can also order a cone dipped in chocolate and covered in rainbow or chocolate jimmies or a chocolate-dipped waffle cone rolled in shaved coconut. Yum!

Take any MBTA Green Line trolley to Hynes Convention Center and walk two blocks down Newbury Street.

311 Harvard St., Coolidge Corner, Brookline 
Another staple of Boston's ice cream scene is J.P. Licks. This popular chain has dozens of unique regular flavors, like Salted Caramel, Cookies N' Cream, and Cappuccino Crunch. There are also featured seasonal flavors: among current ones are Squirrel Nut Zipple (a caramel ripple studded with roasted salted peanuts), Apple Cinnamon, Butter Almond, and the new Sea Salted Pineapple, tied to the arrival of The Spongebob Musical, running at the Bosch Center from October 15 to 27. You have to taste it to believe it. J.P. Licks offers sugar cones, cake cones, waffle cones, and waffle cones dipped in chocolate (jimmies optional).

Take an MBTA Green Line C trolley to Coolidge Corner.
Within walking distance of campus, Gelato & Chill is one of 15 notable eateries in the recently opened Time Out Market in the Fenway. It makes artisanal small batch handmade gelato, with vegan-friendly and dairy-free options, and sources the freshest ingredients from around the world: the matcha powder for the Matcha Green Tea gelato comes from Japan, the fresh butter for the Brittany Cream from Vermont, and the Marsala wine for the Zabaione gelato is made in Sicily. Customers pick a cookie or a cone to garnish their gelato cup. You won't go wrong with either.

Take any MBTA Green Line trolley to Kenmore.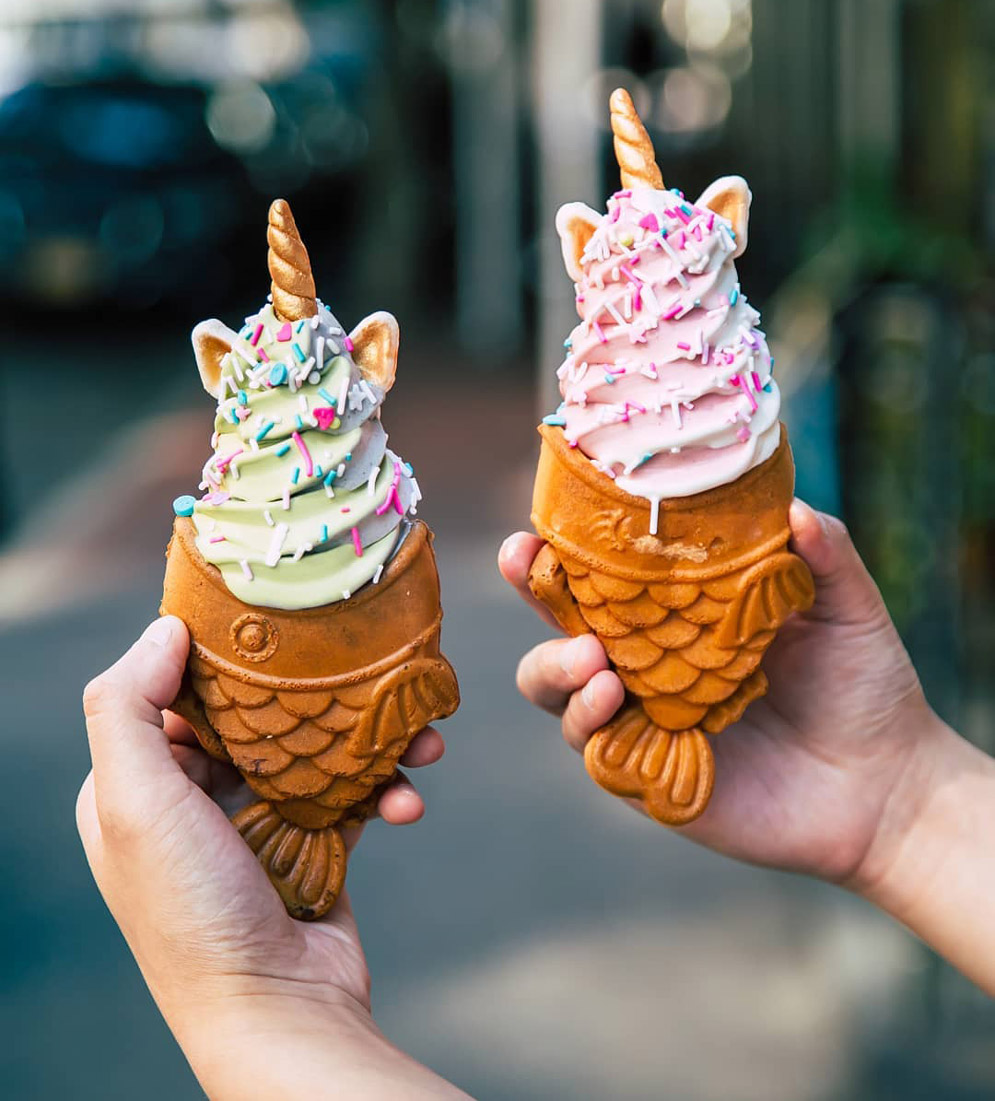 119 Seaport Blvd., Suite B, Boston
One of the most recent ice cream stores to arrive in Boston (it opened in April) Taikyaki NYC is also among the most unusual. Taiyaki, a Japanese fish-shaped delicacy made from pancake batter, is a symbol of prosperity and happiness, often served at weddings and other celebrations. The store serves up its ice cream in fish-shaped cones filled with either red bean paste or custard. Ice cream selections include vanilla, chocolate, and several Asian-inspired flavors, the most popular being matcha (green tea). You can choose to decorate your cone with toppings like mini mochi (rice cakes), a wafer stick, or crushed Oreos. If you want to celebrate National Ice Cream Cone Day with an Instagram-worthy concoction, Taiyaki is a must.
Take any MBTA Green Line trolley to Park Street, a Red Line train to South Station, and the Silver Line to Courthouse Station.

This ice cream store has been an institution since it opened its doors in 1981. All the ice cream is handmade on the premises. Toscanini's is best known for its B3, short for brown sugar, brown butter, and brownies. It makes for a delicious cone. The menu changes often, but among recent flavors are Nutella Fluff, Hojicha (roasted green tea), and Gingersnap Molasses. There's even a flavor called Morir Sonando, which means "to die dreaming" (it tastes like a creamsicle). You can choose a sugar cone or a cake cone (more like a waffle cone). Top it all off with a dollop of Toscanini's homemade whipped cream.
Take any MBTA Green Line trolley to Park Street, then a Red Line train to Kendall.