Three Perfect Cape Cod Day Trips
Your guide to all things beaches, bikes, and boats
Find tips on getting to Cape Cod without a car here.
You haven't experienced what makes Boston special, truly special, until you've fled the city on a beautiful spring or summer morning to experience Cape Cod. Because one of the best things Boston has to offer is its proximity—by car, bus, boat, or train—to one of the world's most treasured beach destinations. But in order to enjoy the Cape, its 559.6 miles of coastline, and all of its beauty and charm, you need an expert tour guide. Diane Bair lives on the Cape and writes about food, travel, and outdoor recreation, and she has been writing travel stories with Pamela Wright for more than a decade.
They've outlined three ideal day trips, each one distinct, to experience the Cape, especially for people on a budget or without a car.
Hello, flawless beach day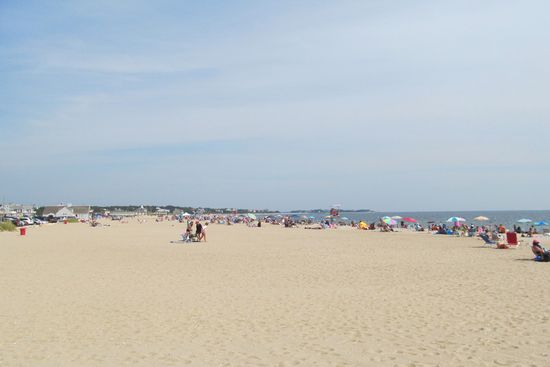 You want—scratch that, you need—the beach. As in: Right. Now. The easiest way to make that happen is to head to South Station and hop on the CapeFLYER, the summer-only rail service that runs between Boston and Hyannis on weekends starting May 24. The vacation vibe begins on the (WiFi-enabled) train—it's stocked with snacks, soda, wine, and Cape Cod Beer. (You: Enjoying a cold beverage as you futz with your phone. Them: Stressed out about the endless traffic on the Sagamore Bridge.) #Winningatlife, no?
Need more flexibility than the CapeFLYER offers? Take the bus (see sidebar) from Boston. The fare is nearly the same as the train (but the bus is, of course, traveling on congested Route 3, not a rail line.) Either way, you'll arrive at the Hyannis Transportation Center in downtown Hyannis, the mid-Cape commercial hub.
Bustling with tourists of all stripes, this lively seaside town has everything you need for an awesome beach day. Grab a fresh-pressed green potion or otherwise healthful snack at the Local Juice, 539 South St., or obey the candy-crazed kid in your head and hit the Kandy Korner, 474 Main St.
All the craveable categories are covered—there's fresh popcorn, house-made fudge and ice cream, and vintage candy galore. Anything else you need—say, a Cape Cod sweatshirt, sunscreen, or a photo of you and JFK's statue—you can find on Main Street.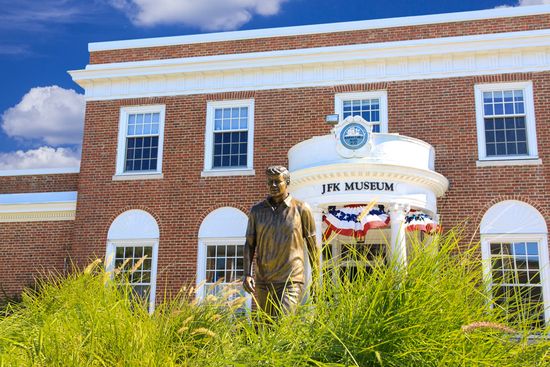 Which way to the beach? There are a couple of beaches in Hyannis, but for an ideal beach day, it's hard to top Craigville—"for the young and lovely," as described in the Cape Cod Chamber of Commerce travel guide. In Centerville, about five miles west of Hyannis, Craigville Beach is reachable via the CCRTA bus, a 14-minute ride, $2; or Uber. Set on Nantucket Sound, this long, wide stretch of sand has changing rooms, outdoor showers, and a few coveted, 20-foot shade canopies (aka umbrellas). Plus, you can nip across the street for super-casual beach eats (pizza, fried clams) at the Barnacle or Barnacle Too.
Ahh! This is what you came for. Stretched out on a beach towel, you'll feel the heat of the sand soothing your tech-hunched shoulders as you listen to the thrum of the waves on the Atlantic, the squeal of seagulls, and the buzz of beachgoers having a good time.
Feeling antsy? On this beach, you can walk for miles.
Ready to pack it in? Shower off, put on that slightly-gritty-but-clean shirt or sundress, and head back to Hyannis. If you've got some time till departure, make the most of it. Wander around Hyannis Harbor, maybe pop into the colorful HyArts artists' shacks on the waterfront. And wouldn't some fresh oysters and a Cape Codder hit the spot right now? Try the Shack Out Back Raw Bar, tucked behind the Black Cat Tavern.
Later, back in the city, you'll kick off your shoes and notice there are a few grains of Craigville Beach still clinging to your toes. Consider it a souvenir.
Find more information here.
Eat, drink, and be merry in P-town
If you heed only one recommendation of ours, here it is: just once, you must walk the streets of Provincetown on a summer day. There really is nothing else like it.
Vibrant and quirky P-town, tucked lands-end at the very tip of Cape Cod's curve, has always been a haven for striving, thriving artists and coming-out gays. Today, everyone comes to this popular, beachy outpost, where you're as likely to see families with swimming tubes and chairs heading to the beach as a drag queen in tighty-whities pedaling down the street.
It's the scenery—windswept sand dunes and more than 30 miles of beaches along the Cape Cod National Seashore—but also the arts and entertainment, and the anything-goes, we-don't-judge vibe that attracts fun-loving hordes.
Hop off the ferry at MacMillan Wharf and walk directly to the Post Office Café for a hair-of-the-dog Bloody Mary or a cranberry morning margarita. Resist the food here; instead, grab a fresh malasada at the tiny Provincetown Portuguese Bakery to eat while you browse the shops and galleries and people-watch along Commercial Street, P-town's main drag.
Mosey over to the Pilgrim Monument and Provincetown Museum—you can't miss the tall stone landmark commemorating the Mayflower Pilgrims' first landing in the New World, five weeks before they sailed on to Plymouth. Consider splurging for a ticket ($14) to visit the museum and learn about the history of Provincetown and to climb to the top of the 252-foot tower, with its spectacular 360-degree views.
Nearly everyone does a scramble over the rocky breakwater on the West End, "a rite of passage" townies say. The uneven stretch of giant boulders juts out into the harbor for more than a mile. The scenery is gorgeous, and you can go for a swim when you reach the end at Long Point. Don't feel like walking back? Catch the water shuttle from Long Point to MacMillan Wharf, $10 cash, one way.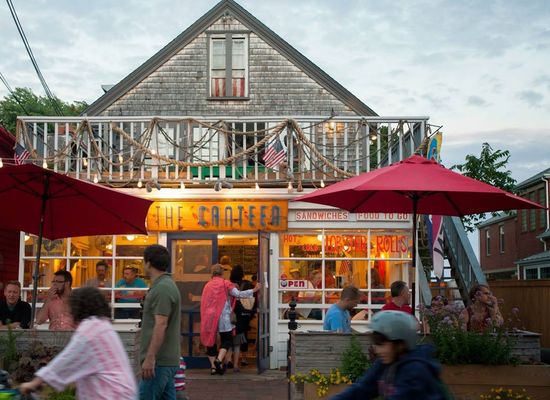 When it's time for lunch, try the casual, buzzing Canteen, housed in an historic 200-year-old building. Grab a seat in the backyard, with Cape Cod Bay views, and enjoy sandwiches, like the locally farmed oyster roll or the crispy cod brioche. Other lunch options include the neon-lit, long-standing Lobster Pot for award-winning clam chowder and lobster egg rolls , the friendly Box Lunch, with arguably the best lobster roll in town, and Far Land Provisions, with made-to-order deli sandwiches.
Time to head to the beach. Herring Cove is the closest and most popular, and it's accessible by shuttle bus. The rock-strewn shoreline is interrupted with swaths of sand, and the water is relatively calm and warm. It's unofficially divided into sections: families gather closest to the parking lot; walk farther away and you'll find more peace and quiet (and nude bodies). Official disclaimer: nudity is prohibited. If someone does bathe in the nude, it is at their own risk, and they chance a citation from a park ranger. Still…
Race Point, also accessible by shuttle bus, has a wide expanse of sandy beach, flanked by dunes. It's prettier than Herring Cove, but the water is rougher. Take a look at the Old Harbor Life Saving Station here, open daily from 2 pm to 4 pm.
Feeling more adventurous and active? Rent bikes as soon as you land in P-town. Bike around town and then out to the Province Lands paved bike trail, a 7.5-mile loop that will take you along the seashore, with access to both Herring Cove and Race Point beaches. Provincetown Bike Rentals has a convenient in-town location and a wide selection of bikes, $16 for two to four hours, $20 a day. Do not forget a helmet—the bike paths can get sandy and mishaps happen.
Before boarding the high-speed ferry back to Boston, stop at Lewis Brothers Homemade Ice Cream for a creamy scoop or two. There are tons of flavors, including adult choices, like limoncello and kahlua.
Find more information here.
Bike the Shining Sea
The Shining Sea Bikeway is considered one of the top rail trails in the country. The 10.7-mile path runs north and south between Woods Hole and North Falmouth, with lots of water, woods, and salt marsh views. The easy-breezy paved trail is super popular, drawing all ages and abilities of bikers, walkers, and roller-bladers. And dogs. There are picnic spots, restrooms, businesses, beaches, bridges, interpretive signs, and overlooks along the way, and it's the only bike path on Cape Cod that runs along the seashore.
Here are some highlights traveling northbound from Woods Hole.
1. Woods Hole
Before hitting the trail, stop at the friendly Pie in the Sky Bakery for an egg and linguica popover breakfast sandwich or one of the addictive homemade filled croissants. Organic coffees, roasted on site, can provide a little caffeine boost before your pedal. Watch for cars as you bike through the trailhead parking area and head into the woods.
2. Surf Drive Beach
About two miles in, you're out of the woods, with in-your-face water views. Vineyard Sound is on one side of the trail, with a look at Martha's Vineyard in the distance; on the other side are wide expanses of salt marshes and oyster ponds. Dip your toes (or take a plunge) at Surf Drive Beach, where there are showers, changing facilities and a snack bar. If you're looking for a Cape Cod souvenir, this is a great beach for shell hunting.
Nearby along the trail is the stone Memorial to Katharine Lee Bates, a Falmouth native who wrote the words to "America the Beautiful." Stand next to it and belt out a few verses for your Cape Cod YouTube posting.
3. Falmouth Village
You'll pass Oyster Pond and Salt Pond, pretty conservation lands crisscrossed with nature trails. If you have time, consider taking one of the access roads into Salt Pond. Drop and lock your bikes to walk the up-and-back Swan Trail skirting the water. Get back on your bikes and pedal less than a mile to Depot Street, leading uphill into Falmouth Village. Main Street has a cluster of shops and restaurants, including Ghelfi's, with handmade chocolates and ice cream. Grab a cold Smithwick's draft at the family-owned Liam Maguire's Irish Pub, a long-standing local fave.
4. Marshlands and bird sanctuaries
Pedal a mile or so to reach the glacial moraine separating Buzzards Bay and Vineyard Sound. Next up: Little Sippewissett Marsh, and about a mile later, Great Sippewissett Marsh, with 140 acres of protected habitat. Watch for egrets and great blue herons, which come to feed in the nutrient-rich tidal rivers and marshlands.
5. Cranberry bogs—forever
About two miles from the North Falmouth terminus, you'll pass through a picturesque, privately owned cranberry bog. They've been harvesting cranberries here for more than 100 years. It's an easy coast to the end of the trail from here.
Bike rentals: Art's Bike Shop  is within walking distance (2/10ths of a mile) of the trail in North Falmouth, $25 a day. Bike Zone, also in North Falmouth, has hourly and day rentals, with a variety of styles, starting at $25 a day. Corner Cycles in Falmouth gets great reviews and is a good choice if you want to do only a section of the trail, starting at $19 for a half day. The trail from Falmouth to Woods Hole is 3.6 miles; from Falmouth to North Falmouth is 7.1 miles.
Getting to Cape Cod
No car? No problem. In fact, driving to the Cape, especially during the jam-packed warm weather days, is highly not recommended. Instead, there are trains and buses and ferries to get you where you want to be. Both regular and high-speed passenger ferries run from Boston to Provincetown. The Bay State Cruise Company, accessible via the MBTA Silver Line, offers several departures daily from May 16 to October 14 aboard its 90-minute Fast Ferry. Adult round-trip rates start at $90. Boston Harbor Cruises, departing from Long Wharf, also offers 90-minute catamaran rides to and from Provincetown, with daily departures from May 16 to October 14, $93 round-trip.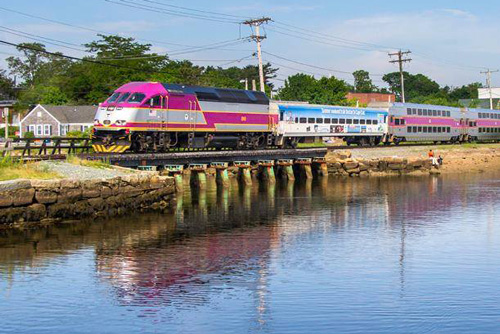 Buses are available from Boston to several Cape Cod towns, where you can connect with in-town buses, shuttles, and seasonal trolleys. Plymouth & Brockton Street Railway Company offers service from Logan Airport and South Station to Sagamore, Barnstable, and Hyannis. The South Station to Hyannis round-trip ticket costs $38. P&B also offers daily service between Hyannis and Provincetown ($20 round-trip), with stops in Harwich, Orleans, Eastham, North Eastham, South Wellfleet, Wellfleet, Truro, and North Truro. Peter Pan Bus Lines has similar service from South Station and Logan to Hyannis ($38 to $48 round-trip) and Woods Hole ($62 to $70 round-trip), with stops in Bourne, Buzzards Bay, Barnstable, Falmouth, North Eastham, Sagamore, and Orleans.
The CapeFLYER train offers weekend service from Memorial Day through Labor Day from South Station to Hyannis. It takes about 2 hours and 20 minutes and costs $35 round-trip; no reservations needed.
Diane Bair and Pamela Wright are freelance writers. Send emails to today@bu.edu.