Have You Held a Human Heart? An Afternoon Inside BU's Cadaver Lab
Life Sciences
Have You Held a Human Heart? An Afternoon Inside BU's Cadaver Lab
Advanced Anatomy class exposes the mysteries of the human body and exposes students to an unforgettable experience
In a windowless room in the basement of Sargent College of Health & Rehabilitation Sciences, the day has finally arrived. It's the Big Dissection.
Two cadavers lie on gurneys in the back of the room under sharp fluorescent lights. Over the course of the semester so far, the graduate students have dissected their musculature, but on this Sunday afternoon, while most of New England is watching the Patriots game, these students are ready—eager, even—to open a dead body and dissect several major organs, including a human heart.
The German hip-hop song "Von Party zu Party" plays in the background.
"Dissection is often a physically demanding job, and it helps to have background music that's upbeat," says anatomist Daniel Kirsch (MED'24), an MD-PhD student. It's "not unlike what you would listen to at the gym or on a run." (See Kirsch's dissection playlist below.)
To a nonmedical outsider, the scene may seem macabre, but this is HS 745: Advanced Regional Anatomy, where instead of running from death, students explore it relentlessly to better understand the human form. As graduate students, they've already watched instructors prosect cadavers in a lab, and now it's their turn and the opportunity is thrilling. Not only are the cadavers expensive ($5,000 apiece) and in limited supply (donations are flat nationwide), once they are dissected, they cannot be reused (they're cremated).
In an added twist, Elizabeth Co, a Sargent College clinical assistant professor and Human Physiology program director, has revamped the class and is asking students to determine their cadaver's cause of death—CSI-style.
Fresh-faced from cycling to the lab in the rain, Co is eager to get everyone started. Kirsch hands a pair of three-foot garden shears to Eric Abkin (Sargent'19,'23), a master's student in physiology, so he can cut through the female cadaver's rib cage.
What follows is not for the squeamish. That's OK—even some medical and anatomy students faint or suffer bouts of sleeplessness after their first cadaver experience.
"The first moment I held a heart was the defining moment of my career," Co says, her eyes glimmering. "I knew I wanted to talk about bodies forever."
---
The bodies the students will work on this day are a female and male who died about a year ago: she a slight 83-year-old with long gray hair that's been shaved away, he's in his 70s and six-feet-plus. Their faces are visible (although their eyes have already been donated). Other than this, students know little.
Kirsch is a sort of master of ceremonies. He also works in the lab at night, parceling out cadaver parts to be dissected in BU's various anatomy and medical programs.
To an outsider, the female cadaver's insides look like a tangle of tan and gray sinew, but Kirsch leads the students as they cut it away to reveal the body's innermost workings. They do so with workmanlike efficiency, inspecting every inch closely, until suddenly the heart is exposed.
Physiology PhD student Jesse Moreira (Sargent'24), who has taught gross anatomy to undergrads, cuts carefully to remove the organ, which is wan and heavy with preservative. With Co, they inspect every inch, prodding an unexplained "mushroom-like" growth in one of the valves. With their fingertips, they feel an artery that should be the texture of al dente macaroni, but instead is surprisingly soft.
"Fascinating," Moreira says, entranced.

To a layperson who wants to breathlessly shout, "Holy cow! You're holding a human heart in your hand," Moreira's reaction seems wildly understated. It also feels wrong to see a person's inner workings laid bare, but like a rubbernecking motorist passing by an accident, it's impossible to turn away.

Co prods her students to describe what they see, helping them think about the interconnectedness of the various organs as they look for a diagnosis. The work continues for hours. Medical terminology flies. A lung with mysterious brown blood clots is removed. So is a kidney. Out comes the woman's shrunken and empty stomach; a bruise on her arm suggests an IV and raises the possibility that she had been in hospice care.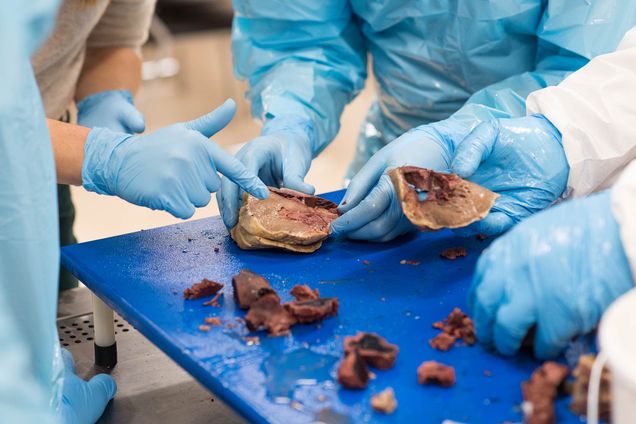 Co finally calls for a break. Hunger is a surprising side effect of the formaldehyde smell that saturates the lab, at least for her. In her upstairs office overlooking the Charles River, she devours a hunk of mozzarella cheese, hummus, and carrots, offering to share. Hard pass.
As a premed student at Mount Holyoke, she found a passion for science and anatomy, but unlike her fellow students, she didn't like being around sick people. She briefly tried teaching high school before returning to school to get a PhD in biomedical sciences at the University of California, San Francisco.
Teaching college and graduate students who share her deep fascination drives Co forward. She won a Metcalf Award for Excellence in Teaching in 2018 for her ability to distill complex medical topics while still remembering the names of the scores of students who filled her lectures.
But this class is different.
"You can't be a researcher or clinician and not have this fundamental understanding of the interconnectedness of each piece of the body," she says. "It's not just, 'Oh, I noticed this thing on the kidney—there must be some sort of kidney disease.' How did it get there? What would have precipitated that? How does it fit into the bigger puzzle of this body?
"That's the gorgeousness of it, right?"
In addition to the human cadavers that are occasionally brought in, BU's cadaver lab is home to a new Anatomage, a machine that looks like an iPad, except it's the height and size of a dining room table. It will show students more than 2,000 case studies of human disorders and high-resolution scans of four cadavers. The technology, which costs as much as $80,000, is also more forgiving of mistakes than a cadaver.
But, Co says, it will never replace the learning that occurs with bodies, learning that remains prized by students and faculty alike. Back in the lab, just feet from where the dissections are done, Co has posted a note on a bulletin board. It's a message from the woman who donated her body to help others.
"Dear students," it says, "Take my body and use it well—this gift is for you and it's a precious gift."
---
Back in the lab, the human heart holds more surprises.

Moreira, who has spent years researching the effects of hypertension, fell in love with the heart as a student at Salem State University. He's learned about its physics and pressure gradients, but had never touched or dissected one until now.
The group watches as Kirsch sections the heart on an aluminum tray at the cadaver's feet, revealing a muscle wall two and a half times thicker than that of a healthy heart. It's difficult to see how blood could pass through it, and Moreira's cool professionalism gives way to awe. It's as if he's meeting his favorite celebrity.
"I literally love the cardiovascular system," he whispers to Co.
Yet Co knows something the students don't: that the official cause of death for this woman who donated her body so others could learn from it is kidney failure related to her extremely high blood pressure. What the students observe in the heart and lungs are all pieces of the puzzle, all damaged by the same cause. This amazing heart specimen is actually a road map of one of the most common causes of death in the United States.
The students' dissection work is far from over. Come the next weekend, it's the Big Dissection, Part 2: The Cranium. For the first time, they will hold a human brain in their hands to see what it can teach them. Co and her students can hardly wait.
Check out Daniel Kirsch's dissection playlist below.