BU, Nicaragua Students, Peace Corps Work to Call Attention to Country's Climate Change
Unique collaboration results in book being used in Boston public schools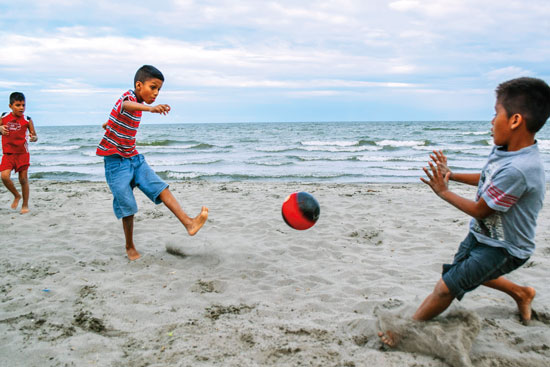 Flip through the 100 pages of Cyrus Konstantinakos' recent book project and you'll encounter bold photos of the verdant forests, vibrantly painted boats, majestic volcanoes, and people of Nicaragua. Underscoring these images of the country's rich cultural heritage and natural beauty is the threat posed by climate change.
The book, Nicaragua: Culture and Climate Change in the Land of Lakes and Volcanoes, a combination of photos and short essays, is the first installment in an initiative by the BU Hubert H. Humphrey Fellowship Program, titled Our Global Cultures, which aims to raise awareness of Fellows' home cultures.
BU is one of several host universities participating in the US State Department's Hubert H. Humphrey Fellowship Program, a Fulbright exchange initiative that brings young and midcareer professionals from designated countries undergoing development or political transition to the United States to help prepare them to address some of the most pressing issues of our time.
The idea for the project began in 2013, when doctoral student Konstantinakos (Wheelock) was assistant director of BU's Humphrey Fellowship Program. He wanted to help create a series of photo-essay books through the global cultures initiative that could "be the basis of some kind of global studies taster curriculum." The project, as he envisioned it, would involve traveling to a country and collaborating with locals to learn more about their experiences firsthand. The question was where to start.
It just so happened that one member of the 2013–2014 BU Humphrey cohort, Ricardo Mendieta, had a connection with the National Autonomous University of Nicaragua (UNAN) in Managua. Mendieta taught English there, and said he'd be able to work with the university to identify students who could help contribute to the project.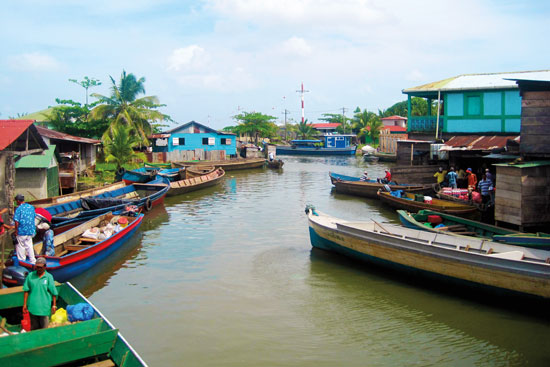 Nicaragua is the poorest country in Central America, and because of its geographic location, which leaves it vulnerable to hurricanes, its dependency on natural resources like agriculture and fishing, and its susceptibility to natural disasters like floods and droughts, it is highly vulnerable to climate change. Konstantinakos says it seemed only natural for a book about Nicaragua to address climate change.
"Yes, we want people to get to know each other around the world, we want them to understand each other's cultures and get into dialogue," says Konstantinakos. "But meanwhile, the seas are rising. We can't just get to know each other, we've got to quickly get to know each other and start not just holding hands, but working together to address issues that require a borderless approach."
With support from the US Department of State, the United States Embassy in Nicaragua, UNAN-Managua, Peace Corps Nicaragua, National Geographic Learning, and Boston University, Konstantinakos set out for Nicaragua in December 2014 with four BU Humphrey Fellowship program undergraduate interns. Their 12-day trip began in the country's capital, Managua, where they met up with Mendieta, UNAN-Managua students and faculty members, and Peace Corps volunteers. For the first few days, Vanessa Zarba (COM'16) helped lead the group in a photography workshop and prepared the Nicaraguan students for five days of fieldwork.
Then the group broke off into teams to cover four different communities in Nicaragua: Bluefields, Jinotega and Matagalpa, Ometepe, and San José de los Remates. At each location, students conducted research, interviewed locals, and took photos—lots and lots of photos. Since the entire project team only had five or six cameras to work with, the students took turns being photographer, and many of the photos in the book are credited to the various teams rather than to individuals.
After five days in the field, everyone reconvened at UNAN-Managua's campus to go through their photos and edit and expand the UNAN students' essay drafts based on the conversations they had had during the fieldwork.
Konstantinakos and Mendieta spent the next three years editing the photo-essay book in their spare time. In January 2018, the project was finally completed. The text, which is written in both Spanish and English, opens with an introduction to Nicaragua, its history, and its culture. It then delves into chapters about each of the four regions the teams visited, detailing the region's unique features. Each chapter concludes with a two-page spread that talks about how climate change impacts each of the four regions of Nicaragua visited by the students.
The book is now being used at Spanish dual-language schools in the Boston Public School system, including Mario Umana Academy and Rafael Hernández School. In a letter to Konstantinakos, Tommy Chang, then superintendent of Boston Public Schools, wrote that he was excited to incorporate a book that "will inform students on the impact of climate change while also inspiring them with the beauty of Nicaraguan culture" into the school curriculum.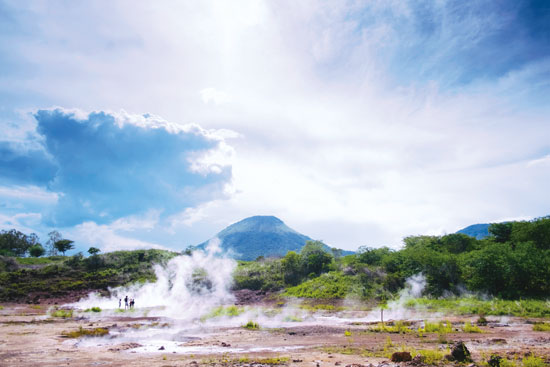 Konstantinakos says one of the goals of the Our Global Cultures initiative is to help Boston students discover how climate change is relevant to them, even when its effects are felt most keenly thousands of miles away. By introducing young people to the beauty of Nicaragua and its vulnerability to climate change, he hopes the book will serve as a jumping-off point for teachers to begin a conversation with their students about the ways they can change the world around them.
The Nicaraguan Ministry of Education also plans to distribute the book to public schools throughout Nicaragua, and the US Embassy in Managua hopes to use it in two of its educational programs, the English Access Microscholarship and College Horizons Outreach. Peace Corps volunteers are also using it in their English lessons.
As for future projects, Konstantinakos has just finished coediting a similar book about Uganda, Reclaiming the Pearl: Uganda through a Female Gender Lens, with 2010–2011 Humphrey Fellow Agnes Igoye, deputy national coordinator of the Prevention of Trafficking in Persons department in Uganda's Ministry of Internal Affairs. He plans on teaming up with 2013–2014 Humphrey Fellow Jovita Tamosaityte to do a book about Lithuania next.
"I think the importance of cross-cultural communication, particularly on the issue of climate change, is highly important," says Haley Wiebel (CAS'16), who majored in international relations at the Pardee School of Global Studies and helped coordinate the Nicaragua trip as a BU Humphrey Fellowship Program intern. "I think climate change is often communicated at a high level in terms of the global impact it will have. But if you zoom in and look at how it will affect people's cultures and their daily lives, the local and regional impact is even greater."
Graduate student Madeleine O'Keefe (CAS'18, COM) can be reached at mokeefe@bu.edu; follow her on Twitter @OKeefeMadeleine.