Will undefeated overseas trip for BU men's basketball team translate to Patriot League success?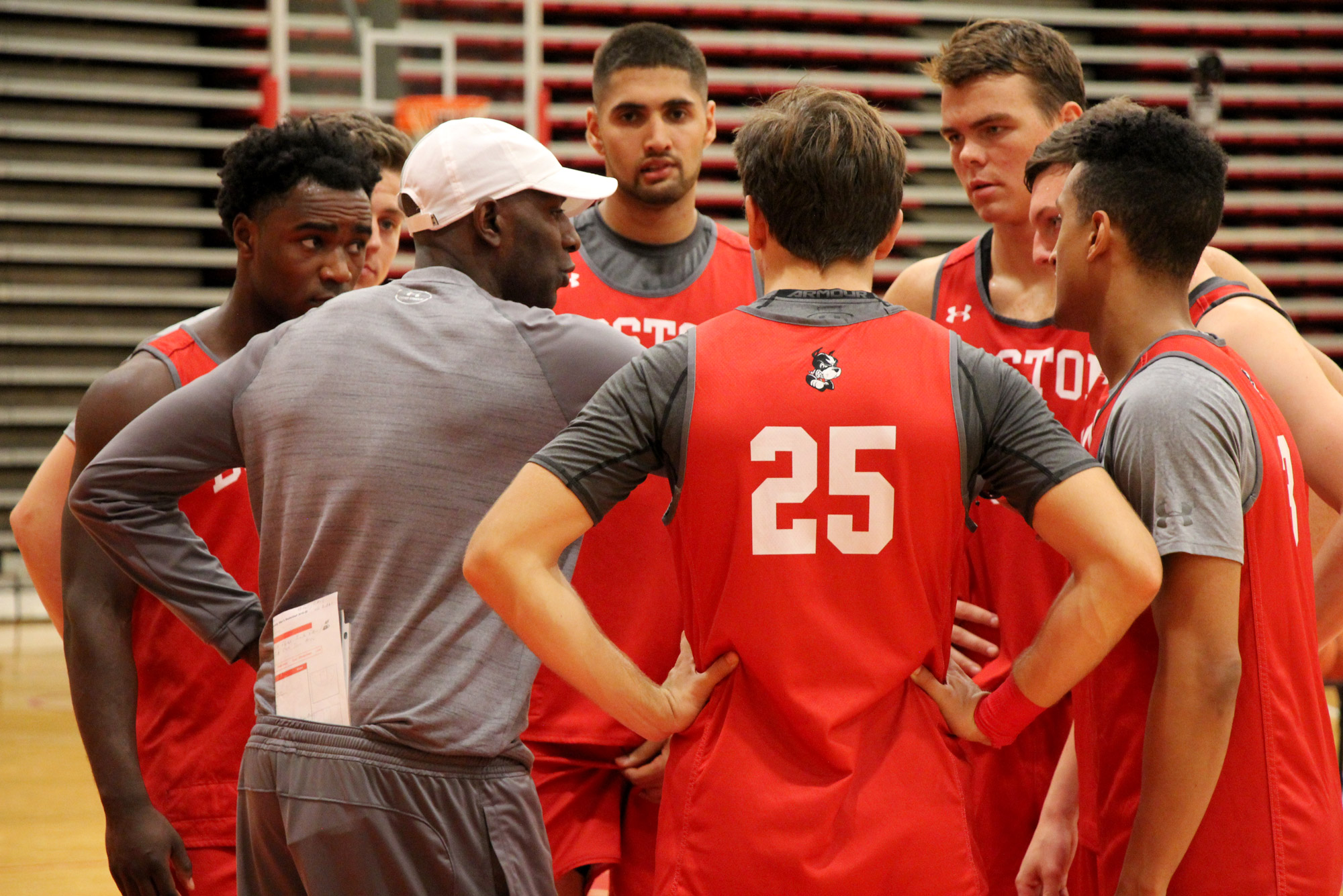 Basketball
BU Men's Basketball Opens Tuesday against Northeastern
Will undefeated overseas trip translate to Patriot League success?
The Boston University's men's basketball team spent a week touring Spain this past summer, enjoying the sights, but also playing organized games against various teams from around the country. It was part vacation, part business trip, and the Terriers hope that the team camaraderie they built along the way will get them off to a fast start this season.

The men open the 2019-2020 campaign at Case Gym Tuesday night at 7 pm against Northeastern.
"We had a great time abroad. We all got to experience a new culture, pretty much everything new," says Max Mahoney (Questrom'20), a Patriot League All-Conference Second Team selection last season. "Experiencing that together, it was great, especially getting to know the guys coming in. Going abroad really did connect us, it's not just blowing smoke—it really did."
Tyler Scanlon (CAS'19), who graduated and transferred to Belmont University, was a key loss, but the hope is that Walter Whyte (CAS'21) will step up to a starring role. After a freshman All-Conference Rookie Team campaign, averaging 9.3 points and 5 rebounds per game, the 6-foot-6 wing was expected to post a breakout sophomore year. But he missed the entire season because of complications from a bone bruise in his foot, and he hopes to be at full strength once this season starts.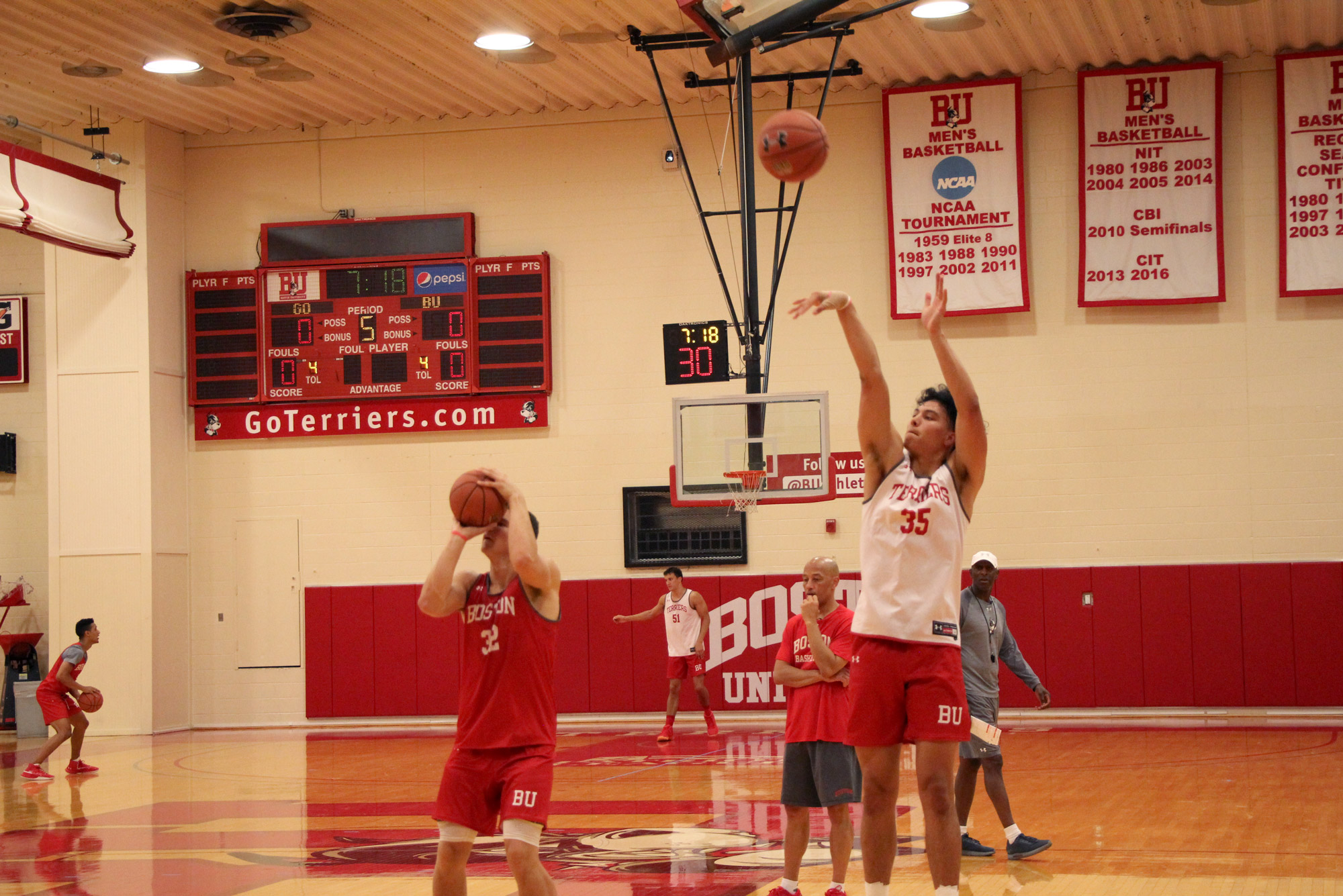 BU's preseason trip to Spain helped Whyte get a head start on his comeback, giving him more game action earlier than usual. The Terriers went 4-0 during the trip, and Whyte brushed off some rust that otherwise would have happened in early season contests.
"I think he got a chance in Spain to play through some of that," says head coach Joe Jones, now in his ninth season with the Terriers. "It's been a steady progression of him finding his way. I think it's been exciting because this is just the start for him—there's a lot more in the tank that he can achieve."

"Having Walt coming back brings some size, athleticism, scoring," Mahoney says, "and helps on the defensive end as well."

Javante McCoy (Questrom'21) returns as the team's second-leading scorer, putting up 12.1 points per game last year. He and Whyte could form a dangerous duo on the wing.
Guards Alex Vilarino (CAS'21) and Jonas Harper (CGS'20) and center Sukhmail Mathon (CAS'21) return after being key cogs in last year's rotation.
Mahoney averaged 16.5 points and 6.6 rebounds per game last year. The 6-foot-8, 235-pound bruiser worked on his outside shooting and ability to create off the dribble in the off-season. His goal is to expand his game and help open up and spread out the offense.

"We have so many pieces to this team," Mahoney says. "We had games like Holy Cross last year, when Jonas Harper put up 22 points on raining threes. It's not going to be every night, I'm well aware…kicking it to Jonas, Javante McCoy, you know, I'll get my assist numbers up."

Vilarino and Harper were among the Terriers who picked up expanded minutes during Whyte's absence. The Terriers went 15-18 last season, sputtering in league play to a 7-11 mark. They started off with a thrilling 77-74 win at Northeastern en route to a winning record in non-conference play. They held a halftime lead over eventual Patriot League champion Colgate on the road in the conference quarterfinals, before falling in regulation. As they'd done during the regular season, the Terriers showed flashes of brilliance, mixed with inconsistency.

Hopes are higher this season, and Vilarino and Harper should help the Terriers, who were picked 5th in the 10-team Patriot League in the preseason poll.

"Any time you have a guy injured and coming back, it's going to help the experience of other guys," Jones says.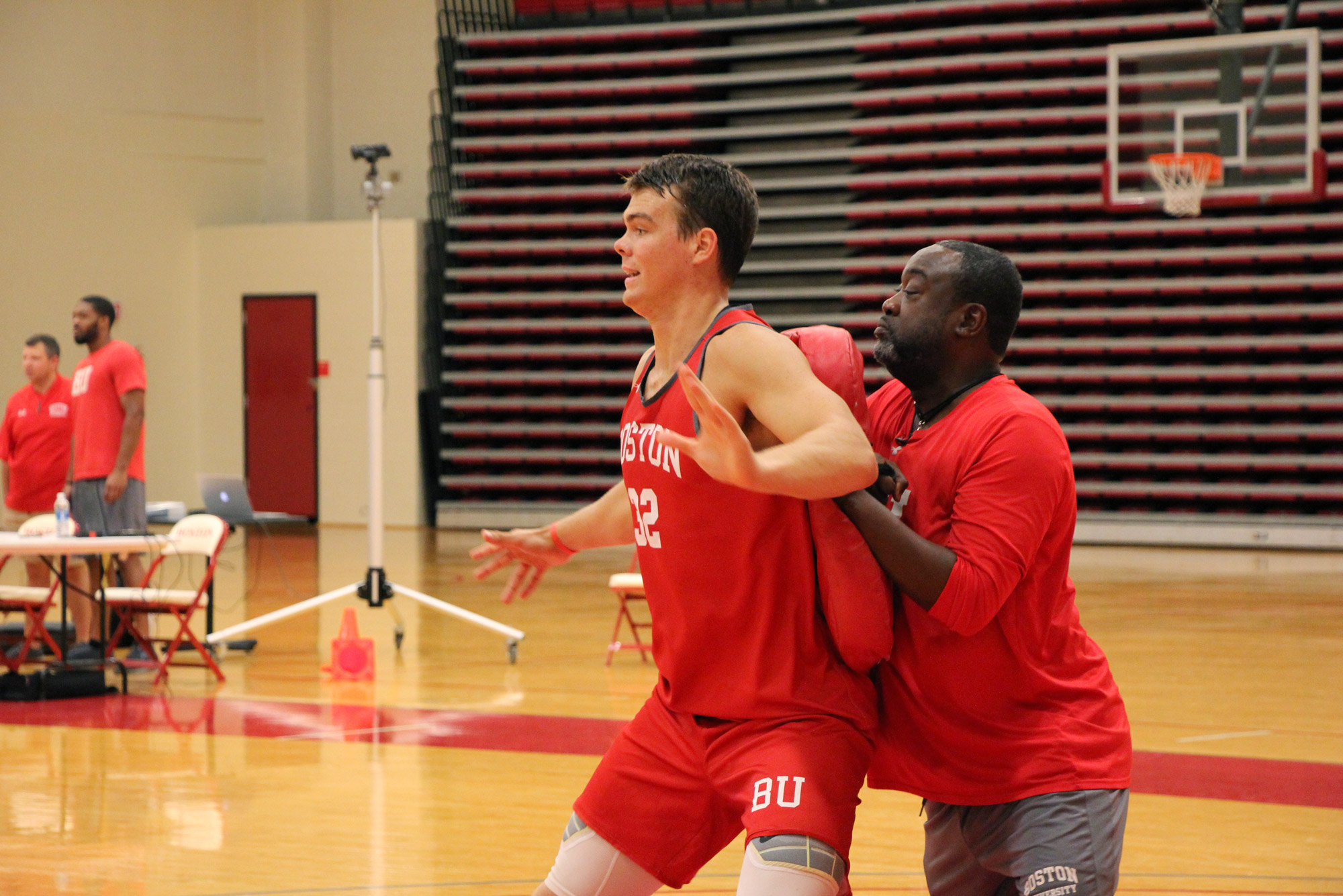 Jack Hemphill (COM'22), a 6-foot-9 forward, also looks to break out as a sophomore. Hemphill was a highly touted recruit out of North Carolina, who participated in the National Basketball Players Association Top 100 Camp. He was in and out of the rotation last season, and hopes to snag a role this year.
"For me coming back, it's really about simplifying my game," he says. He's focusing on five things: rebounding, defense, making open shots, finishing in the paint, and being decisive with the ball.

Hemphill has learned he can't get away with the things he did as a high school star, as the go-to guy. "I was definitely pressing, because in high school you can do that," he says. "It's definitely different in college. I've just got to play more within myself and to my strengths."

The Spain trip helped bring the players closer, fostering a constructive environment. They're a friendly group off the court. And on the court they're working to maintain a distinct focus coupled with comfortable, productive exchanges, building an environment to succeed.
"I feel like we're more willing to talk to each other, be open with each other, whether it's criticism or feedback that we give on the court," Mahoney says. "I think guys are giving a lot of head nods, just acknowledging when a guy is trying to help them out."