In Baccalaureate Address, John Howe (MED'69, Hon.'19) Puts Names to "Making a Difference"
BU alum and trustee reflects on how BU prepares grads to engage in "citizen diplomacy"
At Marsh Chapel's annual Baccalaureate service Sunday, speaker John P. Howe III (MED'69, Hon.'19) focused on real-life children—Iqbal, He Jing Cheng, and Amir—their stories illustrating how the University empowers graduates to "make a difference in the world."
Howe, a BU trustee and former head of the international nonprofit Project HOPE, which provides medical care and training around the globe, hailed what he called "citizen diplomacy," recounting how his organization helped the three children.
He found the theme for his talk after chatting with three graduating seniors, who'd remarked that BU made them "'citizens of the world.' They were inspiring in their wish to use the skills and talents gained at the University," Howe said, to better the world, pivoting to how he'd used his to helm a nonprofit able to help the three children.
Iqbal, an 11-year-old Indonesian boy, had been fishing with his father when a monster wave from the 2004 Indian Ocean tsunami slammed their wooden boat aground, killing the dad. Iqbal was flown to a US Navy ship staffed with 220 Project HOPE doctors and nurses, a first for the Navy, Howe said. The team saved Iqbal from cardiac arrest and discharged him with the traditional ship's captain coin.
A year later, when the ship returned, "Iqbal ran out on the dock and showed his coin to one of the volunteer nurses who had saved his life," Howe said. "He told her, 'Every morning, I rubbed and rubbed and rubbed it, hoping the ship would come back—and it did.'"
His gratitude was not isolated: Howe said that surveys showed US aid made Indonesians, citizens of the most populous Muslim nation, feel more positively toward America.
Two-year-old He Jing Cheng, suffering from heart disease, received life-saving surgery at the Shanghai Children's Medical Center, which Project HOPE helped establish. The operation was done by renowned heart surgeon Dr. Richard Jonas, a volunteer with the nonprofit, Howe said, adding that in 2018, "the surgeons that Dr. Jonas trained performed over 3,700 open heart surgeries on infants and children at the Shanghai medical center—two-thirds of them under three months of age."
Amir is an Iraqi boy from Baghdad. After the Iraq War, his country was found to have soaring rates of childhood leukemia, the legacy of Saddam Hussein's closing of nursing schools and failure to build new hospitals. At the request of First Lady Laura Bush and national security advisor Condoleezza Rice, Project HOPE oversaw construction of a pediatric cancer hospital in Basra; Amir, its first patient, received chemo and surgery to remove a tumor. He recovered completely, and his and other children's stories led the local governor to double the hospital's size.
Project HOPE works domestically as well, Howe said, citing the Navy's shipping 75 volunteers to Mississippi coastal counties flattened by Hurricane Katrina in 2005. Facing hundreds of patients cut off from medical care by the destruction of clinics, pharmacies, and doctors' offices, the volunteers treated them on board the Navy medical ship, handling every malady, from diabetes and hypertension to cancer, Howe said.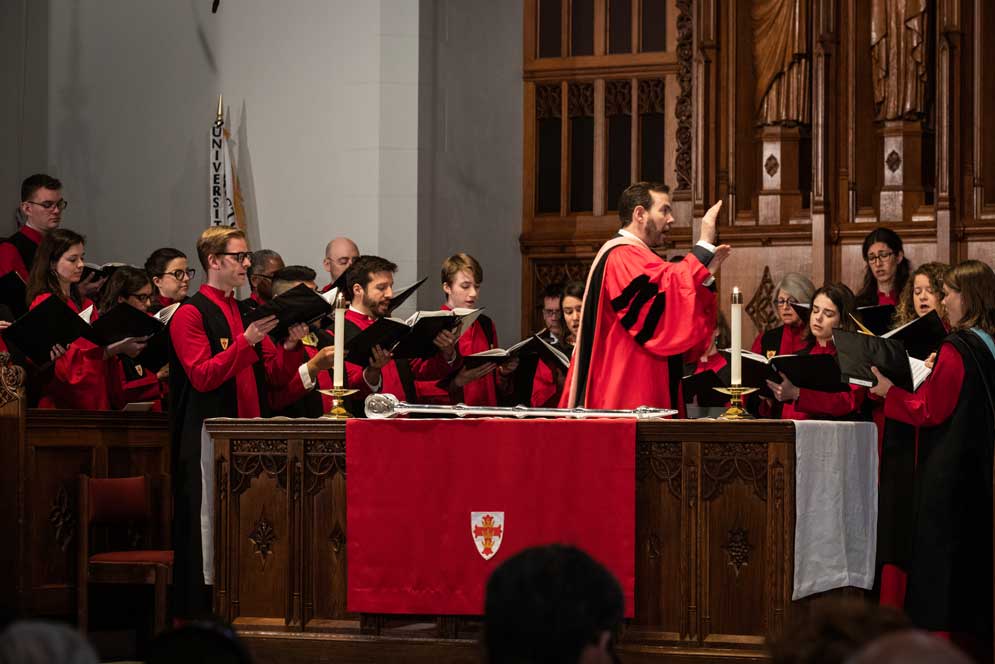 "These are but a few examples of citizen diplomacy at work," he said, "made possible in part by medical education, my medical education, at Boston University."
"Hope springs eternal, but often the pump must be primed. No one works the handle more diligently" than Howe, the Rev. Robert A. Hill, Marsh Chapel dean, said in introducing the speaker.
Howe's tribute to his BU education was bracketed by two similarly themed moments during the service. Before the address, Brother Lawrence Whitney (STH'09,'19), the University chaplain for community life, led the congregation in a prayer asking a blessing on all schools, "and especially Boston University, that they may be lively centers for sound learning, new discovery, and the pursuit of wisdom."
And after Howe's address, the congregation sang the BU anthem, "Clarissima," celebrating the University's tradition of "keeping the light of knowledge high, long to endure," accompanied by the triumphant marriage of the chapel's organ and brass instruments.
Howe received an honorary Doctor of Science at BU's 146th Commencement after his Baccalaureate address. His 2001 to 2015 tenure at Project HOPE was preceded by stints as CEO of the University of Texas Health Science Center, which he made into a national leader in several fields; his role in helping develop the University of Massachusetts Medical School; and his founding of Texas' Society for Biomedical Research and chairing its Statewide Health Coordinating Council.
Find more Commencement coverage here.