Alum Wins Presidential Award for Excellence in Mathematics and Science Teaching
Accolades
Alum Wins Presidential Award for Excellence in Mathematics and Science Teaching 
Jamil Siddiqui is one of 53 high school teachers to receive US government's highest honor
Math teacher retention is a problem in high schools across the country, but it's not an issue in Jamil Siddiqui's classroom at East Bridgewater (Mass.) Junior/Senior High School.

Siddiqui has been a math teacher at the school for more than 25 years, helping his students pass Advanced Placement (AP) math exams at rates that far exceed the national average. It's no small feat, one that led to Siddiqui (ENG'93, Wheelock'94, GRS'98) being named the 2019 Massachusetts Teacher of the Year last year. His passion for mathematics and his dedication to his students has just earned him another accolade: a Presidential Award for Excellence in Mathematics and Science Teaching, the highest honor given by the US government to K-12 math and science teachers. The award is administered by the National Science Foundation.
"I'm in the middle of a pretty good run, I guess," Siddiqui says.

He and this year's other 52 Presidential Award winners recently convened in Washington, D.C., for three days to accept the award at a reception at the Department of the Interior and attend other events, including a speech by US Secretary of Education Betsy DeVos. Unlike in previous years, the winners were not invited to meet the president, who was unavailable, Siddiqui says.

Each recipient received a $10,000 prize and participated in workshops together. Siddiqui says the opportunity to network with other math educators and learn about their teaching strategies was a highlight of the trip.
"Teachers often get dragged down—they need to be inspired every once in a while," he says. "It makes me sad that every teacher doesn't have the opportunity to do this."

Siddiqui was nominated for the award by his younger brother, Yoosuf Siddiqui, a former high school math teacher in Maine who won a Presidential Award for math and science teaching in 2003. Like many math teachers, Yoosuf Siddiqui left education for a more lucrative position in industry.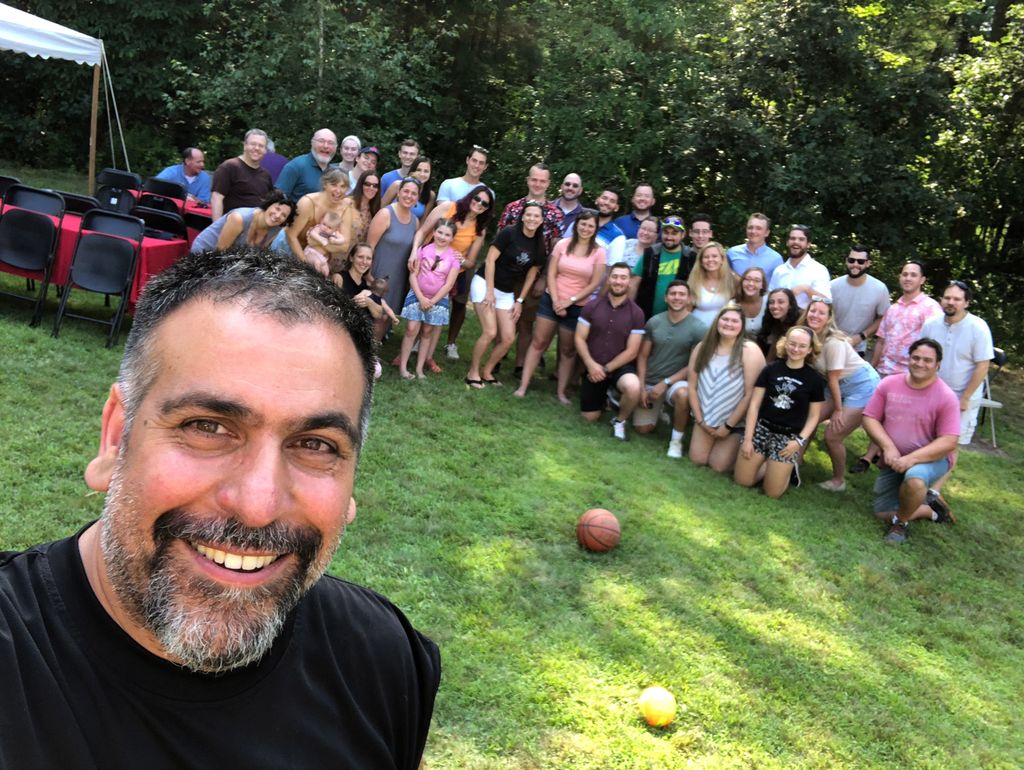 Jamil Siddiqui says he has no plans to leave the teaching profession. Before he arrived at East Bridgewater Junior/Senior High School, there wasn't a qualified high-level math teacher who could work with students to get ready for the AP exam. He helps prepare any student who wants to take the exam, as long as they are committed to the work and preparation entailed. That may mean meeting with him and/or other students after school or before school—even on weekends—for help or coaching. It's hard work for the students, but Siddiqui rewards them with barbecues at his home and early morning breakfasts in his classroom.

Robert L. Devaney, a College of Arts & Sciences professor emeritus of mathematics and statistics and one of Siddiqui's BU mentors, says Siddiqui's influence has been far-reaching and life-changing for many students.

"His students have been wildly successful when taking these exams," says Devaney, an accomplished mathematician who has been lauded for his own teaching. "Indeed, many of them have gone on to be high school math teachers, an indication of how much his students respect him."
Siddiqui credits his 76-year-old mother, Athena Siddiqui, a single parent who raised him and his two brothers in remote Caribou, Maine, as a role model. "Do what you gotta do, work until you're successful," Siddiqui says, echoing his mother. "Don't complain."

It's the same no-nonsense thinking he imparts in his classroom, while offering students support and encouragement to grow and learn. It helps that at six feet tall and with a booming baritone voice, he gets students' attention easily.

The national recognition feels good, Siddiqui says. He bought "big gift cards" with some of his prize money for the people who helped him apply for the award. (Applying is an extensive process that involves writing 25,000 words and producing a video of a typical class, along with a self-critique.) He plans to share the remaining award money with his wife, Rebecca, a history teacher at East Bridgewater, who's "always been behind me," he says.
Last summer, she threw him a surprise birthday party, inviting 50 former math students, ranging in age from 15 to 42, to their home. Siddiqui says that seeing so many current and former students together was better than receiving the award.
"It just made me feel good about my career," he says. "It's all about relationships."