After Nearly Three Decades, MED Pediatrician Nicole Prudent to Retire
Will continue to support the community she's spent a lifetime serving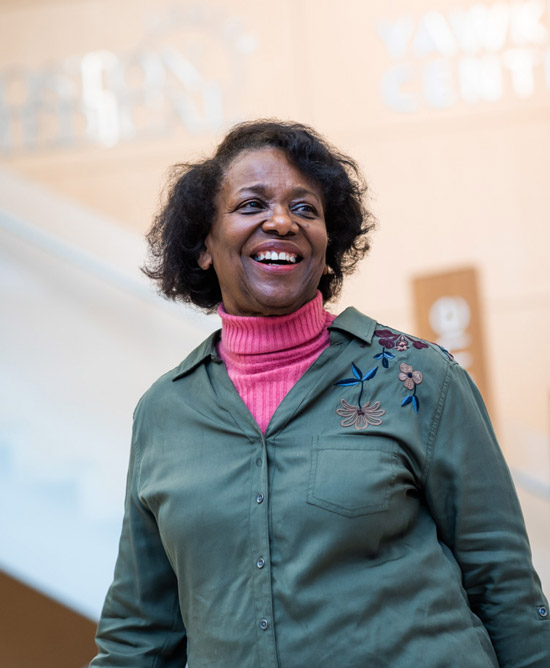 Pediatrician Nicole Prudent grew up in a large, deeply religious family "of limited means" in Port-au-Prince, Haiti. She vividly remembers her visits to the city's hospital with her Seventh Day Adventist Church youth group.
"We had to do something good for another human being, and my team decided to go to the hospital," recalls the BU School of Medicine assistant professor of pediatrics. "There were a lot of babies being born, and we watched women suffering due to labor pain. We could get water for them, but we didn't have anything to give them. The hospital conditions were very poor. Sometimes there were two women on one bed, two women and the babies. So I always wanted to do something. I didn't know what, but that touched me."
The experience was an early inspiration for Prudent to become a pediatrician. And later this week, she will retire after nearly three decades of serving the local Haitian community through her work at Boston Medical Center.
Prudent never expected to remain in Boston for 28 years. "When I arrived, I was going to be here for one year," she says with a smile. "I am just grateful to be able to have had such a long practice and grateful also that I was in the right environment so my work would have some impact."
In Haiti, older siblings often parent the younger ones. When Prudent's parents and their two older children decided to immigrate to the United States they entrusted the care of their five youngest children to Prudent—then a teenager—and an aunt. Still determined to fulfill her dream of becoming a doctor, Prudent later attended medical school at the Universidad Autonoma de Guadalajara, in Mexico, before moving to the United States.
Over the course of her career, she has dedicated herself to serving the Haitian community in Massachusetts, the third largest in the United States, after Florida and New York, with approximately 46,000 immigrants, most living in the Boston area. Many have fled violence, poverty, and corruption, as well as natural disasters like hurricanes and earthquakes.
In her years at BMC, Prudent cofounded the Haitian American Public Health Initiatives and Youth and Family Enrichment Services (YoFES) to help newly arrived Haitian immigrant families thrive and raise healthy children while struggling to find work, learn a new language, and deal with health issues like sickle cell disease. And she's done all of it under the radar, preferring even now to deflect credit.
"Nicole Prudent is a guiding light for this institution," says Robert J. Vinci, MED's Joel and Barbara Alpert Professor of Pediatrics and department chair and BMC chief of pediatrics. He says that Haitians are now the second largest population group served by BMC, and that many have sought care there because of Prudent.
"It's important for our patients to have a physician who understands the culture and can speak to them," Vinci says. "She speaks Haitian Creole, but what's more important is that she understands the community, having grown up in Haiti, and understands cultural norms about how they view illness, how they approach healthcare. Before we started talking about cultural sensitivity and awareness, she had been ahead of the game for years."
Over the course of her career, Prudent says, she's seen many of her pediatric and adolescent patients grow up and bring their own children to her office. Most satisfying, she says, are the ones who have graduated college or even completed an advanced degree and report back to her: "I'm a doctor here." "I'm a nurse." "I'm a lawyer now."
"This feels very good, when you see your patient who came from a very poor country, where the circumstances are very hard, and they overcame the difficulty," she says. "They tell me that I have contributed to their success.… It gives me deep happiness to witness their positive contributions to society today."
"At a time when people were not paying attention to the multicultural nature of the Boston community," Vinci says, "Nicole has been innovative and ahead of others in saying we really need to think much more about cultural humility and build programs that benefit the patients that we're seeing."
Many of those new immigrants Prudent treated arrived with numerous issues, from preexisting medical conditions to limited literacy. Things taken for granted here, like prenatal care, were unfamiliar to many of her patients. At the request of the Massachusetts Department of Public Health, she launched a campaign to help get more pregnant Haitian women to seek prenatal care at what was then Boston City Hospital. It was just the first of many successful initiatives she oversaw.
"Nicole's a legend in the Haitian community," Vinci says. "She's seen as a leader, a very thoughtful clinician, and her patients just adore her."
Using music to teach perseverance, creativity
Prudent's dedication to helping underserved populations extends well beyond the exam room. Through her work at YoFES, she founded Open Access to Music Education for Children (OAMEC), a program open to students of all ages and abilities that offers free private music lessons, from violin, flute, and cello to double bass, saxophone, and voice, taught by more than a dozen professional music educators. In addition to lessons, the students rehearse and perform in small and large ensembles. The program has its roots in Prudent's girlhood in Port-au-Prince—her family did a lot of singing, at church and at home, mostly religious songs in French. "A few romantic songs, too, but that is not what my father wanted us to sing," she says with a chuckle.
As a girl, she says, she was dying to learn to play the piano, but her family couldn't afford an instrument or lessons. So she saved her pennies and as a young teenager approached a Frenchman who ran a small music school. He said that she could not learn without a piano at home, but telling her she spoke well, he took the dollar she had saved and gave her poems to memorize. When she returned, he taught her to perform the poems with gestures and poise—oratory.
"And then he said, 'OK, you go now,'" she remembers. "I cried and I cried. I had a dream as a child and he took it from me. So I say when I grow up, I am going to do music for poor children. And when I came to Boston, I say I will do a music school for children here."
OAMEC has made a huge difference in the lives of numerous young people, like Prudent's former patient Deborah Vincent (Wheelock'22). "In the summer when I was maybe nine, one day we went for my checkup with Dr. Prudent, and she asked my mom what we were doing, and she insisted that we join the YoFES program, where we would learn math, reading, and how to play an instrument," she says. Vincent's was the violin.
Prudent would sit in on the classes when she could to see how the students were doing. "She was just a doctor to me who was really cool to my family, but after that she became like a second parent," Vincent says. "She'll walk in randomly and say, 'Hey, play something for me,' and she'll give you a standing ovation. She really cares about the progress of her students."
A decade later, Vincent is an accomplished violinist, playing in ensembles at churches, weddings, and other events. She is studying youth justice and advocacy, with plans to pursue a law degree and become a juvenile defense attorney.
Prudent has made sure that BMC will continue to serve the community after she retires. In what Vinci calls "typical Nicole Prudent fashion," she has recruited a substantial number of Haitian medical personnel to the facility over the years, including a nurse practitioner and two pediatricians, with a third to be added.
She acknowledges that it's not easy to leave her practice. "What is hard is to leave my patients and families that have counted on me, relied on me, and value my services," she says. But she plans to continue supporting and advising the young leaders running the community organizations she's created, as well as advising youth interested in health careers and pushing for programs promoting early literacy and effective parenting.
And she will support the Haitian community "in any way I can."